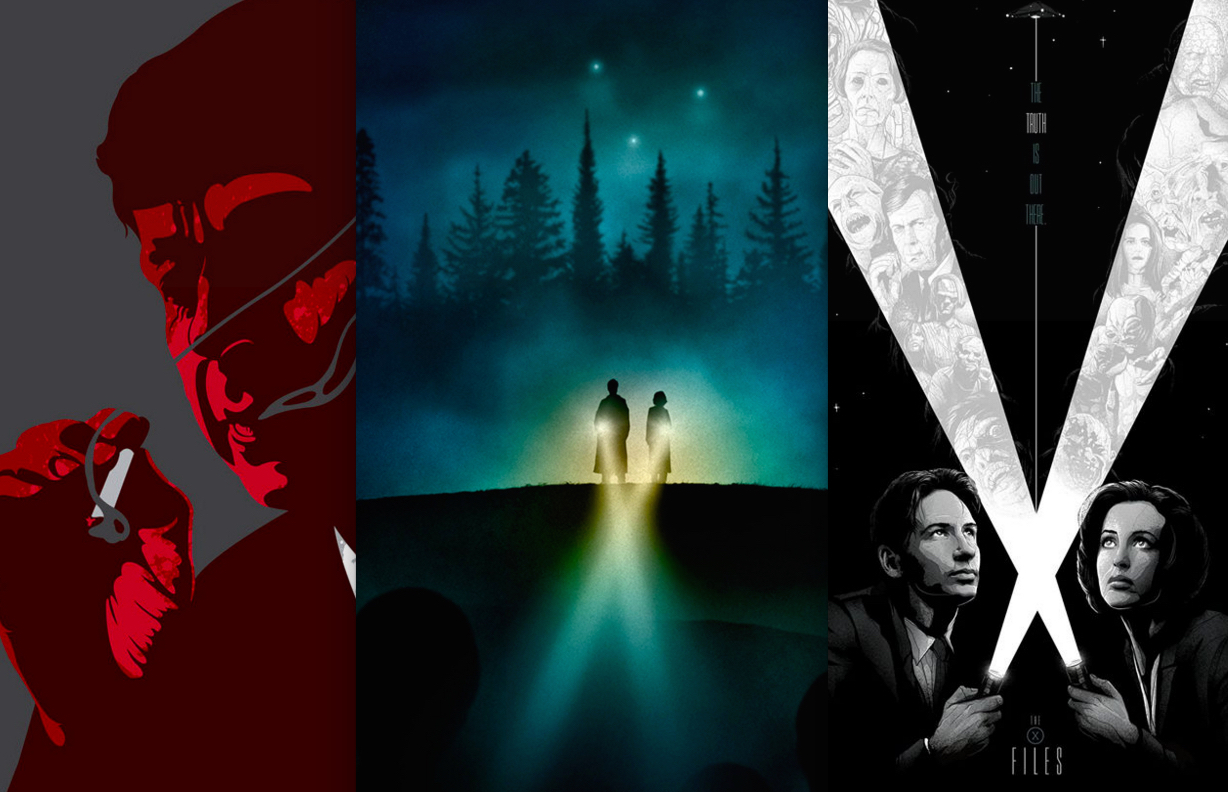 YES, you know what time it is! – It's time for another batch of incredible images from the thriving alternative art community!
So far I've revealed my personal favorite posters that pay tribute to: Jaws – Stephen King's IT – Alien – The Shining – The Thing – Ghostbusters – Jurassic Park – Scream – A Nightmare on Elm Street – Halloween 3: Season of the Witch – Halloween – Silence of the Lambs – The Friday The 13th franchise – An American Werewolf in London – The Fly – Gremlins – The Texas Chainsaw Massacre – The Terminator – Wes Craven – Carrie – Trick 'r Treat – SAW – The Descent – The Exorcist and Cloverfield.
About six months ago it would have been difficult to put together a list of X-Files art that I REALLY love. There were some nice pieces out there, but the show had faded in the minds of many, and it just wasn't a prime target for artists to consider. That all changed when we discovered that Mulder and Scully were making a big comeback, and recently there has been an explosion of incredible new poster designs which culminated in a gallery show exclusively dedicated to X-Files art! This list is finely balanced with older and very new work, and I think it really does highlight just how perfect and memorable this legendary show has always been.
As always this is simply a look at MY personal favorite posters and designs. The select few that pushed my art loving buttons and made me want to pull on a suit and drive to the nearest forest! There are MANY more brilliant pieces out there, but these are the best of the best in my humble opinion.
X Marks The Spot – (Marko Manev)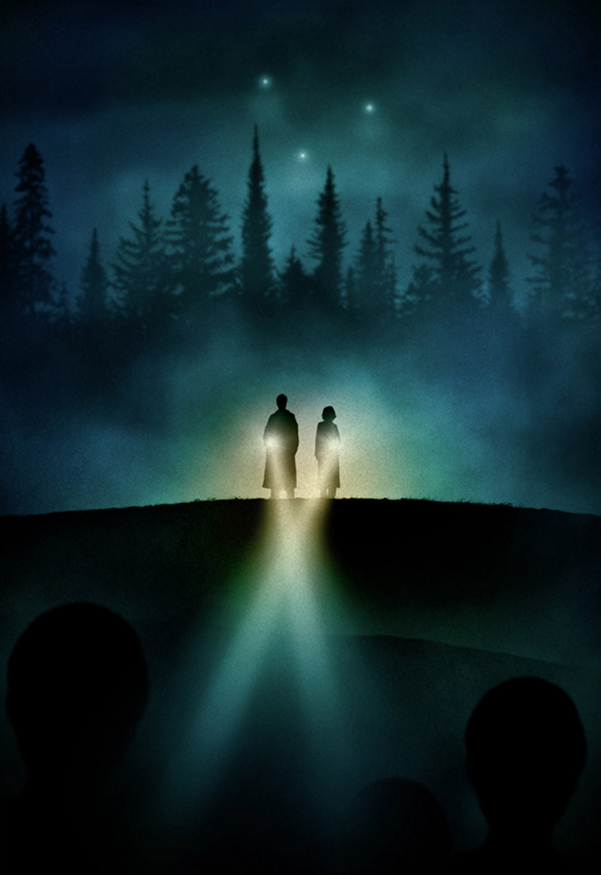 I hear The X-Files theme playing in my head EVERY damn time I look at this. When it comes to familiar and iconic imagery from the show, you can't really beat Mulder and Scully with their flashlights out while wandering through a dark and damp Vancouver forest. The early seasons were all filmed up in Canada, and the often gloomy weather conditions gave most episodes an ominous atmosphere that I really missed when production eventually moved to Los Angeles. Marko's wonderful poster with its perfect silhouettes is a flawless throwback to those early days, when the show was new, fresh and constantly mysterious.
I BELIEVE – (DJKopet)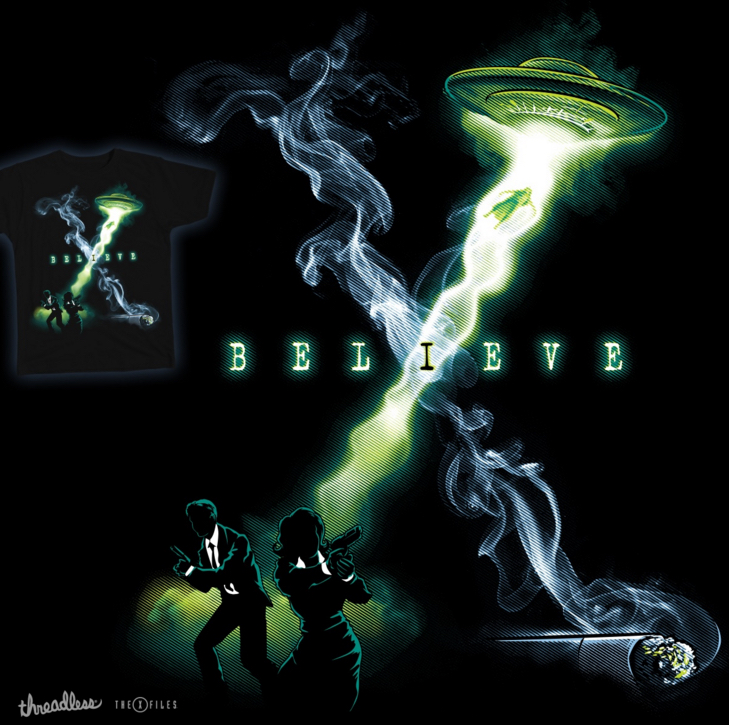 This piece was created for an X-Files t-shirt contest over on Threadless, and I believe it's also available at Teepublic now as well. Lots of artists have attempted to include the legendary letter X logo in clever and creative ways, but Dave really does take it to another level here. I especially love the thick smoke rising from the discarded cigarette butt, and the way it crosses over the green alien abduction beam just works perfectly. A top design from a top designer!
'The Smoking Man' – (Samuel Ho)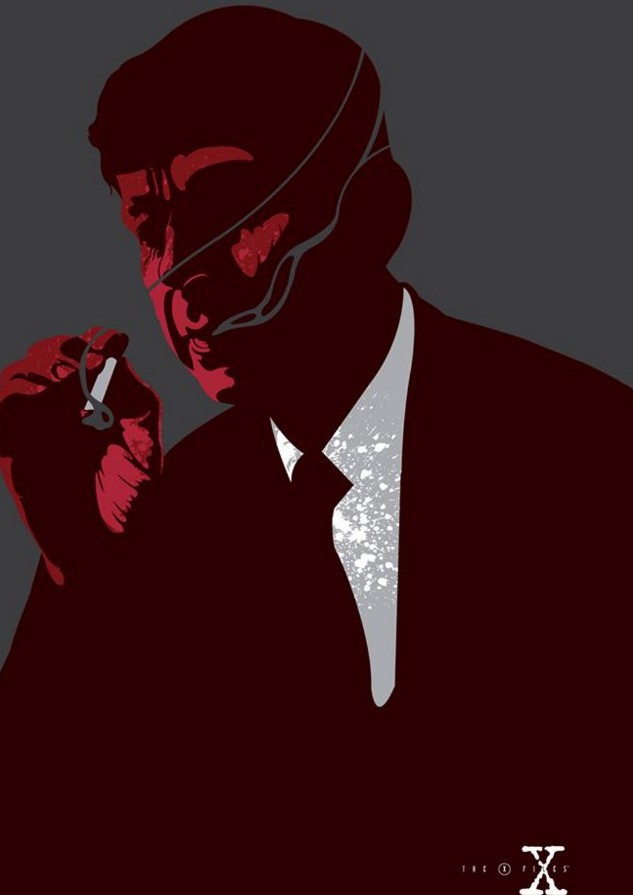 I couldn't have an X-Files art list without at least one piece that focusses on this legendary bad guy, and Samuel's recent poster is one of the very best. The artwork is as dark and menacing as the man it's paying tribute to, and the whole thing just nails that feeling of simmering menace the Smoking Man would always carry with him.
Waiting For X – (Andy Fairhurst)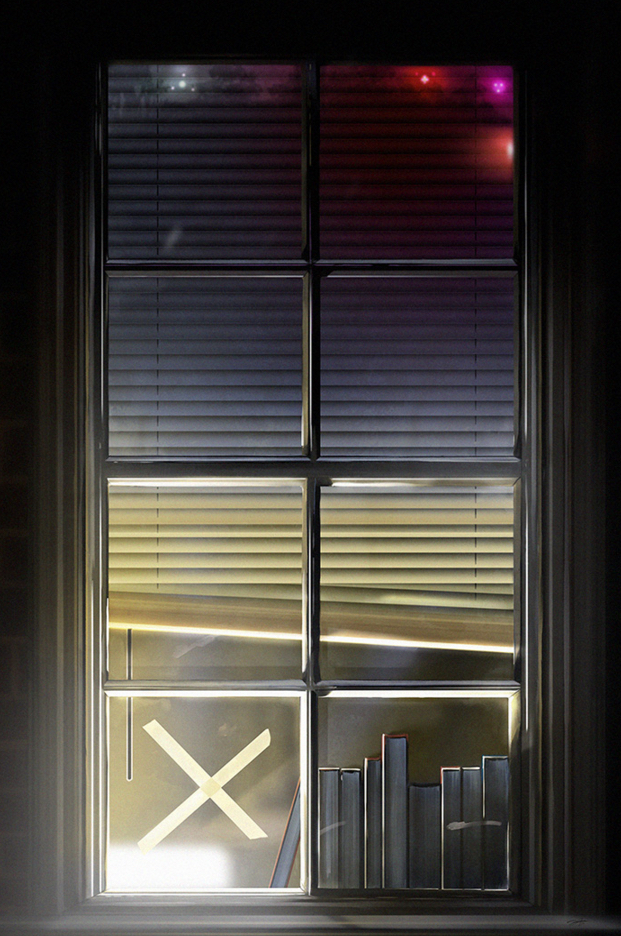 Subtle and atmospheric brilliance from Andy, who has perfectly illustrated this memorable occurrence from the early years of The X-Files. A few months ago I started working my way through every season from the beginning, and after 'X' (Steven Williams) arrived on the show, we spent a LOT more time in Mulder's dark apartment, watching him as he would angrily slap the tape on the window before waiting for that mysterious man who didn't always answer the call. It's CLASSIC X-Files … and classic Mulder behavior, captured in a spine-tingling piece of art.
'Dang it, Mulder' – (Andy Helms)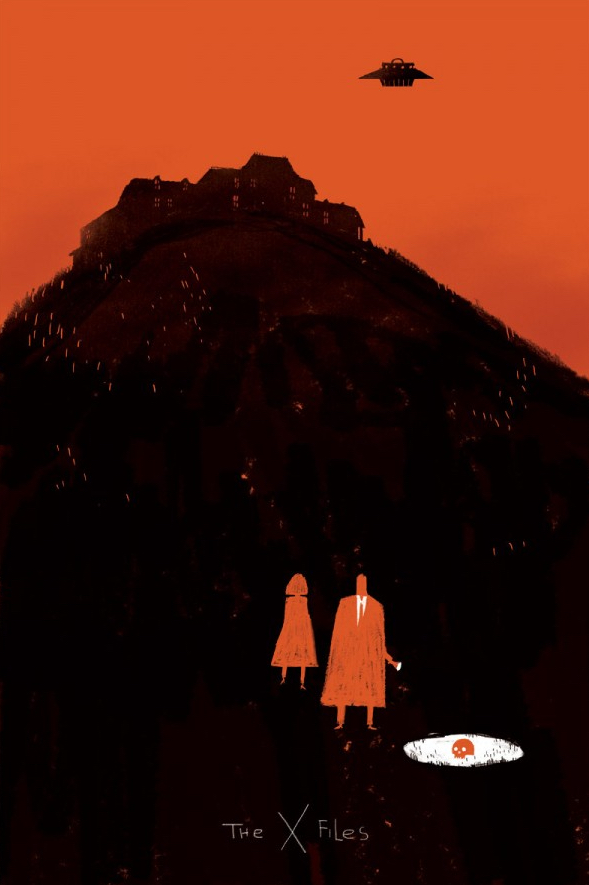 I really love this minimalist piece by Andy, the basic shapes and colors remind me of a cave painting in a way, and even if you removed the title of the show it would still be instantly obvious who the characters are. There is also a nice visual sense of distance at work here, with Mulder and Scully discovering a skull at ground level, while the greater mysteries remain far above them and out of reach. I've no idea if that was something Andy was going for, but either way, this is quietly awesome.
THE X …. – (Rany Atlan)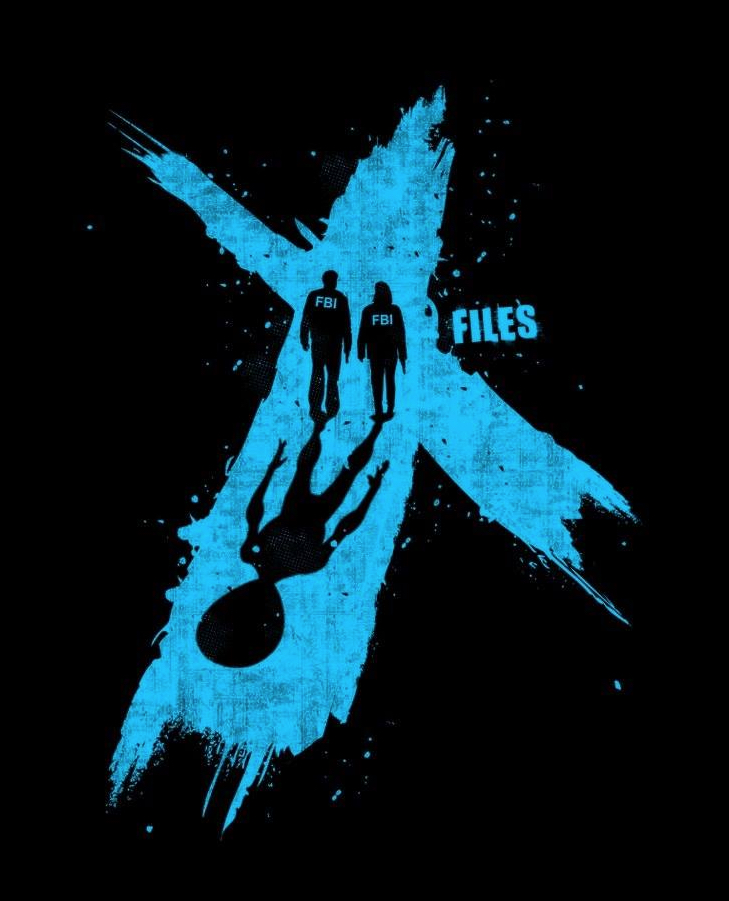 A very striking design by Rany, who has created a piece of art that in many ways highlights the ultimate problem Mulder and Scully will probably never overcome. The truth IS out there, but it's elusive, unclear and impossible to pin down. You can SEE your own shadow, but you can't grab hold of it or contain it … and to me that's what happens to Mulder again and again as he attempts to expose all of these mysteries and conspiracies. He's seen so much, but comes away from it all with nothing tangible. The search goes on …
The X-Files – (Matt Ryan Tobin / Trevor Collins)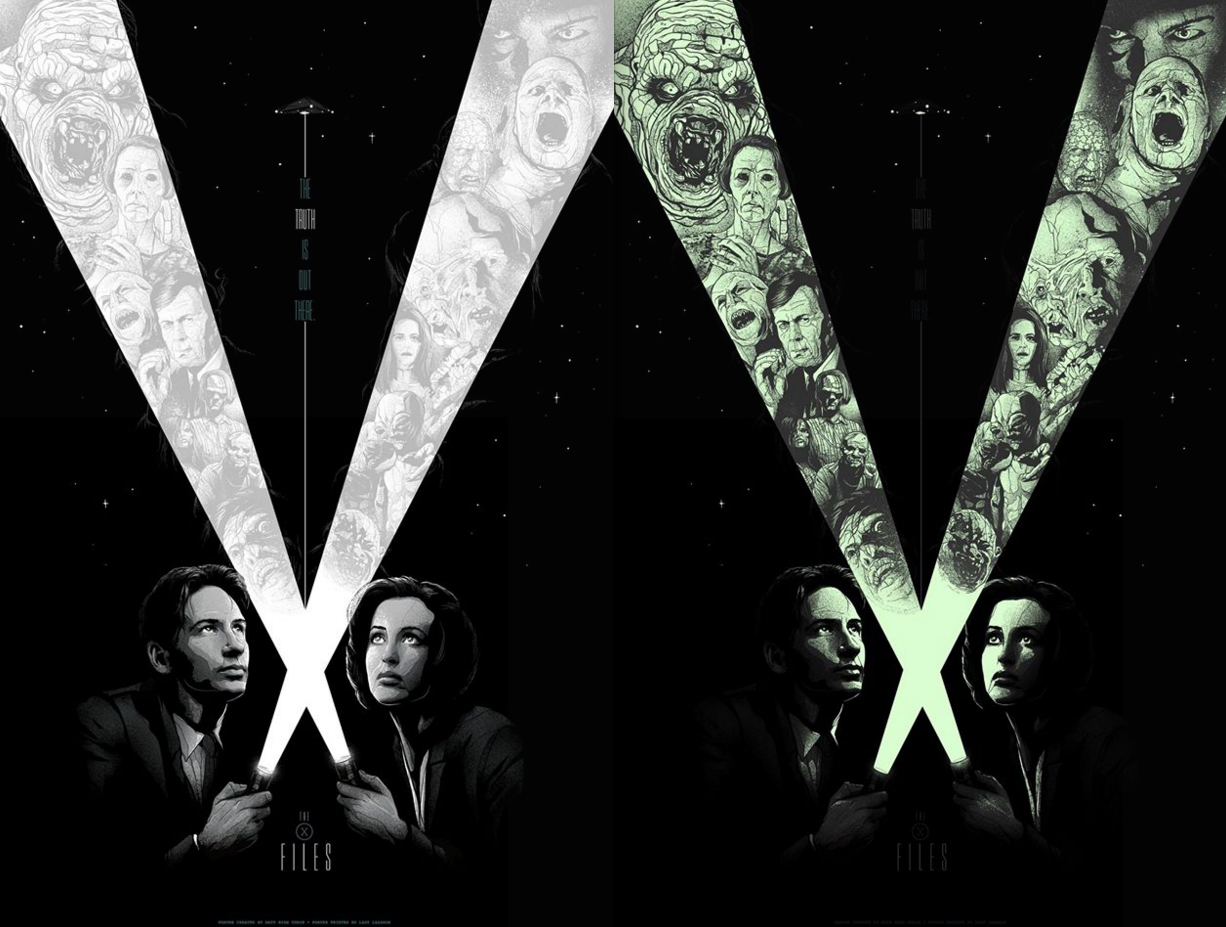 We finish for today with a poster I only discovered about 48 hours ago. Trevor is a lifelong fan of the show, and together with alternative art legend Matt, a piece has been created that I can only describe as EPIC! I leave you with a quote from Trevor that I found on his facebook page, and I think it's the perfect way to end this latest art list. A passionate fan excitedly revealing a unique and amazing poster – it's why I love this community SO much …
"I have wanted to commission a piece of art that would capture the essence and atmosphere of my favorite show of all time, but never found the right artist. This changed after seeing what Matt Ryan Tobin is capable of. The brilliant work he has been putting out convinced me he was the one. This project was completely orchestrated by Tobin and myself, and he gave me everything I wanted and more, he absolutely killed it! I am beyond happy with the final art"
For further information on any of the posters you have seen here today or the artists who created them, you are only a Google search away.
Support Halloween Love
If an item was discussed in this article that you intend on buying or renting, you can help support Halloween Love and its writers by purchasing through our links:
(Not seeing any relevant products? Start your search on Amazon through us.)