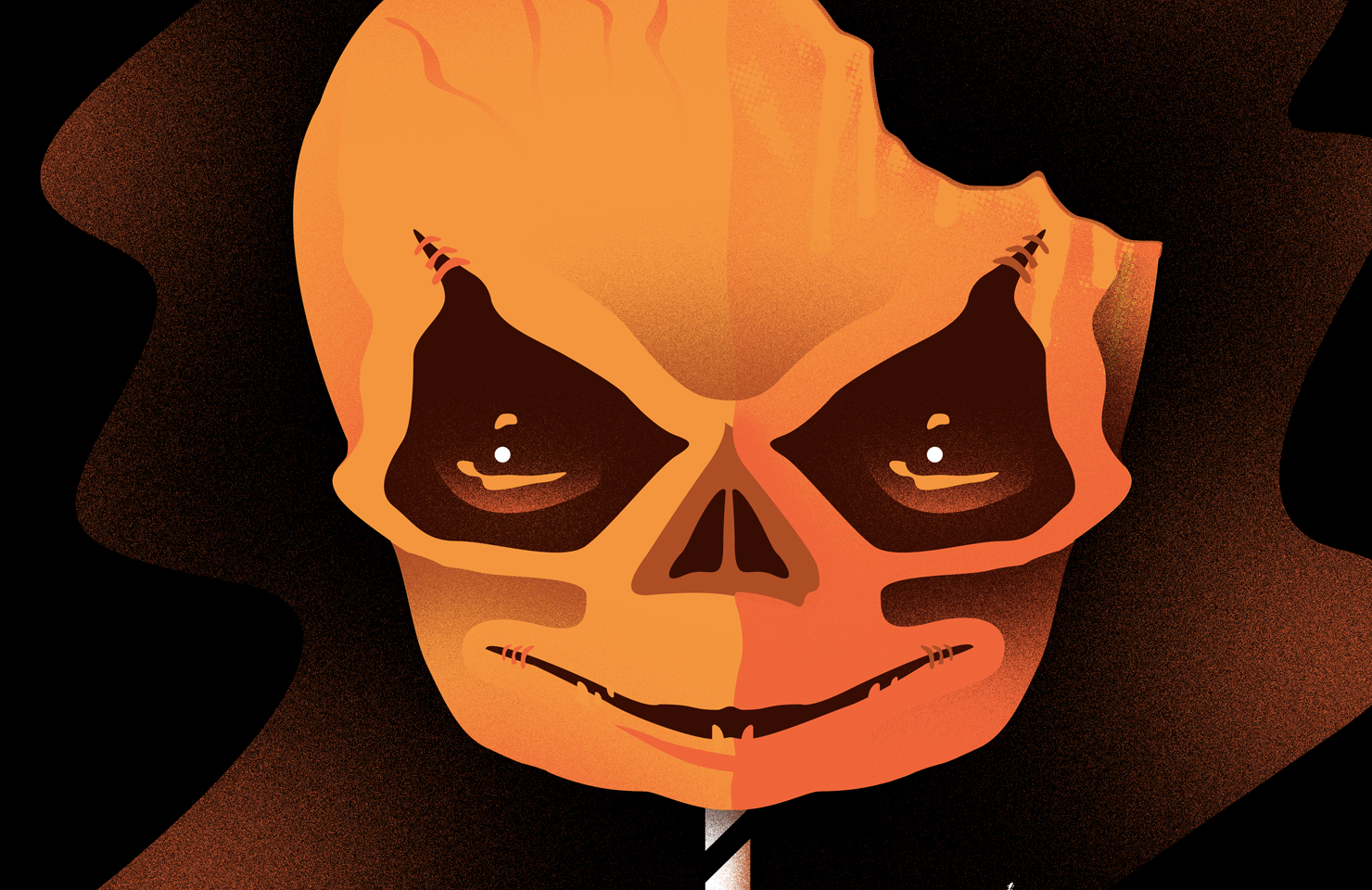 Sunday has once again arrived all too quickly and here at Halloween Love that means one thing (ignore the recent hiatus!) – it's time for another batch of incredible poster images from the thriving alternative art community!
So far I've revealed my personal favorite posters that pay tribute to: Jaws – Stephen King's IT – Alien – The Shining – The Thing – Ghostbusters – Jurassic Park – Scream – A Nightmare on Elm Street – Halloween 3: Season of the Witch – Halloween – Silence of the Lambs – The Friday The 13th franchise – An American Werewolf in London – The Fly – Gremlins – The Texas Chainsaw Massacre – The Terminator – Wes Craven and Carrie.
This week I'm overflowing with Halloween fever, and there really is only one choice to make when you are feeling THIS autumnal and excited! Step forward Michael Dougherty's modern classic, Trick 'r Treat.
As always this list showcases MY personal favorite posters. The select few that pushed my art loving buttons and made me want to poison a fat kid so I could hollow out his chubby little head. There are hundreds more incredible designs out there but these are the best of the best in my humble opinion.
King of Halloween: SAM! – (Cody Schibi)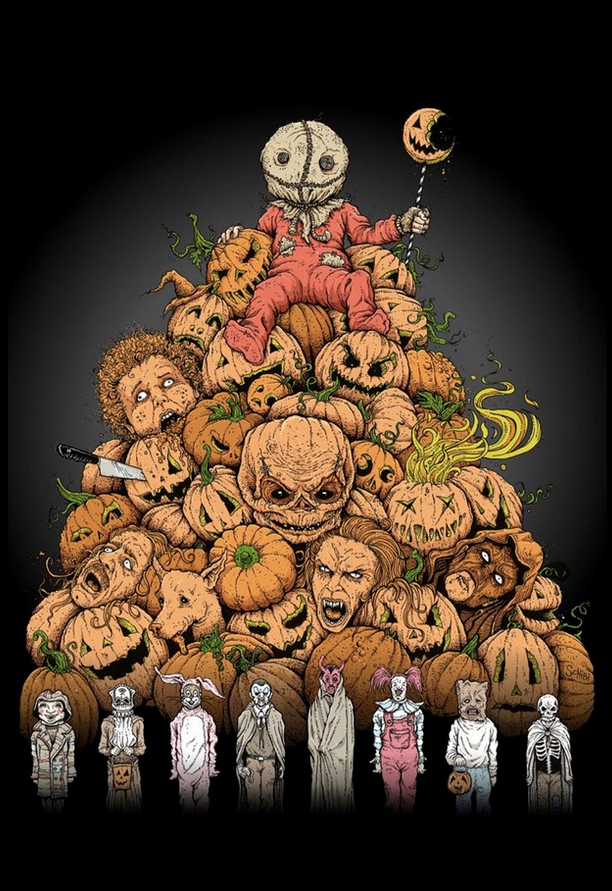 Every King needs a throne, and Coby has provided Sam with a gruesome place to sit that I think the little monster would really appreciate. The level of detail within the art gives the whole piece a wonderfully textured appearance, and by blending jack-o'-lanterns with severed character heads from the movie, Coby makes sure your eyes are kept very busy as they move across this gloriously fun poster.
Trick 'r Treat Tribute 5 – (Bryan Baugh)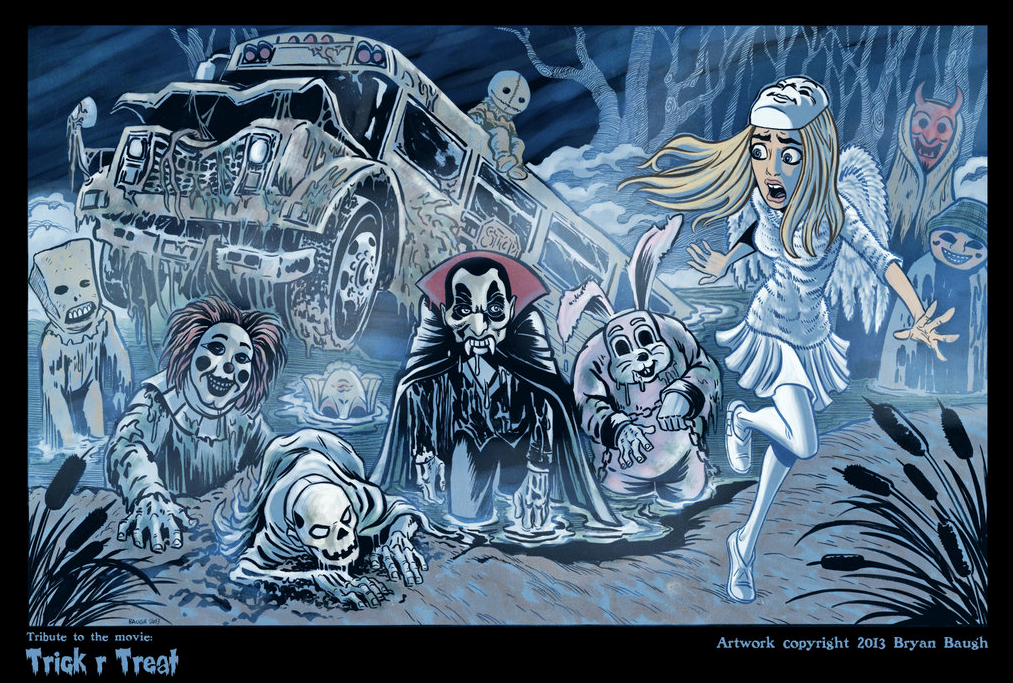 Most artists will understandably concentrate on Sam when they approach creating some art that pays tribute to Trick 'r Treat, but I personally love those tragic and creepy School Bus kids the most, so this piece by Bryan has always been a big favorite of mine. The subtle fog effect that sits between the crashed bus and the kids emerging from the water gives the image a nice feeling of depth, and Bryan has nailed the appearance of each and every character while giving them a fresh cartoon style makeover.
"CAKEPOP SAM" DEADLY DESSERT PRINT – (Aaron Crawford / Cavity Colors)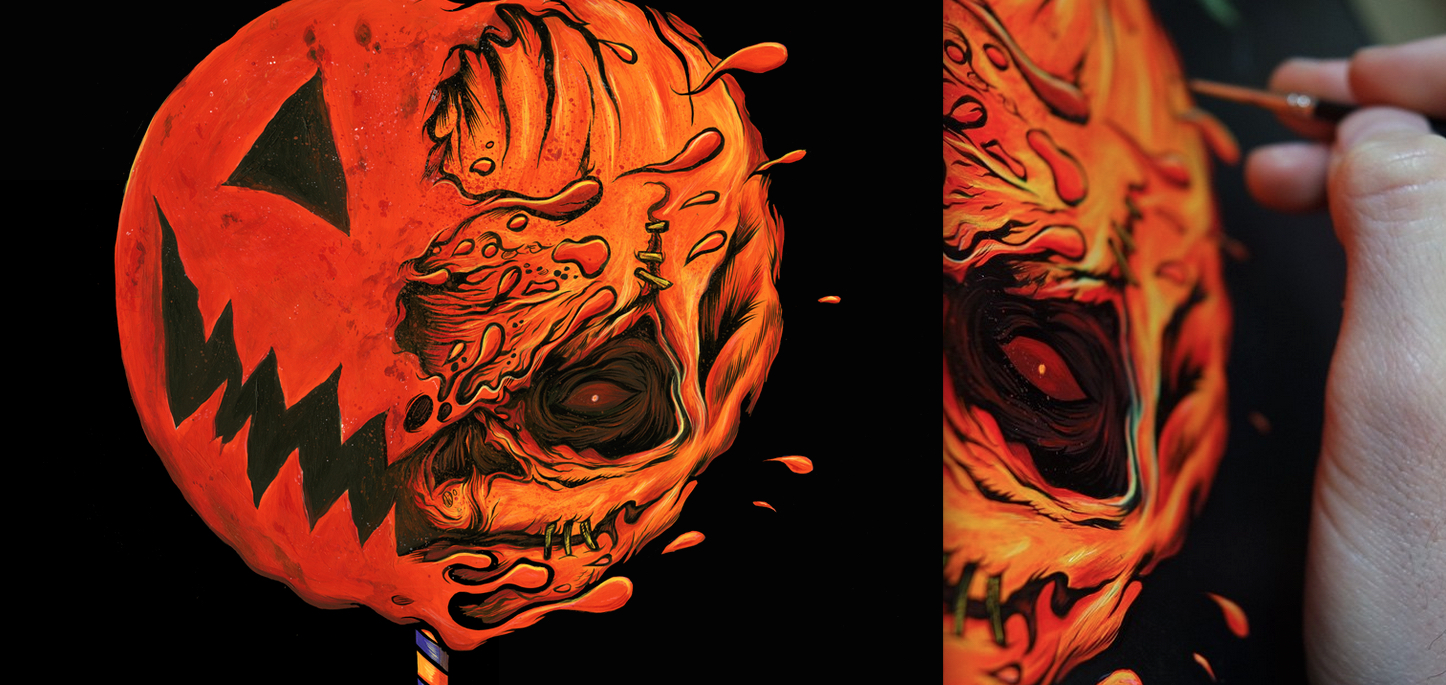 Another brilliantly vibrant piece of art by Aaron, which belongs to his 'Deadly Desserts' series of paintings that feature iconic horror characters being merged with tempting sweet treats. They are creepy, very cool, and ALWAYS make me feel hungry (I should probably be worried about that!). This little masterpiece was illustrated and painted by hand from start to finish, which is rarer than you might think these days, and always gives Aaron's work a certain intensity and energy that makes it instantly recognisable and constantly pleasing to look at.
Trick 'R Treat – (Phantom City Creative)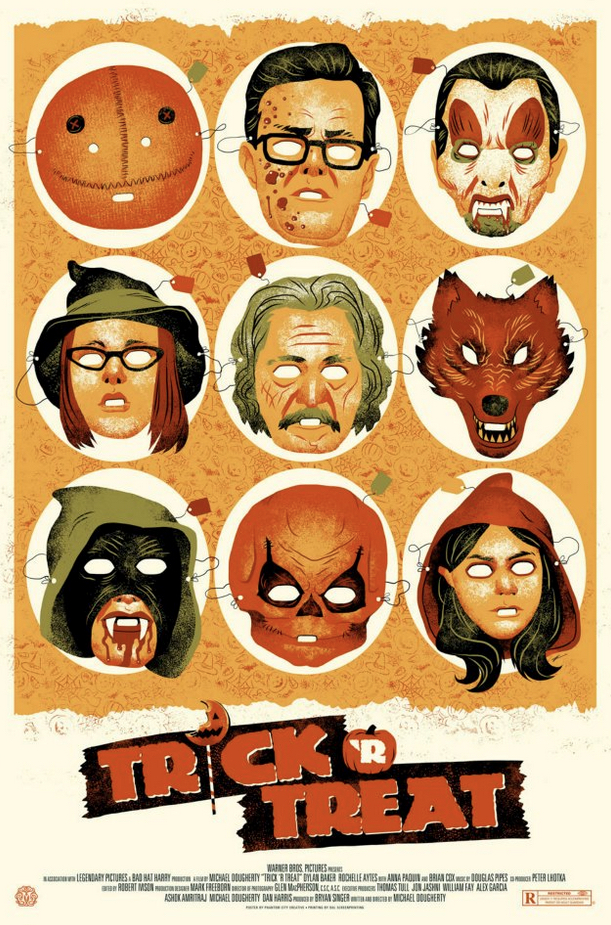 I think it's safe to say that Trick 'r Treat entered the Halloween movie Hall-Of-Fame from the moment it was released, and despite being firmly set in our familiar modern era, the storytelling will remain timeless and still be perfectly watchable decades from now. Good stories don't age, and we have seen this at work with Carpenter's Halloween and the recent surge in appreciation for H3: Season of the Witch. Phantom City have gone back in time with this spine-tingling poster by presenting the characters as simple vintage Halloween masks. It's a clever concept that merges nostalgia with something new to create an image that feels perfectly appropriate and just looks fantastic!
Trick 'R Treat – (Sal Gabriel)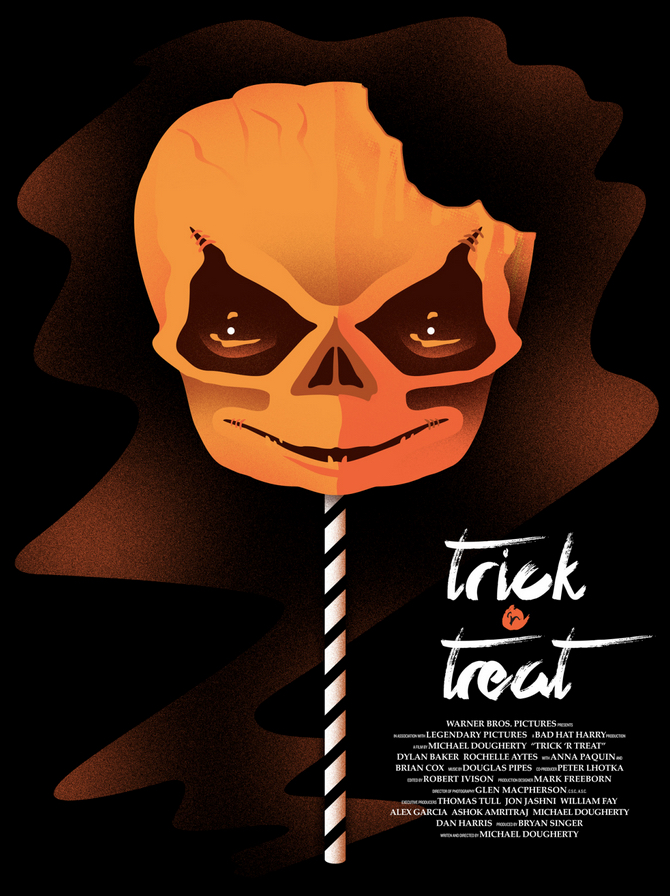 This sharp and stylish design by Sal is one of my favorites when it comes to posters that show Sam without his burlap sack mask. The flat colors and subtle shading really compliment the accurate illustration, and the end result is a haunting image that feels alive when you look into those eyes. There are rules and traditions to be followed on Halloween night, and this little terror enjoys enforcing them!
Halloween Bros. – (Ted Bracewell)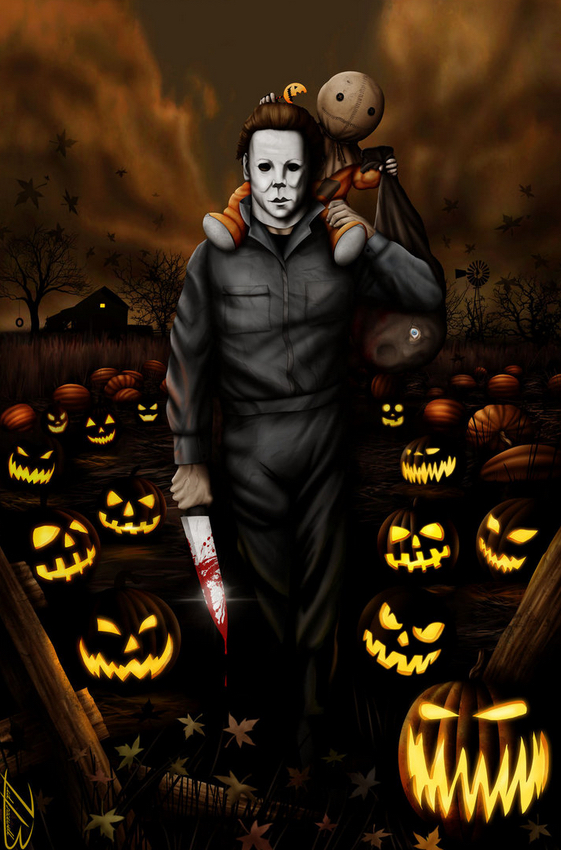 I know you can't really call this an alternative poster design for the movie, but I simply had to include it. These two trouble-makers just feel right together, and they know exactly what needs to be done when October 31st arrives each year! They both enjoy silently watching people from afar. They never get involved in a situation until the time is right. They understand that you MUST wear a costume on the big day. AND, when action needs to be taken they will stab you repeatedly until you are swimming in your own blood! Ted's beautiful art is dripping with Halloween atmosphere, and for once we know EXACTLY what Sam is carrying in his sack!
Trick 'r Treat – (Charles Frumerie)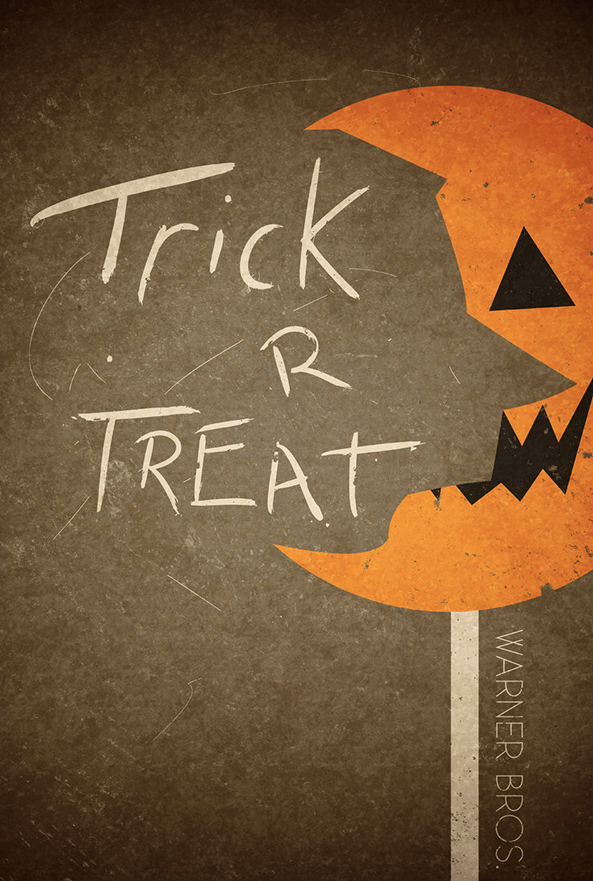 I always like to feature a minimalist design on these lists, and today I instantly knew which poster I wanted to include. Charles has perfectly captured the tone and style of the movie within this simple piece, and also managed to include a cool little design choice that fans of the movie should quickly notice. At least I THINK that's the case? Look at the bite mark on the lollipop – does it form the side profile of the bus massacre kid who wears the Dracula mask? Anyone else see that? … Just me?
Trick 'R Treat Poster – (Meghann Pardee)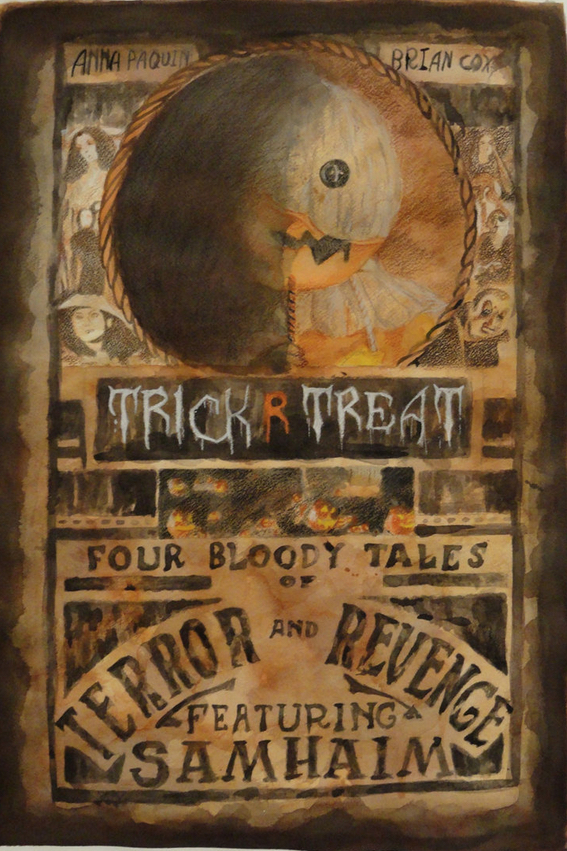 We finish for today with this wonderful piece of art by Meghann which I recently discovered on DeviantArt. The loose watercolor style gives the poster an old, weathered and faded appearance, while the composition was based on a classic penny dreadful book cover. It's subtle, but like all of the posters I have featured here today it's infused with that all important Halloween season magic. A creepy quality that's hard to describe but you always know it when you see it.
Now bring on the candy!!
For further information on any of the posters you have seen here today or the artists who created them you are only a Google search away.
Support Halloween Love
If an item was discussed in this article that you intend on buying or renting, you can help support Halloween Love and its writers by purchasing through our links:
(Not seeing any relevant products? Start your search on Amazon through us.)