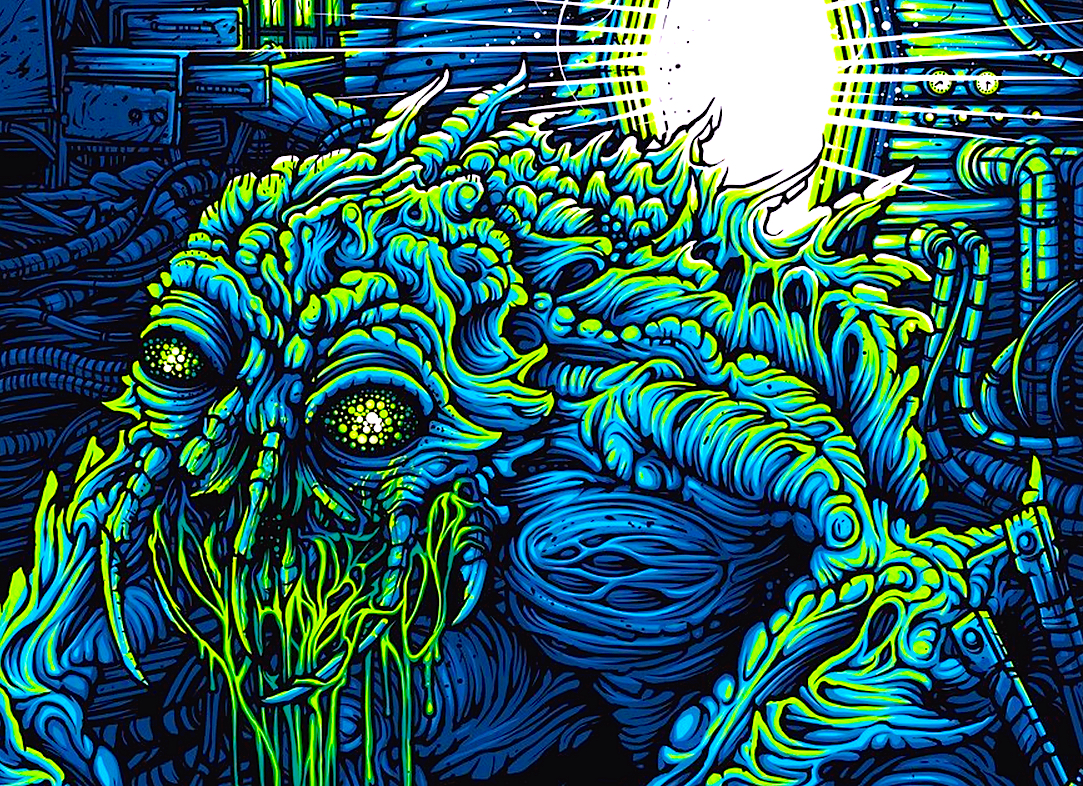 Sunday has once again arrived all too quickly and here at Halloween Love that means one thing – it's time for another batch of incredible poster images from the thriving alternative art community!
So far I've revealed my personal favorite posters that pay tribute to: Jaws – Stephen King's IT – Alien – The Shining – The Thing – Ghostbusters – Jurassic Park – Scream – A Nightmare on Elm Street – Halloween 3: Season of the Witch – Halloween – Silence of the Lambs – The Friday The 13th franchise and An American Werewolf in London. Today we're going to spend some time with a brilliant and eccentric scientist called Seth Brundle, who claims he has invented something that will "change the world" …
Can anyone else hear a Fly buzzing?!
As always this list showcases MY personal favorite posters. The select few that pushed my art loving buttons and made me want to barf on a doughnut while swinging naked from a light fitting. There are hundreds more incredible designs out there but these are the best of the best in my humble opinion.
Make sure your finger nails are still attached, prepare for some arm-wrestling competitions, and follow me …
"The Fly" – (Jason Edmiston)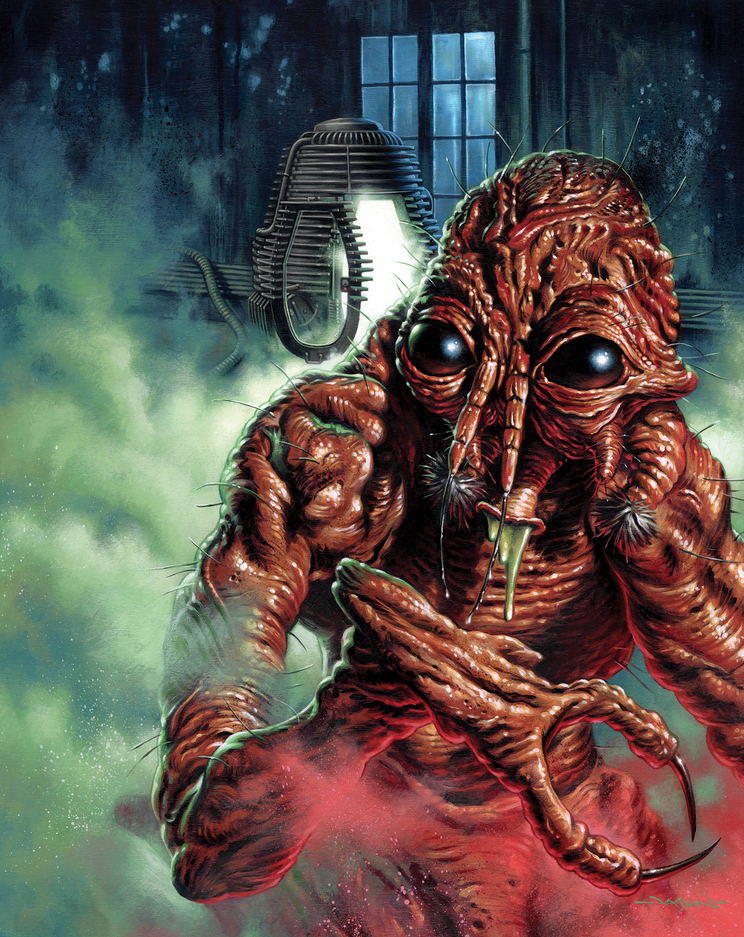 Jason is one of those special artists who can make ANYTHING look good, and thanks to his understanding of light and texture even a portrait of Brundlefly fully transformed and drooling corrosive puke ends up looking vibrant, glossy, and tastier than a slice of whipped cream cake! Ridiculously awesome work from a guy who can produce mind blowing art traditionally AND digitally with no difference in quality and style.
"The Fly" – (Dan Mumford)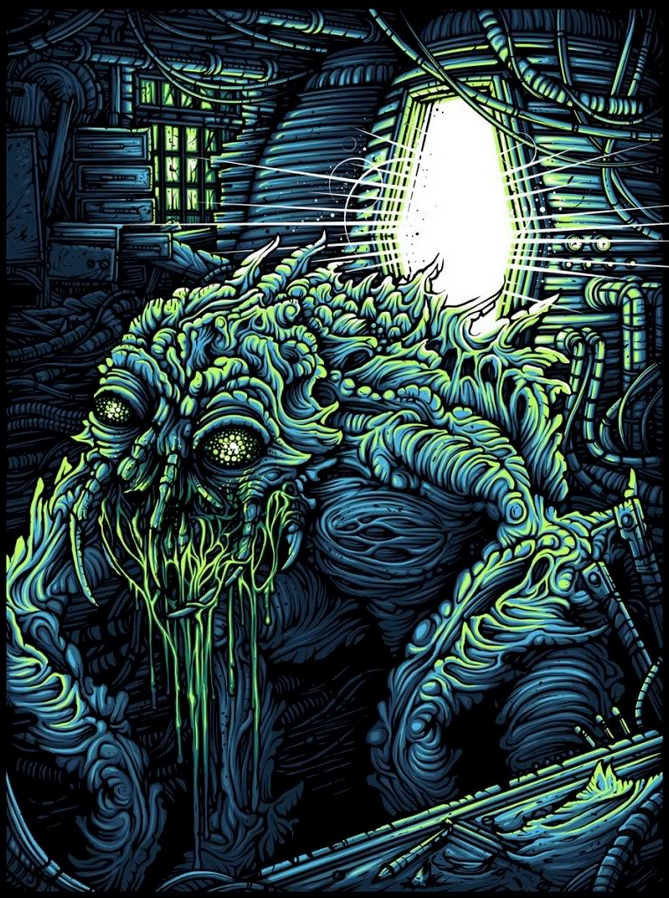 I think Dan was BORN to illustrate this poster, just look at all that intricate, organic and writhing detail – it's magnificent! The limited color scheme and considered light sources combine to make this piece incredibly atmospheric, and I honestly don't think I have ever seen Brundefly look more menacing! Stunning work from a relentlessly brilliant artist.
The Fly – (We Buy Your Kids)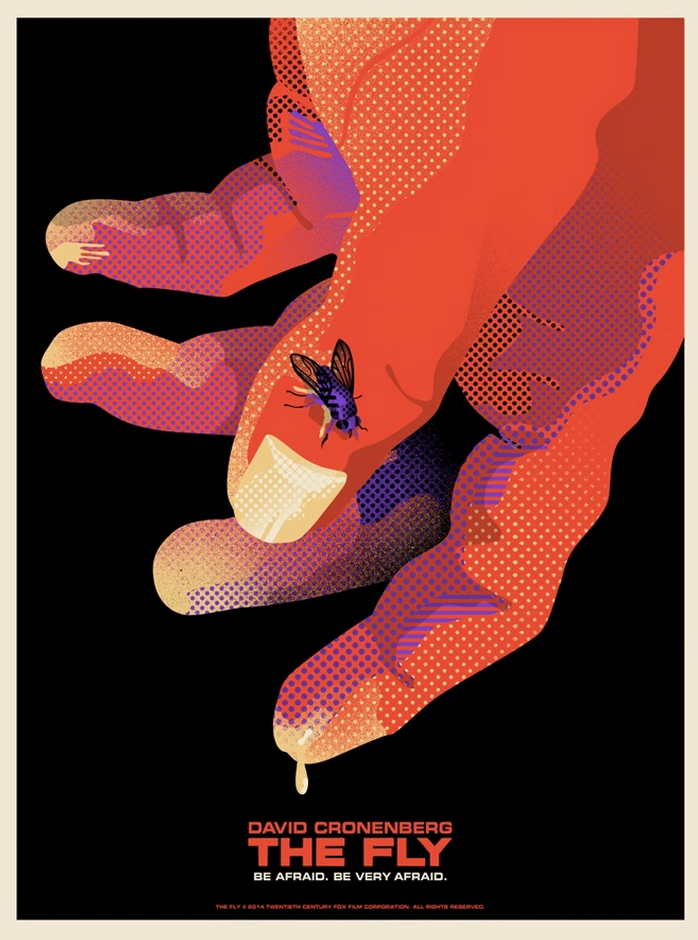 A classy and stylish poster that avoids showing the monster that Seth Brundle will become, and instead focusses on just how small and insignificant a simple fly can appear next to a human hand. Unfortunately for Seth, size really doesn't matter when you are being fused at a molecular-genetic level, and his fate was sealed the moment he entered the telepod unaware he was taking a tiny insect intruder along for the ride.
"the fly" – (Tom Whalen)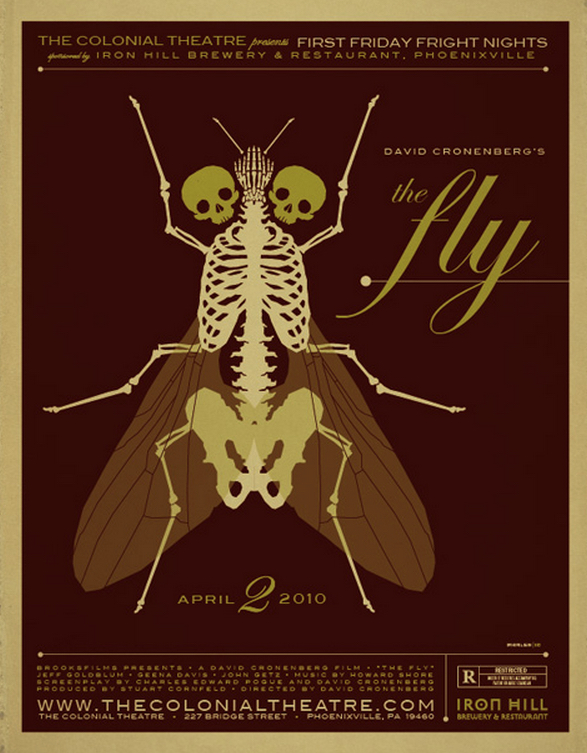 Tom maintains the theme of man merging with insect by creating an image of a fly entirely constructed using human bones! It's a brilliant concept that looks awesome and just feels appropriate for a movie made by the one and only David Cronenberg. A clean, simple and seriously effective alternative poster design.
"THE FLY – VOMIT DROP" – (Aaron Crawford / Cavitycolors)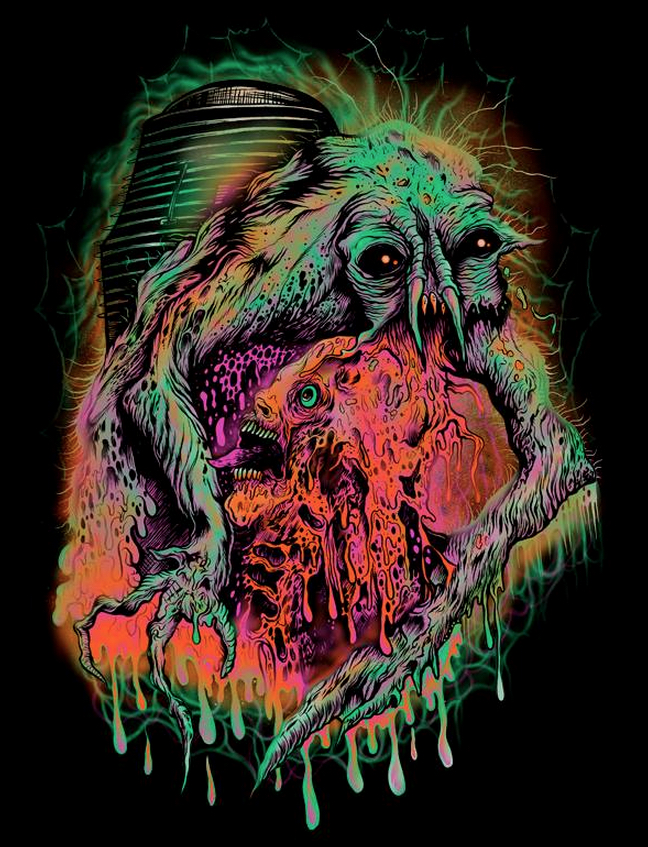 Melting skin dripping from the screaming head of a helpless victim as Brundlefly tenderly douses him in neon fly vomit! Sounds like another beautifully gross masterpiece from the now legendary Cavitycolors. Every piece of art Aaron creates demands to be noticed, and this bile soaked tribute to The Fly is no exception. The colors perfectly compliment the energetic artwork and the end result is gruesome greatness!
"BRUNDLEFLY" – (Drew Wise)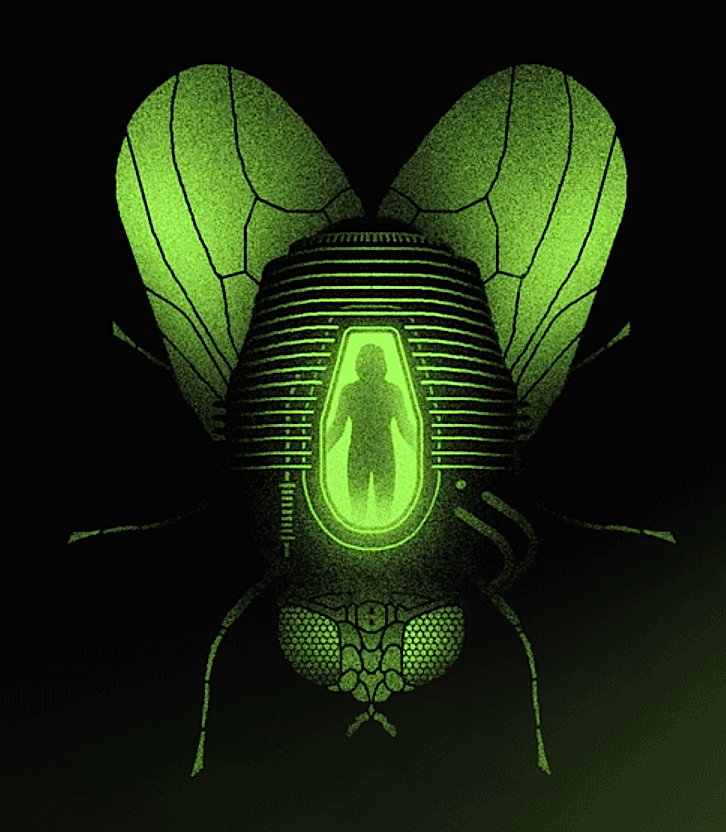 I believe Drew created this piece of art for a Teefury release rather than a poster or a print, but I LOVE it, and simply had to include it in the list. The silhouette of Brundle within the telepod is unnervingly accurate, and the way it forms the body of the fly is just design heaven to me. This is MY kind of art … Dark, clean, atmospheric and sharp as a knife blade. Minimum fuss, maximum visual impact.
The Fly – (Drew Millward)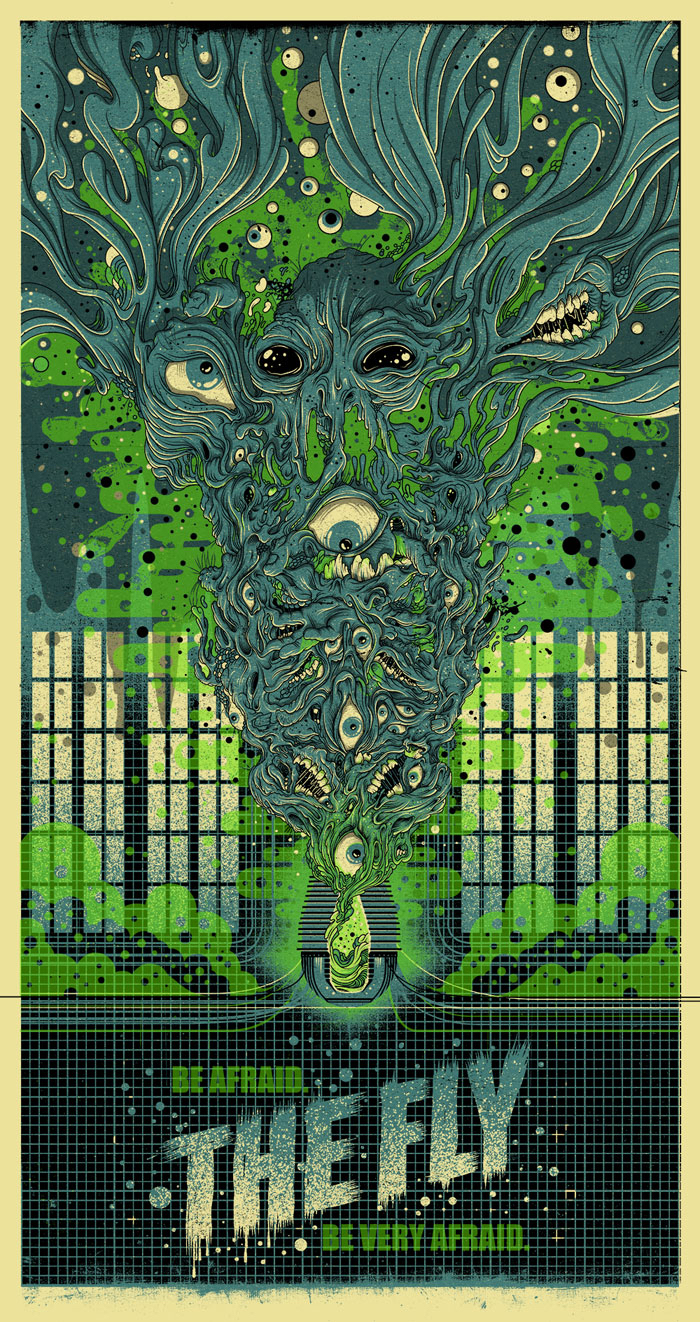 Drew has combined two very different visual styles within his epic poster and the end result is seriously impressive. The bottom half is very clean, organized and technical, but as soon as the poster rises above the open telepod we are treated to a torrent of wonderfully grotesque organic matter, swirling like a tornado of disassembled body parts. It's a stunning visual tribute to the deadly nature of Brundle's unpredictable technology and at the centre of all the chaos we can see the face of the creature that Seth will ultimately become. An incredible poster by a very skilled artist.
Be Afraid. Be Very Afraid – (Brandon Schaefer)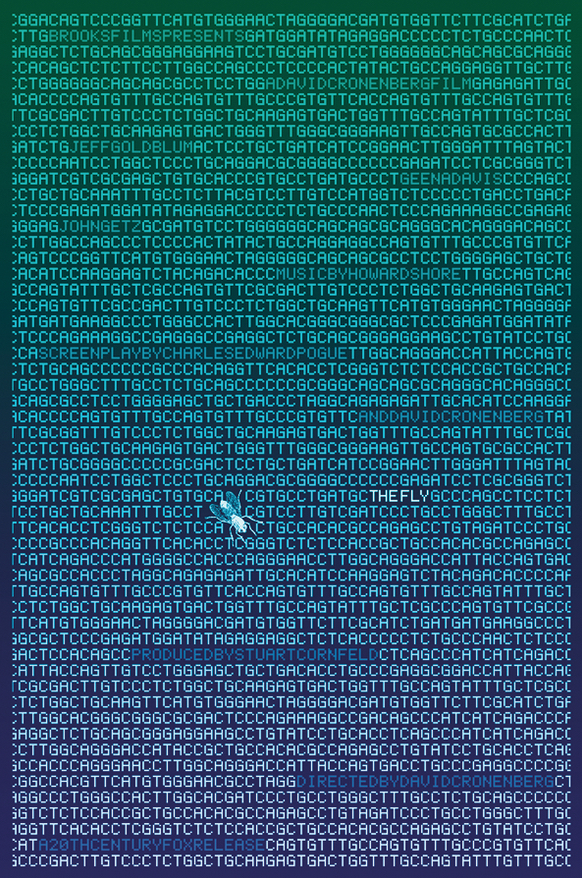 We finish for today with a crisp slice of minimalist poster perfection. By hiding the film cast and credits within a huge block of computer code, Brandon has created a poster that mirrors the way in which the fly's genetic material was perfectly merged with Brundle after the original telepod test. Hidden danger, seemingly insignificant amounts of change, and technology making decisions that can have devastating repercussions … This poster makes me think about all of this and more. A very clever piece of art that really feels connected to the movie and the message it was trying to deliver.
For further information on any of the posters you have seen here today or the artists who created them you are only a Google search away.
Support Halloween Love
If an item was discussed in this article that you intend on buying or renting, you can help support Halloween Love and its writers by purchasing through our links:
(Not seeing any relevant products? Start your search on Amazon through us.)