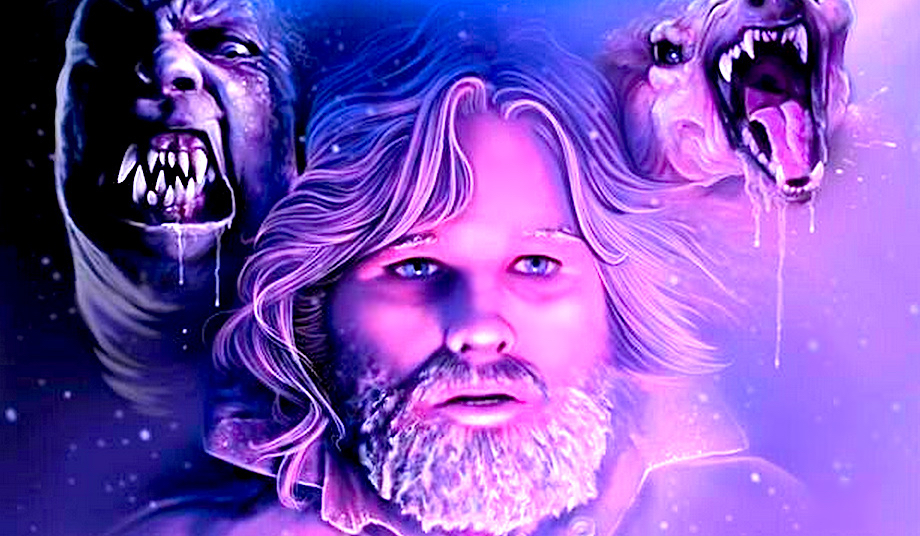 Sunday has once again arrived all too quickly and here at Halloween Love that means one thing – it's time for another batch of incredible poster images from the thriving alternative art community!
So far I've revealed my personal favorite posters that pay tribute to: Jaws – Stephen King's IT – Alien – and The Shining. This week we travel from the haunted corridors of the Overlook Hotel to the lonely and paranoid prison that is Outpost 31.
After you have completed a quick blood test I want you to grab a flamethrower and read on …
Isolation: "The Thing" – (David Moscati)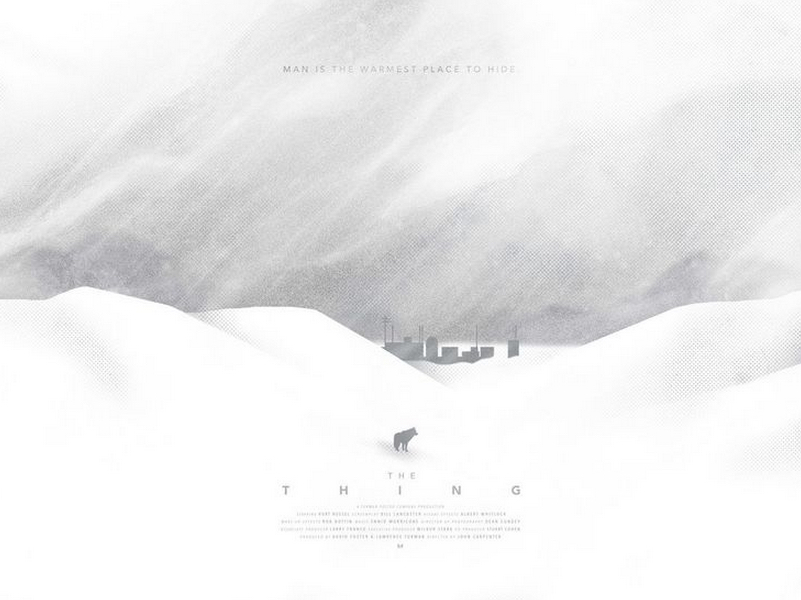 David kicks things off with this beautifully clean and effective piece of art. The subtle shading and use of halftone dots combine with the nicely placed silhouettes to create a very ominous poster. You can almost FEEL the biting cold of the whiteout conditions swirling around the doomed camp. The image of a lone dog approaching Outpost 31 has become iconic over the years, and like so many other great alternative posters I've looked at in recent weeks this would have just as much impact without any tag lines or credits. The art speaks for itself and David nailed the feeling of isolation he was hoping to achieve.
The Thing: MacReady – (Fernando "Fro" Reza)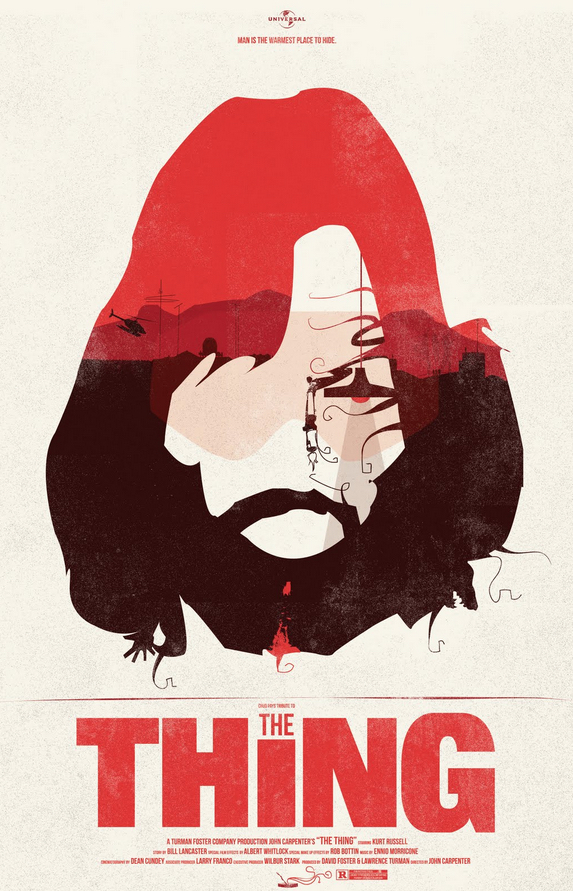 At first glance this appears to be a fairly standard minimalist poster image of MacReady's face, but it truly comes alive when you enlarge and the many tiny details and clever artistic tricks are revealed. I especially love the hanging light that becomes Kurt Russell's weary eye and the alien tentacles that surround it forming skin creases and lines on a tired and troubled face. A wonderful concept put together in style with no excess or unnecessary content.
The Thing Poster – (Candykiller / Brian Taylor)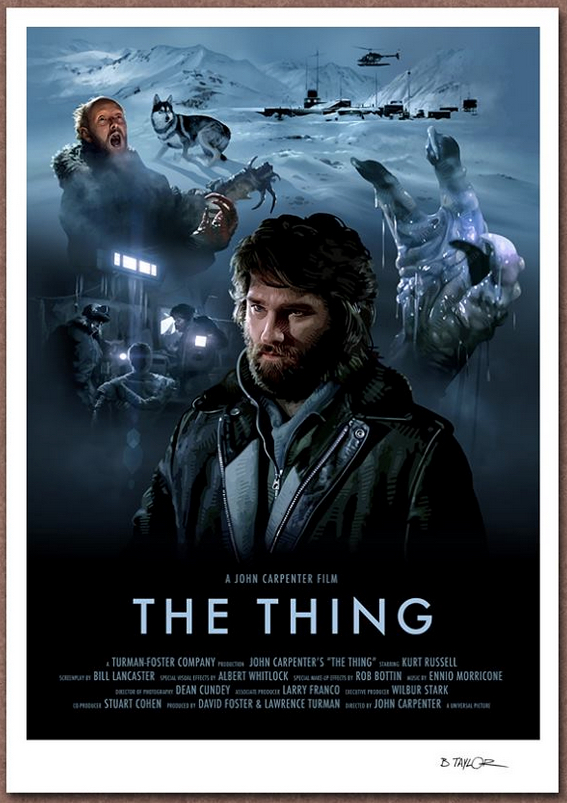 No list would be complete without a poster from Brian. If he's created some art based on a movie I feature then it's almost impossible NOT to include whatever it is he came up with. I normally prefer my art to be more obviously illustrated and abstract but the technical ability on display here is utterly irresistible. Every time I happen across his work online I stop to look at it, admire it and study it. Digital magic.
The Thing – (Dan Mumford)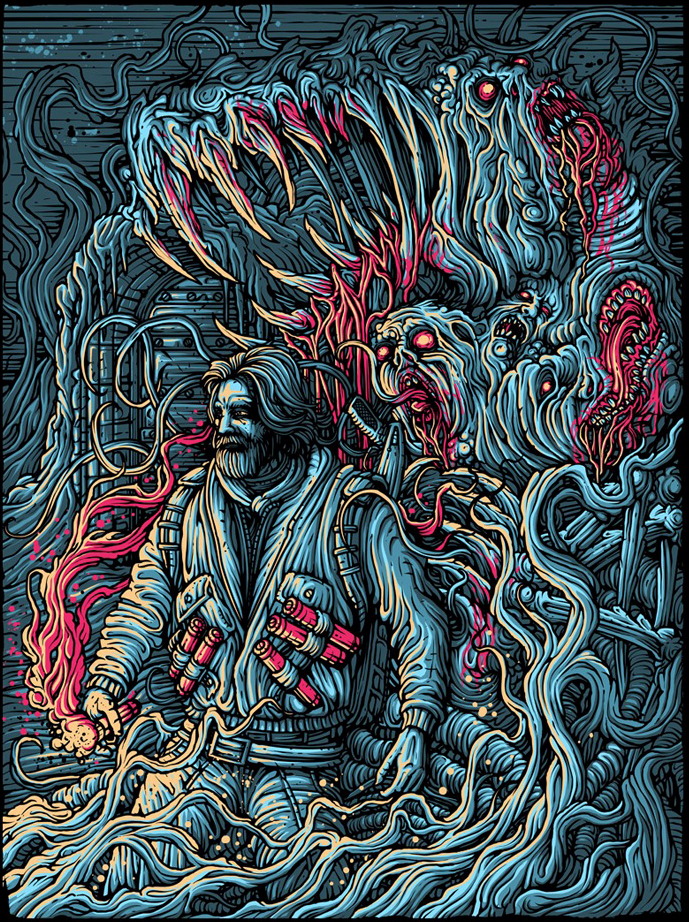 Mind-bending brilliance from Dan, who has an organic and highly detailed style that never ceases to amaze me. MacReady is almost lost within a swirl of snake-like tendrils and thick dripping blood, even the swirling smoke from his flare seems to merge with the monstrously deformed creature. The end result is a beautifully fluid tribute to the chaotic nature of the alien organism.
The Thing Poster – (Nagy Norbert)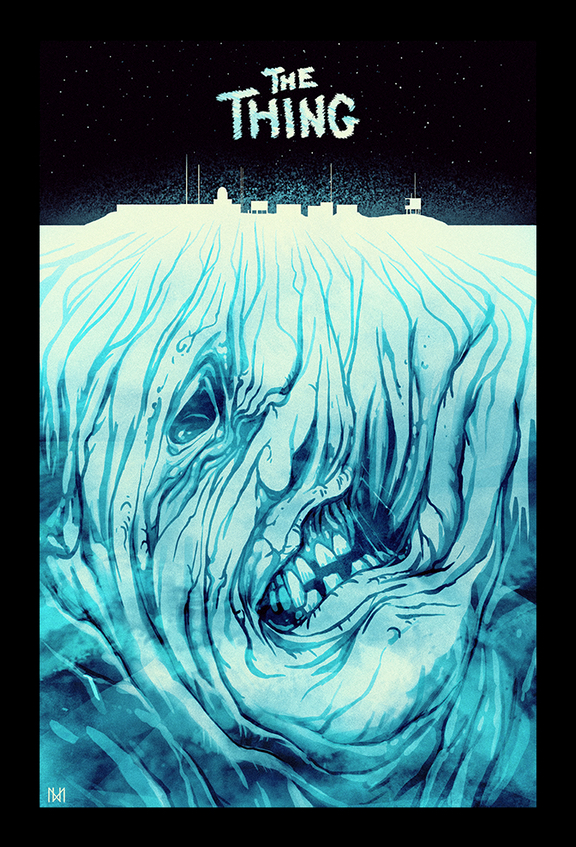 A lot of alternative artists have played with the idea of blending imagery of the creature with the ice and snow that surrounds Outpost 31, and one of my favorites is this eye-catching and epic piece by digital artist Nagy. The outline of the camp is kept small and insignificant which nicely contrasts the rest of the poster as the blue cracks in the ice become larger and start to form that all too familiar distorted face we get to see early in the movie. When I look at this I see inescapable and inevitable danger – which pretty much sums up The Thing perfectly.
The Thing – (Chris Labrenz)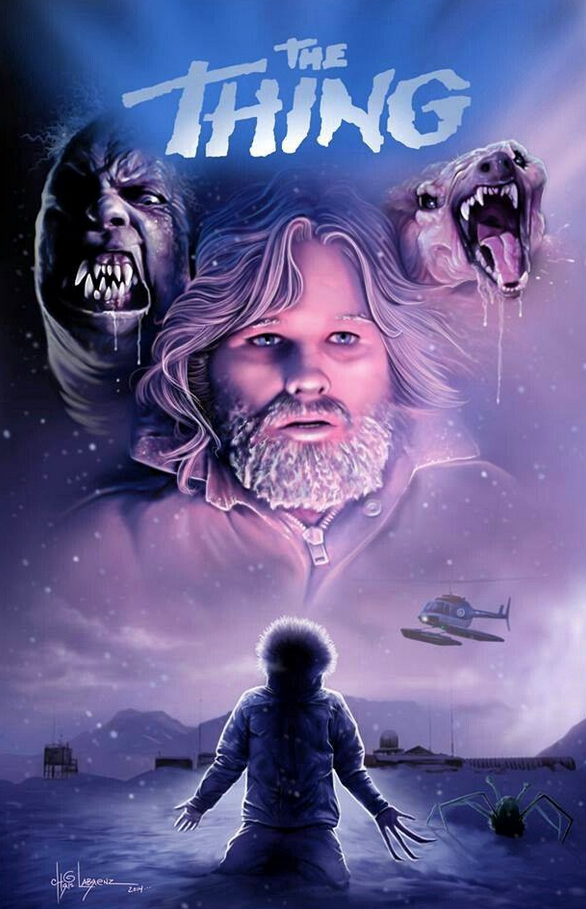 From the frost that has collected on MacReady's beard to the silhouette of the Norris spider-head scuttling through the snow, this is just a smooth and highly satisfying montage of moments and imagery from the movie that combine to create a poster project I've admired from the moment I first discovered it. I had the pleasure of interviewing Chris last year and know all too well just how much passion he has for The Thing and the use of practical effects in movies, so you can be sure this was a labour of love by a very talented individual.
The Thing – (Christopher Lovell)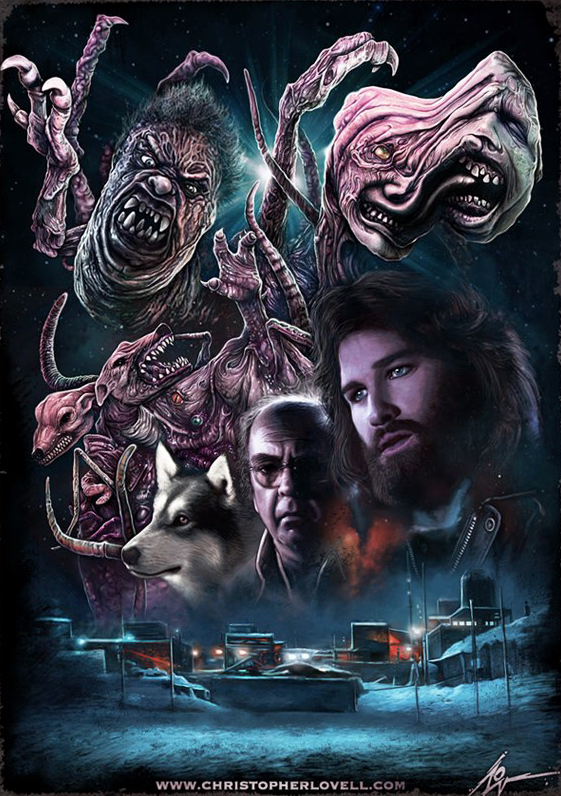 With movies like The Thing it's very common to see the subtle and brooding approach being taken when it comes to alternative art – but Chris decided to unleash some full-on alien action in this sensational piece he created for Fright-Rags back in 2012. It features just about everything you could hope to see if you love the movie, from the hauntingly pensive expression on Blair's face to the explosion of twisted alien anatomy rising above the characters – it's dynamic, energetic and awesome!
The Thing 30th Anniversary Poster – (Paweł Durczok)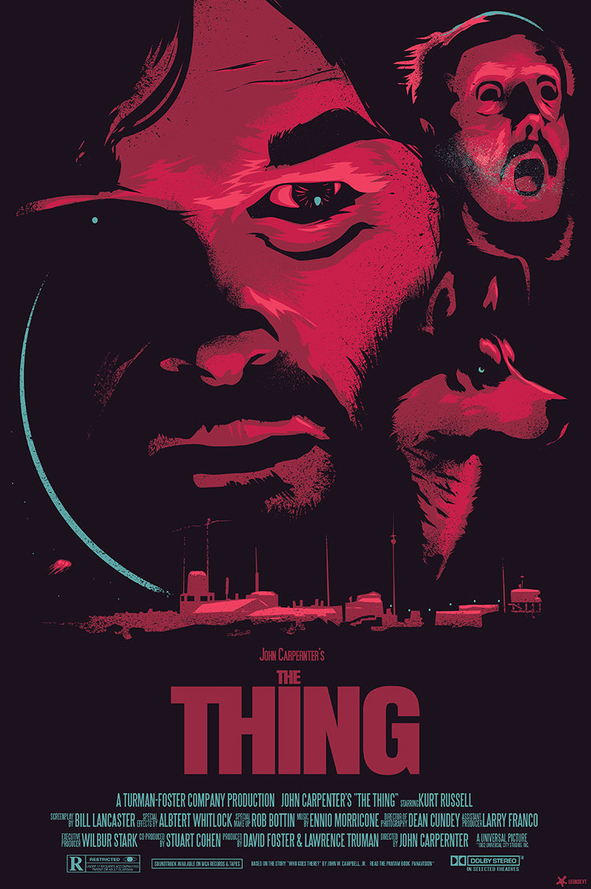 We finish for today with this striking poster that stands out from the crowd due to the red color scheme that strays from the normal white, blues and purples you associate with The Thing and its frosty location. It reminds me of the way characters and their faces would often be illuminated by nothing more than the light coming off an ignited flare. There are also several wonderfully subtle touches included such as the curvature of the earth around MacReady's face and the tiny alien spaceship heading for its crash landing. A slick poster that caught my attention instantly.
For further information on any of the posters you have seen here today or the artists who created them, you are only a Google search away.
Until next time, stay safe and "Watch Clark!"
Support Halloween Love
If an item was discussed in this article that you intend on buying or renting, you can help support Halloween Love and its writers by purchasing through our links:
(Not seeing any relevant products? Start your search on Amazon through us.)
The following two tabs change content below.
Martyn
I love horror, art, toys, comics, monsters and ANYTHING that came from the 1980s. You can contact me via martyn@halloweenlove.com ... Share our stuff and thank you for reading, we do it all for you!