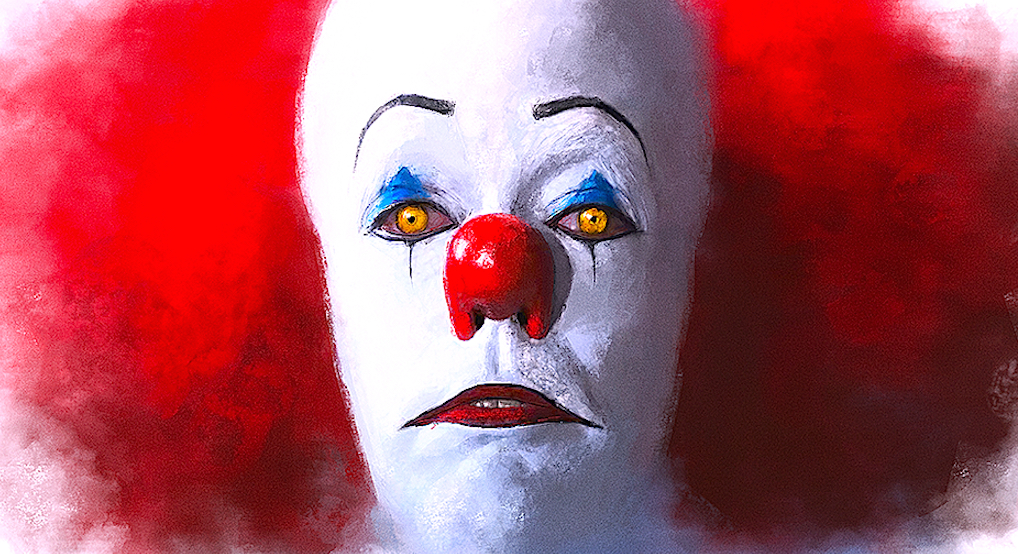 The year was 1990 and a TV mini-series was about to be released that would change the way many of us look at clowns forever. Based on Stephen King's epic novel, IT was 195 minutes of friendship and fear. At times it felt like watching a more unnerving version of The Goonies but that's the magic of a King story – you often get a healthy dose of adventure blended with the horror.
25 years later, Tim Curry's performance as Pennywise The Clown is still held in the highest regard, a benchmark for everything you could want out of a scary clown. His impeccable acting skills combined with the make-up and costume, came together to produce horrific perfection. The character is firmly established as a modern horror icon and today I'm going to reveal my favorite pieces of Pennywise art created by some of the best pop culture artists from across the digital realm. As always this list could have been huge – there is just so much talent at work right now, but what you see here are the select few that sent my geek, movie-loving mind into a dizzying spin.
Today is also Tim Curry's birthday, so let's celebrate in style! Grab a balloon, lock your doors and never talk to strangers in storm drains!
"Pennywise" – (Dennis Willman)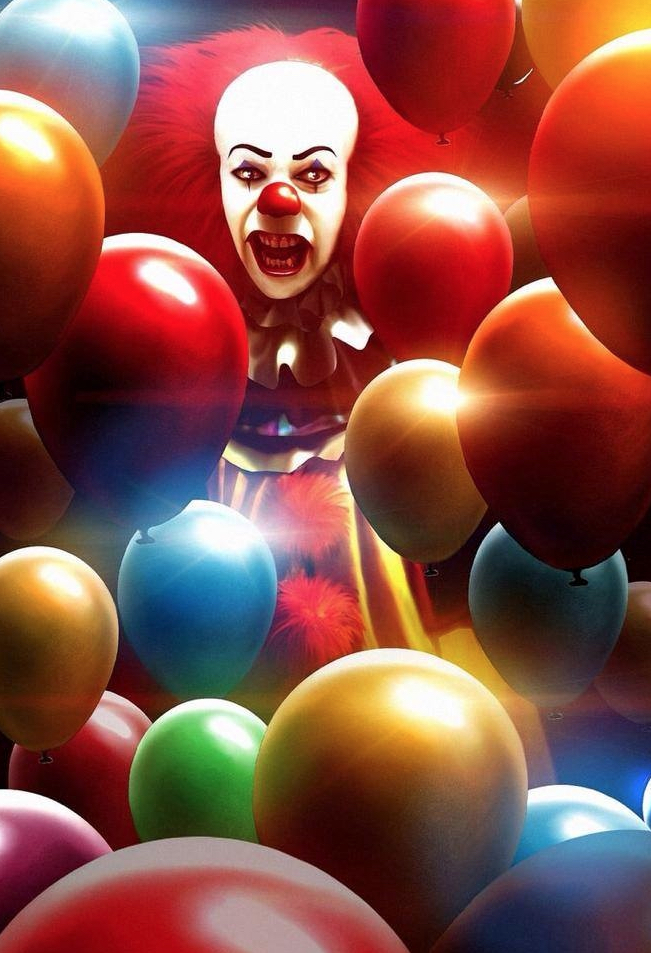 One of my all time favorite pieces of Pennywise art. The intensity of the light and color perfectly complement the classic combination of inviting and cheerful balloons surrounding the pure evil of Pennywise. It's a picture that sears your eyeballs and demands to be looked at! I interviewed Dennis last year and asked him his opinion on Pennywise as a character, here's what he had to say …
"Visually, the character is immediately engaging and personally he scares the hell out of me! I've been commissioned to sketch or fully paint Pennywise more than any other horror character, and I think that's because a lot of people identify with the insanity of being that enamored with something that evil and frightening. Pennywise is universal."
Stephen King's IT – HCG Tribute – (Beery Method/Nick Beery)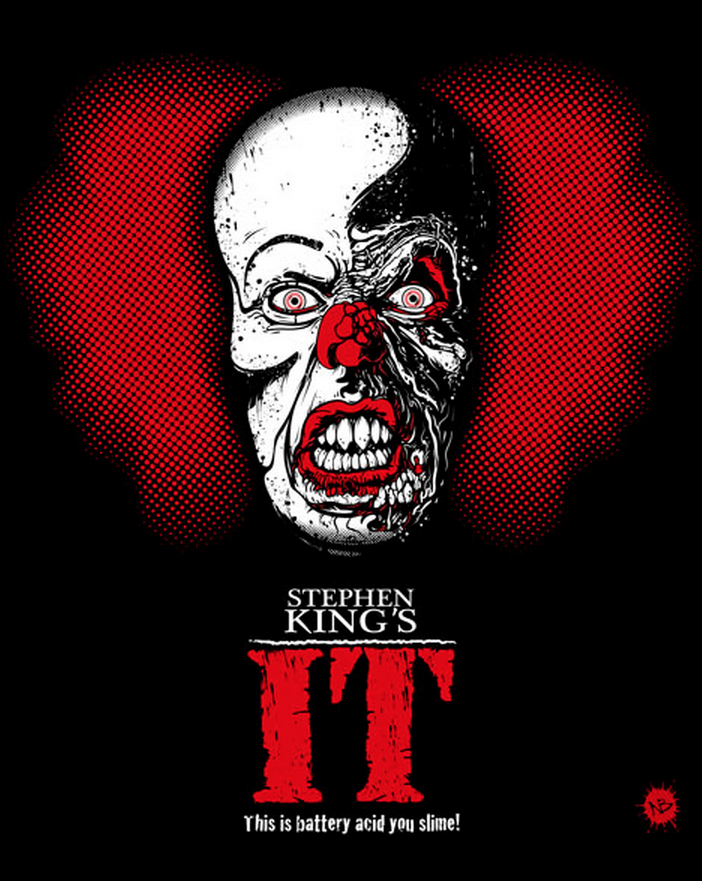 The magic within this poster comes from the decision to use halftone dot work to represent the hair either side of a highly detailed facial illustration. It creates an almost hypnotic illusion of movement and forces you to stare into those terrifying and familiar eyes! Fantastic design and execution from Nick, I'd KILL to own this!
IT Graphic Novel Art – (abonny)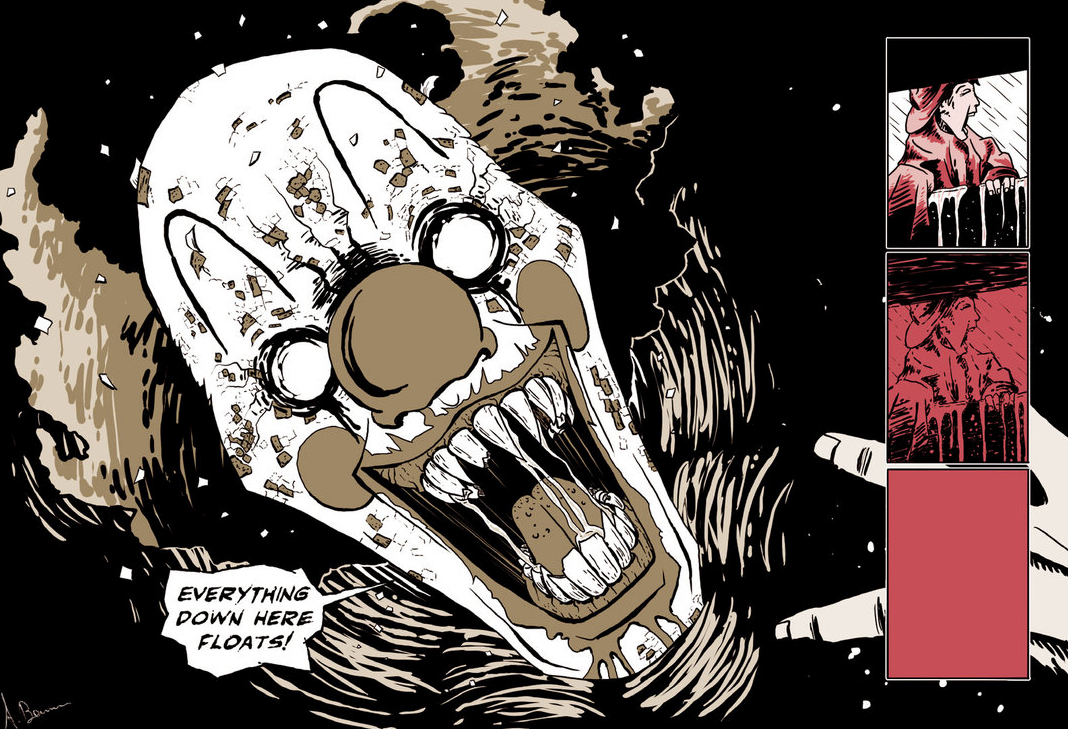 This isn't poster art as such, but the visual style just blew me away from the first time I laid eyes on it. DeviantArt member 'abonny' had this to say about it …
"From my final project at Graphic-Design school. A documentation about a fictional Graphic Novel adaption of Stephen King's IT, done by me. These, sadly, are the last two pages I actually did. In the end I made 8 pages as an example of how the Graphic Novel would look like if it was real."
I'd pay good money to see the entire story illustrated in this way. Amazing work by a very talented individual.
"The Eater Of Worlds, And Of Children" – (Lee Howard)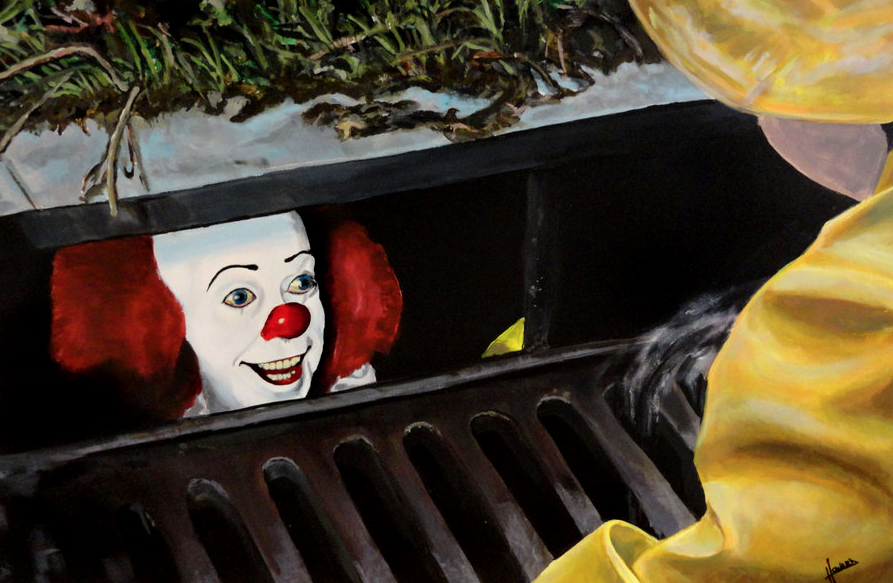 When Lee isn't feverishly creating another brilliantly twisted 'Quiet Room Bear' he is also a very accomplished artist, which is evident right here! Perfect color and light combine to give the piece a hint of photorealism, but it still maintains the hand painted quality I personally love so much. One of the most iconic moments in horror history captured by a passionate horror fan and creator. It doesn't get much better than that!
"Want A Balloon?" – (Casey Callender)

More stellar work from Casey, who also incorporates large amounts of Balloons to increase the feeling of unease that Pennywise can generate. During the mini-series this most evil of clowns would often be spotted in small spaces or at totally random moments and this poster perfectly captures that sensation of suddenly seeing him appear before you. Casey produced a regular version which you can see on the right – and a dynamic "Light Attack" variant on the left. Detailed perfection from a digital art master.
"IT – They All Float Down Here" – (Barbarian Factory / Patrick Connan)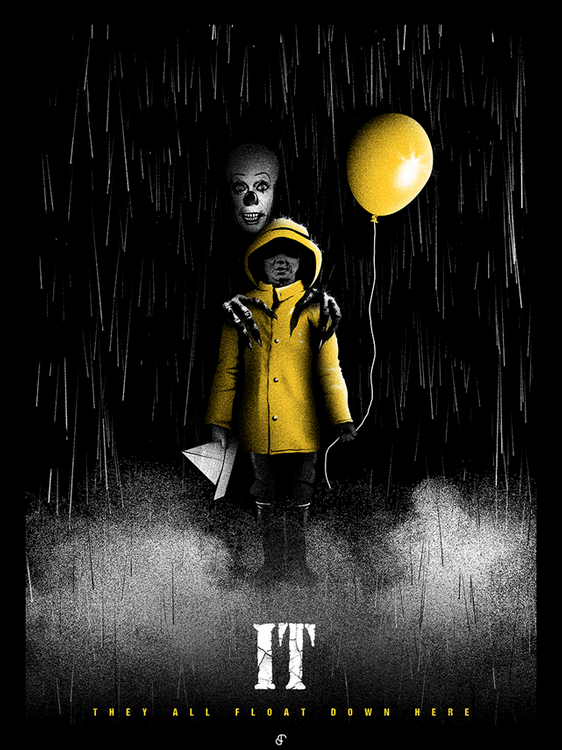 Patrick avoids the temptation to portray Pennywise in a colorful and familiar way by surrounding him with darkness and shadows. The end result is a unique and incredibly atmospheric piece that I've obsessed over from the moment I first discovered it. The concept is simple but the execution is perfect, with fine detail and texture to be found throughout. This MIGHT just be my favorite alternative IT poster for reasons I can't clearly explain – it just ticks all the boxes for me in terms of what I like when it comes to art.
"Pennywise" – (Mario Freire)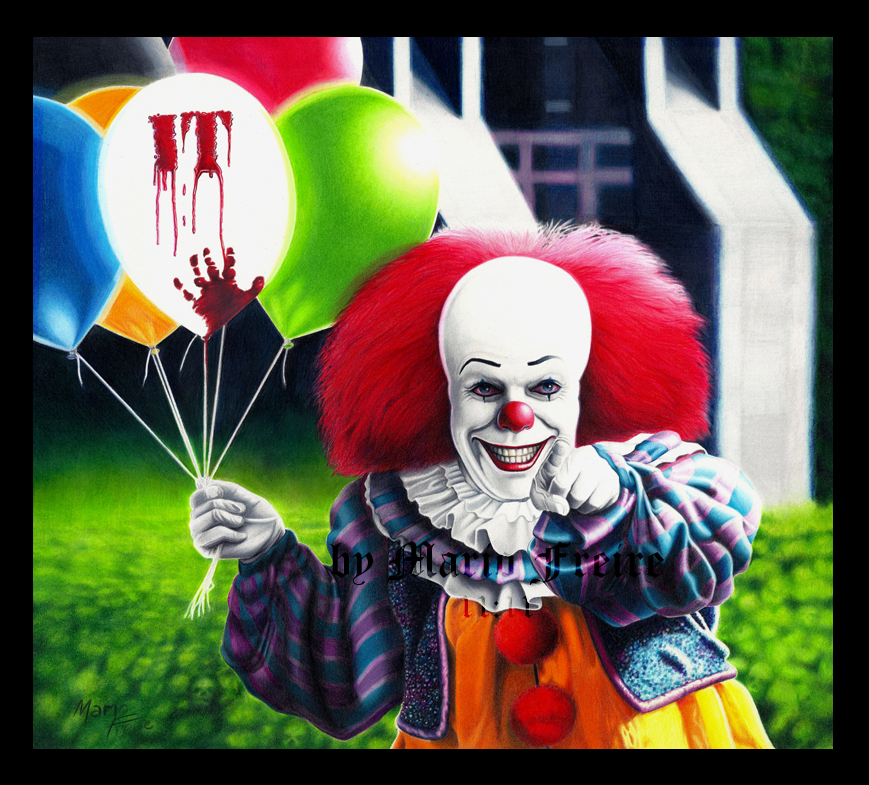 A beautifully vibrant piece by Mario, achieved with good old fashioned color pencils! The sharp detail in the foreground is enhanced by the slightly out of focus background, meaning the whole image has a feeling of depth and substance. I discovered this work during a browsing session on DeviantArt and have been closely following what Mario is capable of ever since. An incredible talent who just keeps getting better and better at what he does.
"Pennywise" – (John Aslarona)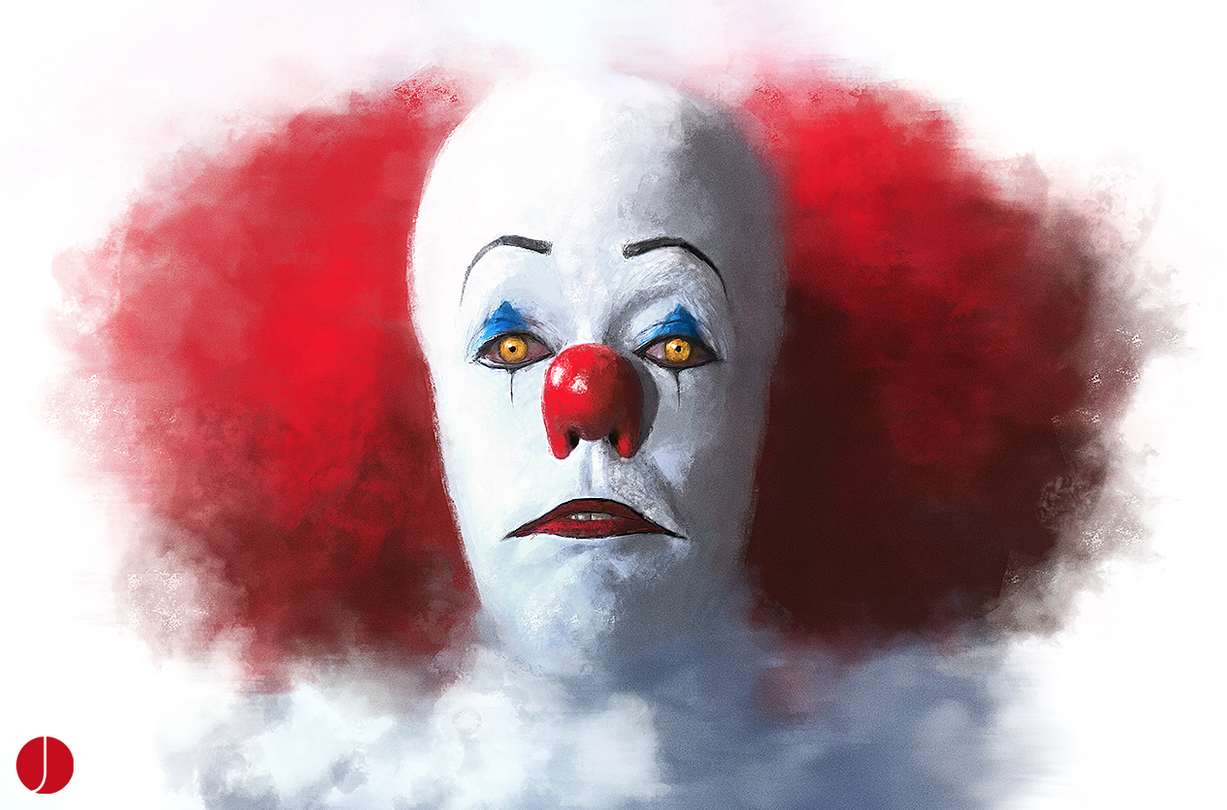 John's piece is another example of what can be achieved with the skilful use of modern digital tools and an artistic eye. The portrait has layers and textures that you feel you can almost reach out and touch. The lighting is perfect and those eyes just burn into you like a laser beam! Most Pennywise images will show him smiling, so this is a very nice change in tone. Incredible work from one of the best movie artists working out there right now.
Repeat after me … "Don't you want it? Don't you want IT? …
For further information on any of the artwork you have seen here today or the artists who created them, you are only a Google search away. Until next time, stay safe and be nice to clowns, they need love too!
Support Halloween Love
If an item was discussed in this article that you intend on buying or renting, you can help support Halloween Love and its writers by purchasing through our links:
(Not seeing any relevant products? Start your search on Amazon through us.)