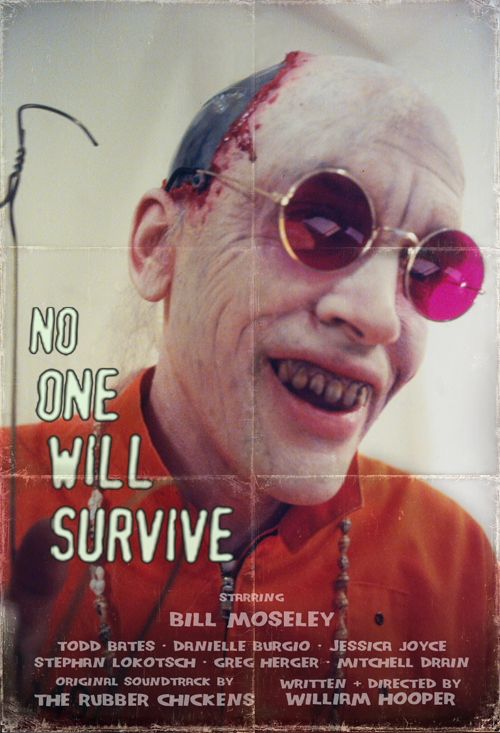 The Texas Chainsaw Massacre franchise is without question the most fascinating and downright confusing series in the genre's history. The original sequels had so little to do with one another that each one felt like a remake, and after 2003's actual remake we've been fed a slew of oddities – from a prequel to that remake to a sequel to the original film. And now a prequel to the original is in the works.
Hard to follow, I'm well aware.
But perhaps the strangest thing to ever happen to the Texas Chainsaw Massacre franchise was a little film called All American Massacre, which to date still hasn't ever been publicly exhibited. It was franchise creator Tobe Hooper's son William who directed the short film, and it starred none other than Bill Moseley – reprising his iconic Chainsaw 2 role of Sawyer family member Chop Top.
The basic idea of All American Massacre is that it was to be a prequel/sequel to Chainsaw 2, which finds Chop Top in a Texas psychiatric hospital – where he's been for the last couple decades. When a tabloid news crew comes in to interview him, Chop Top spills the beans about his past, relaying his murderous deeds and ultimately carrying out a whole new massacre.
It was way back in 1998 that William Hooper and the gang began shooting the short film, and over the course of the next couple years they managed to get the entire thing in the can. Yes, All American Massacre was indeed completely shot, which means that Bill Moseley in fact did play Chop Top many years after Chainsaw 2 – though we've never seen it.
Don't believe me? Check out the original trailer for All American Massacre below, which hit the internet 15 years ago and then vanished into obscurity almost as suddenly as it arrived.
https://www.youtube.com/watch?v=gWY6nj4roBM
So why have we never actually seen the short, despite that trailer being released nearly two decades ago? It seems that Hooper ran into post-productions issues after filming wrapped in 2000, finding himself unable to complete the process and get the film ready for mass consumption. And so, all went quiet on that front for many years, as the footage sat on a hard drive somewhere.
Fast forward to 2011, when Hooper took to Kickstarter in an effort to raise the money necessary to cover post-production. The director was asking for the relatively paltry sum of $8,000 to bring All American Massacre back to life, and his plan was to premiere the short on the web in July of that year. Unfortunately, a mere $1,256 was raised by 18 backers, and Chop Top's return was again put on hold.
It's now been four years since the Kickstarter campaign came to an unfortunate end, and very little has been heard about All American Massacre since then. Between then and now, posts on the film's Facebook page have indicated that it's still in the works and still on the way, but Hooper has yet to deliver on that promise. The last post came in September of last year, relaying the following message: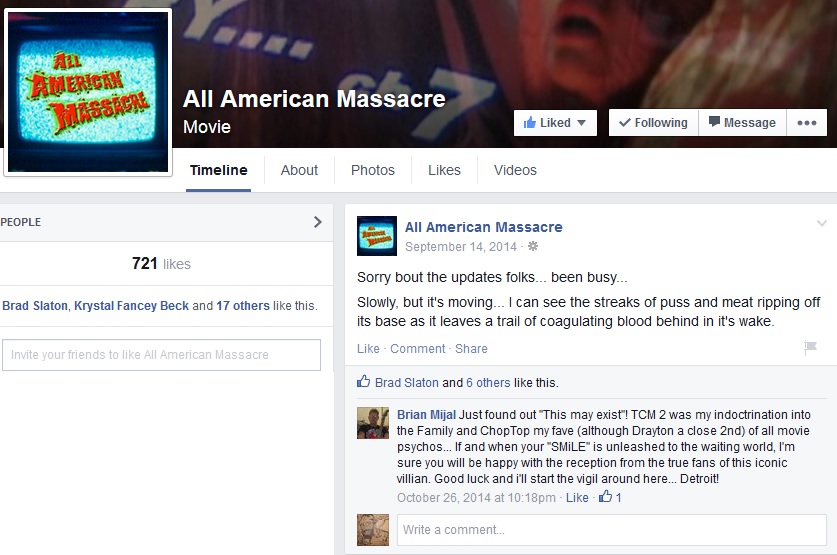 Around the time of that Facebook post, a Twitter account and even a brand new All American Massacre website were launched, though neither of them have been updated since late last year. Neither page contains any real information that wasn't available back in 2000, aside from some new pieces of poster art, and they're mostly full of more false promises that never quite panned out.
According to my math, it's now been 17 years since the cameras started rolling on All American Massacre, and 15 years since we were promised its online premiere. And yet, somehow, it appears that we are no closer to actually getting to see it. Hooper is apparently still struggling with the same post-production issues all these years later, which makes you wonder if this film perhaps simply wasn't meant to be.
I've been keeping tabs on All American Massacre for many years, and back in 2012 I reached out to Bill Moseley to see what he had to say about the matter. He replied to my inquiry with a simple statement, revealing that he felt the film would "probably not" ever see release. Moseley hasn't publicly spoken about the short film since, and his words seem to have suitably predicted the future.
If you're itching to see the return of Chop Top, I invite you to follow All American Massacre on Facebook and Facebook, and through those outlets hound William Hooper to get this bad boy out there into the world. If you're asking me, it's downright criminal that Moseley reprised his most beloved role in a film that vanished off the face of the Earth, and I for one would love to see it.
Maybe a surge of fan interest is all that Hooper needs to finally put his ass into gear. It's worth a shot, at least.
Support Halloween Love
If an item was discussed in this article that you intend on buying or renting, you can help support Halloween Love and its writers by purchasing through our links:
(Not seeing any relevant products? Start your search on Amazon through us.)