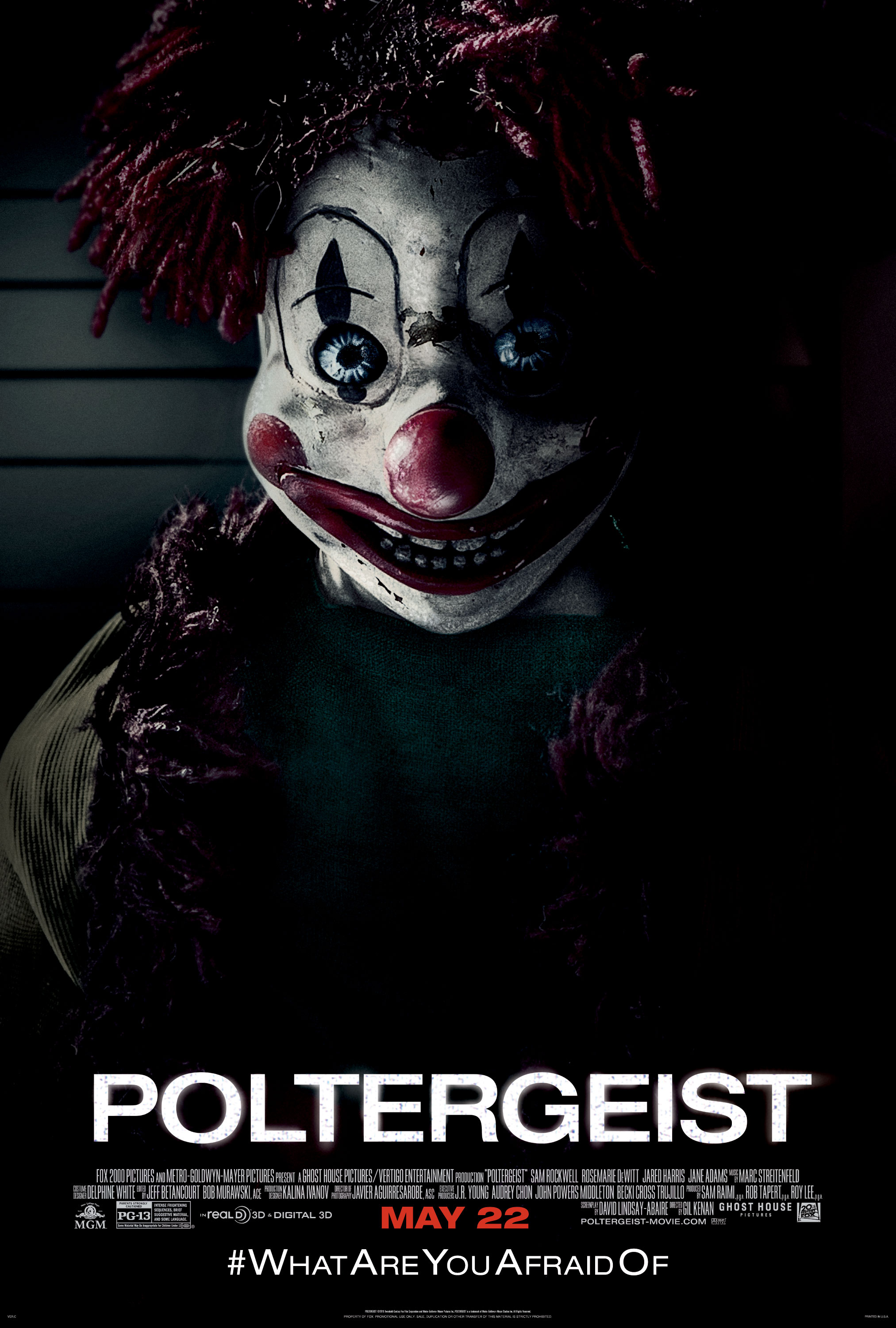 At the time of writing this we are 1/4 of a way through 2015, and a handful of this year's most anticipated horror movies have already seen release. We've been fed box office stinkers like The Woman in Black 2: Angel of Death and The Lazarus Effect, but we've also gotten a decent amount of gems thus far, including Spring, It Follows and Adam Green's Digging Up the Marrow.
That said, there's still much excitement to be found in the months that lie ahead, as this year's release calendar is quite frankly stacked with goodies both on the theatrical and VOD fronts. Of course, we have no way of knowing how many of them we'll actually be talking about come the end of the year, but 2015 looks to be home to more than its fair share of genre treats – if only on paper.
Today here on Halloween Love we take a peek into the future, spotlighting the big horror releases that are still ahead of us. So grab hold of your pen, bust out your planner and get ready to fill it up with 2015's remaining horror offerings!
April kicked off with the theatrical expansion of indie horror darling It Follows and it ends with the release of Unfriended, set to begin its theatrical haunt this Friday (the 17th). Formerly titled Cybernatural, the film is entirely set on the computer screens of its characters, who are methodically killed off one year after a classmate ended her life in the wake of an embarrassing video leak.
This May is going to feel a bit like October, as the month is loaded with some of the year's biggest releases. First up, Arnold Schwarzenegger makes his zombie movie debut in Maggie, playing the father of a young girl infected with the virus. He protects her as she transforms, and the horror-drama looks to be a more serious turn for the action star. It hits theaters and VOD outlets on May 8th.
Though not exactly a horror film, I simply wouldn't feel right leaving out Mad Max: Fury Road, which blasts onto the big screen on May 15th. Original franchise director George Miller returns to bring a bold new vision to the screen, with Tom Hardy taking over the role that Mel Gibson made famous. If there's a movie this year that NEEDS to be seen in theaters, it's definitely this one.
If this May is October then May 22nd might as well be Halloween, as both Poltergeist and The Human Centipede 3: Final Sequence see release on that date. Directed by Gil Kenan (Monster House), Poltergeist is of course a modern day reboot of the 1982 classic, while Final Sequence completes Tom Six's twisted trilogy. In it, a prison warden creates a massive 500-person centipede. Yummy.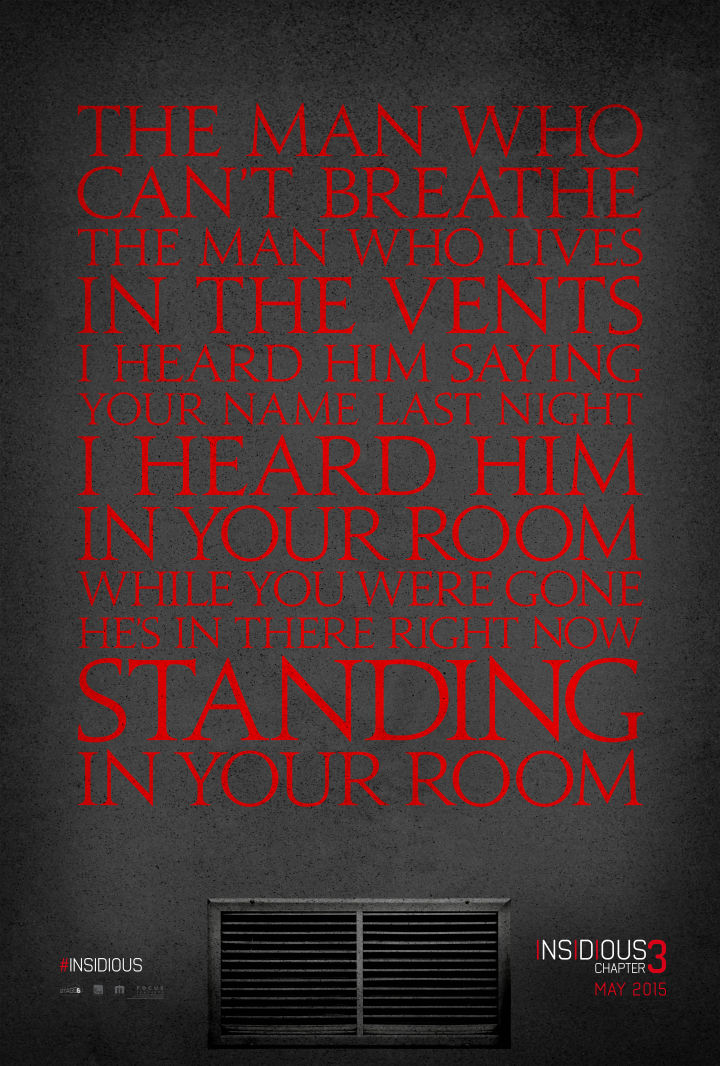 June kicks off with the return of the Insidious franchise, with star/writer Leigh Whannell heading into the director's chair for Insidious: Chapter 3. Taking us back into The Further on June 5th, the third installment is actually a prequel, telling the tale of an early investigation conducted by Elise Rainier and her bumbling pals Specs and Tucker. The case involves a teen girl targeted by a demonic entity.
Sandwiched in between Jurassic World (June 12th) and Terminator Genisys (July 1st) comes Burying the Ex on June 19th, which marks the horror-comedy return of Gremlins director Joe Dante. Starring Anton Yelchin, Ashley Greene and Alexandra Daddario, the film centers on a young man who moves on after his girlfriend dies in a freak accident, but she returns from the dead when he finds a new mate.
On the TV front, June 30th marks the series premiere of MTV's Scream, of course based on the hit film franchise. The series centers around a YouTube video going viral that soon leads to problems for the teenagers of Lakewood, serving as the catalyst for a murder that opens up a window to the town's troubled past. Wes Craven is on board as an executive producer.
July is quiet for the most part but that silence is broken on the 24th with the release of The Vatican Tapes, originally marked for release in May. Crank and Ghost Rider: Spirit of Vengeance director Mark Neveldine helms this latest Exorcist-inspired film, about a group of priests who do battle with a demonic entity that resides within a young girl. Yea. Another one of those.
A month later, Bughuul returns to the big screen with Sinister 2, co-written by original director Scott Derrickson and directed by Irish filmmaker Ciaran Foy (Citadel). Set shortly after the events of the first film, the sequels centers on a mother and her 9-year-old twin sons, who find themselves in a house marked for death when the sinister spirit of Bughuul comes back to play. Look for it August 21st.
May 2015 was set to be an even more jam-packed month than it ended up being, as Before I Wake was only recently pushed back to September 25th. It's a good thing, because the fall months need their horror releases too. Oculus director Mike Flanagan brings this one our way, centered on a couple who adopt a young boy with strange, dreamlike powers. Thomas Jane and Kate Bosworth star.
October isn't without its fair share of horror releases, beginning with both Goosebumps and Crimson Peak on the 16th. Starring Jack Black, Goosebumps FINALLY brings R.L. Stine's hit franchise to the big screen, while Crimson Peak is the latest from Guillermo del Toro. Mia Wasikowska stars in Peak as a young author who discovers that her husband (Tom Hiddleston) isn't who he appears to be.
Three years after the third sequel and one year after spinoff film The Marked Ones, the Paranormal Activity franchise returns October 23rd with The Ghost Dimension, the sixth installment in the franchise. Not much is yet known about the film other than that it features an entirely new family, and will somehow tie into the events of the previous films as well as answer questions posed by them.
As for the rest of October, it's worth noting that the brand new film Tremors 5: Bloodlines is going direct-to-video at some point in the month. We're still waiting for an official date. Meanwhile on TV, The Walking Dead returns in October for its sixth season, while American Horror Story returns for its fifth. In addition, Ash vs. Evil Dead is set to premiere on Starz in October, which sees Bruce Campbell reprising his most iconic role.
Originally billed as a prequel, it was recently clarified that F. Javier Gutierrez' Rings is actually a sequel to The Ring Two, making it the third installment in The Ring's American remake series. The film will be set 13 years after the remake, starring Matilda Lutz as a girl who watches the infamous tape. Big Bang Theory's Johnny Galecki is also starring. We head back down the well on November 13th.
The last big release of 2015 that I wanted to touch upon is Michael Dougherty's Krampus, a horror-comedy about the legendary Christmas monster from Alpine folklore. You may not recognize the name but Dougherty is the man who wrote/directed Trick 'r Treat, and with Krampus he looks to do for Christmas what he previously did for Halloween. This one comes down the chimney December 4th.
Of course, there are still plenty of other horror films hitting DVD, Blu-ray and VOD in the remainder of this year, so if any of your most anticipated were left out, my apologies for that. That said, if you have any other films on your personal calendar that aren't mentioned in this peek into the future, please do comment below and add them to the list!
Support Halloween Love
If an item was discussed in this article that you intend on buying or renting, you can help support Halloween Love and its writers by purchasing through our links:
(Not seeing any relevant products? Start your search on Amazon through us.)