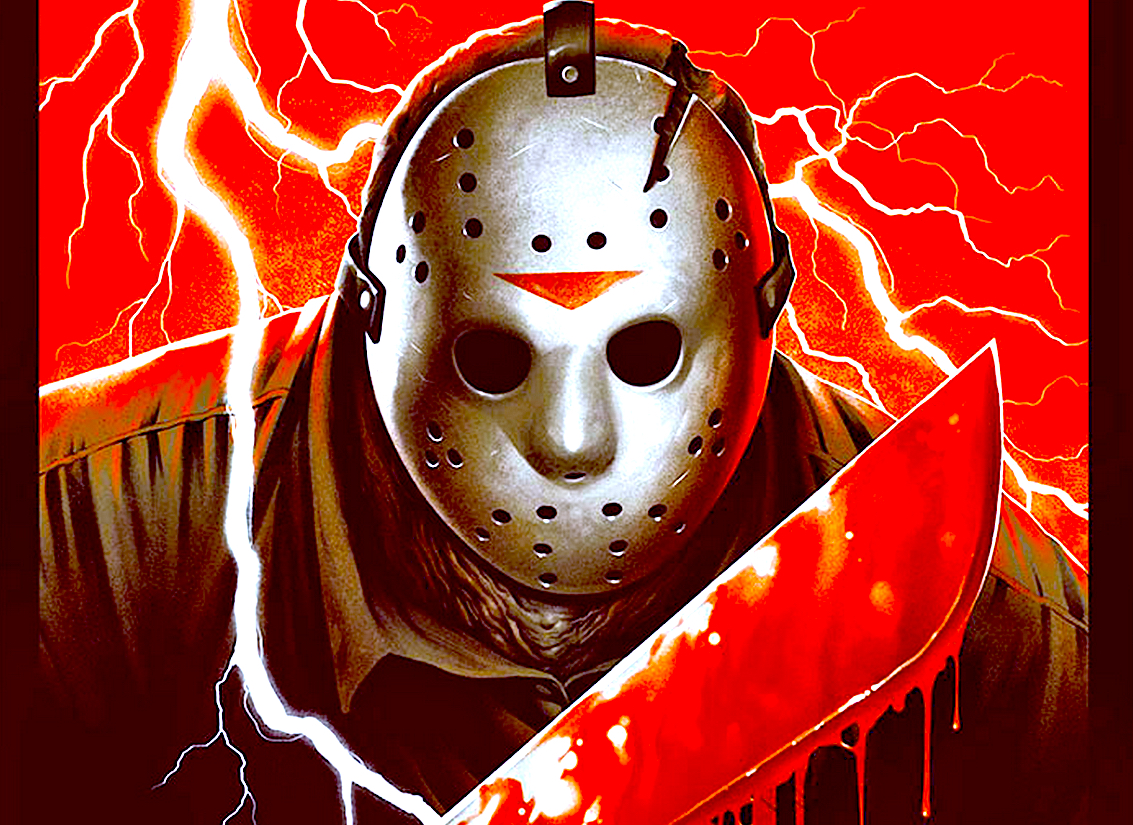 Sunday has once again arrived all too quickly and here at Halloween Love that means one thing – it's time for another batch of incredible poster images from the thriving alternative art community!
So far I've revealed my personal favorite posters that pay tribute to: Jaws – Stephen King's IT – Alien – The Shining – The Thing – Ghostbusters – Jurassic Park – Scream – A Nightmare on Elm Street – Halloween 3: Season of the Witch – Halloween and Silence of the Lambs.
This week is going to be slightly different, because instead of focussing on one movie I'm going to select an alternative art poster for every chapter from the Friday the 13th franchise! Each artist can only be featured once, and my hope is that I've been able to pull together a wide variety of styles, concepts and designs. There are hundreds of brilliant examples out there, but these are posters that pushed my art loving buttons the most, and made me want to go camping while drunk and have unprotected sex against a tree!
Pack up the yellow tent, smoke some weed and follow me …
Friday the 13th – (JP Zuviate)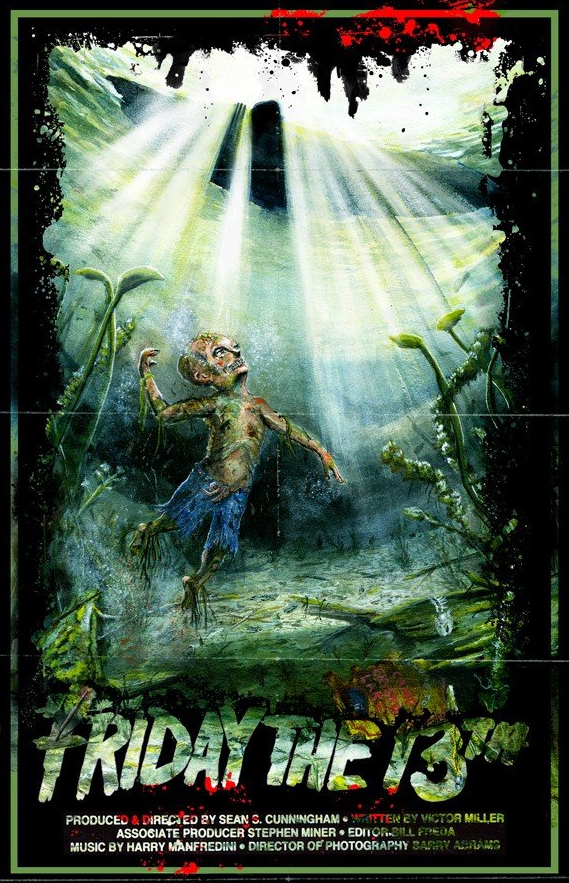 We start our journey with a stunning poster that takes us below the surface of Crystal Lake to witness Jason silently rising toward the canoe that contains an exhausted Alice, recovering from her horrific ordeal. It's a wonderfully unique concept, and I especially love the way we can see Alice's familiar silhouette as sunlight cuts through the water, guiding young Voorhees toward his blood splattered destiny.
Friday the 13th Part 2 – (Laz Marquez)
With Pamela dead it was now time to unleash a fully grown Jason on the big screen! The legendary hockey mask would have to wait another year, but with a sack on his head and vengeance in his heart, Jason was ready to waste some teens! It might seem unusual to see the mask featured in Laz's poster but I personally consider it a ghostly sign of things to come, and I REALLY admire the design as a whole, so putting it on the list was an easy decision to make.
Friday the 13th Part 3 Poster – (Timothy Pittides)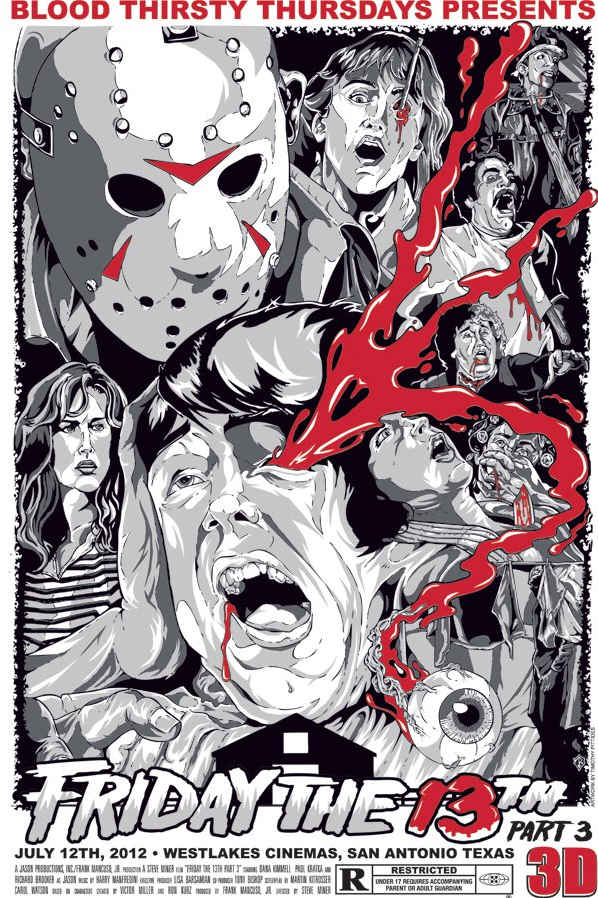 The third entry in the franchise promised to show horror fans "A NEW DIMENSION IN TERROR" … Which back in 1982 meant placing some multicolored cardboard glasses on your face so you could enjoy a handful of specially filmed 'moments' where items would be THRUST toward the camera lens in an attempt to make the 3D process worth the effort. Timothy's dynamic poster features several of those memorable scenes, including the now classic EYE-POPPING death, which looks far better here than it ever did in the movie. With some nicely considered composition and a refreshing lack of color, this is a piece that demands to be noticed.
FRIDAY THE 13th THE FINAL CHAPTER – (Jeff Zornow)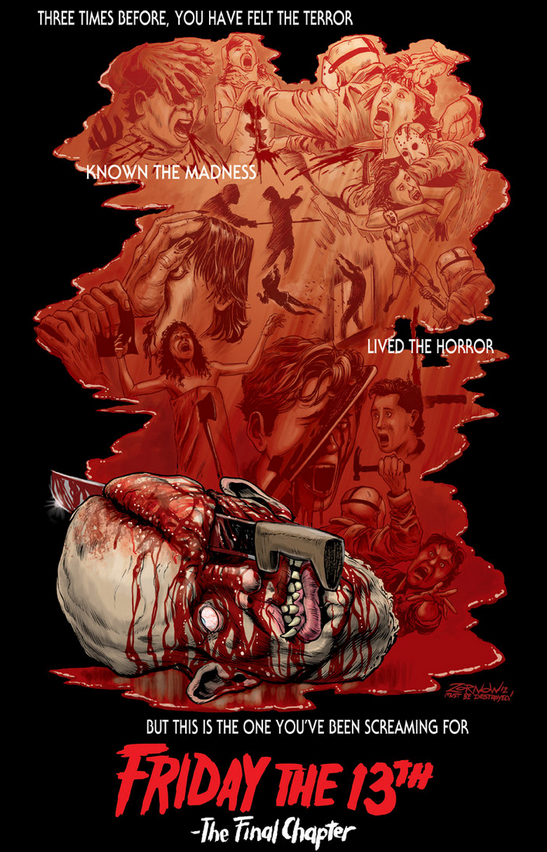 While it certainly wasn't a "Final Chapter", Part 4 DID manage to bring the original story arc to an epic and bloody conclusion. So who better to illustrate this climactic carnage than Jeff Zornow! All the death scenes featured in the movie are brilliantly reflected in the puddle of blood that dominates this piece, and Jason's 'Feldman damaged' head has never looked better. A brutal poster with massive visual impact from the master of monster art!
Friday The 13th Part 5: A New Beginning / 30th Anniversary – (Nathan Thomas Milliner)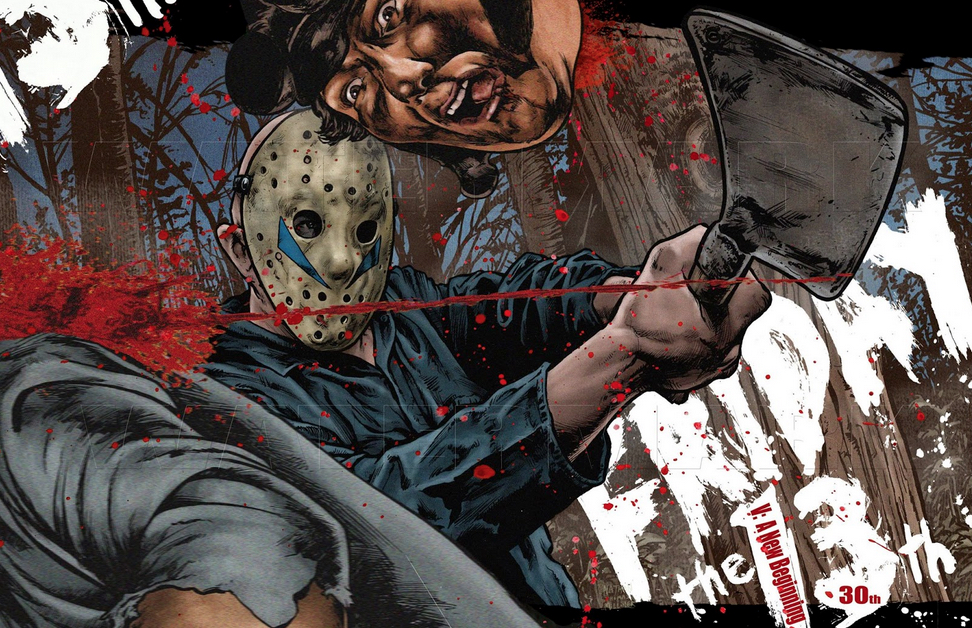 It's Milliner time! I could have put together an entire list filled with posters created by Nathan, but I've chosen his awesome Part 5 anniversary print because it's just so refreshingly different and original. Like a giant panel from a comic book page, it features Roy Burns at his head-chopping finest, and reminds us that even though Jason wasn't around, A New Beginning is still a damn fine entry in the series.
FRIDAY THE 13TH PART 6: JASON LIVES – (Phantom City Creative)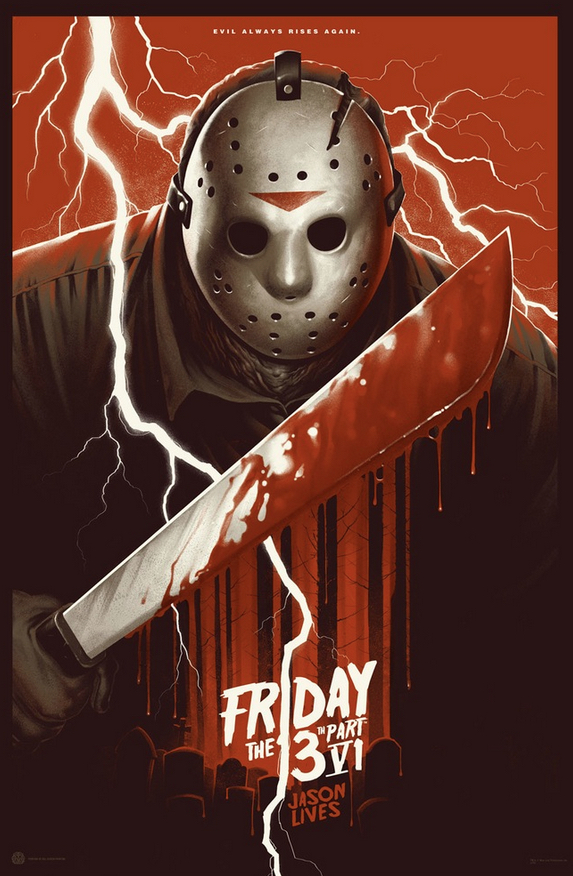 Part 6 is awesome, and I was determined to select a poster that was a fitting tribute to my favorite chapter from the whole franchise. Step forward Phantom City, who created a poster that is stylish, intense and PACKED with subtle design choices that make the whole thing look seriously cool. From the machete blade blood that flows downward forming the trees and gravestones, to the way the lightning illuminates Jason and helps to complete the film title. It's a special poster for a special movie!
Friday the 13th Part 7: The New Blood – (Quiltface Studios / Chris Garofalo)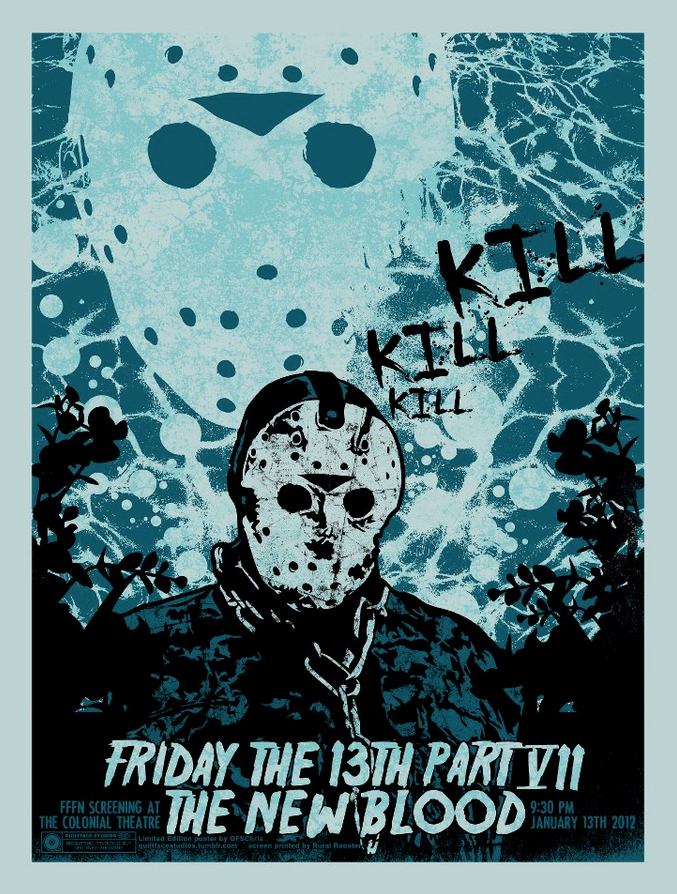 Ahh, The New Blood, you misunderstood masterpiece, how I love thee! Part 7 was MY Friday as a kid. I was obsessed with how awesome Jason looked, I thought it had some amazing kills, and I just really loved the atmosphere that flowed through the whole film. Chris has managed to capture some of that atmosphere in this wonderfully watery poster that features zombie Jason chained up at the bottom of the lake, just waiting for someone with telekinetic powers to come along and set him free. A classy poster that I would be proud to display on my wall.
Friday The 13th Part 8: Jason Takes Manhattan – (Matt Ryan Tobin)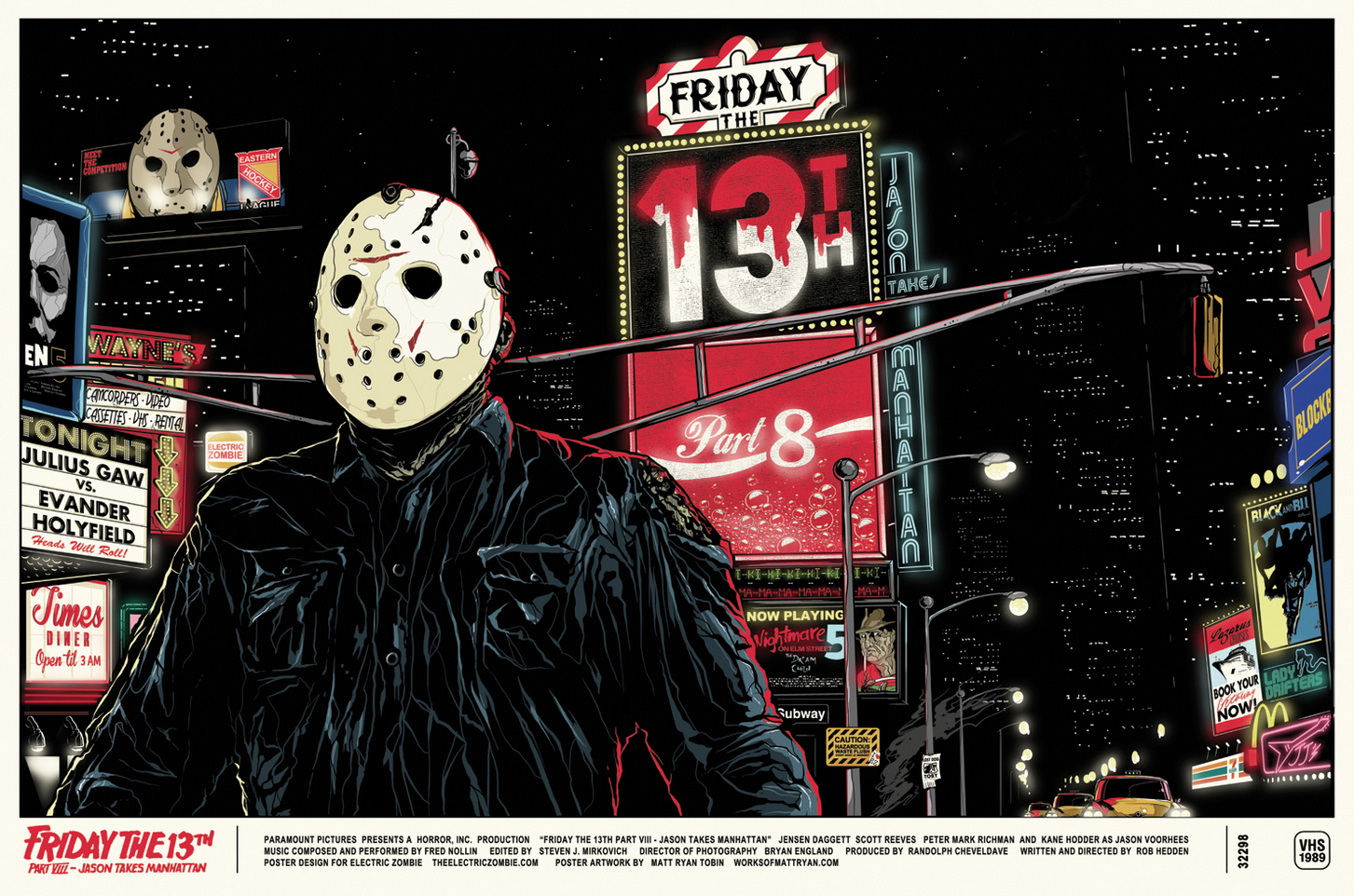 I know, I KNOW – Jason spends most of the movie on a damn ship, but you've got to admit, THAT shot of him standing in the middle of Times Square is worth all the trouble we went through to get there! Matt's EPIC piece is the ultimate tribute to that magical moment from the franchise, and if you look closely you will find multiple little easter eggs and tributes lurking within this genuinely incredible poster.
Jason Goes To Hell – (Christopher Lovell)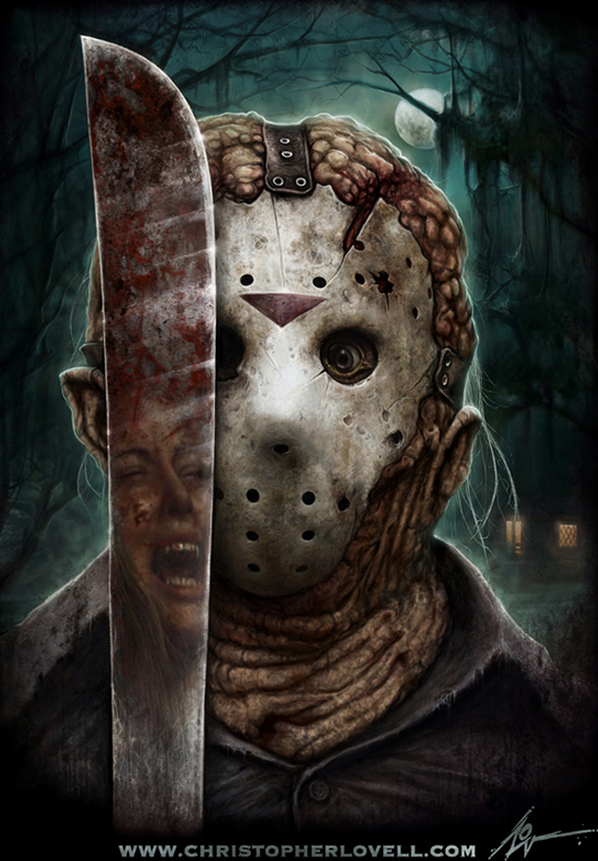 Jason was a MESS by the time we reached the ninth instalment of the franchise. He was big, he was bloated, and his head was actually growing around the damn mask! What isn't a mess is this sensational painting by Christopher, who once again brings his smooth and highly detailed style to the realm of the horror icons and delivers a piece if art that is packed with atmosphere and power.
Jason 10 Print / Jason X – (Joel Robinson)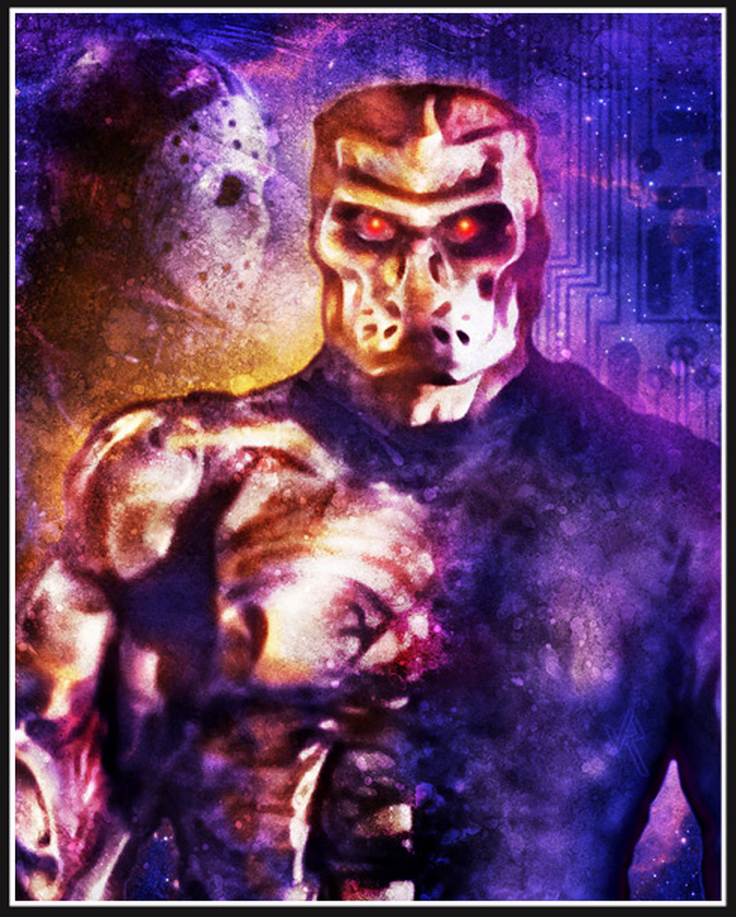 Joel's stunning portrait of Uber-Jason was a very easy choice to make for the list. From the ghostly vision of how Jason looked at the start of the film, to the considered use of color that washes over the image, it's a vibrant and eye-catching little masterpiece. Not sure I could say the same about the movie itself, but if you can get past the insane plot there is a lot to enjoy within the tenth Friday The 13th film.
Freddy Vs Jason / Don't Fall Asleep – (Godmachine)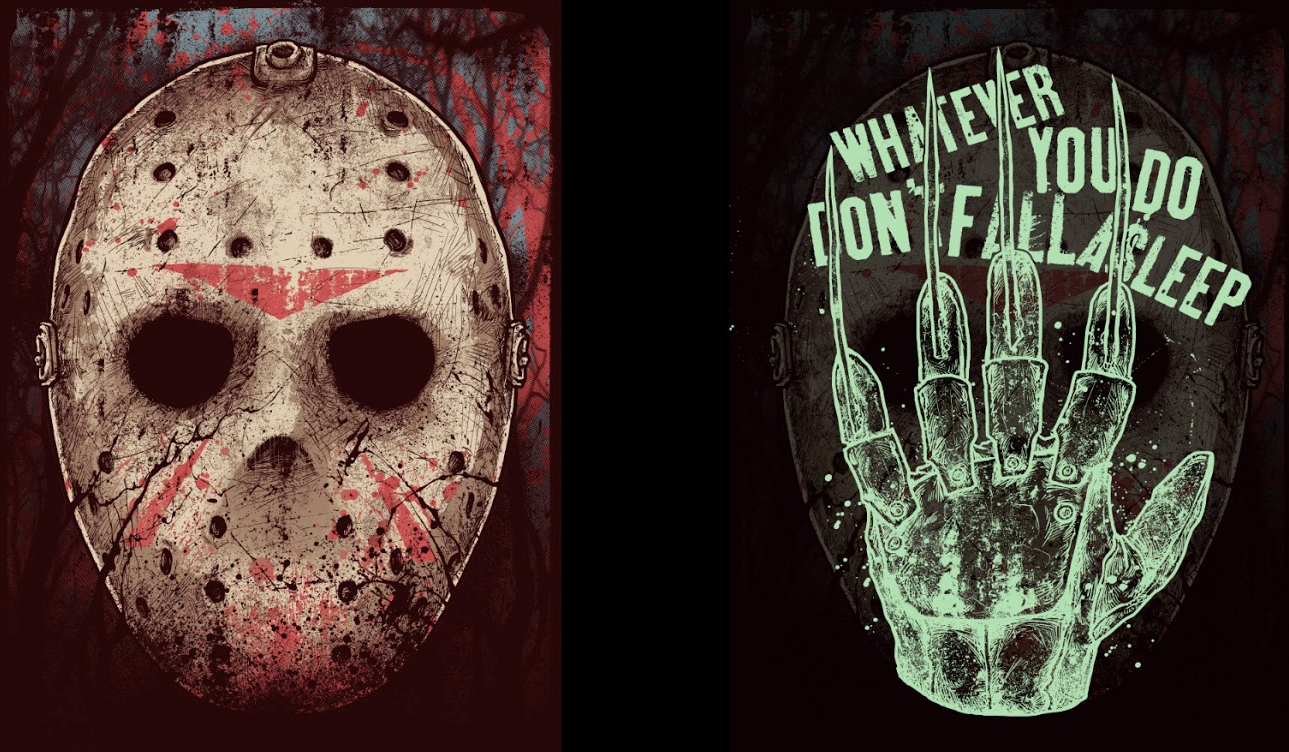 This stunning glow-in-the-dark poster just features Jason's mask during the day. But when darkness falls – Freddy's glove starts to appear with a haunting message that might just make you think twice about closing your eyes! Awesome artwork with a killer surprise waiting to be exposed, what more could you want?! Freddy Vs Jason would be the last time we saw a version of Jason that could be considered "original", and even though the movie was FAR from perfect it remains a reasonably satisfying conclusion to the journey that had started 23 years previously.
For further information on any of the posters you have seen here today or the artists who created them, you are only a Google search away.
Support Halloween Love
If an item was discussed in this article that you intend on buying or renting, you can help support Halloween Love and its writers by purchasing through our links:
(Not seeing any relevant products? Start your search on Amazon through us.)