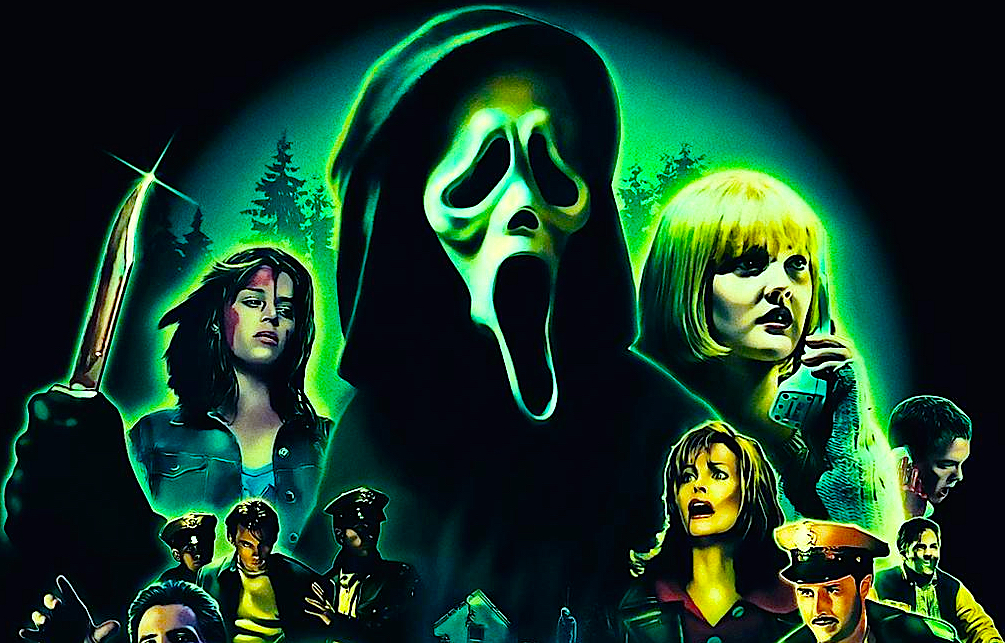 Sunday has once again arrived all too quickly and here at Halloween Love that means one thing – it's time for another batch of incredible poster images from the thriving alternative art community!
So far I've revealed my personal favorite posters that pay tribute to: Jaws – Stephen King's IT – Alien – The Shining – The Thing – Ghostbusters and Jurassic Park. Today we leave the tropical heat of Isla Nublar far behind us and travel to a troubled town called Woodsboro, in California.
Scream has been in the news again recently with the imminent arrival of the MTV television series and confirmation that no further movies will be made (until the next time they make one) … So I think it's a perfect time to turn the spotlight on art that gives some love to Scream and that little rascal Ghostface.
As always this list showcases MY personal favorite posters, the select few that pushed my art loving buttons and made me dream of hanging out with a bunch of kids who will probably all be dead within a week. There are hundreds more incredible designs out there but these are the best of the best in my humble opinion.
Turn off your cell phone, heat up some popcorn and follow me …
Scream – (Alex Pardee)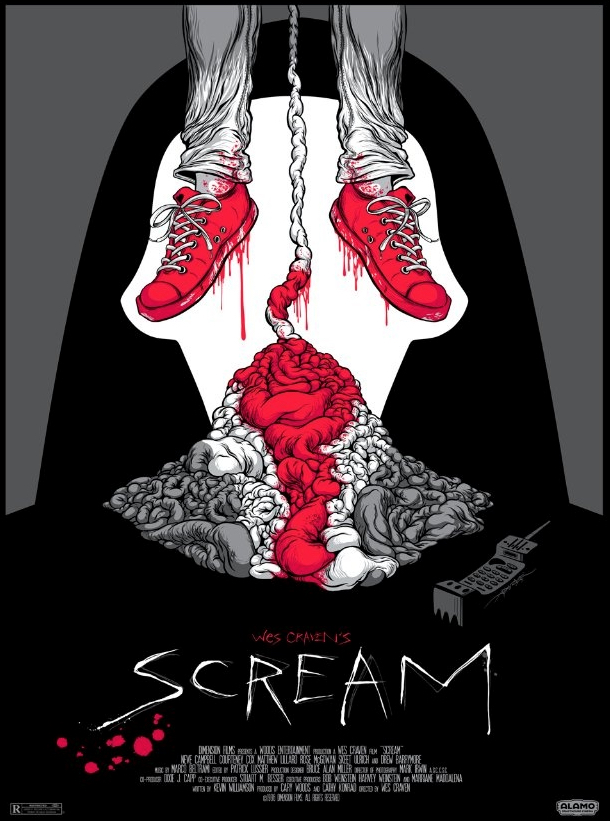 How do you include Ghostface in a Scream poster without actually including Ghostface? Simple, just carefully arrange some intestines beneath the feet of a recently eviscerated victim and job done! This is without question one of the most original and clever poster concepts I have seen in recent years. Not only does it create a unique visual illusion that pays tribute to Ghostface and the way Casey was killed at the beginning of the movie, but it also perfectly captures the tone of the franchise by being gory AND infused with a dark sense of humor.
Scream – (Benedict Woodhead)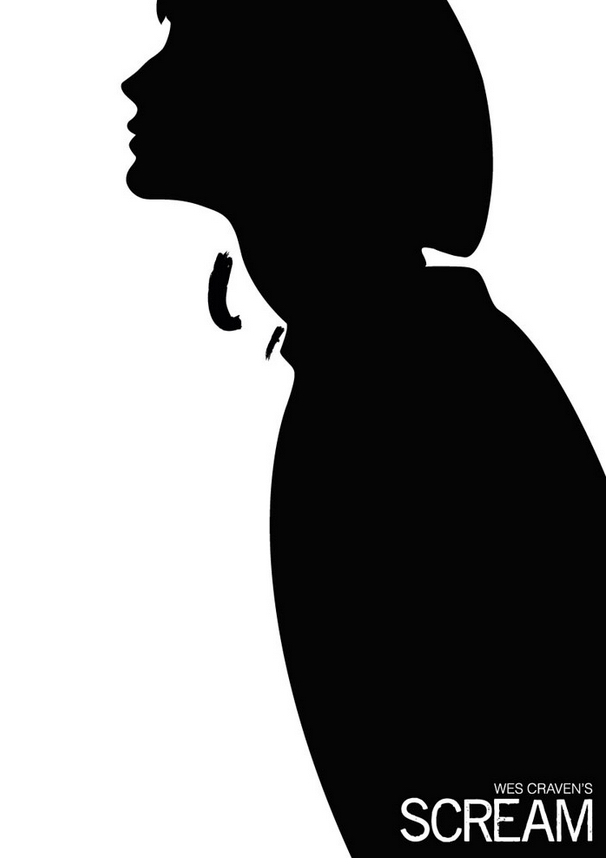 The first time I looked at this poster it was at least 6-7 seconds before my eyes and brain decided to work as a team and I noticed the magic within. A huge grin crept over my face and I actually gave a 'thumbs-up' to the computer screen while nodding to myself in approval. This is a simple design that would have been VERY easy to execute badly, but Benedict is a skilled artist and he delivers a razor-sharp concept in style.
Scream Movie Poster – (IBTrav / Travis Falligant)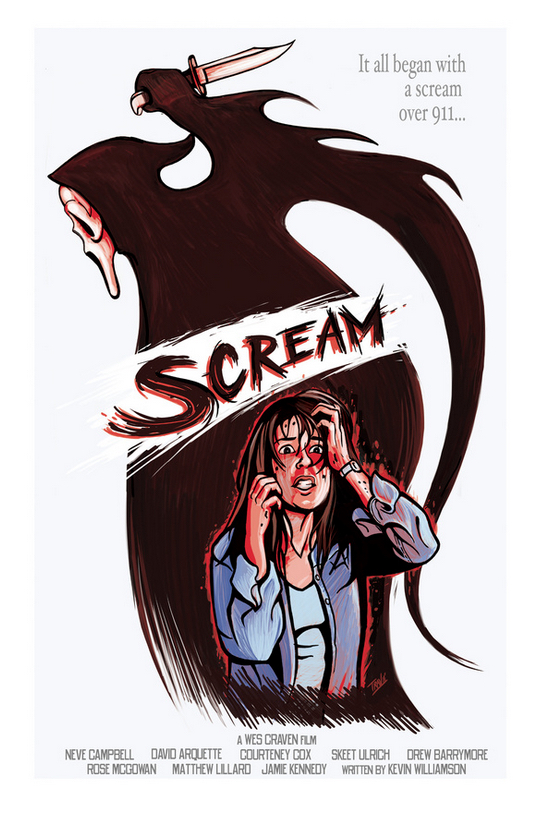 Travis is an artist who constantly creates work that every horror fan can appreciate and enjoy. He has a strong passion for the genre, and when you combine that with his wonderful cartoon style and graphic design skills the end results are normally something to get excited about. I've always thought that Ghostface can sometimes appear almost spectral and unnatural in the movies, a blur of flowing black robes with the mask and knife appearing as terrifying points of light within all of that clumsy spinning darkness. Travis has given the costume an exaggerated life of its own, which is incredibly eye-catching and fills the space within the poster beautifully. Dynamic, clean and refreshingly unique.
Scream : Ghostface Minimal – (Jim Perez)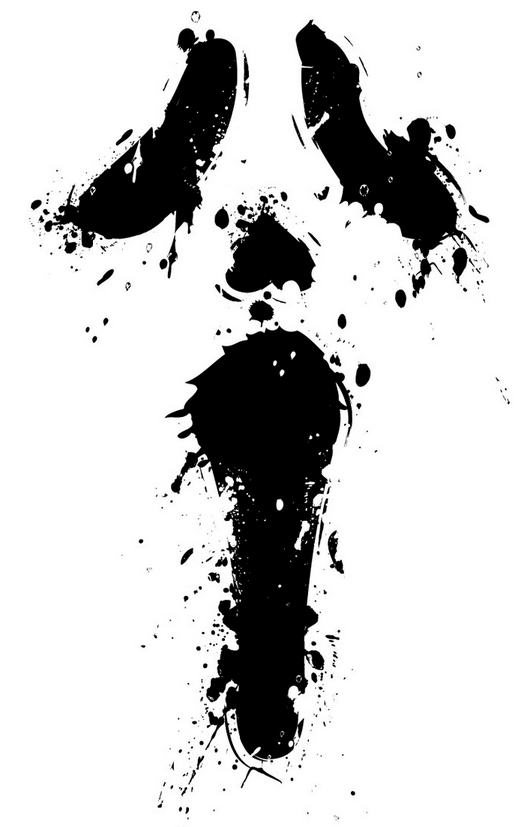 There are many minimalist posters and images that just feature the mask, but I've selected Jim's brilliant piece because of the intensity and feeling of motion it generates due to the unusual ink splash style. Like a creepy Rorschach test card, it's an image that feels alive and presents something instantly familiar in a new and clever way.
Scream – (Peter Strain)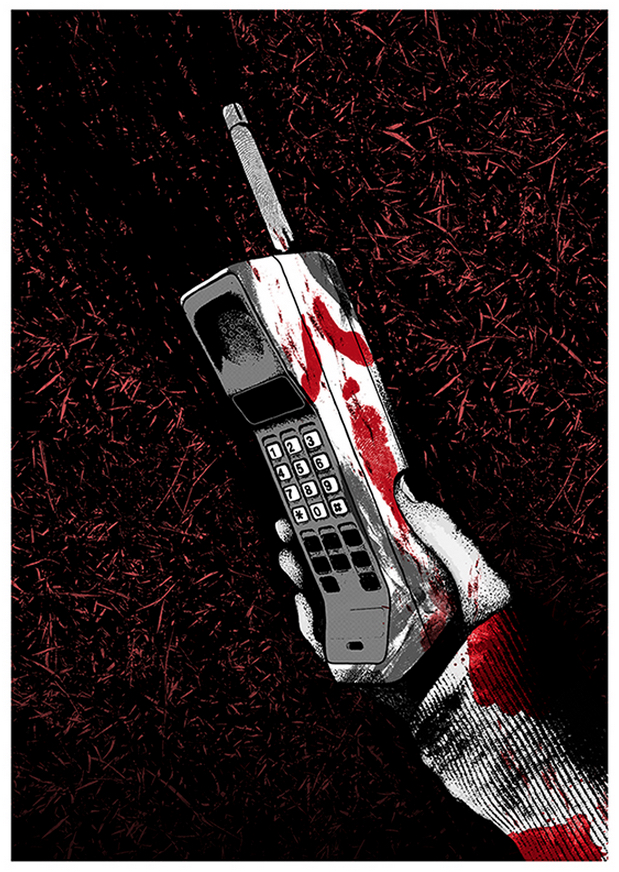 Casey's murder at the beginning of the original movie is my personal favorite horror movie death scene of all time. It showcased how intelligent the writing was going to be, reminded us what an incredible director Wes Craven could be, and gave the entire genre a much needed boost. The pace, the build-up and the shock of seeing Drew Barrymore wasted so swiftly made it an unforgettable set-piece from start to finish. Peter's fantastic art pays tribute to the movie AND that scene by focussing on an object that would become synonymous with the Scream franchise – a telephone. The limited use of color and the texture within the grass is perfect, and the icing that tops this delicious cake is the appearance of Ghostface ON the very item he torments all of his victims with. Poster perfection.
Scream – (Ralf Krause)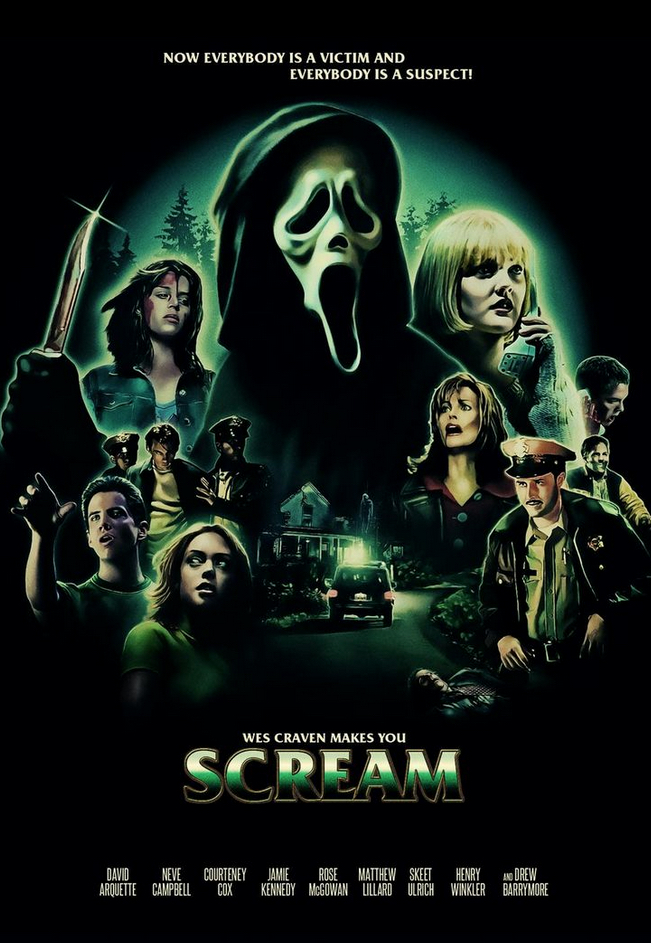 Just breathtaking! Posters like this are the reason I love alternative art so much. This COULD be an official poster for the film, and would look incredible displayed outside a cinema, or looking up at you from the front of a DVD case. The color scheme and the arrangement of the characters works perfectly, while Ralf's artwork is intricate, accurate and very pleasing to the eye with its smooth style and clever shadows. Effortlessly brilliant work by an artist worth discovering.
Scream (1996) Inspired Movie Poster – (Leonardo Paciarotti)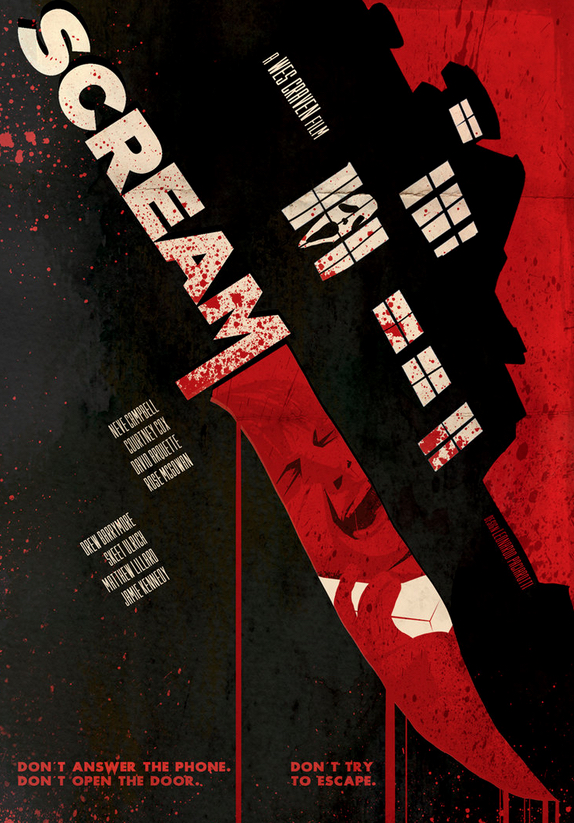 Leonardo's head-tilting masterpiece is filled with clever design choices that made it an easy selection for this list. From the reflection of Casey screaming on the knife blade, to Ghostface playfully peering through the window. Even the movie title itself has been transformed into the handle of the weapon that has dispatched so many victims throughout this amazing franchise. It's another poster that nails the tone and spirit of the movie but doesn't leave you in any doubt that things WILL get messy!
Ghostface – (Dan Harding)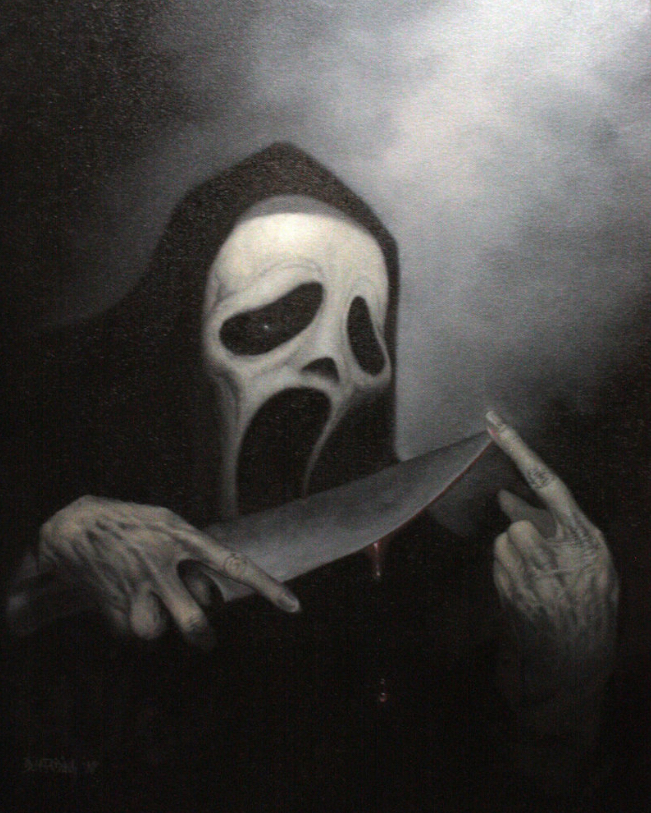 We finish for today with this incredible piece by Dan which was traditionally painted in full using oil on canvas. The detail on the hands is staggering, and the gentle way they are caressing the edge of the blade instantly gives the subject some character, and a dark terrifying personality. This is Ghostface presented as an evil force, almost as if the costume has consumed whoever is underneath it and they are now merged. Atmosphere just flows out of this brilliantly creepy and haunting art, and I'm fairly certain I've never seen Ghostface looking better!
For further information on any of the posters you have seen here today or the artists who created them, you are only a Google search away.
Support Halloween Love
If an item was discussed in this article that you intend on buying or renting, you can help support Halloween Love and its writers by purchasing through our links:
(Not seeing any relevant products? Start your search on Amazon through us.)