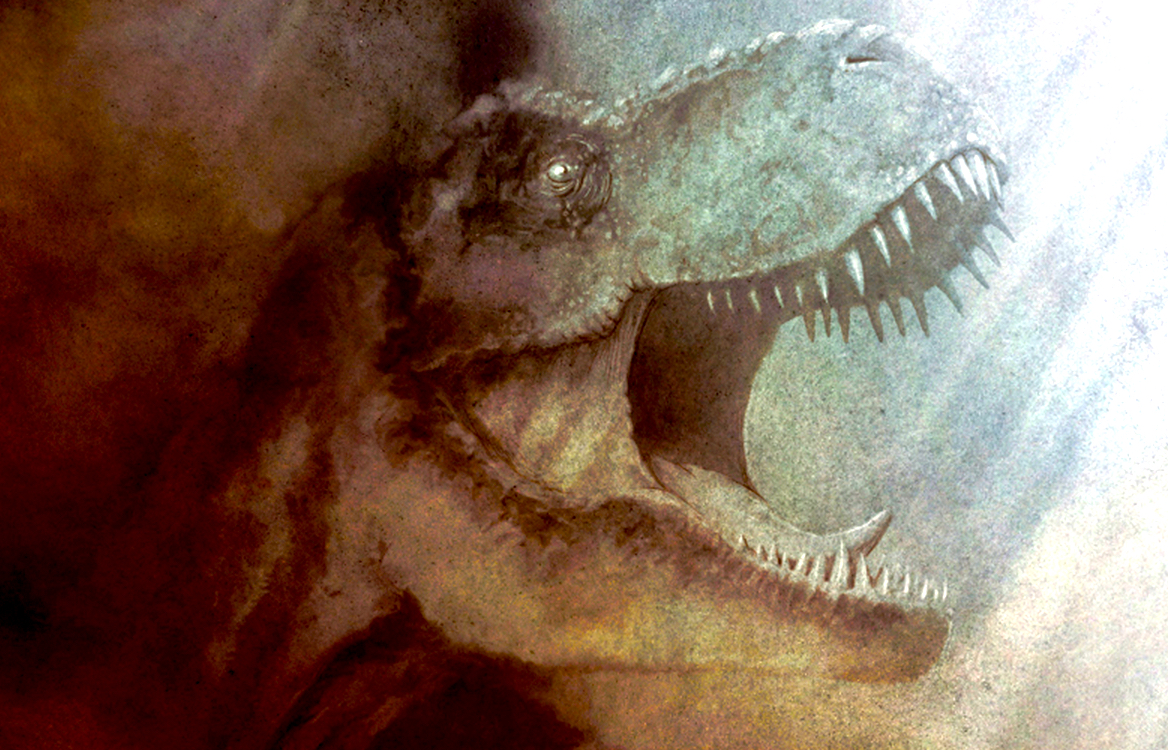 Sunday has once again arrived all too quickly and here at Halloween Love that means one thing – it's time for another batch of incredible poster images from the thriving alternative art community!
So far I've revealed my personal favorite posters that pay tribute to: Jaws – Stephen King's IT – Alien – The Shining, The Thing and Ghostbusters. Today we travel from the streets of New York to the tropical heat of Isla Nublar, home to Jurassic Park.
As always this list showcases MY personal favorite posters, the select few that pushed my art loving buttons and made me dream of driving around in a green jeep with Jeff Goldblum. There are hundreds more incredible designs out there but these are the best of the best in my humble opinion.
Pick up a small plastic cup of water, strap on some night vision goggles and follow me …
"Turn The Light Off" – (Patrick Connan)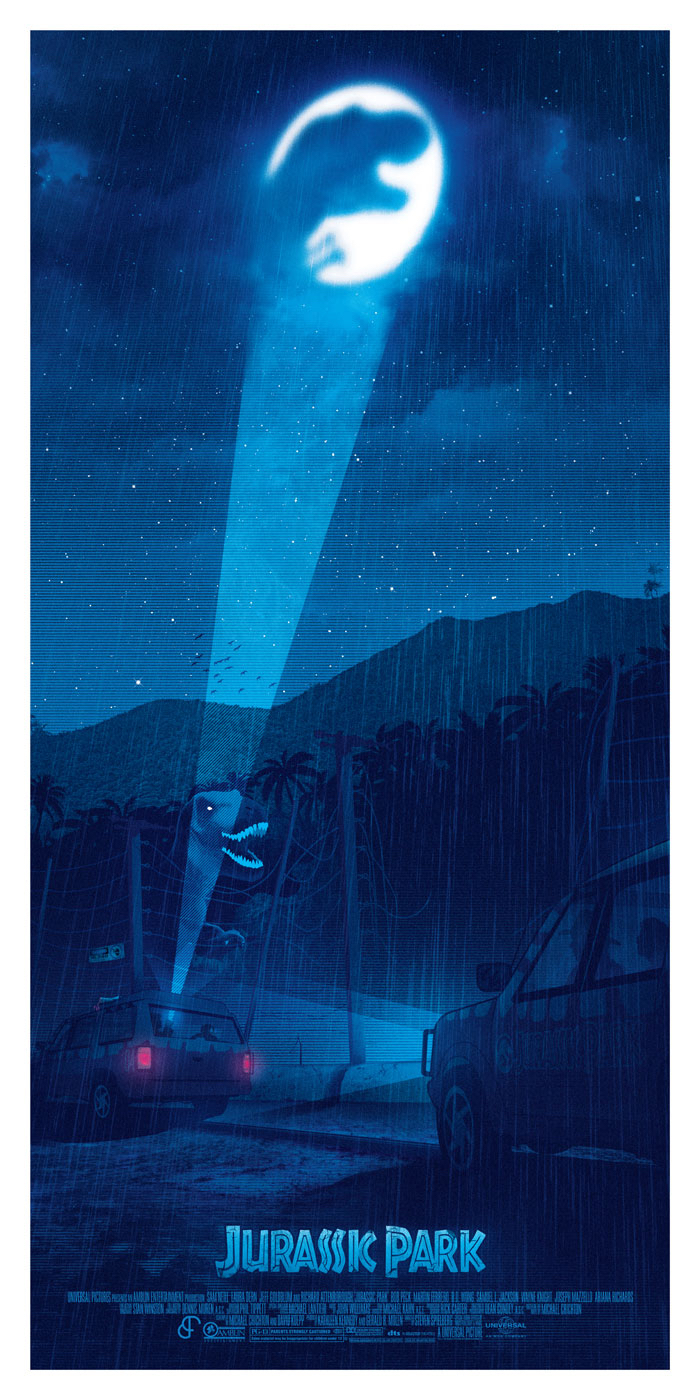 More atmospheric magnificence from Patrick, as he revisits the scene from Jurassic Park that I personally love and remember the most. Watching it for the first time in the cinema, THIS is the moment where Spielberg delivers on his promise, the moment every dinosaur loving kid around the world lost their mind over. We came to see the T-Rex, and Spielberg reveals the big guy in style! Patrick has packed some incredible detail into this piece that isn't immediately noticeable, such as perfect character silhouettes and the goat leg on top of the jeep. It's a dark and wonderfully executed image that just has that special "something" going on.
Jurassic Park – (Francesco Francavilla)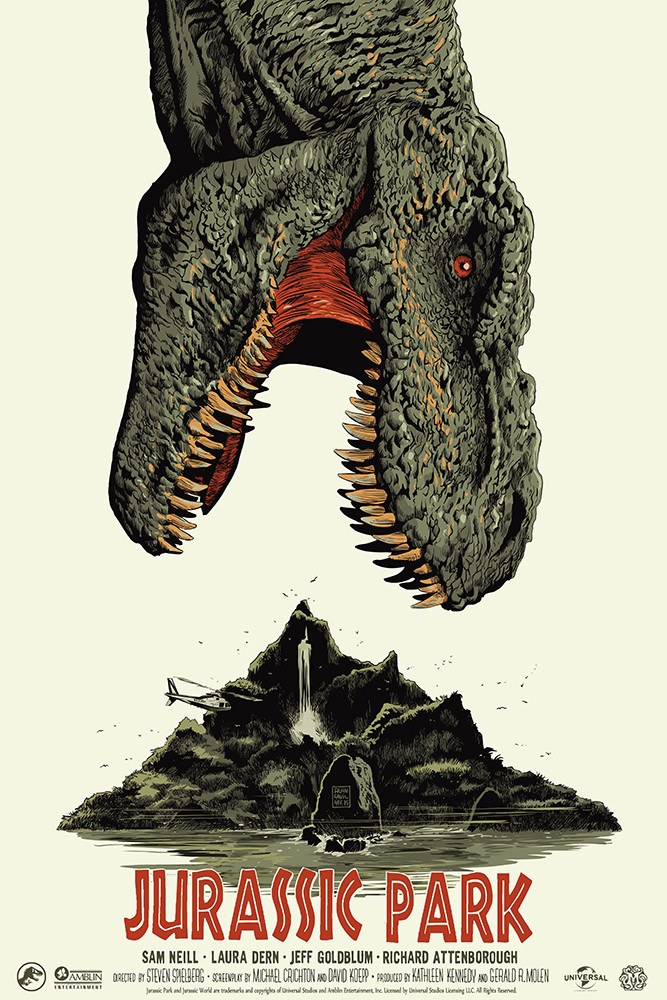 Created for Mondo's recent "When Dinosaurs Ruled the Earth" gallery show, this piece by Francesco would look PERFECT hanging next to the classic Jaws poster. It's simple, clean and dynamic, with pleasingly subtle colors and some nice textured detail. I normally like a bit more atmosphere in my art but something about this really caught my eye when I first spotted it a few weeks ago and when I was putting this list together it was one of the first posters I knew I wanted to include.
Jurassic Park – (Matt Ferguson)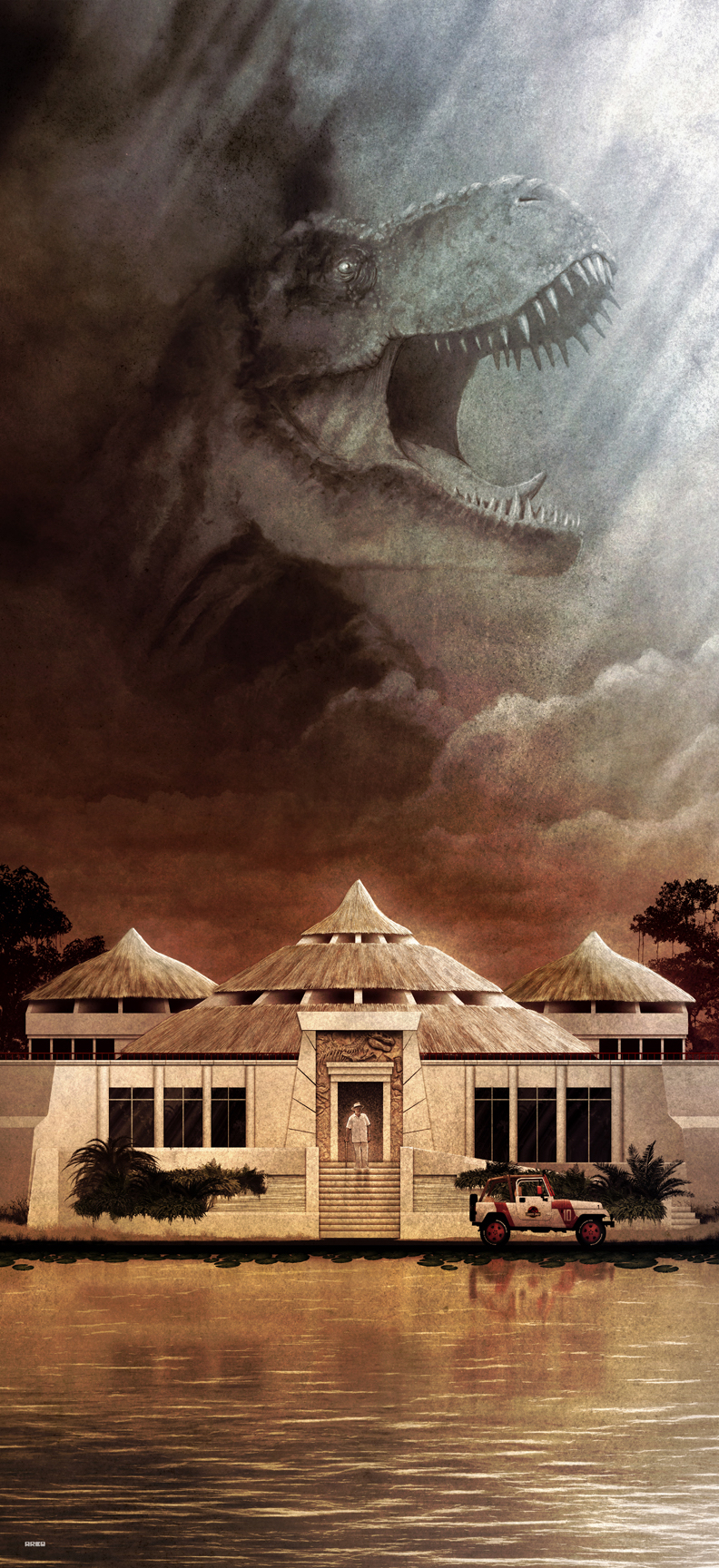 Can alternative poster art get more epic than this? Matt is an artist who constantly makes my mind explode with excitement and memories every time I look upon his work, but this Jurassic Park piece is just ridiculously good. From the neat and detailed shot of John Hammond proudly standing outside his creation, to the way the storm clouds above him have formed into the roaring T-Rex, it perfectly blends the feeling of order and approaching uncontrollable chaos that the movie showcased SO well.
"No Wonder You're Extinct" – (Ape Meets Girl / Kevin M. Wilson)
Dennis Nedry's violent death is sudden, intense and unquestionably satisfying, because let's face it, Nedry had it coming! This poster scoops up everything that was great and memorable about that scene and assembles it into one spine-tingling image. I interviewed Kevin a few months ago, and he briefly talked about this stunning piece of art when I asked if he had any favorites among the posters he had created …
"A very nasty question. Always hard to talk up any of my own work. But I'd probably have to say the Jurassic Park piece that I did for Hero Complex Gallery. I was keen to showcase the Dilophosaurus. That guy was awesome and it was time someone showed him some love. I originally planned to have the shaving foam can in the mud in the foreground, and when I started working on that the rest of the image was pretty much done. But the can just didn't work, and I never did pinpoint the issue. I went back to the film, which I had avoided until then, and it reminded me of Nedry losing his glasses. I had great fun working on that piece, which was probably more detailed than anything else I've done, down to the individual drops of water on the frames and the reflections of the whole scene in the lenses."
Jurassic Park – (Rich Kelly)
Bob Peck's death scene must have traumatized a generation of kids when Jurassic Park was released. I was seventeen, but it still sent chills down my spine and made me squirm in my seat due to how sudden and savage the whole thing was. That feeling of unease was also compounded by the now legendary "clever girl" line that Robert Muldoon whispers just before he's ripped apart. A hunter acknowledging he has been outwitted by his prey and fully aware of what's about to happen. Rich has illustrated the moment perfectly, and when you throw in some wonderful lighting and a pleasing sensation of depth, thanks to some out-of-focus effects work around the edges, you have a poster that instantly makes you want to watch the movie (and that scene) all over again.
"Life Finds A Way" – (Marko Manev)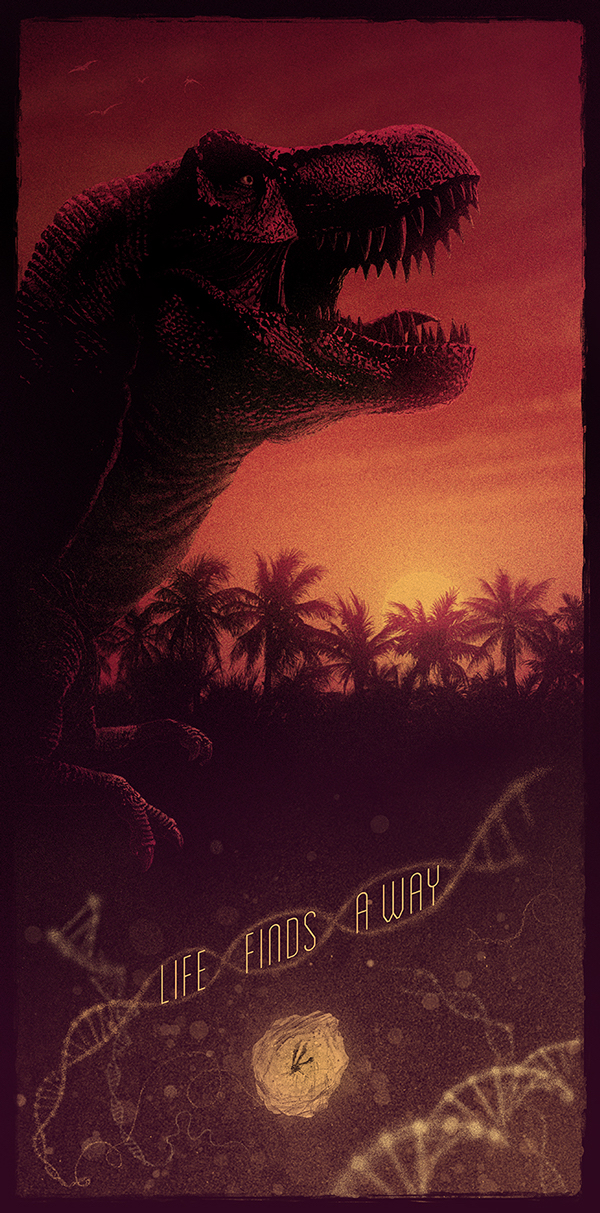 I love the intense evening sunlight that bathes this entire poster in shades of yellow, orange and red. It's reminiscent of the artwork you would find on most of the classic Jurassic Park merchandise that was released back in the day, and it delivers a nostalgic tingling sensation every time I look at it. Marko has created a beautiful poster that pulls me back to 1993, and the pure excitement I felt waiting for Jurassic Park to be released on the big screen.
Jurassic Park / Night Version – (Nicolas Bannister)
Over the last 2-3 years Nicolas has created a series of posters that feature famous cars from movies and pop culture, all viewed from the same low angle like this one. They are colorful, vivid, immediately recognizable and very nicely illustrated, with perfect lighting and subtle touches that really bring them to life. This isn't a traditional movie poster like the others featured today, but it's a clever concept that hits the target and makes you want to seek out the rest of the designs.
Jurassic Park – (J.C. Richard)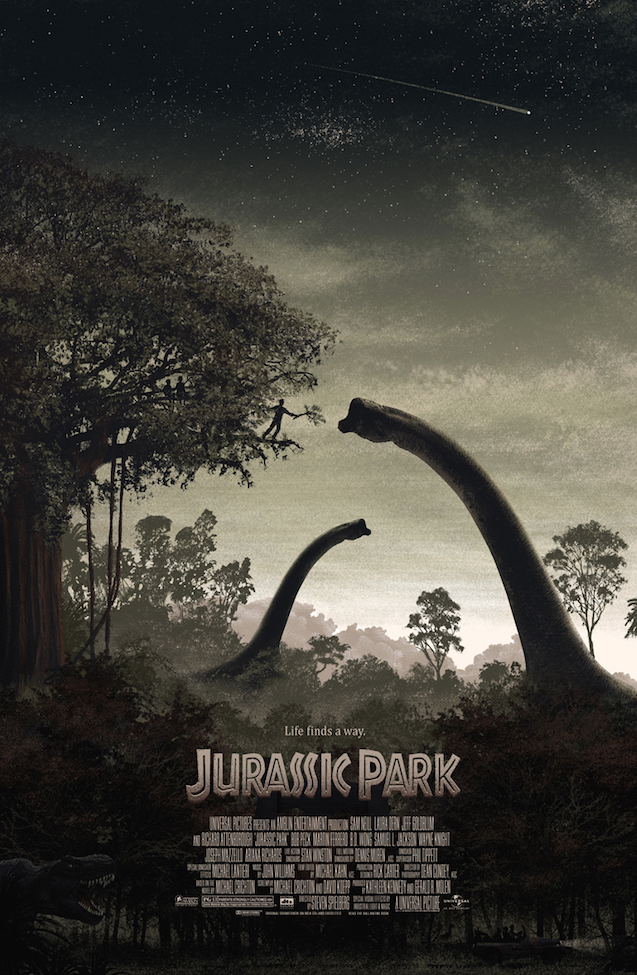 We finish with this stunningly designed image by JC, who has avoided the action packed moments and T-Rex carnage to illustrate the calm and magical scene where Dr. Grant and kids seek refuge up in the trees and come face to face with some of the friendlier dinosaurs living within the park. The shooting star is a perfect added touch and if you look very carefully at the bottom of the poster our friend the T-Rex IS there after all, chasing the jeep and looking fantastically fearsome as always. Everything you could possibly want to see is in this one – poster heaven!
For further information on any of the posters you have seen here today or the artists who created them, you are only a Google search away.
Support Halloween Love
If an item was discussed in this article that you intend on buying or renting, you can help support Halloween Love and its writers by purchasing through our links:
(Not seeing any relevant products? Start your search on Amazon through us.)