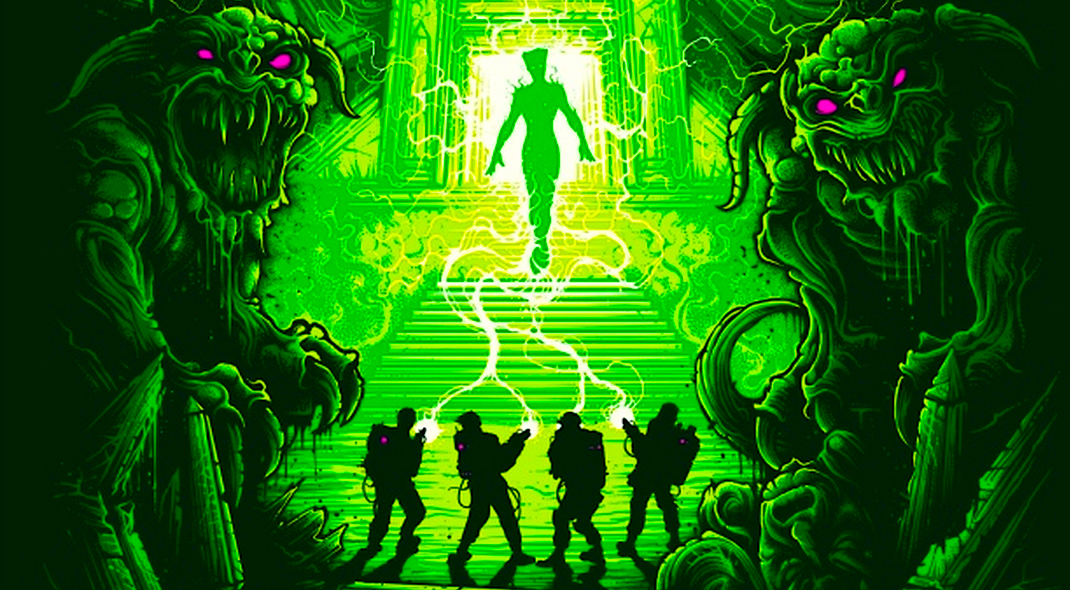 Sunday has once again arrived all too quickly and here at Halloween Love that means one thing – it's time for another batch of incredible poster images from the thriving alternative art community!
So far I've revealed my personal favorite posters that pay tribute to: Jaws – Stephen King's IT – Alien – The Shining and The Thing.
Today we travel from the frozen darkness of Outpost 31 to the bright lights and busy streets of a ghost infested New York City! This weekend marks the 31st anniversary of my favorite movie of all time and that means I had to TRY and select some of the greatest poster art linked to Ghostbusters.
There is an INSANE amount of amazing Ghostbusters artwork out there and this list was incredibly tough to narrow down, but what you see here are the posters that pushed my nostalgia buttons in a way that others perhaps didn't. They are the posters that pulled me back to 1984 and reminded me of the greatest cinema-going experience of my life.
Grab a twinkie, strap on your proton pack and follow me …
"Who ya gonna call?" – (Nick Runge)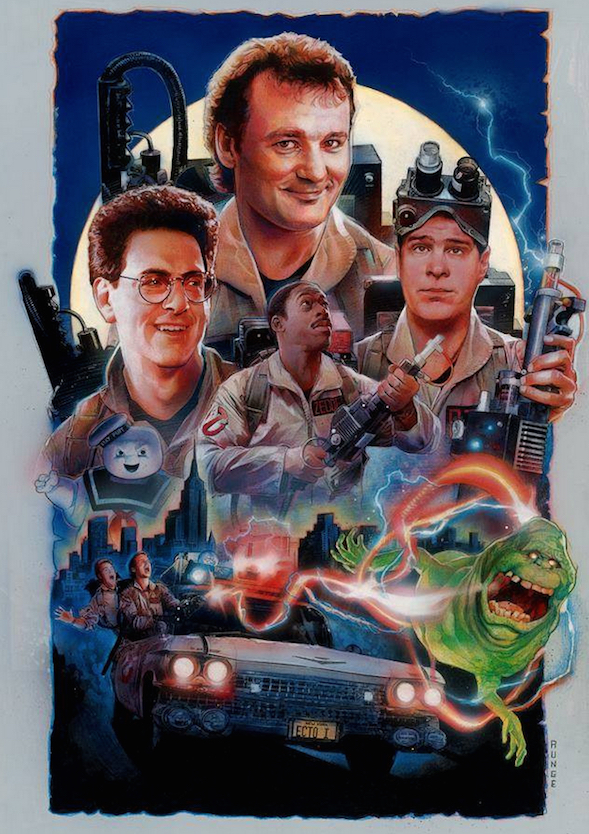 Any artist who creates a poster that makes me think of Drew Struzan is doing something VERY right, and with this Ghostbusters piece Nick has really hit the spot. The Slimer chase scene at the bottom of the image reminds me of the classic promotional artwork that was used on Real Ghostbusters merchandise back in the day, and the illustrations of the Ghostbusters themselves are amazingly accurate and instantly make you feel like you are looking at pictures of old friends. Brilliant work from a highly skilled artist.
"Are You A God?" – (Dan Mumford)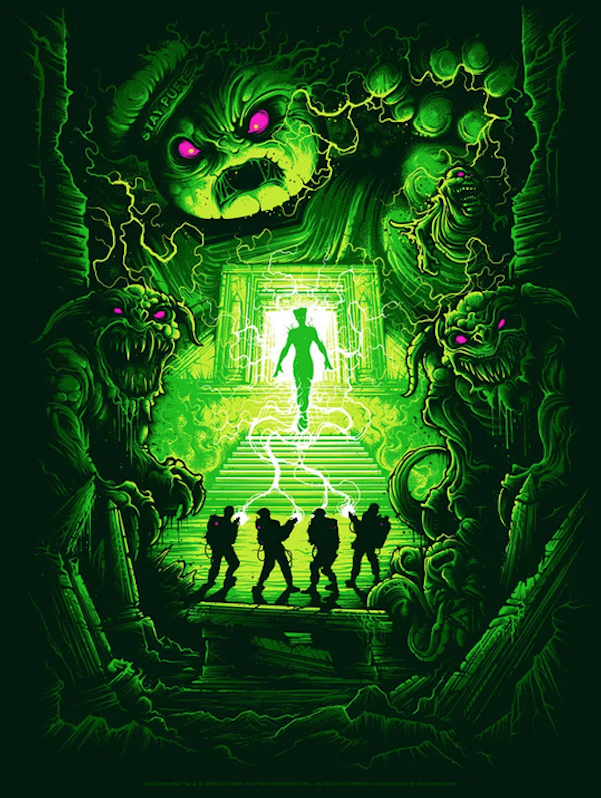 Once again Dan has created a visually wondrous poster that messes with your expectations and presents a classic scene from the movie in a pleasingly dark, epic and unique way. Everything is familiar but we've NEVER seen Mr. Stay Puft or the Terror Dogs looking that dangerous! The green color scheme makes the poster thoroughly eye-catching and the level of detail is second to none – as you would expect from Dan. A magnificent piece of art that punches your eyeballs and demands to be loved!
"Busted" – (Blake Armstrong)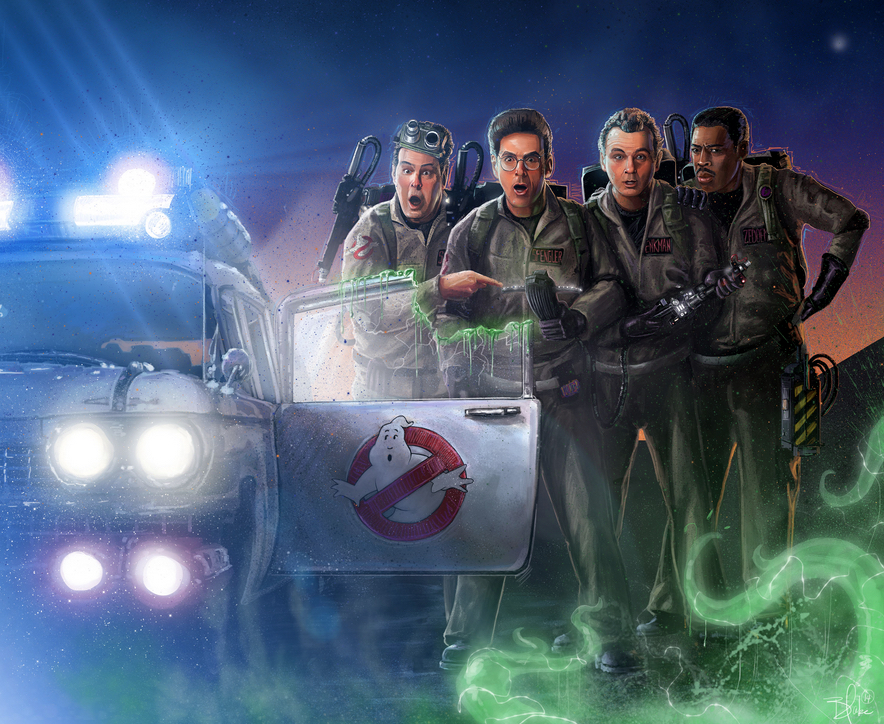 Talk about an overload of 1980s geek pleasure! Blake has merged the Ghostbusters with the classic Back To The Future poster design and the end result is a smile-inducing masterpiece filled with multiple little details to enjoy – such as the slime melting through the car window and Egon and Ray's reactions to the PKE meter readings. Struzan's BTTF poster is often used a template for parodies and tributes, but this is one of the very best in terms of artistic skill and lighting. It's vibrant, alive and easy to adore if you were a child of the 80s.
"It Just Popped In There!" – (Ape Meets Girl / Kevin M Wilson)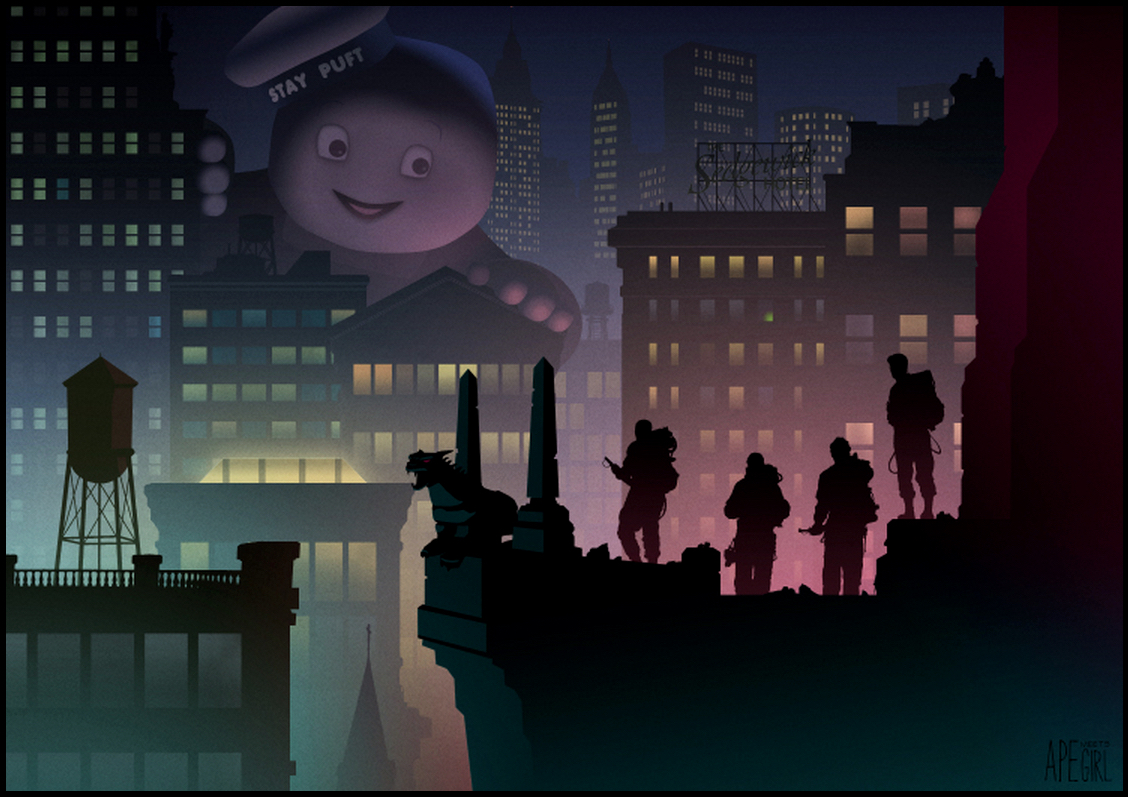 I have to be restrained when it comes to talking about this poster by Kevin because it is, without question, my favorite piece of Ghostbusters art ever created, and if you gave me the chance I would happily type for several hours telling you why I feel that way, in relentless cringeworthy detail. Let's just say when it comes to movie art I'm all about the atmosphere. I love silhouettes and shadows and considered lighting – art that captures the tone of a movie or a scene within a movie but also enhances it, makes it more vivid and intense. Kevin is the master of that, and as such I lust after his work on a regular basis.
Ghostbusters – (Nathan Thomas Milliner)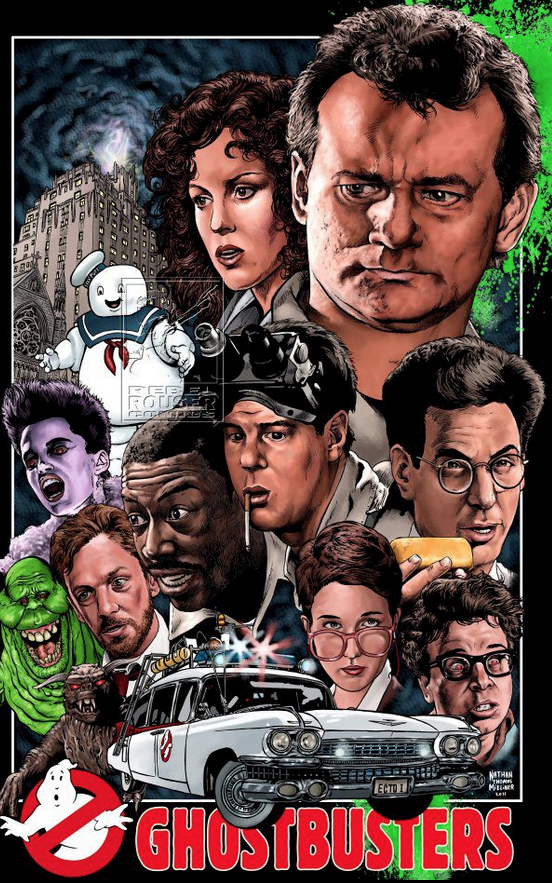 Nathan can normally be found making posters for the more gory and brutal side of the horror genre, but when he isn't illustrating masked killers and dream demons he has created some amazing posters for just about every 1980s movie you can think of – Ghostbusters included. What I like about this piece is how he has captured many of the characters in their most iconic moments and scenes, from Egon with the twinkie, to Ray and his magnetic lip cigarette. Even Venkman has that perfect nonchalant look on his face. The artwork is clean and crisp with everything you could hope to see in a Ghostbusters poster included. I love a good 'kitchen sink' concept every now and then and this is one of the very best.
Ghostbusters – (Van Orton Design)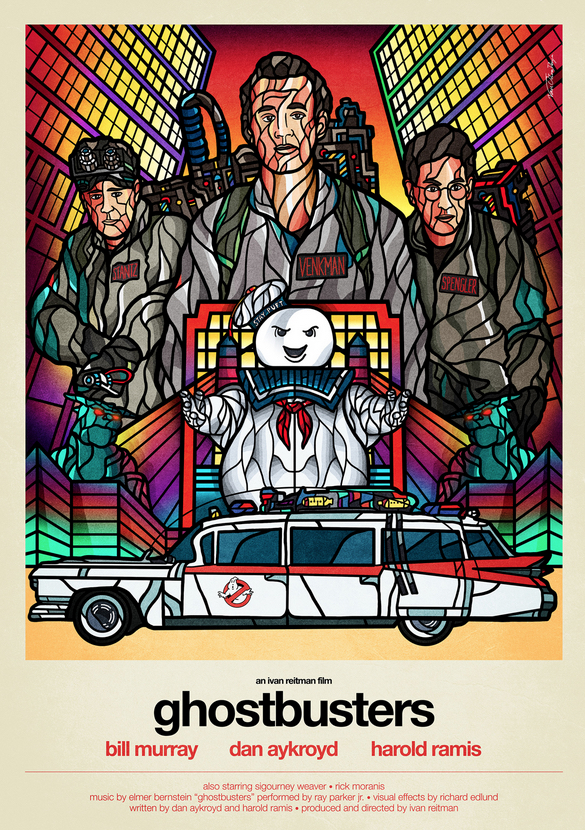 If you like your alternative movie posters to be unique and visually striking then Van Orton Design is where you should head to first. Their posters are an explosion of neon colors within illustrations that appear to be based on stained glass windows. Their work also reminds me of those kaleidoscope tubes that I would peer into as a child to watch the tiny shards of rainbow plastic form into shapes and patterns as you twisted them around. I think it's a poster that people will either love or hate, there isn't much middle ground for something so different. I myself find it hypnotically wonderful.
"The Flowers Are Still Standing" – (Mark Englert)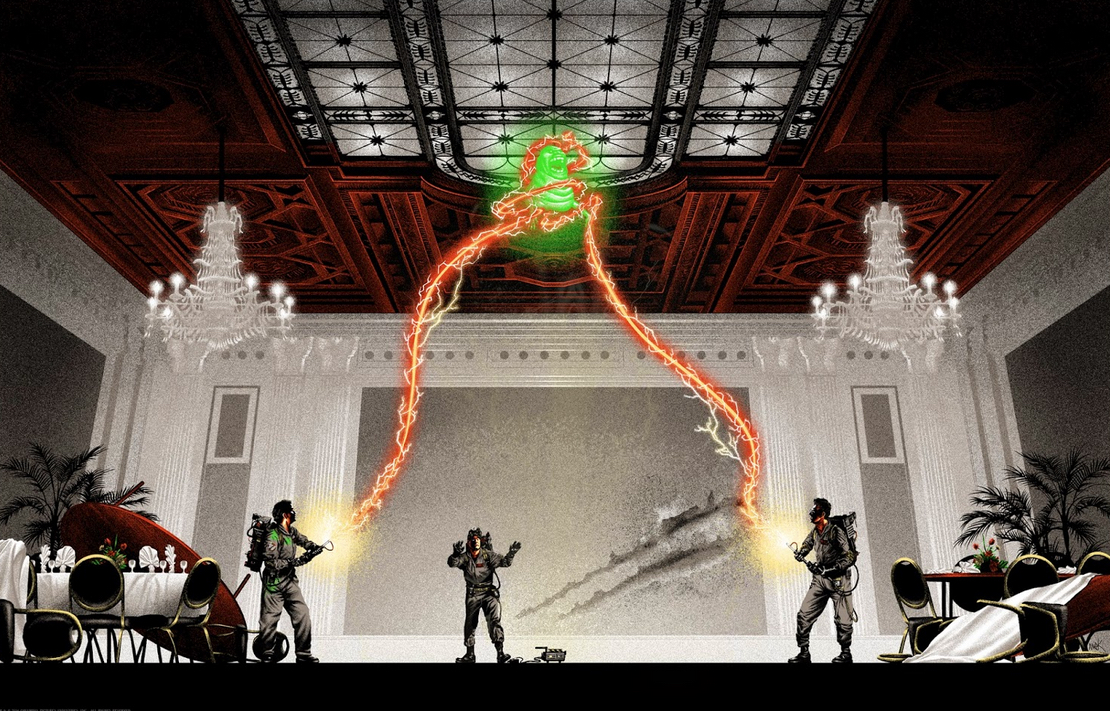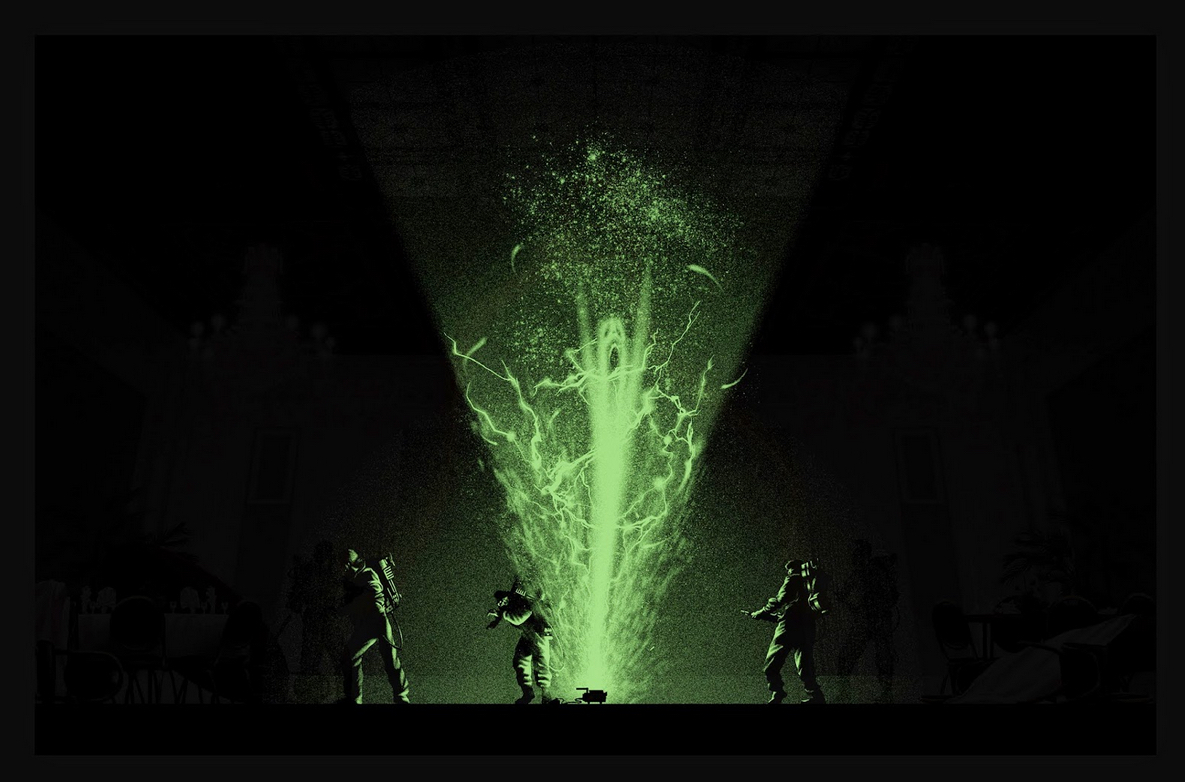 The hunt for Slimer around the silent corridors of The Sedgewick Hotel was movie MAGIC to me as a kid. We had watched the Ghostbusters talk about catching ghosts and briefly discuss the equipment they would need to do it. We had laughed at their efforts to start a profitable business and the strange choices they made from the fire station to the broken down car – but now it was time to actually HUNT a ghost, using this crazy cool technology they had bolted together. Mark's amazing poster pays tribute to the climax of the Slimer hunt and recreates the battle damaged ballroom in style. Make sure you enlarge this one to truly appreciate the level of detail that has gone into what initially looks like a fairly simple illustration. The icing on this delicious cake is the inclusion of glow in the dark inks, so when the lights go down you get to see a screaming Slimer sucked into the trap! How cool is that!
"Ghostbustland" – (Scott Campbell)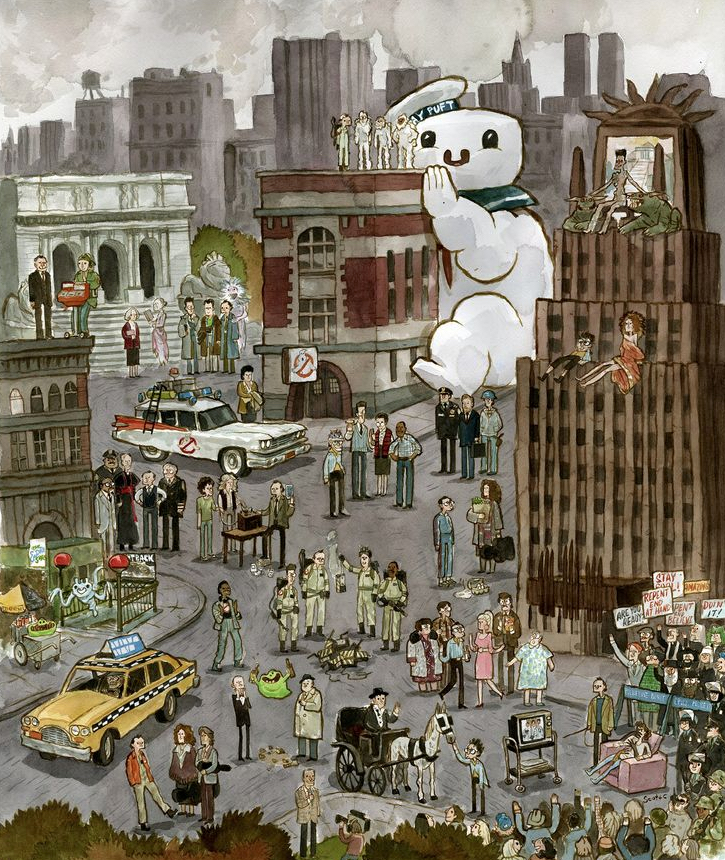 We finish for today with this fantastic piece by Scott, which literally contains references and tributes to EVERY SINGLE character and moment from the movie. It's like a big magnificent "Where's Waldo?" style poster, but instead of looking for the little man in the striped sweater you get to discover legends such as Dean Yeager, and the overly enthusiastic ginger dude who would constantly cheer on the Ghostbusters at the climax of the film. An incredible tribute to an incredible movie.
For further information on any of the posters you have seen here today or the artists who created them, you are only a Google search away.
Until next time, stay safe and remember who to call!
Support Halloween Love
If an item was discussed in this article that you intend on buying or renting, you can help support Halloween Love and its writers by purchasing through our links:
(Not seeing any relevant products? Start your search on Amazon through us.)