It's been over a decade since I first discovered the joys (and peculiar smells) of the horror convention scene, and I've been to countless shows in the years since that inaugural outing. But this past weekend was a little bit different, as a convention sprung up in my area that wasn't quite like the others. It was called Haunt Faire, and the two-day event was dedicated solely to the haunted attraction business.
Taking place at the Upsky Hotel in Hauppauge, New York, a mere 45 minutes from the computer chair that I rarely remove myself from, the first annual Haunt Faire was too close for me to ignore, so I made the drive yesterday and spent a couple hours taking in the sights and sounds. Sundays aren't exactly the best days to attend conventions, as I've learned in the past, but I must admit that I napped my way through Saturday. Oops.
A far cry from most conventions I've attended over the years, which are crowded to the point of my social anxieties demanding I hide up in my hotel room for hours at a time, Haunt Faire was relatively dead when I arrived – much to my delight. The show caters to an extremely niche audience – primarily those who run their own haunted attractions – so I can't say I was surprised by the limited number of amateur cosplayers prowling the premises.
One main dealer room and several smaller conference rooms comprised the bulk of Haunt Faire, the dealer room packed mostly with vendors selling things like makeup appliances, fog machines, and various other haunted house staples. Again, this is a convention tailor made for haunt proprietors, though I must admit I was bummed to discover no collectibles or things of that nature up for grabs – I somehow didn't grasp what exactly I was getting into until, well, I got into it.
But there was at least a little bit of horror movie love infused into the dealer room, as a few stars were stationed alongside the mega-sized bottles of fog juice. Saw 3 and Insidious' J. LaRose had a table next to fellow Insidious star Philip Friedman (he played the iconic 'Old Woman' in the film), and not far from them was actor Nicholas King – best known as Bughuul (aka Mr. Boogie) from the Sinister movies.
I was immediately drawn to King's table, as he had a screen-used Bughuul mask on display, and a conversation about the mask quickly – and expectedly – led to me dropping $20 on an autographed 8×10. My days of spending money on autographs are mostly behind me, but I had never before seen King at a show, nor was I ever aware of who exactly it was that played Bughuul, so it was cool to meet him.
I happened to arrive at Haunt Faire just in time for a Q&A session with Barbara Magnolfi, who played Suzy's friend Olga in Suspiria. The interview took place in one of the hotel's small conference rooms, and I was bummed to discover that I was only one of three people who actually attended – it seemed everyone else was naturally more interested in the various seminars about the haunt industry.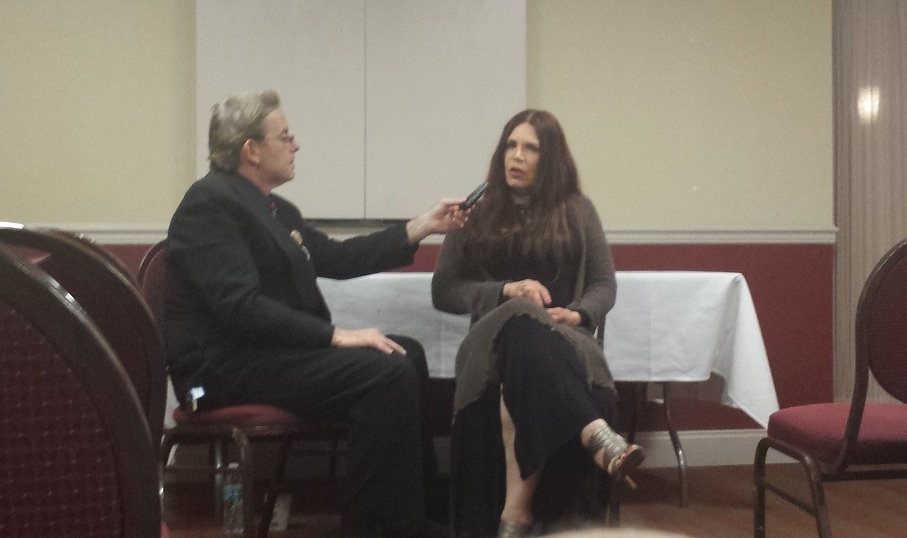 Magnolfi talked about working with Dario Argento, remarking that the film was originally going to star children – and Argento, she said, instructed her to basically act like a child would. It was somewhat of an awkward Q&A, given how empty the room was, and I couldn't help but feel bad for Magnolfi as she nervously played with a necklace – which, she later revealed, was the one she actually wore in Suspiria.
From there I didn't really know what else to do, as I had pretty much seen everything there was to see in the span of an hour, so I ended up attending an airbrushing seminar in somewhat of a desperate attempt to justify the drive. Artist Shane McGowin, who looks like Kevin Bacon and airbrushes actors at local haunts, showed off his skills, and I mostly learned that airbrush machines are unruly bitches.
On the way out I realized there was another convention area inside the hotel that I had somehow completely missed upon entering, which was a hallway turned into a makeshift art gallery. Dubbed the 'Overlook Exhibition,' the pieces from various artists were all in tribute to The Shining, and the highlight was a prop depicting Jack Torrance's snow-covered headstone – with his trusty axe leaned up against it. Too cool.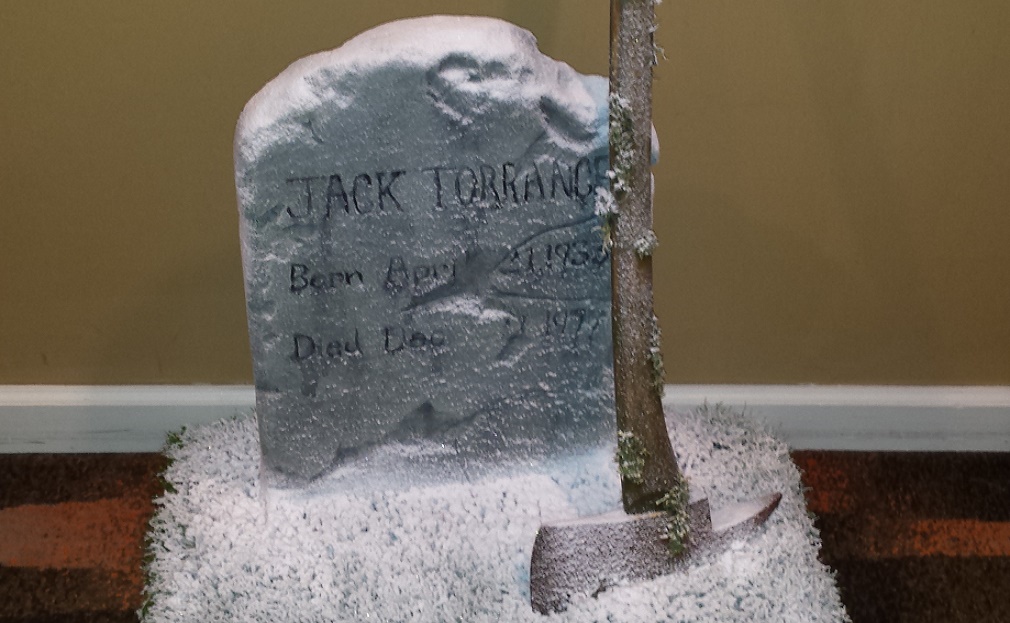 Another little area I spotted on the way back to my car was the 'Highway to Hell Car Show,' consisting of several vehicles decked out in spooky fashion. A few hearses were parked in the rear of the hotel, just begging to have their photos taken, and one of them was decorated to the point that it was basically a haunted house on wheels. I snapped a shot, as a kindly old woman locked herself out of her hearse.
One of the big selling points of Haunt Faire, prior to me making the trek, was a promised 'Movie Museum,' which was to feature screen-used props from movies like Nightmare on Elm Street, Evil Dead, Ghostbusters, and Child's Play. Unfortunately, I was informed by one of the staff members that the exhibit was for whatever reason cancelled, robbing me of seeing one of the main things I came to see.
Despite a lackluster dealer room, I was impressed by the sheer amount of workshops and seminars taking place at Haunt Faire, which were surely a treat for those actually in the haunt industry. Not falling into the target audience, there admittedly wasn't all that much for me to do there, but again a good deal of that also must be chalked up to the fact that I simply chose the wrong day to go.
Saturday's packed roster of events included things like a costume contest, an Insidious panel, a Sinister Q&A, a 'Makeup Wars' competition, a fashion show, an after party, and screenings of several independent films, all of which would've kept me occupied for several hours. But I can't complain. I met Bughuul. And in my world, that's a life experience worth a 90-minute drive and a $40 charge on my credit card.
You rule, Bughuul. And you're pretty cool too, Haunt Faire. See ya next year. On Saturday.
Support Halloween Love
If an item was discussed in this article that you intend on buying or renting, you can help support Halloween Love and its writers by purchasing through our links:
(Not seeing any relevant products? Start your search on Amazon through us.)