There are few sub-genres of horror I love more than holiday slashers, and every single year I look forward to revisiting favorites like Silent Night, Deadly Night, Christmas Evil, Black Christmas, and yes, even Santa's Slay. Eager to add new titles to the annual rotation, I'm always keeping an eye out for upcoming holiday horror offerings, and today I'm here to tell you about one I recently came across.
Set for release in 2016, Good Tidings is described as somewhat of a mix between Silent Night, Deadly Night and John Carpenter's Assault on Precinct 13, a slasher/thriller that just went into pre-production last week. With very little information about the film on the net, I decided to track down co-writer/director Stuart W. Bedford for an interview, and he provided a sneak peek that you'll only find here on HL.
Learn everything you need to know about Good Tidings by reading our exclusive chat below!
Halloween Love: When we sit down to watch Good Tidings, what can we expect to see? Give us a rundown of the plot, in a nutshell.
Stuart W. Bedford: Good Tidings tells the story of Sam Baker, a homeless war veteran with a troubled past. We join Sam on Christmas Day. He has all but buried that past and focused his efforts entirely on creating some semblance of a life for himself and his companions within the walls of a grand abandoned courthouse.
However, as they settle in to their makeshift Christmas, they are suddenly and brutally set upon by three mysterious (and entirely silent) masked psychopaths in Santa suits, wielding weapons, and nothing but ill intent.
Scattered and separated by the Santas – affectionately but unofficially nicknamed Larry, Curly and Moe – Sam is forced into a sprawling maze of corridors beneath the courthouse and into a deadly game of cat and mouse in which he and his companions are the playing pieces.
HL: With so many Christmas horror movies out there, what makes Good Tidings different?
SB: We love seasonal horror. It's one of our favorite sub-genres. And believe me we have seen and pretty much loved them all. But we've approached our piece with a desire to produce something new; a desire to twist the conventions of the slasher genre so that we're not just putting out another by-the-numbers hack-and-slash. I believe Good Tidings is a piece that will both satisfy and surprise horror fans.
Good Tidings weaves several themes together into what I would say is a commentary. We deal with theism, we deal with capitalism, we deal with addiction and we of course deal with homelessness – and not just in a "oh look at these stupid stinky homeless people, let's kill 'em off" kind of way. We care about our characters, and each one has their own skills and strengths, dreams and weaknesses, just like any other human being.
And our Santas aren't just golems either, ala Jason Voorhees. There's a whole dynamic between them that forms its own story arc, separate to that of the protagonists. The film is not just a story about three psycho Santas on a rampage; it's a story about redemption, about facing your own demons. And while sure, it is heavily plot driven, our characters and our unique themes (particularly in relation to Christmas horror) are what I think separates us from the pack.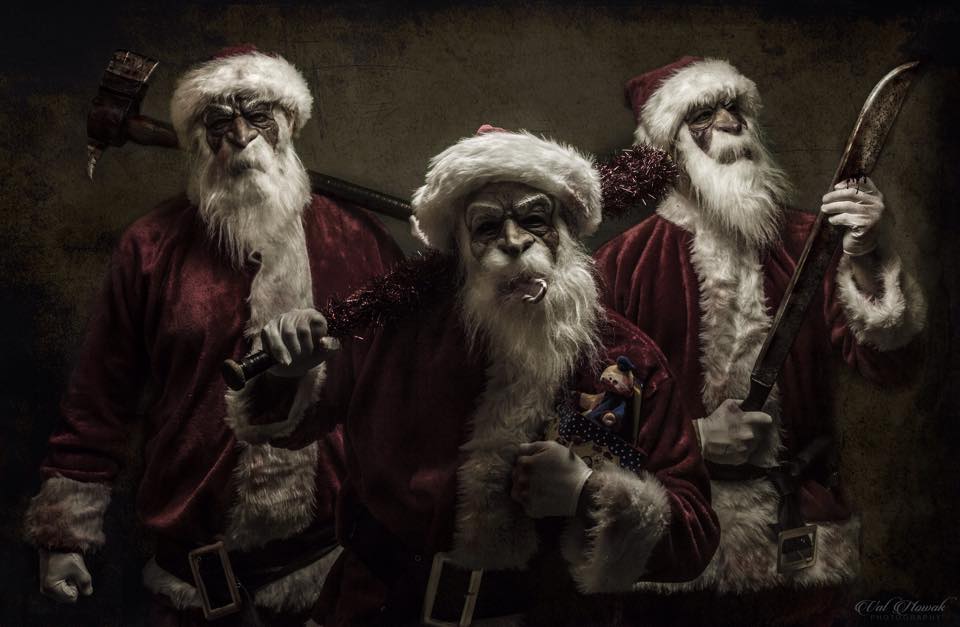 HL: You're set to film the movie in a pretty unique location: a real abandoned courthouse. Can you tell us a bit about that?
SB: When we approached the owner of the courthouse with the pitch to film a project in there we actually had only a vague idea of what we wanted to do. The idea was to find a great location, and then write a story within it. By doing this, we cut out the huge hassle of finding locations to match a script – a lengthy and often expensive endeavor, particularly if your script spans multiple exterior locations.
As soon as we saw the courthouse, we were astonished. It's so huge, and it still has its original fittings and fixtures in place. The story really came easy after that. I can't describe how pleasurable it is to write a script in a location that you are definitely going to use.
In this way, we were able to incorporate the setting more fully and it even informed our choice of themes and character. And of course we are also the first crew to ever be allowed inside to shoot, which you have to admit is pretty cool!
HL: Everyone loves to watch Santa slice and dice hapless victims. Is Good Tidings going to be a bloody affair?
SB: Oh yes. I know I've harped on about characters and themes thus far but I just want to assure any potential audience members that we are not skimping on the gore. We have the privilege of working with local emerging special effects artist Andy Savage, who is working hard to create some standout set pieces.
We love our classy horrors, like last year's Babadook or It Follows for example; movies centering almost entirely on character and using selective gore set pieces for maximum impact. Two amazing movies. But we also love our schlock, and our ethos in Good Tidings is definitely that the more vile filth we can put on camera the better. We're looking to make stomachs turn!
HL: Good Tidings has been described as a 'festive satire.' What exactly do you mean by that?
SB: While we're playing Good Tidings totally straight, there is an underpinning of the fantastical, of the weird and of the zany – our stories tend to place one foot in reality and one foot in a slightly skewed 'other place.'
I don't want to reveal too much, but I see Good Tidings as an extended visual metaphor. The story is a lampooning of Christmas, and by extension of capitalism and religion, designed to hold the whole dog and pony show up to the light and look at it for what it is: a season that encourages us to clear out our bank accounts and gratify ourselves until we're physically sick.
Don't get me wrong; we love Christmas. But there's always darkness to find in the depths of the things we love. Isn't that what makes life so interesting?
HL: The preliminary Good Tidings poster art has a grindhouse feel to it. Will the movie also have that aesthetic?
SB: Absolutely. The aim from the very beginning – even before we secured the location – was to create an exploitation movie with a modern twist and this has carried through the process. We love grindhouse cinema so much. Those were the movies that got us into horror, hell, that got us into movies in general.
So yes, when you sit down to watch our movie, you can fully expect a down and dirty 70s style grindhouse flick – but with a big twist: it's set entirely in the North of England.
HL: So, why do you think Christmas-themed horror movies are so popular?
SB: There's something powerful and inherently cinematic about Christmas; the pageantry, the decorations, the history. It's something we all recognize, regardless of race, color or creed, and something that we cannot escape no matter where we run.
And what can be scarier than something you love turning so suddenly and violently against you? Isn't that why clowns are so scary? So when you look at it like that, horror just fits so neatly into Christmas that I'm actually surprised there aren't thousands more flooding the market.
HL: Favorite Christmas horror movie?
SB: Tough call man. Ultimately I think I'm going to have to go with 1984's Silent Night, Deadly Night. I loved the 2012 remake too but the original just has that historical factor for me. Not the first Christmas horror of course, but one of the first to epitomize what I personally love about the genre.
HL: Is there anything else you'd like fans to know about Good Tidings?
SB: We're making Good Tidings largely out of our own pockets with an all-consuming love for cinema and horror in particular. What we really want is to reach our audience and to deliver a special, unique horror experience – one that we'd pay to see ourselves. We promise guts. We promise heart. You guys just need to come with us.
Seasons greetings!
---
If this sounds like your type of movie, be sure to "like" Good Tidings on Facebook to keep tabs on the project!
Support Halloween Love
If an item was discussed in this article that you intend on buying or renting, you can help support Halloween Love and its writers by purchasing through our links:
(Not seeing any relevant products? Start your search on Amazon through us.)