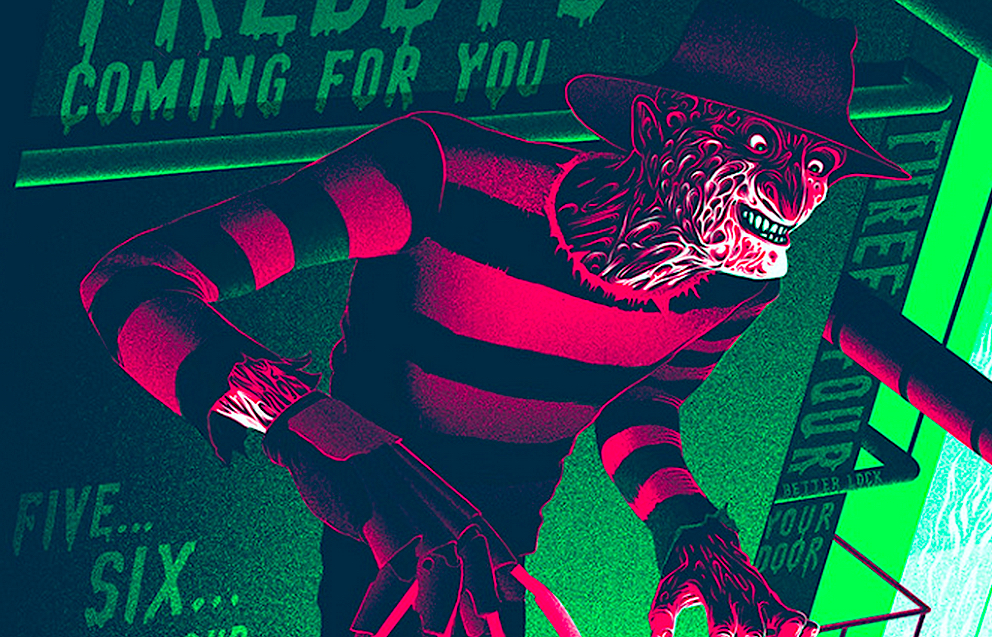 Sunday has once again arrived all too quickly and here at Halloween Love that means one thing – it's time for another batch of incredible poster images from the thriving alternative art community!
So far I've revealed my personal favorite posters that pay tribute to: Jaws – Stephen King's IT – Alien – The Shining – The Thing – Ghostbusters – Jurassic Park and Scream. Today we leave the blood stained streets of Woodsboro behind us and head for a relaxing visit to Elm Street, where apparently everyone looks tired!
As always this list showcases MY personal favorite posters, the select few that pushed my art loving buttons and made me want to stay up all night drinking coffee and coke cocktails. There are hundreds more incredible designs out there but these are the best of the best in my humble opinion.
Burn your bed, slap yourself across the face really hard, and follow me …
A Nightmare on Elm Street – (Jay Shaw)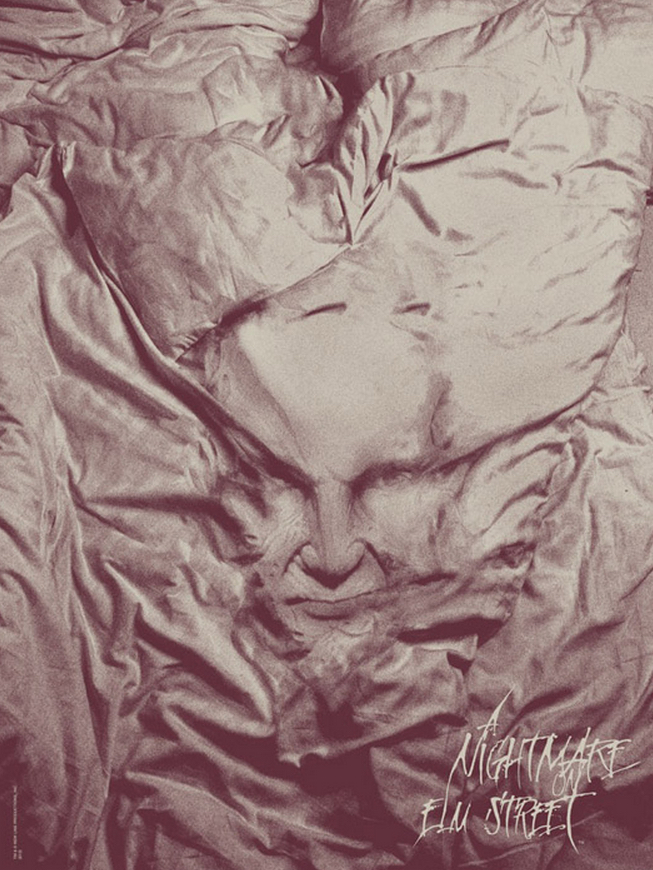 When I was a kid, my parents would often tell me how safe I was in bed. They made it sound like the most perfect and protected place in the world, and you believe them because most of the time that's how it feels. The Elm Street movies take that soft, comforting realm and turn it into a doorway to terror, the place where you are unknowingly within Freddy's reach as soon as you close your eyes. Jay's clever and unique poster design captures that potential danger perfectly. By simply showing a bed sheet that has started to fold and twist into Krueger's face, we are reminded that nothing makes him happier than seeing a teen victim decide to take a nap! A clean and haunting design from an artist who always creates special work.
A NIGHTMARE ON ELM STREET 1984 – (Nathan Thomas Milliner)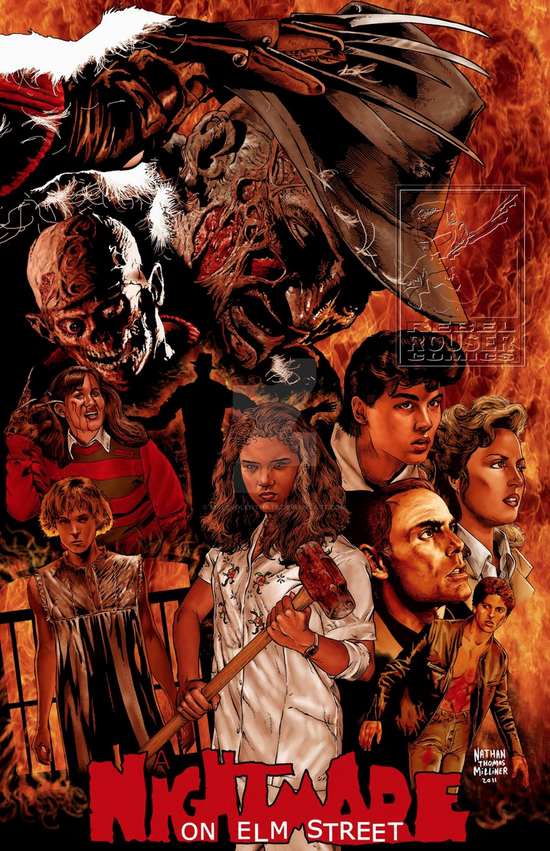 Bring on the epic! Nathan has created multiple pieces of art linked to A Nightmare on Elm Street but this detailed and action packed masterpiece has always been my favorite. You would find it difficult to meet an artist who has more passion for the franchise than Nathan, and it shows each and every time he illustrates the man in the hat. Every pose, every expression and every burn scar on that most familiar of faces is recreated flawlessly. Plus he included John Saxon in the design … and ANYTHING that includes John Saxon must be worshipped in my humble opinion.
A Nightmare on Elm Street – (Gary Pullin)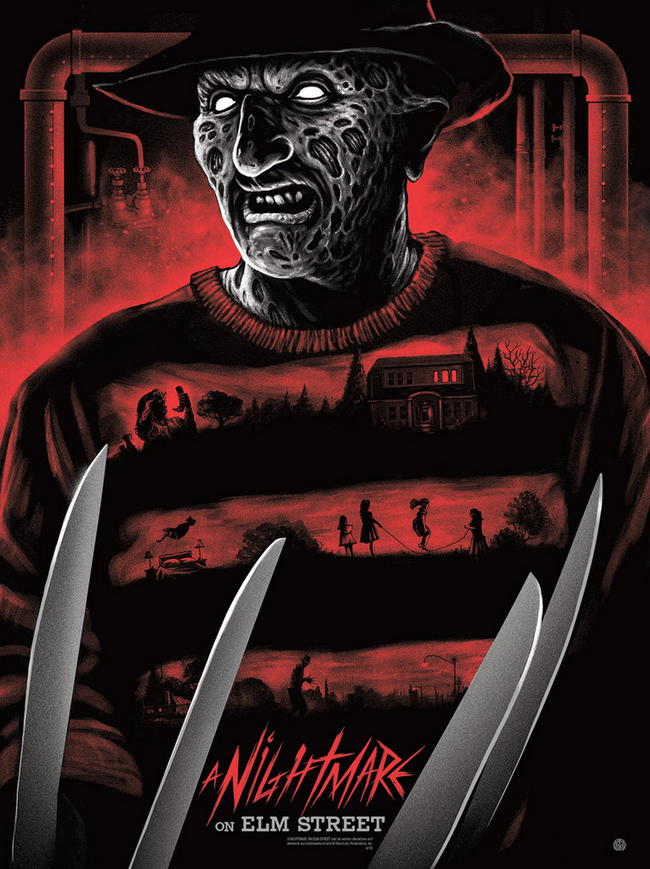 Gary has taken Freddy's iconic striped sweater and turned it into a portal that reveals fragments of classic moments from the movie, in this incredibly clever and refreshingly original poster. Familiar images emerge from the dark stripes and are silhouetted against stormy blood red skies to create a design that should make every single fan of the franchise grin like an idiot. It's cool, clever and packed with more atmosphere than a weekend in Transylvania.
Nightmare On Elm Street – (Sam Chivers)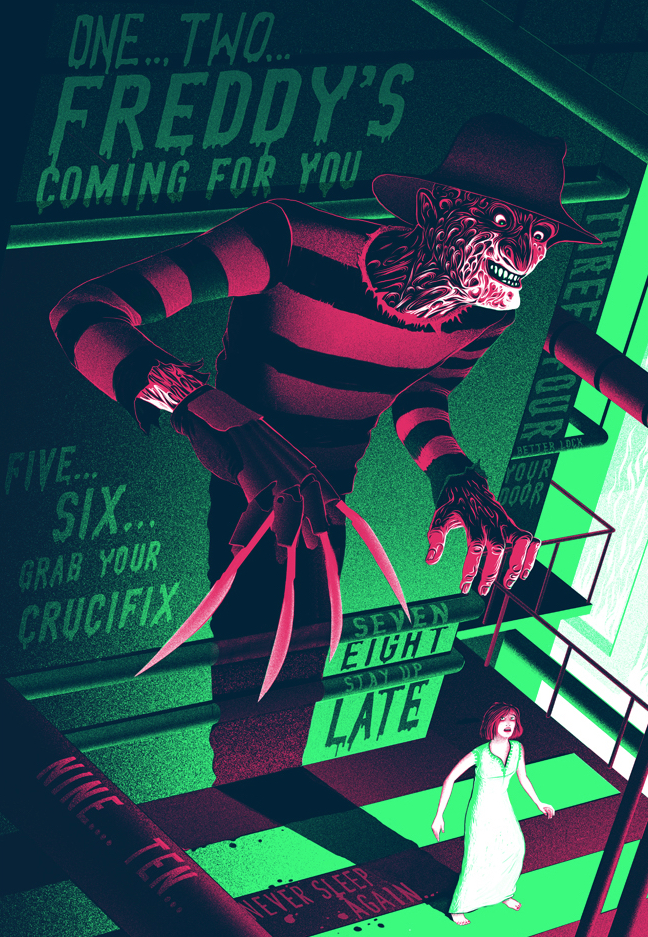 Bathed in familiar shades of dark green and dirty red, Sam's striking poster takes us into Freddy's huge labyrinth of a boiler room. The movies have always enjoyed making this location a place of shadows, where Freddy can appear at any moment ready to strike. This art nails that sense of unexpected and impending doom by having the great man rise up from within his potential victims own shadow, and tower over her with dark intent. I LOVE Sam's style and it's one of the most eye-catching posters I have seen in recent times.
A Nightmare on Elm Street – (Graham Erwin)

As an illustrator and graphic designer you would expect Graham to come up with something different and visually unique when he was commissioned to create an Elm Street poster for Mondo, and the end result didn't disappoint. Like something out of a horrific children's storybook, his style is curved and captivating – Freddy writhes like a snake as the rest of the poster perfectly frames him with the boiler room above and Elm Street houses below. The logo for the movie title is stunning and some added blood and guts complete what is a seriously good poster. I could stare at this for hours!
FREDDY KRUEGER – (Moshi Studio / Mike Wrobel)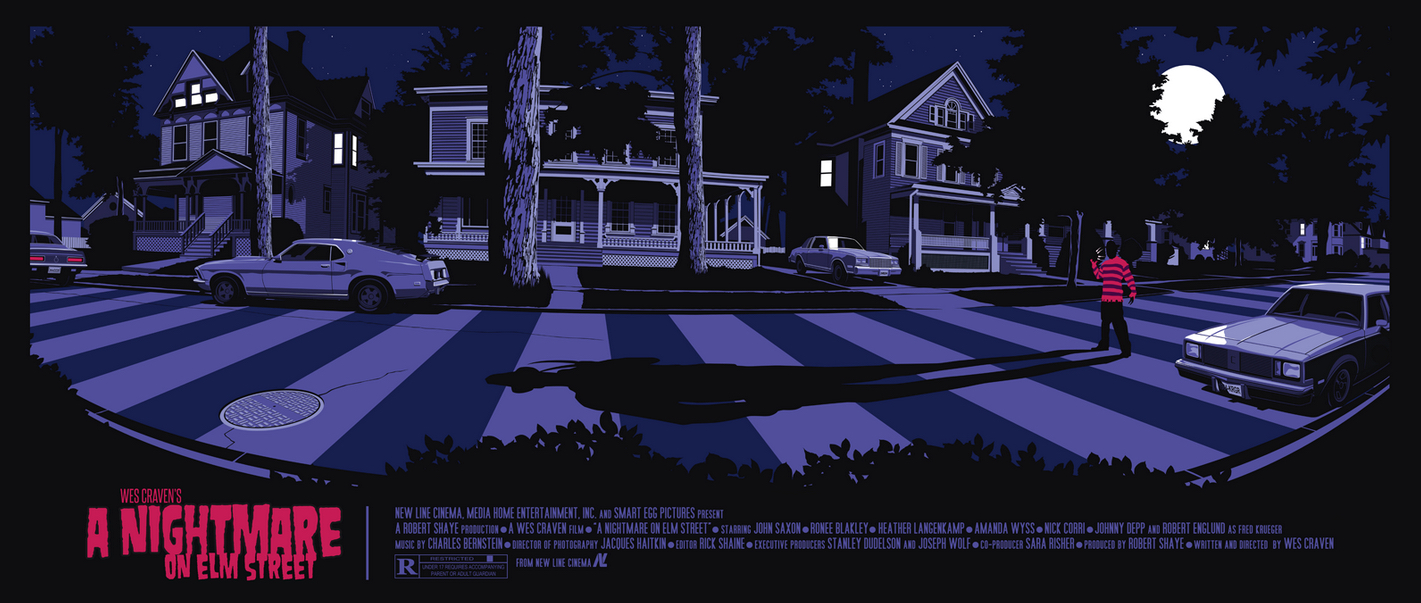 This magnificent and atmospheric piece always makes me feel like I am looking through a front door peep hole while hiding within a house on Elm Street. Outside Freddy is taunting us and slowly altering the dream realm to suit his needs. Wonderful little touches like the striped road and extended shadow create the feeling that he is in control of the environment and the whole thing captures the tone of the first movie perfectly. This is a poster that makes the hairs on the back of your neck twitch, and Mike illustrated each car and every tiny detail brilliantly.
NIGHTMARE Make-Out with Freddy – (Jeff Zornow)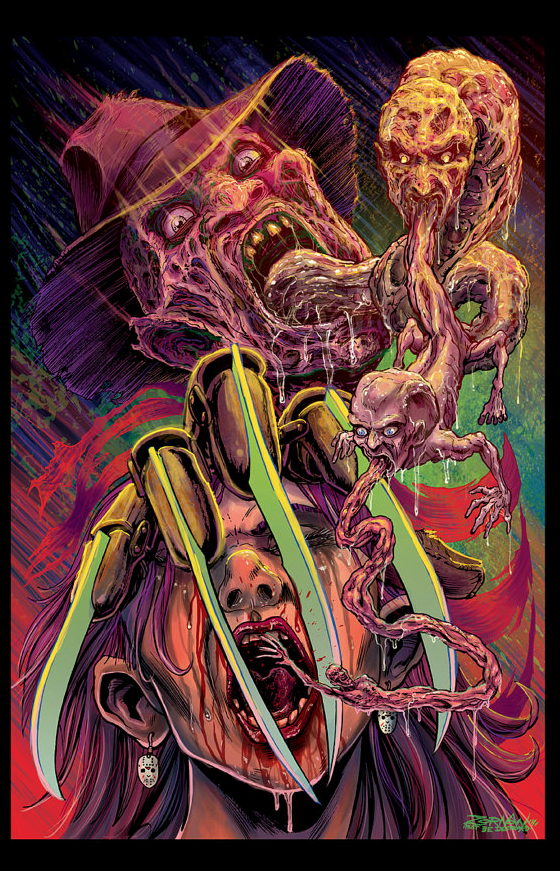 This isn't a poster for the movie as such, but I simply had to include it. It's quite possibly my all-time favorite piece of Freddy Krueger art, and the sheer intensity Jeff has put into the piece is impossible to ignore. This is Freddy unleashed, a true vision of him as a horrific dream demon who can make your worst nightmares unfold before you. It's art that feels alive, with vibrant colors and a sensation of depth and movement. This concept could have looked amusing in the hands of other artists, but Jeff makes sure that the end result is all about the terror.
QFT & Jameson Presents A NIGHTMARE ON ELM STREET – (Peter Strain)
We started with Freddy's ability to make your bed feel like an unsafe place and that's where we finish, with this brilliant piece by Peter. The moment where Freddy pushes through Nancy's bedroom wall and looks down at her as she sleeps has become truly iconic over the years. It was a perfect blend of practical effects, great lighting and timing, all coming together to make movie magic. As an image it tells you all you need to know about the movie, and Peter has made the most of it by creating a classy no-nonsense poster that looks menacingly awesome.
For further information on any of the posters you have seen here today or the artists who created them, you are only a Google search away.
Support Halloween Love
If an item was discussed in this article that you intend on buying or renting, you can help support Halloween Love and its writers by purchasing through our links:
(Not seeing any relevant products? Start your search on Amazon through us.)