As those who know me can attest, I am an absolute fiend for promotional movie items – particularly, given my love affair with the genre, those pertaining to horror movies. Sometimes handed out at theaters or conventions but typically only found on eBay, these unique items often serve as memorabilia for films that otherwise wouldn't get any, and I think that's what makes them so special.
It's of course only the hugely successful franchises like Friday the 13th, Nightmare on Elm Street and Halloween that spawn toys and various other pieces of merchandise, but promotional trinkets spread that love all across the genre. And though distribution companies often whip up cheap things like stickers and buttons, they sometimes think a whole lot bigger and better.
In this new feature here on Halloween Love, we'll be taking a look at the downright coolest horror movie promotional items ever made, some from my personal collection while others were found in my travels around eBay. If you missed Volume 1, be sure to give it a read before moving on!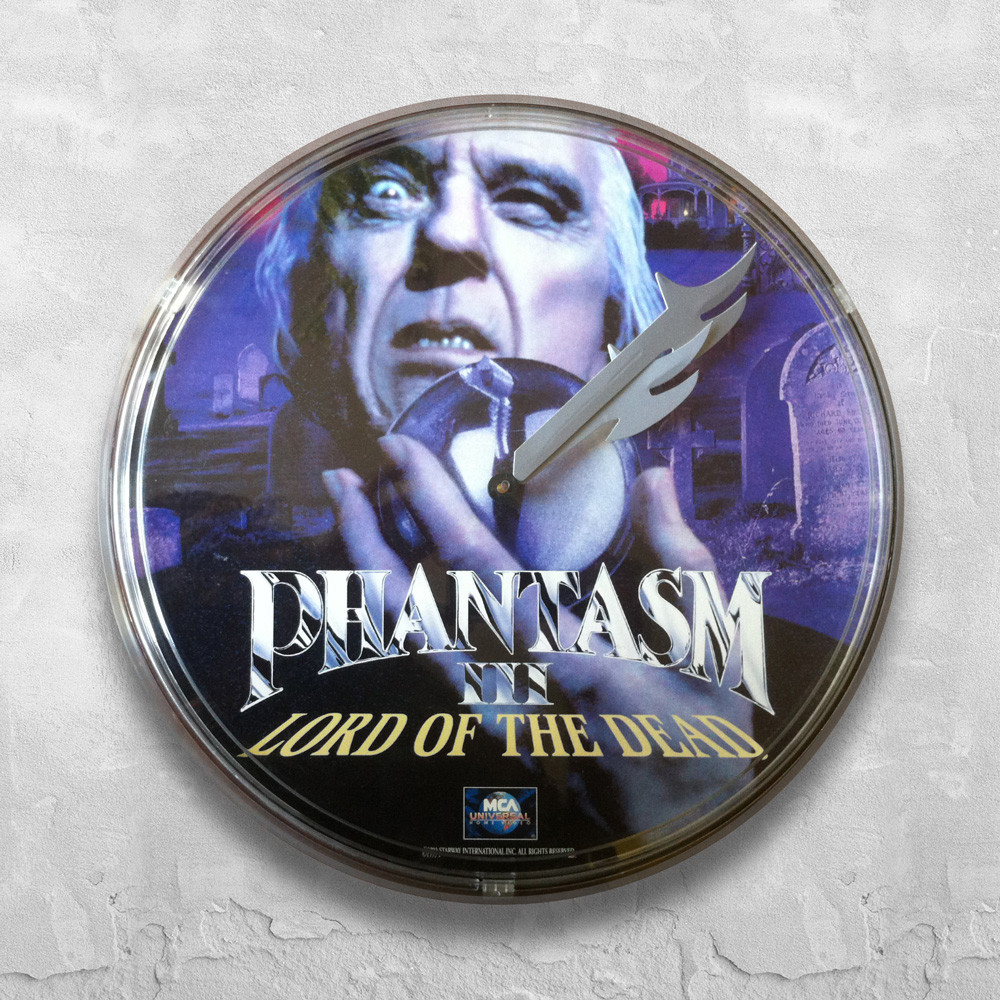 Don Coscarelli's wacky Phantasm franchise received its third installment in 1994 in the form of Phantasm 3: Lord of the Dead, which centered on Mike and Reggie's continued pursuit of the villainous Tall Man. Universal Home Entertainment distributed the second sequel on VHS, and in conjunction with the release they put together a supremely cool promo item.
Yes, that is indeed a Phantasm 3 clock, the hands made to look like the deadly spikes on the Tall Man's trusty death ball. Universal offered up the clocks to video store owners who ordered a certain number of tapes, so you very well might have seen this bad boy hanging in your local mom and pop video shop. If you'd like to hang one in your home, online store The Phactory is currently selling a few for $89 each.
Too expensive for a wall clock? Perhaps. But this is no simple wall clock, BOY.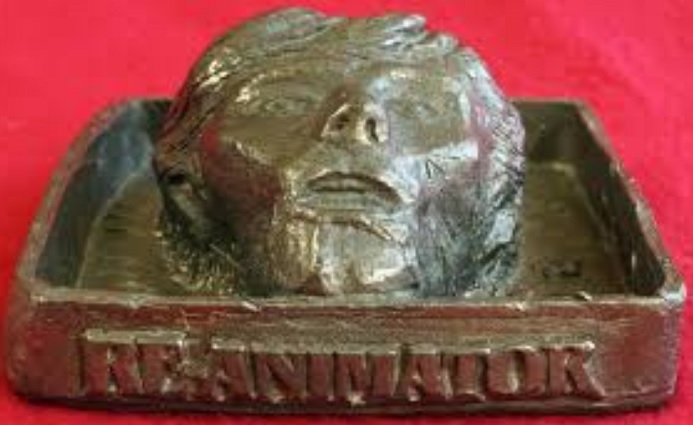 VHS distribution label Vestron Video whipped up some of the most memorable promotional items back in the VHS boom of the 1980s, so you can expect to see a lot of their treasures profiled in this feature. But perhaps none were more awesome than their Re-Animator paperweight, a heavy duty pewter sculpture that recreated the iconic image of Dr. Hill's severed head laying in a medical tray.
A clever reference to the film's tagline – "Herbert West has a very good head on his shoulders… and another one in a dish on his desk" – the Re-Animator paperweight is a very rare item, handed out by Vestron to exhibitors of the film as well as employees. Every once in a while one of these pops up on eBay, though you can expect to pay close to $100 if/when you track one down.
Vestron Video also handled the home video release of James M. Muro's 1987 cult classic Street Trash, and their promotion of the film is yet another prime example of why Vestron was the reigning king of 80s promo items. This right here is a ceramic coffee mug made to look like a garbage can, and Vestron even went so far as to add on a little trash lid topper.
The Street Trash coffee mug is another Vestron item that surfaces on eBay every so often, and one sold on there just last month for $40. I stopped drinking coffee earlier this year, for various reasons, though I must admit that I would consider rekindling that relationship if I was to come into possession of this mug. Such is the power of a truly brilliant promotional item.
Some horror movies come out and don't get nearly the amount of attention that they deserve, and I can't help but feel that 2009 Australian film The Loved Ones is one of those movies. Written and directed by Sean Byrne, the film stars Robin McLeavy as Lola, a deranged high school student who kidnaps and tortures the man who declines her invitation to prom. And it's good. Really good.
When Paramount sent me a screener copy of The Loved Ones on DVD a few years back, they also included in the package a promotional cardboard crown, similar to the one that Lola – the self appointed queen of her own sadistic prom – wears throughout the movie. Inside the box was also a promotional pen, made to look like a syringe and filled with a blue liquid – in the movie, Lola injects her 'date' with bleach.
If you haven't yet seen The Loved Ones, do yourself a favor and seek it out.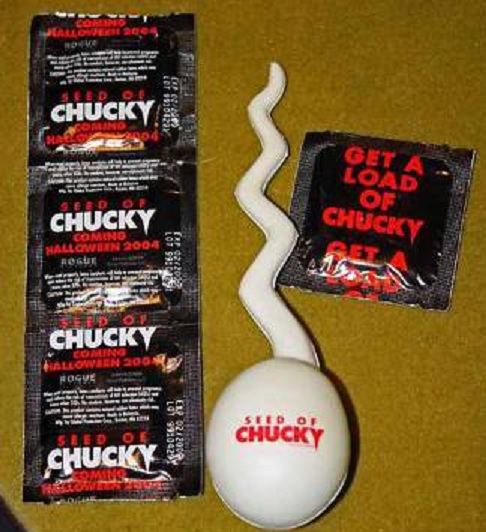 Though I'm a fan of the first three Child's Play films, and I absolutely loved Curse of Chucky, I wasn't exactly into either Bride of Chucky or Seed of Chucky – the latter of which, I feel, is the worst installment in the franchise. Aside from the John Waters cameo, Seed of Chucky was a big ole misfire for me, as I just didn't find it to be humorous or entertaining in the least.
That said, the promotional items for Seed of Chucky were admittedly quite brilliant, as Rogue Pictures whipped up condoms and even a sperm-shaped 'stress ball' to promote the comedic sequel – both of which fit in line with the 'Get a load of Chucky' tagline and the overall immaturity of the film. I may not care for the movie, but it's hard to resist promotional items like these.
Stay tuned for Volume 3 of The Coolest Horror Movie Promotional Items, coming soon to Halloween Love!
Support Halloween Love
If an item was discussed in this article that you intend on buying or renting, you can help support Halloween Love and its writers by purchasing through our links:
(Not seeing any relevant products? Start your search on Amazon through us.)