As those who know me can attest, I am an absolute fiend for promotional movie items – particularly, given my love affair with the genre, those pertaining to horror movies. Sometimes handed out at theaters or conventions but typically only found for sale on eBay, these unique items often serve as memorabilia for films that otherwise wouldn't get any, and I think that's what makes them so special.
It's of course only the hugely successful franchises like Friday the 13th, Nightmare on Elm Street and Halloween that spawn toys and various other pieces of merchandise, but promotional trinkets spread that love all across the genre. And though distribution companies often whip up cheap things like stickers and buttons, they sometimes think a whole lot bigger and better.
In this new feature here on Halloween Love, we'll be taking a look at the downright coolest horror movie promotional items ever made, some from my personal collection while others were found in my travels around eBay. So let's consider this post Part 1 of many more to come!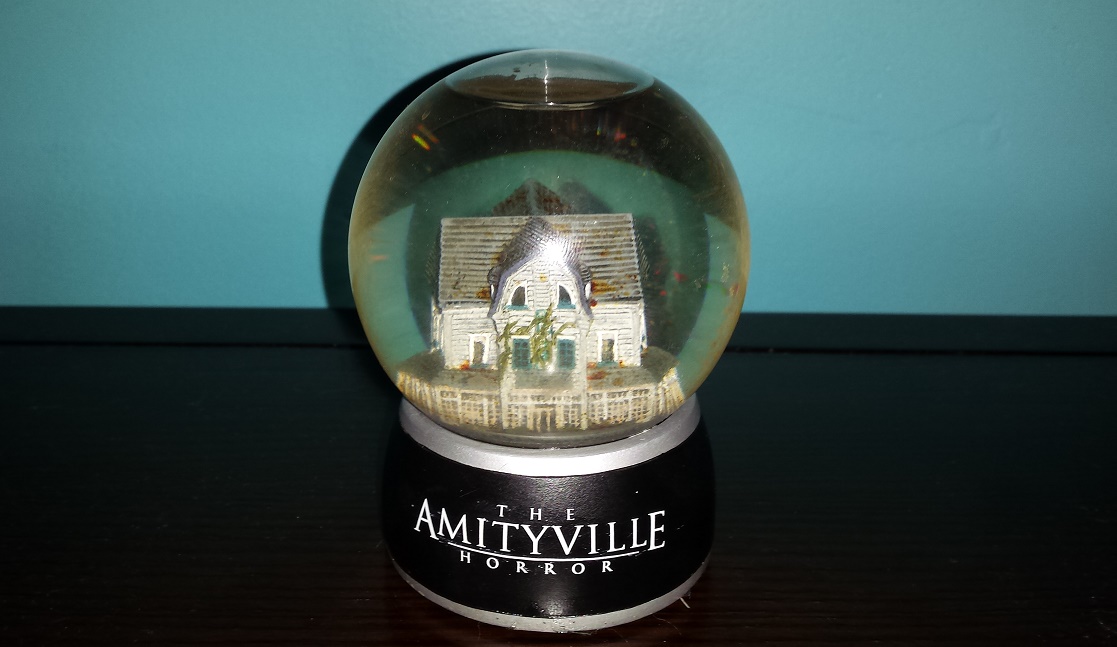 If there's a most cherished item in my collection of movie promo goodies it's definitely this Amityville Horror snow globe, which I procured on eBay several years ago for just $20. It was whipped up to promote the 2005 remake – which I'm a fan of – and from what I've been told these were handed out at the premiere, as part of some sort of trivia game.
Rather than 'snow,' little flecks of 'blood' circulate around inside this bad boy when you shake it up, and a pair of batteries are supposed to provide it with a magical light-up effect – mine is unfortunately damaged, and no longer lights up. Presumably due to the horrifying real-life inspiration of the franchise, there is very little Amityville Horror merchandise out there, which makes this extra special.
Even if it's pretty damn twisted, when you think about it.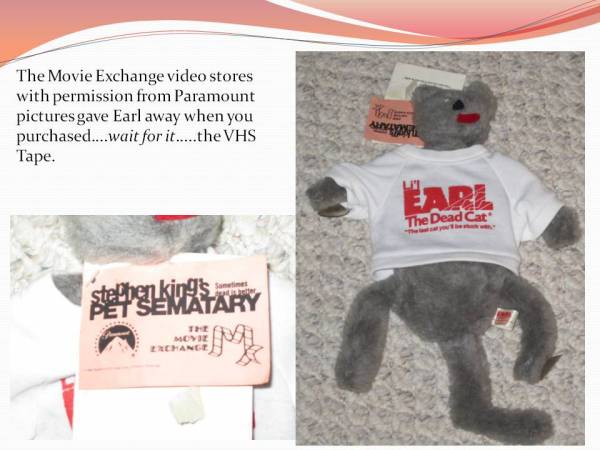 Movie promo items don't get much more unique than this one, which requires a bit of explanation. Earl the Dead Cat originally started out as a mid-80s novelty item that had absolutely nothing to do with Pet Sematary, but when the movie was released, Paramount repackaged Earl as a Pet Sematary tie-in. With a new tag affixed to him, Earl became the official video shop mascot for the Stephen King adaptation.
From what I gather, anyone who purchased Pet Sematary on VHS from their local Movie Exchange was given a free Earl the Dead Cat doll, with Earl of course playing the role of the film's Church. As you may be able to tell from the photo, Earl is essentially a plush doll with most of the stuffing taken out, making him appear dead and lifeless – much like Church, after he gets hit by a car.
The 80s were truly special, weren't they?
A lot of horror fans criticized the 2005 House of Wax remake over the fact that Paris Hilton was in it, as she tends to be someone that horror fans don't typically like. But what those fans failed to realize is that she was cast in the film for the purpose of being brutally slaughtered, a promised death scene that was in fact a huge part of the movie's promotional campaign – luring in both her fans and her detractors.
At the film's Los Angeles premiere, Warner Brothers handed out goodie bags that contained these promotional t-shirts, with the words "See Paris Die" plastered on front. Like her or not, you have to respect Paris Hilton for allowing the movie to have a whole lot of fun at her expense, and I don't think there's anyone who will disagree when I say that her death scene more than delivered on the alluring promise.
Seeing Paris die is the gift that keeps on giving.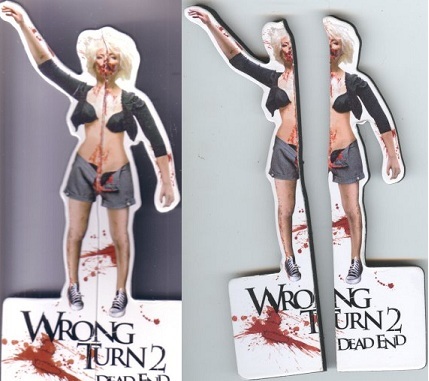 Joe Lynch's Wrong Turn 2: Dead End is hands down the best installment in the never-ending franchise, loaded with gory mayhem and a truly badass performance from Henry Rollins. And the film wastes no time getting to the good stuff, as the opening scene shows American Idol contestant Kimberly Caldwell – playing herself – being brutally cut in half (vertically!) by the force of a giant axe.
That awesome opening moment was recreated with this Wrong Turn 2 promotional fridge magnet, which was actually two magnets in one. As you can see in the photo, you can either keep it together as one magnet or split it apart into two separate pieces, just as Caldwell was split apart in the sequel. I haven't yet gotten my hands on one of these, but you better believe I'll be splitting it apart when I do.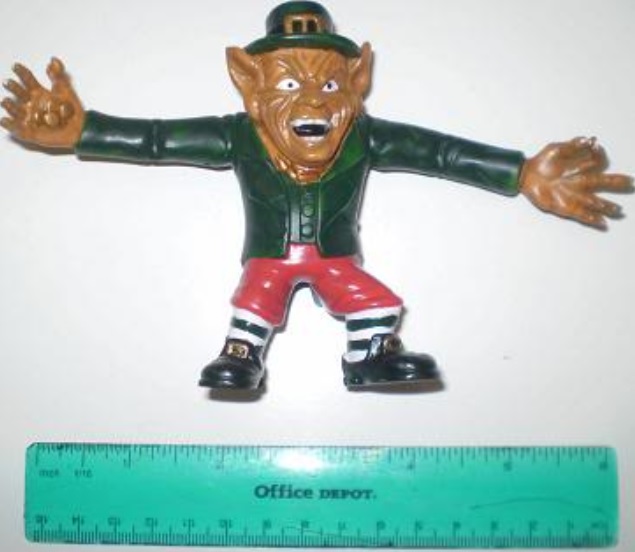 Despite the fact that he's a beloved horror icon, the titular Leprechaun has surprisingly never been turned into an action figure – at least not one that was ever released. Back in 2006, SOTA Toys showed off a prototype of a Leprechaun toy, which came complete with a well base, though the figure unfortunately never saw the light of day after the company's Now Playing line was shut down.
Thankfully, the pint-sized villain was given a little bit of lovin' on the promotional front, courtesy of this must-own bendy toy. I'm not sure what the exact origin story of the toy is but I believe it was a mail-away item whipped up in conjunction with Leprechaun's original VHS release. One of these pops up on eBay every so often, so keep your eyes peeled if you're looking for one.
Stay tuned for Part 2, coming soon!
Support Halloween Love
If an item was discussed in this article that you intend on buying or renting, you can help support Halloween Love and its writers by purchasing through our links:
(Not seeing any relevant products? Start your search on Amazon through us.)