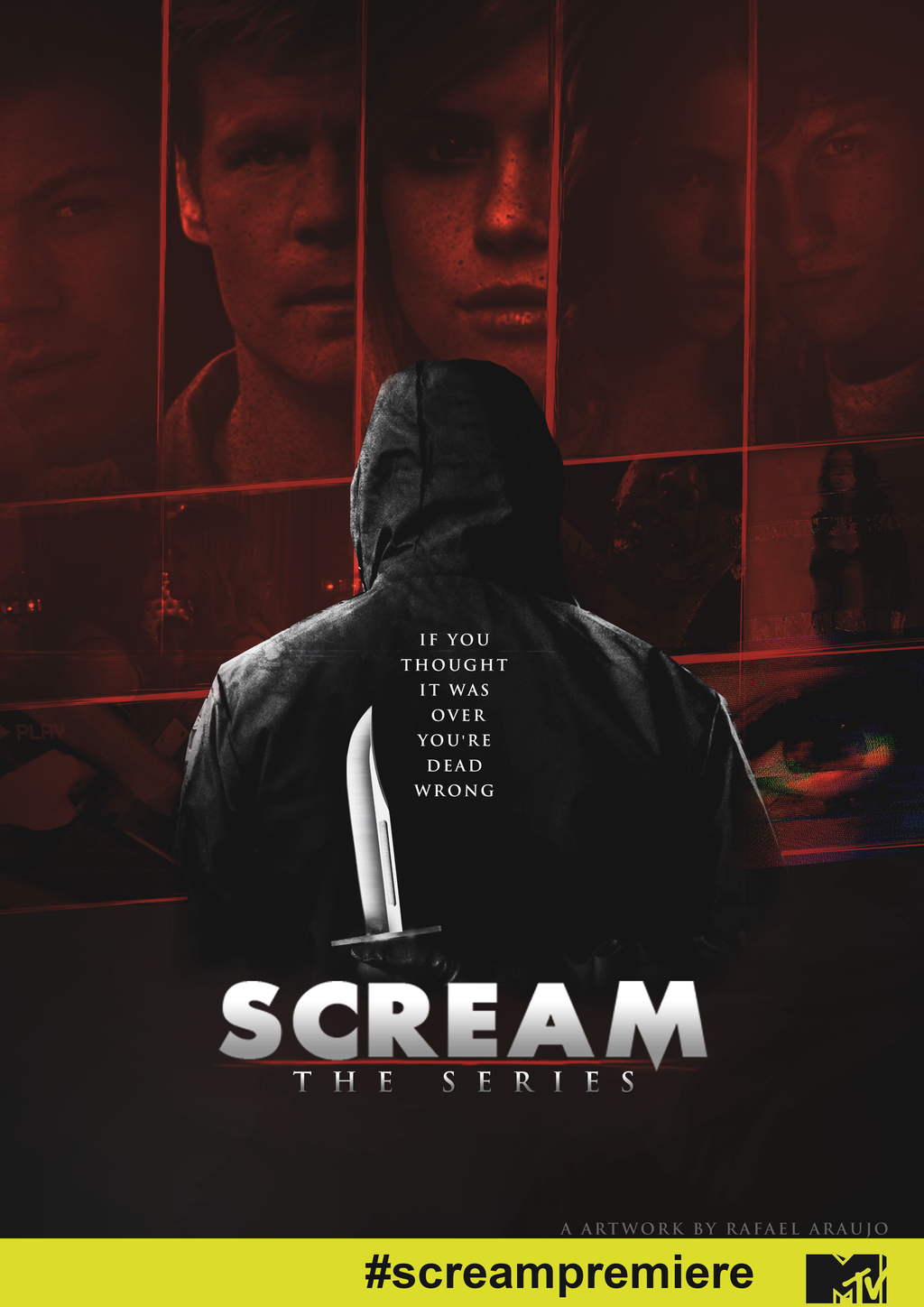 While some horror fans are kind enough to wait until they see new movies/TV shows before judging them, many unfortunately are not. Like most reboots, MTV's Scream television series was unfairly written off before we even saw so much as a clip of the show, and much of that hatred was derived from the fact that the iconic 'Ghostface' mask was not going to be featured in it.
Just a few weeks after we finally got a clear look at the new mask, the pilot episode of Scream premiered on MTV last night, giving us our first taste of the music channel's modern day take on one of the horror genre's most beloved franchises. I was of course stationed comfortably on my couch for the big premiere, so today I wanted to spew some thoughts about Scream's debut on the small screen.
MTV put the first few minutes of Scream up for viewing online last week and it was a smart move, because the opening sequence was the best thing about the pilot. An admittedly uninspired riff on the iconic first scene of the film, the opening saw rich bitch Nina Patterson getting slashed up by 'Ghostface,' in the wake of embarrassing a fellow student by filming her making out with a female friend.
After sending threatening yet flirty text messages to Nina, the killer decapitated her boyfriend (off screen) and then tossed his head into her hot tub, proceeding to slice Nina's back and then slash her throat from ear to ear. The sequence showed that MTV isn't going to shy away from violence in the series, as Nina's death was suitably intense, bloody and barbaric. Yes please. More please.
From there we were introduced to the students of George Washington High School in the fictional town of Lakewood, none of whom seemed to care that much about Nina being slaughtered. There's good girl Emma, who finds out her boyfriend Will recently had sex with Nina, and then we have her friends Jake, Riley, Brooke, and hunky new kid Kieran – who are each walking, talking slasher movie stereotypes.
Though MTV's Scream has no actual story connection to the events of Wes Craven's franchise, many of the characters feel quite familiar, especially horror nerd Noah. The best friend of bi-curious Audrey, who was the subject of the embarrassing viral video the late Nina filmed, Noah is essentially Randy Meeks from Scream, laying out the rules of slasher cinema to anyone who will listen.
The pilot episode, as expected, was mostly spent on getting to know the characters, and the problem is that none of the characters are interesting or even likeable in any way. Noah's nauseatingly meta dialogue at one point lets us know that we're supposed to care about the characters rather than tune in every week to watch them get killed, and I'm not sure that these characters are worth caring about.
Of course, you could argue that the fun of slasher movies is that you want to see the characters die, but what we're dealing with here – as Noah also points out – is a TV series, rather than a 90-minute film. Noah suggests that you can't turn a slasher movie into a series, as slasher movies burn bright and fast, and the cutesy dialogue highlights a potential problem with the show, going forward.
Spanning 10 episodes, Scream is essentially going to be a 10-hour slasher movie, and that means a whole lot of time spent on teen drama, rather than cut 'em up mayhem. At one point, Noah even tells a friend to forget that the story they're living inside of is a horror story, suggesting that MTV is going to focus heavily on the sort of relationship drama you'd expect on their other shows – and there's plenty of it, in the pilot.
While the premiere episode mostly feels like watching the first 10 minutes of a not-so-great remake of Scream, there is one very interesting new element brought into the mix. 20 years prior to the events of the series, a sadistic killer by the name of Brandon James murdered several teens before being shot dead by police, and it seems that the present day killer is trying to convince the town that he/she is Brandon.
What's most interesting about Brandon is that his face was heavily deformed, and the show's brand new mask is based on his physical appearance. As mentioned, the new mask was the subject of much hatred in the past few months, but it totally works within the context of the show, and I'm glad they decided to change things up. Brandon's backstory, all around, brings a nice classic slasher vibe to the proceedings.
As it turns out, main character Emma's mother Daisy was the apple of Brandon's eye all those years ago, and the new killer is now targeting Emma, mentioning in a creepy note that she looks just like Daisy did at that age. The killer left a neatly wrapped animal heart on Daisy's doorstep and later made a phone call to Emma, his familiar-sounding voice letting us know that he's watching and waiting to strike.
So who is the killer? It's impossible to tell at this point, but the pilot does a decent job of making everyone a potential slasher. Will and Jake are more or less the show's version of Billy and Stu, while Audrey has the clearest motive for wanting to kill Nina – and we see that she keeps a picture of Brandon on her wall. As for Noah, the episode ends with the reveal that he literally has blood on his hands.
The dialogue throughout Scream's pilot is fairly cringe-worthy (particularly when it's self-aware) and the characters not much fun to hang out with, but the good news is there's enough of them to allow the series to kill one off each week. Keep in mind that we've only got nine episodes to go, so it would seem that the show is setting us up for a victim-of-the-week sort of deal, which could be fun to watch.
All qualms with the unremarkable but inoffensive pilot aside, it's hard not to be somewhat excited by the idea of a slasher TV series. Slasher movies have fallen by the wayside in recent years, in favor of ghost stories and found footage films, and though I'm not quite sure how well such a set-up is going to work as an episodic TV show, I intend on tuning in each week and watching the body count pile up.
Oh and I totally dig the new mask. So there.
Support Halloween Love
If an item was discussed in this article that you intend on buying or renting, you can help support Halloween Love and its writers by purchasing through our links:
(Not seeing any relevant products? Start your search on Amazon through us.)