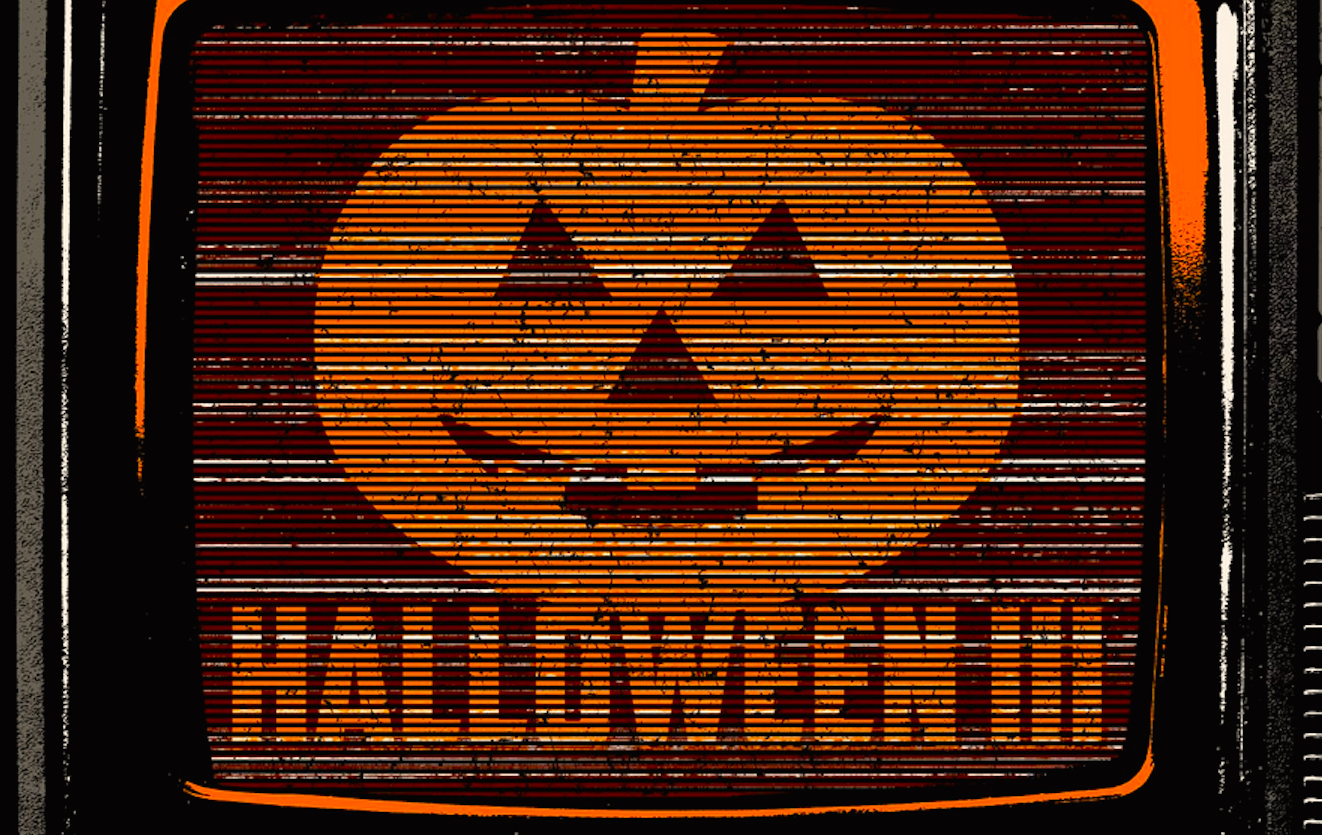 Sunday has once again arrived all too quickly and here at Halloween Love that means one thing – it's time for another batch of incredible poster images from the thriving alternative art community!
So far I've revealed my personal favorite posters that pay tribute to: Jaws – Stephen King's IT – Alien – The Shining – The Thing – Ghostbusters – Jurassic Park – Scream and A Nightmare on Elm Street. Today we wave goodbye to Freddy, and travel to the mask making town of Santa Mira, California.
The Season of the Witch is about to be unleashed!
As always this list showcases MY personal favorite posters. The select few that pushed my art loving buttons and made me want to pull on a skull mask and dance like an idiot around my TV. There are hundreds more incredible designs out there but these are the best of the best in my humble opinion.
Grab your candy bucket and follow me. The Horrorthon is about to start!
Halloween 3 – (Tom Whalen)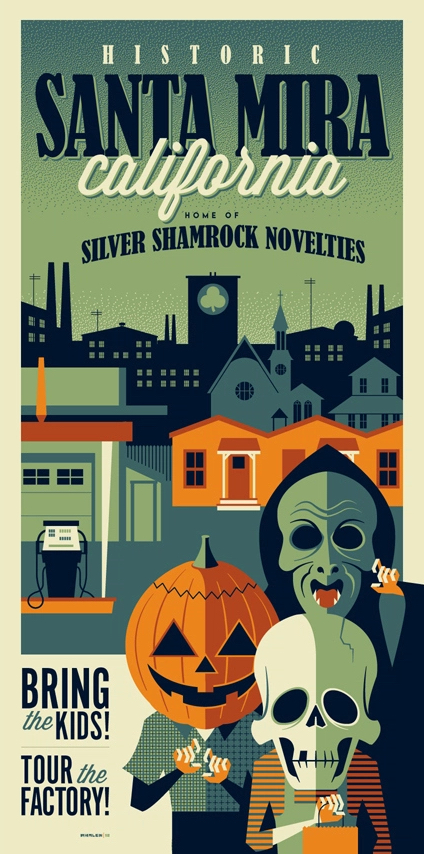 "Bring the kids!" "Tour the factory!" – Tom's clever concept is as funny and cool as it is haunting and creepy. It's a piece that pays tribute to the movie by focussing on a location instead of characters and specific moments. The clean graphic style is pleasing to the eye, and the end result is a poster that is naturally subtle but will INSTANTLY send shivers down the spine of anyone who loves and knows the movie.
Halloween 3 – (Quiltface Studios / Chris Garofalo)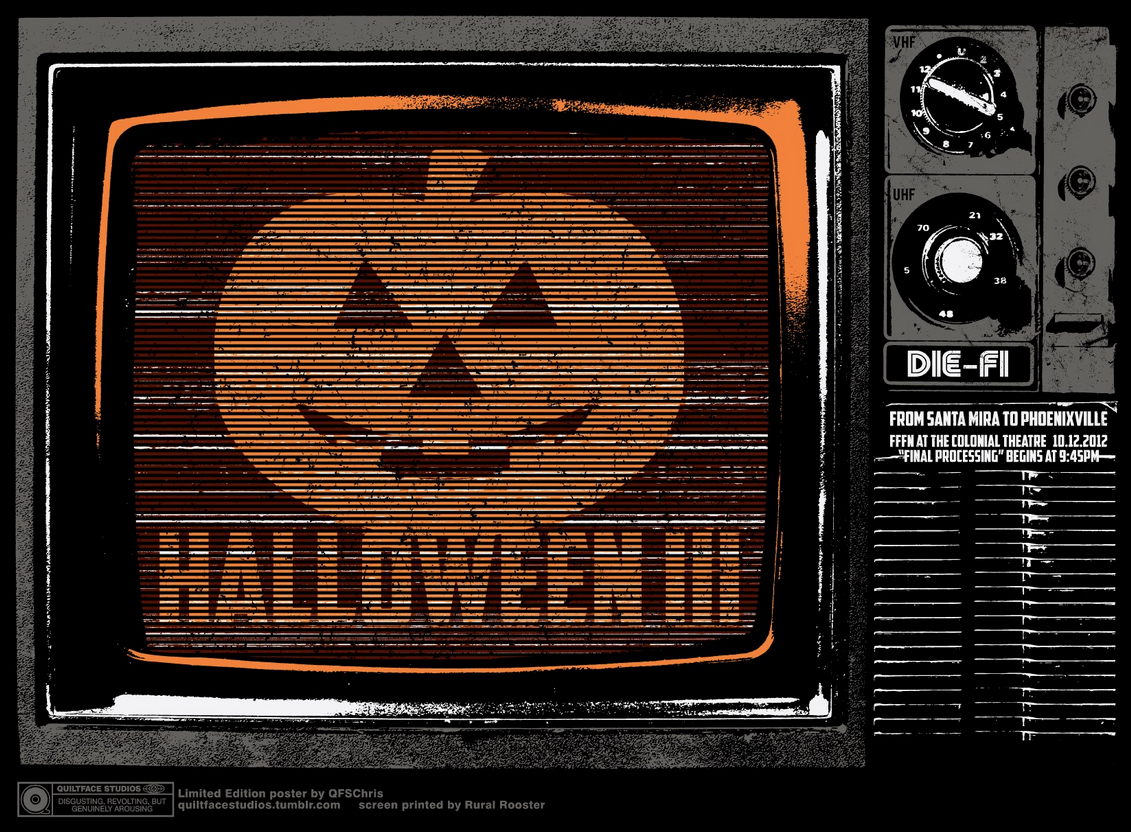 Halloween 3 is the movie that turned TV sets across America into weapons of mass destruction. Those entertainment windows that dominate our lives so much have played an important role in many films over the years, but nothing comes close to the Halloween night carnage that Cochran had planned! Thanks to its brilliant design and classy retro style, this poster IS the ultimate tribute to that aspect of the story, and it makes me want to hum the damn Silver Shamrock jingle every time I look at it!
Silver Shamrock Trick-or-Treaters – (Belle Dee & Doo Wacka Doodles)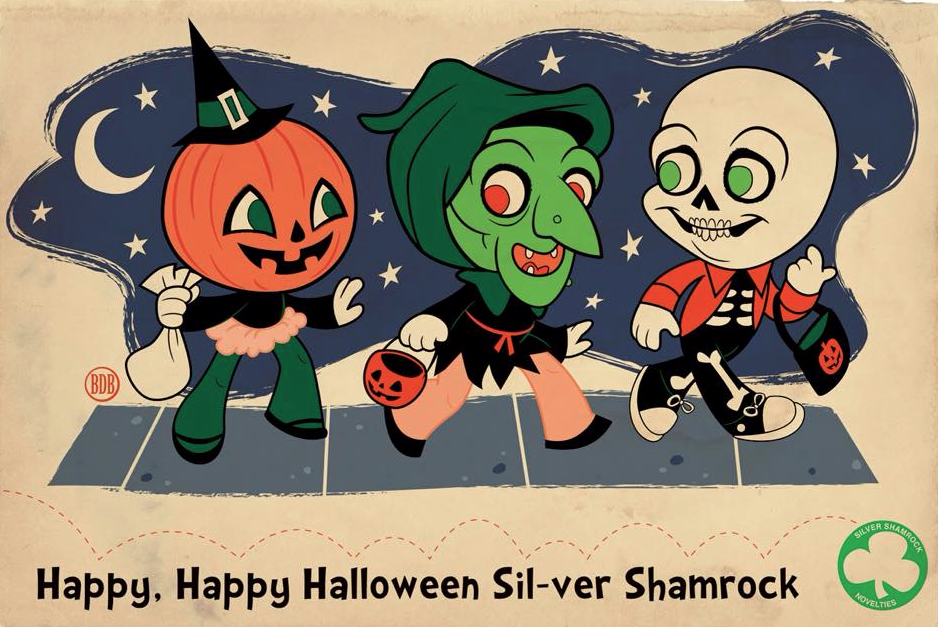 Like Tom Whalen's subtly ominous travel poster that started my list, this awesome piece by Belle is also friendly and cute on the surface but fans of the movie will be fully aware of the dark planning at work. I LOVE art that expands the universe contained within certain movies and something like this is a perfect example of that. I can just image it being used as a promotional poster in shop windows and pasted to telegraph poles around the town of Santa Mira and beyond. Happy imagery to entice kids to buy the masks and maintain the wholesome facade that was crucial to the company. Fantastic work from a unique artist.
Halloween 3 : Season of The Witch – (Matt Ryan Tobin)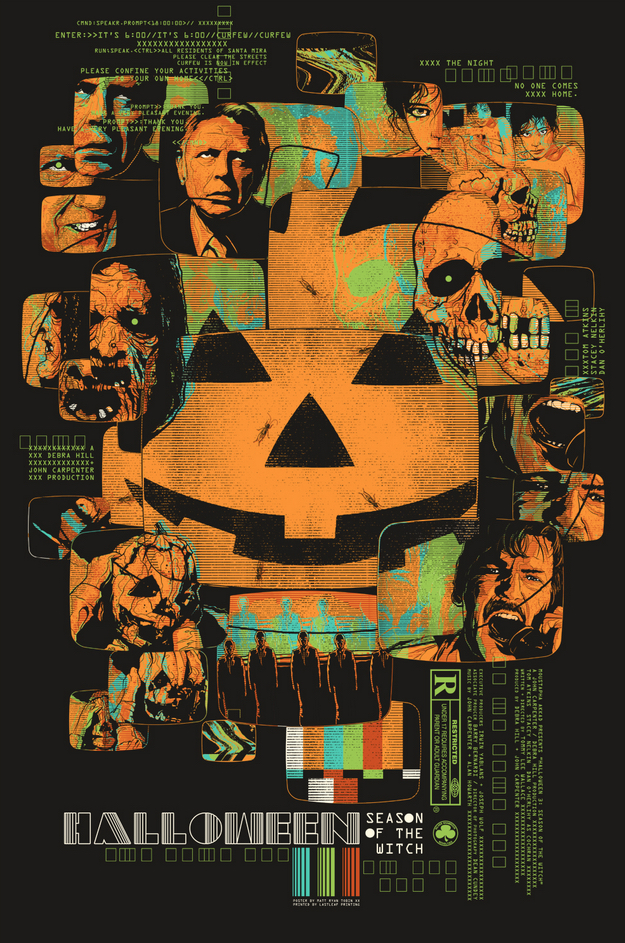 This is easily one of my favorite alternative movie posters from the last year or two. Hell, it might be one of the best I've EVER seen, and the way Matt has designed and illustrated the whole thing is horror art heaven. The multiple layered TV screens create a sense of unstoppable danger, and the vivid color scheme has a retro vibe which works beautifully. The masks are terrifying, the characters are instantly recognizable, the digital text is straight out of a Carpenter movie, AND we even get a small cameo from a man called Michael Myers! I could stare at this for hours. A genuine masterpiece.
Alternative Movie Poster: Halloween 3 – (Matthew Therrien)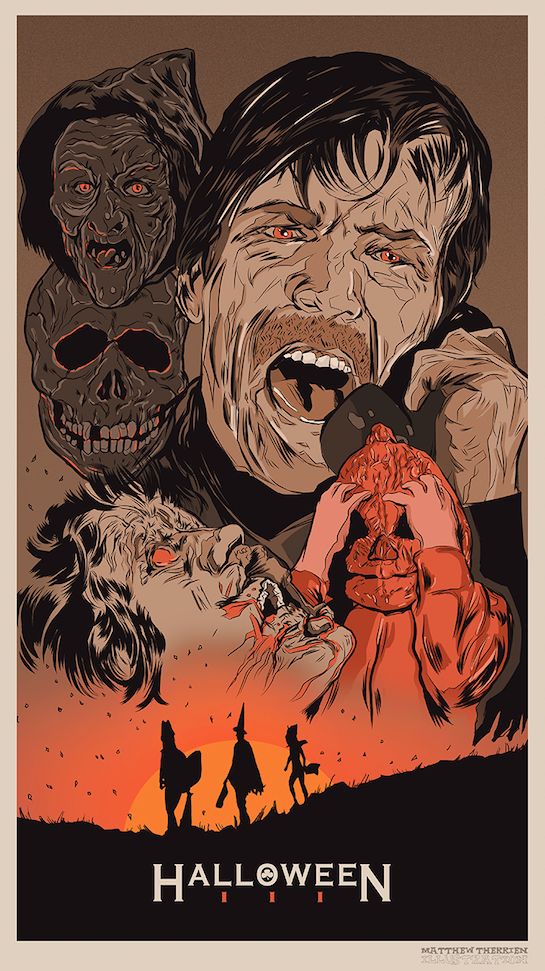 Matthew's hard-hitting poster collects some of the most disturbing imagery and moments from the movie and brings them together to create a nicely intense piece of art. The illustrations are excellent, but the real magic contained within this piece comes from the perfectly autumnal color scheme Matthew has used, and the little details such as the leaves floating in the breeze and the familiar silhouetted children wearing their costumes. Atmospheric and awesome.
Halloween 3: Season of the Witch – (Brandon Duncan)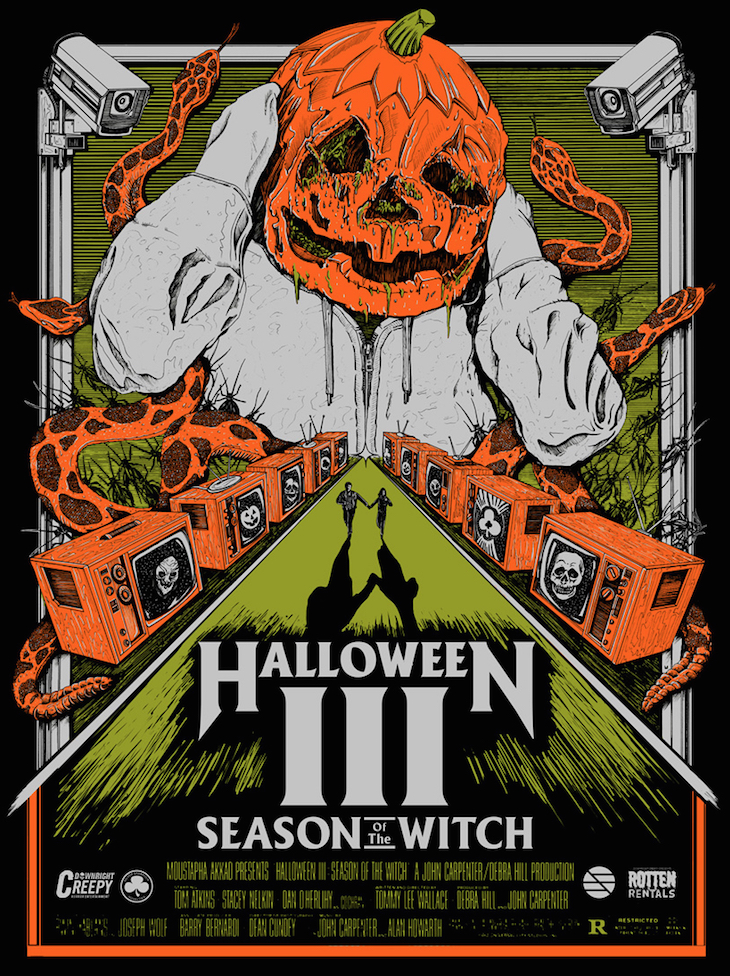 Created for Downright Creepy / Rotten Rentals, this eyeball searing and utterly desirable poster was one of my first choices when I started putting together the list. Little Buddy's melting head dominates the piece, but it's the image of Dr. Challis and Ellie running between endless rows of menacing TV sets that really made me love this. I've always thought that Halloween 3 has a feeling of inevitable doom floating through it, and despite the best efforts of our heroes to try and stop what Conal Cochran is planning, you never really get the feeling that they will be able to prevent the broadcast. Silver Shamrock is always watching, and this art makes sure you don't forget it!
HALLOWEEN 3: SEASON OF THE WITCH – (Nathan Thomas Milliner)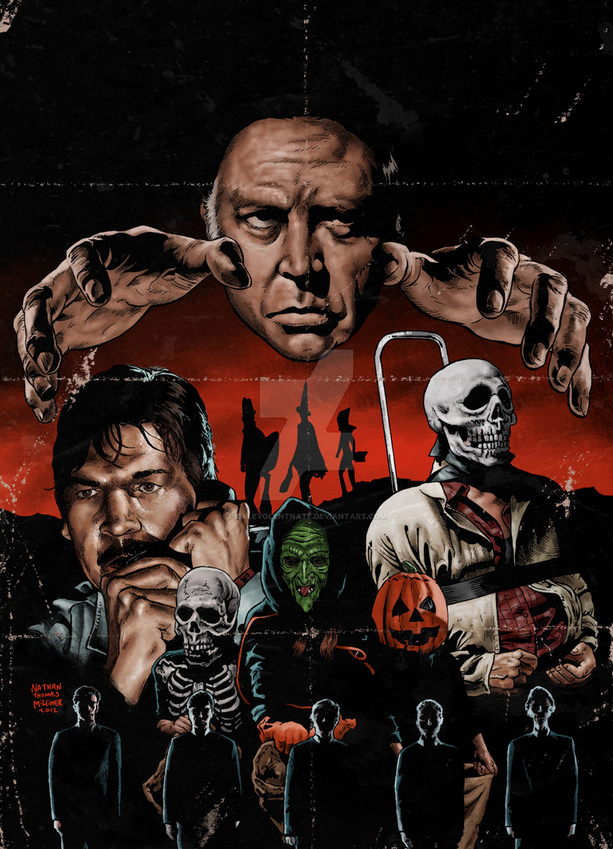 Nathan has produced several pieces of fantastic Halloween 3 art over the years, but as soon as I started this list I knew I HAD to include his cover for the Scream Factory re-release of the movie. I know so many people who (like me) became fans of Nathan's work after seeing this art for the first time and wanting to know more about the man who created it. It's detailed, intense, and captures the tone of the movie perfectly. Magnificent work by one of the best out there right now.
HALLOWEEN 3 "SEASON OF THE WITCH" LITHOGRAPH – (Kevin-John Jobczynski)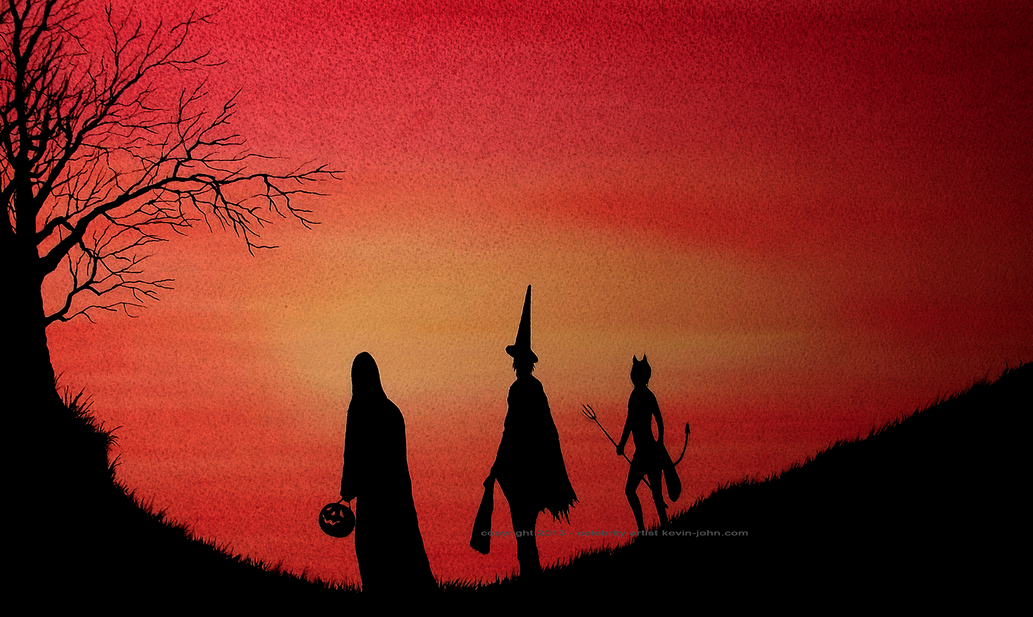 The Trick-or-treating kids silhouetted by the Arizona evening sky has become an iconic image due to its extensive use over the years in just about every official poster that has been created for Halloween 3. It's a calm, atmospheric and almost magical scene, but it's also there to remind us of who Cochran was planning to kill in dramatic fashion. Kevin-John has lovingly recreated the moment in style, and it's a piece of art that makes me long for warm Autumn evenings and the build-up to another special Halloween night.
For further information on any of the posters you have seen here today or the artists who created them, you are only a Google search away.
Support Halloween Love
If an item was discussed in this article that you intend on buying or renting, you can help support Halloween Love and its writers by purchasing through our links:
(Not seeing any relevant products? Start your search on Amazon through us.)