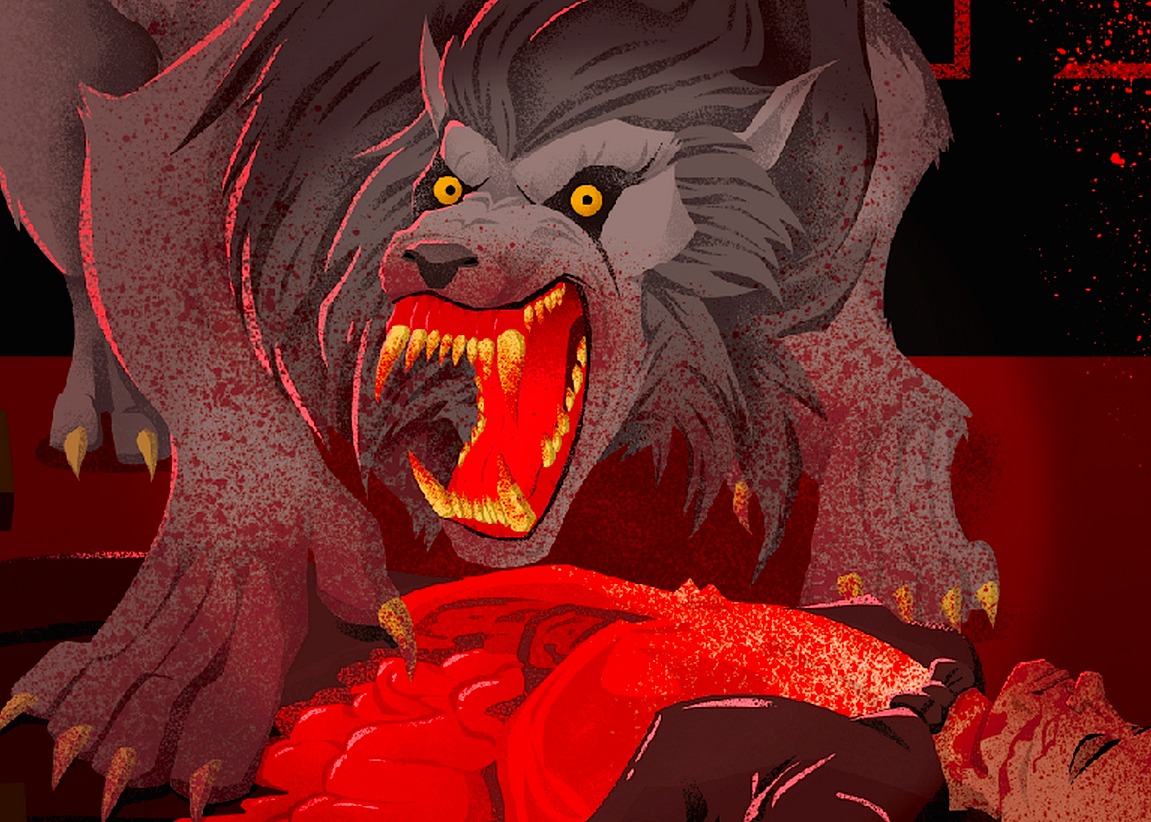 Sunday has once again arrived all too quickly and here at Halloween Love that means one thing – it's time for another batch of incredible poster images from the thriving alternative art community!
So far I've revealed my personal favorite posters that pay tribute to: Jaws – Stephen King's IT – Alien – The Shining – The Thing – Ghostbusters – Jurassic Park – Scream – A Nightmare on Elm Street – Halloween 3: Season of the Witch – Halloween – Silence of the Lambs and the Friday The 13th franchise. Today we leave Crystal Lake far behind us, and head to the damp and dark streets of London, where a young tourist has been experiencing some unusual changes!
Is it possible we have an American Werewolf in London?!
As always this list showcases MY personal favorite posters. The select few that pushed my art loving buttons and made me want to rip off my clothes and get hairy while talking to corpses in a porn theater. There are hundreds more incredible designs out there but these are the best of the best in my humble opinion.
Grab a warm coat, study the London Underground map and follow me …
AMERICAN WEREWOLF IN LONDON / MONDO – (Ken Taylor)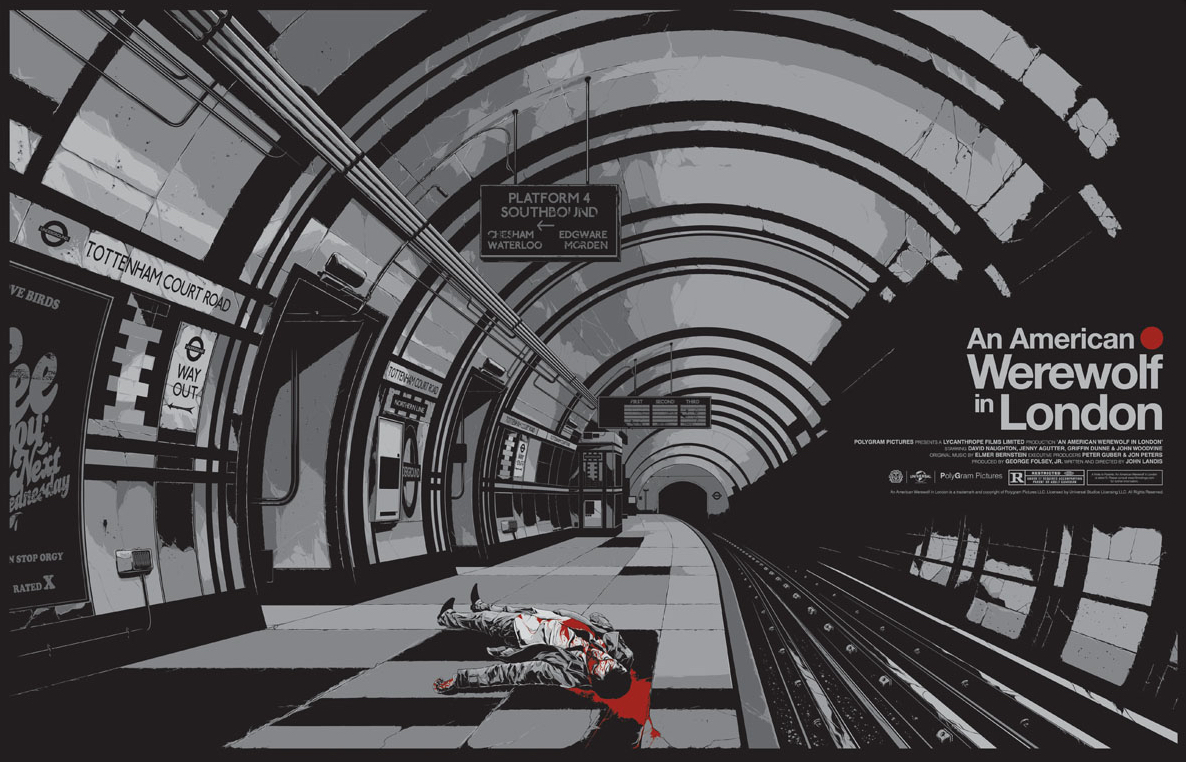 Poor old Gerald Bringsley (Michael Carter). The guy just wanted to get home after a hard day at the office, but while waiting for his train he gets stalked, chased and shredded by an American Werewolf BELOW London. The tube station scene is one of my favorite moments from the entire movie, and Ken has created a stunning piece of art that really captures the lonely and creepy vibe I feel tingling in my spine every time I watch it. From the howling echoes coming from the dark tunnel, to the moment you finally see the werewolf from a distance – it's horror movie magic.
An American Werewolf in London – (Andrei Bressan)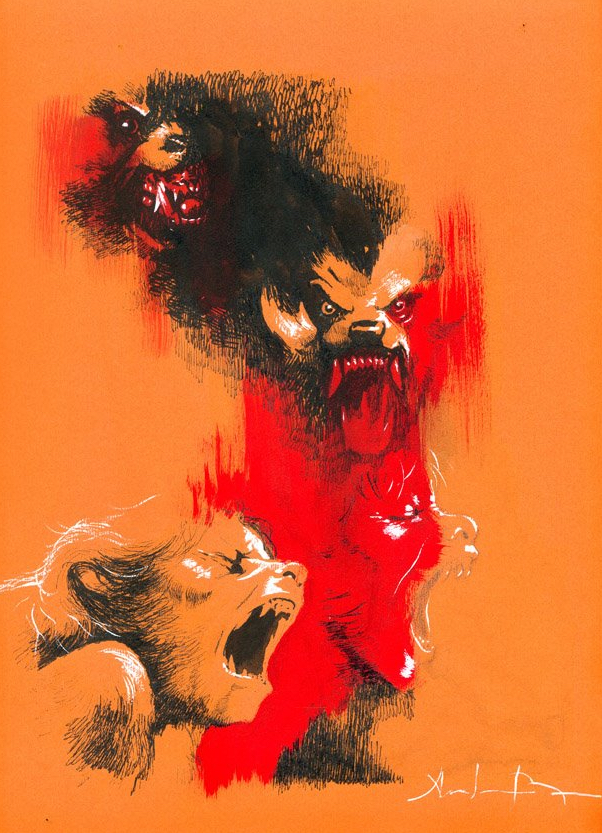 Andrei has created a piece that reminds me of an art study. A sequence of skilled sketches that illustrate the pain, anger and loss of control experienced during a full moon transformation. It's an accurate, instantly recognizable and beautifully completed illustration that really packs a visual punch!
Stay Off The Moors – (Tim Doyle)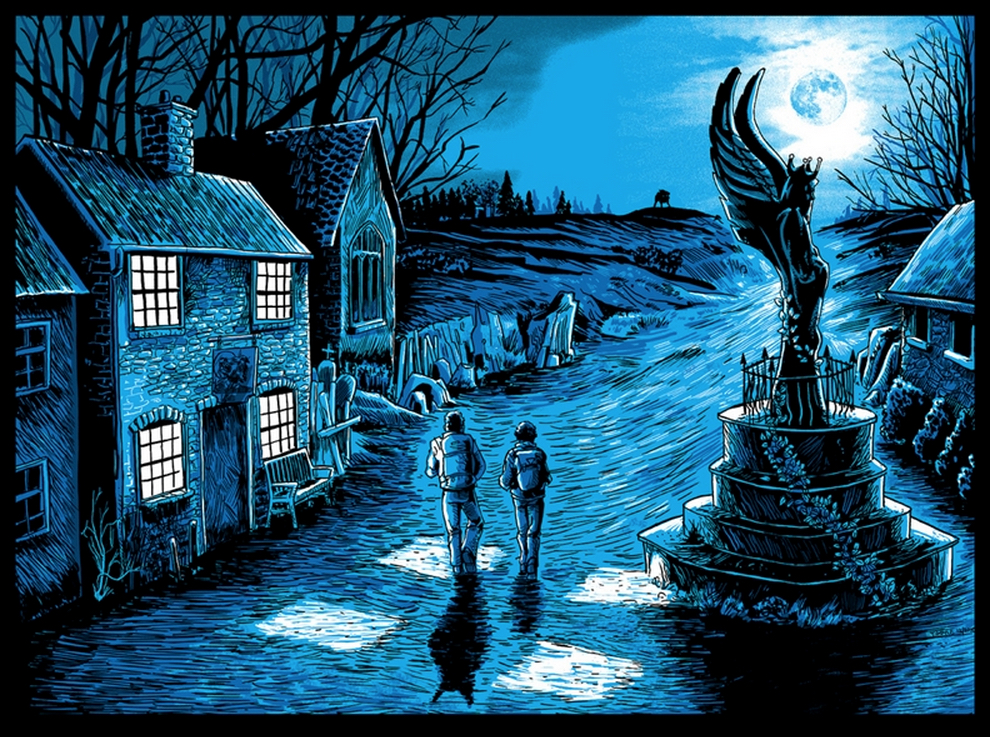 This is one of those wonderful pieces of art that captures a 'moment' from a movie and sprinkles it with some subtle magic that fans will notice and appreciate. As we watch David and Jack walk away from "The Slaughtered Lamb" a bright full moon illuminates everything around them. The silhouette of a werewolf can be seen on the horizon, waiting for the young travellers to get closer, and David's shadow has transformed into a dark warning of things to come. Detailed, atmospheric and perfectly executed.
An American Werewolf in London – (Olly Moss)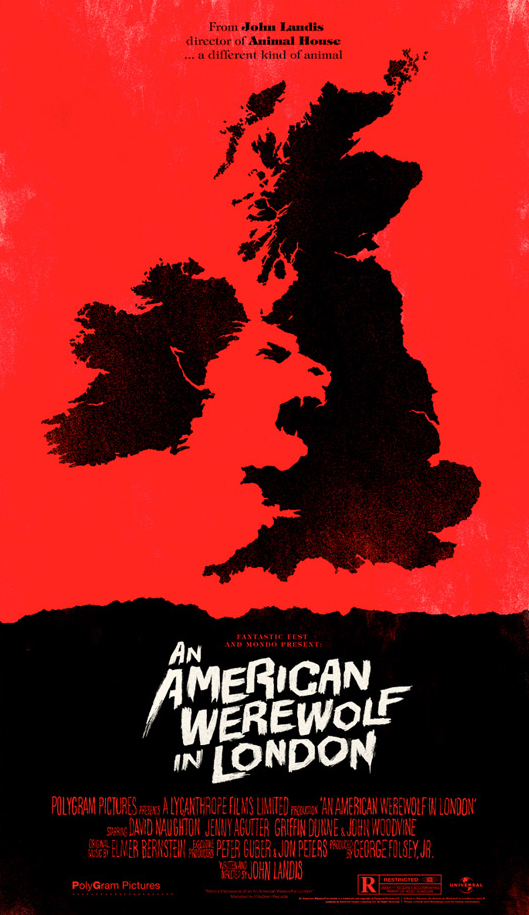 Spectacular! Every now and then a piece of art comes along that just makes me want to applaud the sheer magnificence of the design choices that were made. Olly is an artist I always expect to produce unique and clever concepts, but his American Werewolf in London poster takes things to the next level in every way. If ever a piece of alternative art could be described as subtle AND powerful then it's this blood red triumph.
An American Werewolf in London – (Scott Woolston)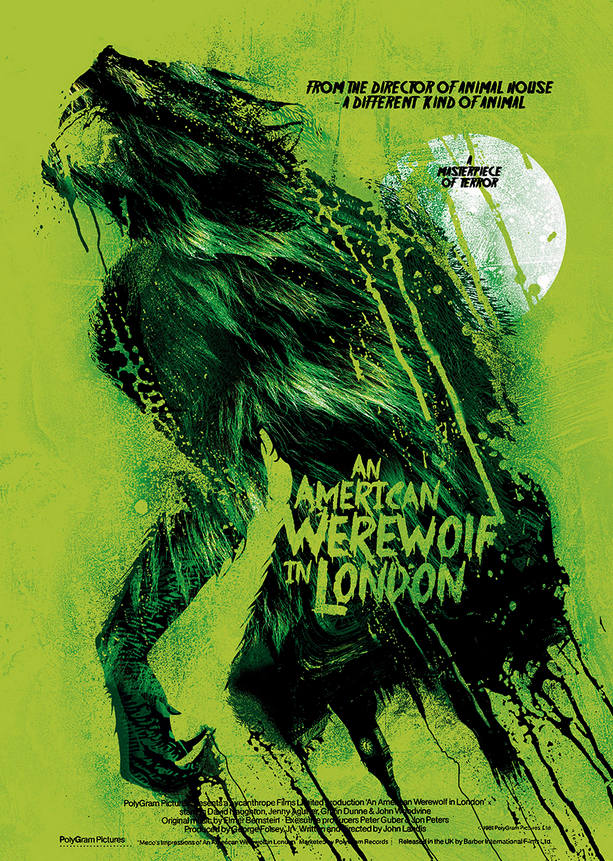 With the splashed ink effects creating a sense of movement, Scott's wonderfully intense poster becomes a blur of ferocity and painful uncontrollable rage. It's a pleasing mix of detailed work, such as the fur on the body and the silhouetted buildings at the bottom, combining with loose painting techniques to create a truly eye-catching image. The print had two variations featuring red and green backgrounds, but I've personally always preferred the green edition.
There aren't any coyotes in England – (Daryl Joyce)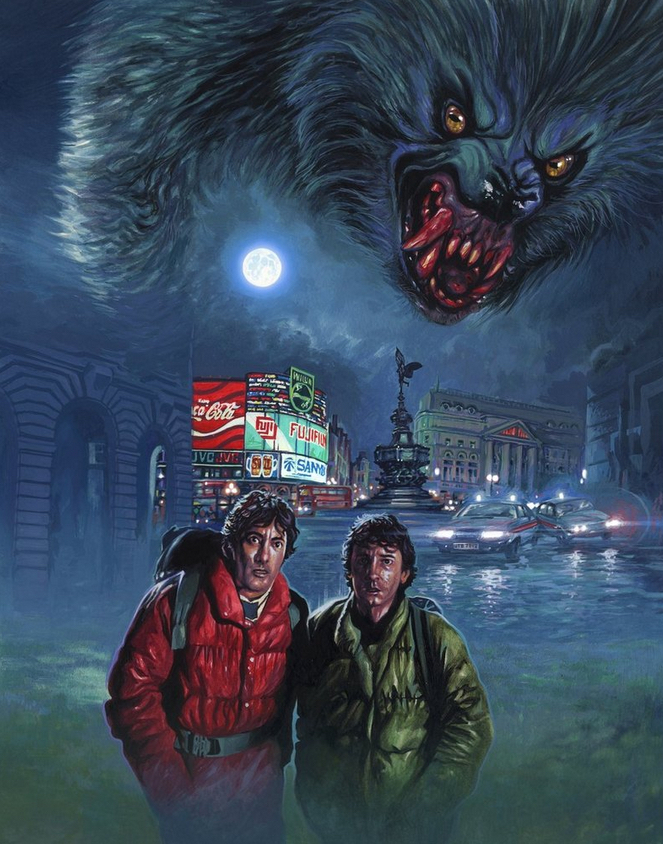 Daryl's art has a fantastic retro style that reminds me of VHS box art from the early 1980s. All the necessary components and characters are there – London looks mysterious, Jack and David look terrified, and the way the werewolf frames the moon is just perfect. A traditionally painted little masterpiece that makes me want to watch the movie again every time I look at it.
An American Werewolf in London – (Greg White)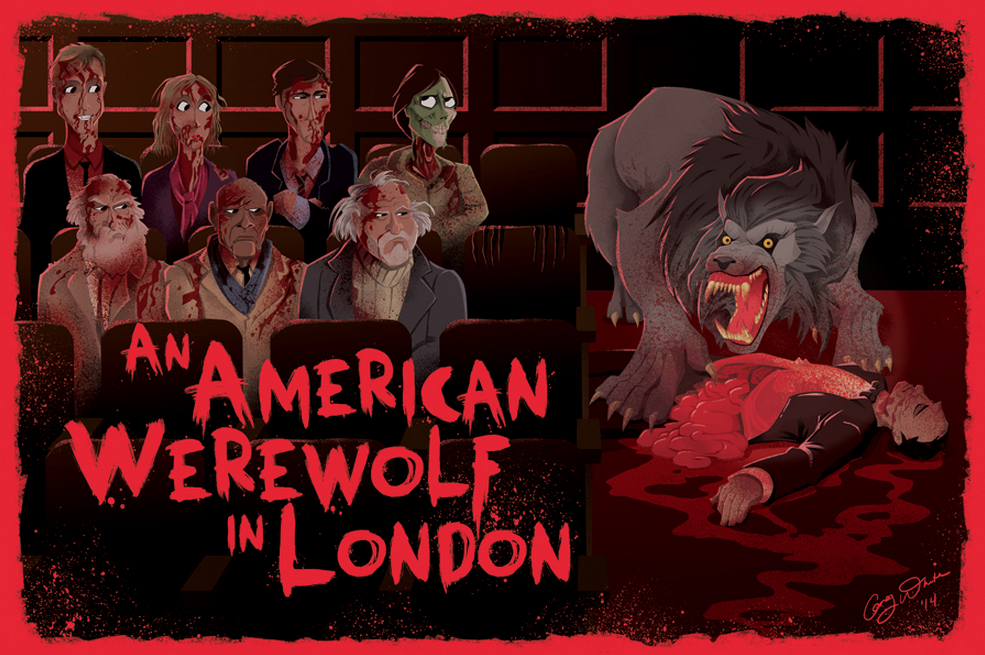 While putting together this list I noticed that An American Werewolf in London has inspired artists to create works in MANY different styles, and it's understandable when you remember that the movie itself is hard to describe in terms of tone and atmosphere. It can switch from amusing to terrifying in the blink of an eye, and the ultimate example of that is probably the porn theater scene near the end of the film. David has to endure a confrontation with the blood-drenched 'ghosts' of his recent victims, while a now seriously decaying Jack continues to demand that he should commit suicide. It's disturbing, gross, funny and just insane! Greg's stunning cartoon style art has perfectly recreated this classic moment. Each character has an expression that exactly matches the mood they were in when talking to David, and the image is just dripping with accurate little details and design choices.
AN AMERICAN WEREWOLF IN LONDON – (Steve Wilson)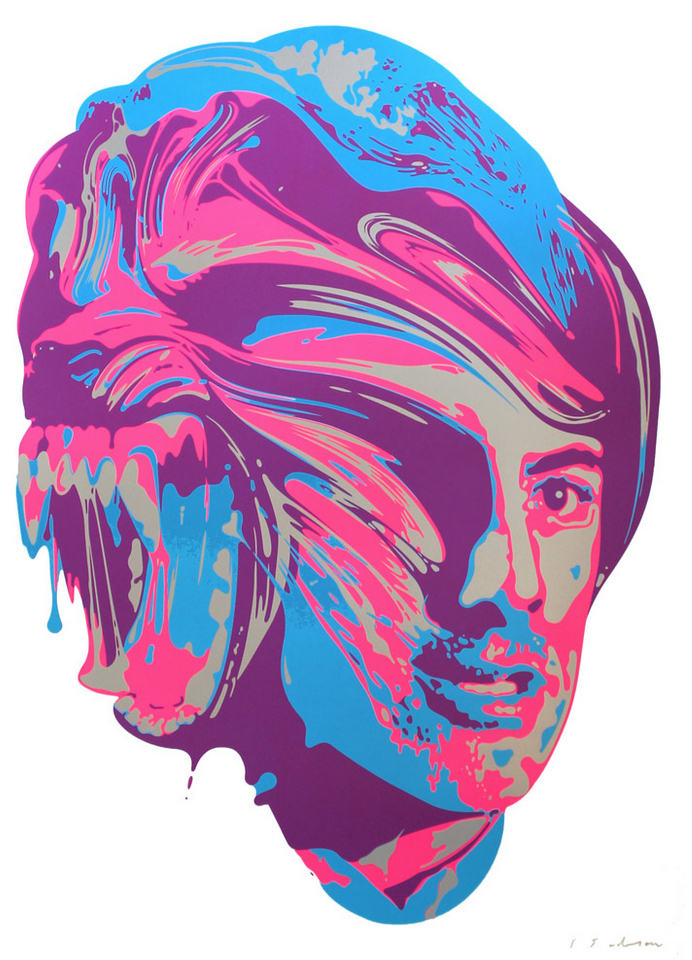 We finish with this unique and psychedelic poster by Steve, that was actually one of my first choices when putting together the list. It's just so different, like someone has poured pink and blue paint onto a flat surface and swirled them together until they start to blend and form shapes. It's another piece that explores the all important transformation scenes within the movie, and thanks to the unconventional color scheme it manages to become an image that is memorable and impossible to ignore. I normally like my art to be darker, more brooding, but something about this penetrated my standard preferences and I'm glad it did. Incredible work by a seriously talented artist.
For further information on any of the posters you have seen here today or the artists who created them, you are only a Google search away.
Support Halloween Love
If an item was discussed in this article that you intend on buying or renting, you can help support Halloween Love and its writers by purchasing through our links:
(Not seeing any relevant products? Start your search on Amazon through us.)