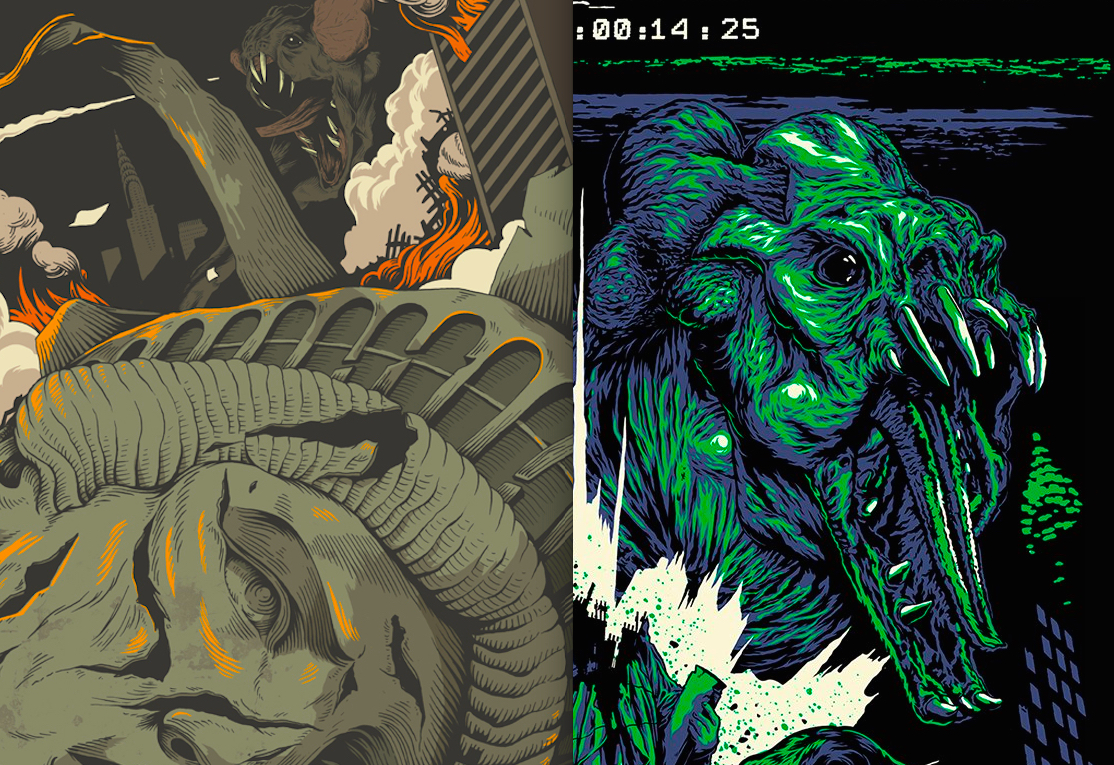 Sunday has once again arrived all too quickly, and here at Halloween Love that means one thing – it's time for another batch of incredible poster images from the thriving alternative art community!
So far I've revealed my personal favorite posters that pay tribute to: Jaws – Stephen King's IT – Alien – The Shining – The Thing – Ghostbusters – Jurassic Park – Scream – A Nightmare on Elm Street – Halloween 3: Season of the Witch – Halloween – Silence of the Lambs – The Friday The 13th franchise – An American Werewolf in London – The Fly – Gremlins – The Texas Chainsaw Massacre – The Terminator – Wes Craven – Carrie – Trick 'r Treat – SAW – The Descent and The Exorcist.
By now I'm sure you are all aware that a new film is on the way that may, or may not, be some kind of sequel to 2008 monster movie Cloverfield. The trailer has got everyone talking, and even if we don't get to see that big ugly skyscraper smashing beast for a second time, I'm hopeful 10 Cloverfield Lane will be a brilliant movie no matter what it's about. All the hype has also got many people talking about the original movie again, and it's pleasing to see that it seems to be getting the credit I personally feel it deserves. So this week I went in search of alternative art that pays tribute to this low budget monster hit … I was surprised to discover there isn't much out there, but what I did find is good, VERY good!
As always this list showcases MY personal favorite posters. The select few that pushed my art loving buttons and made me want to organize a pretentious party before moving to Japan! There are a few more brilliant designs out there, but these are the best of the best in my humble opinion.
"Liberty Head" Art Print – (Joe Wilson)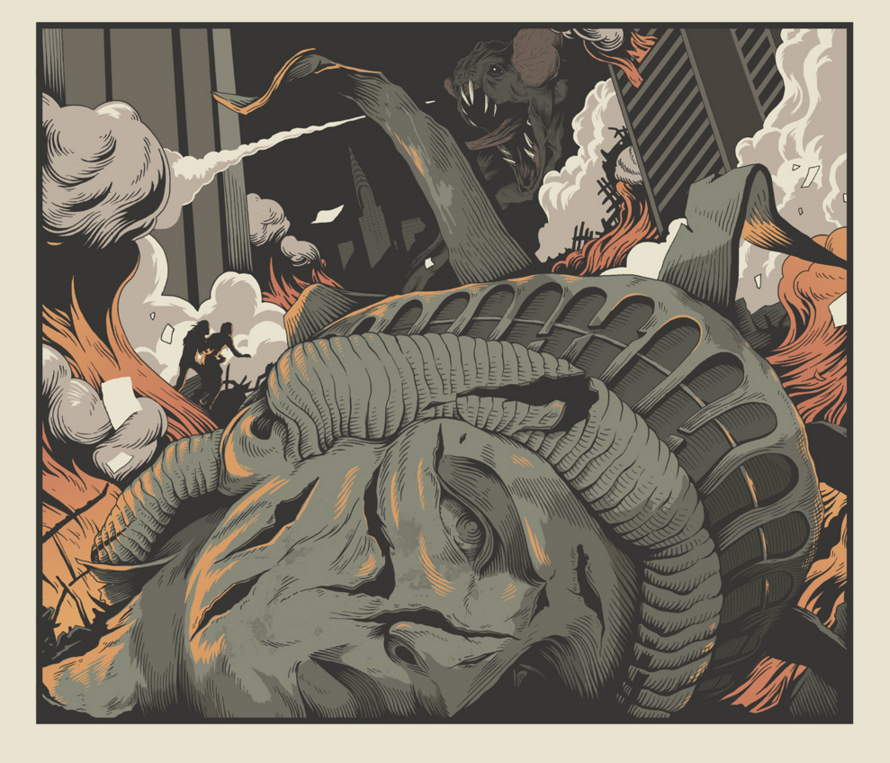 It felt like the whole world went nuts when the original teaser trailer for the movie was released, so it's not surprising to see that a LOT of Cloverfield art features that magnificent lady who felt the wrath of the monster first … The Statue of Liberty. Her decapitated head being effortlessly flung toward the main characters remains an iconic movie moment, and Joe's classy poster puts her demise front and centre, while keeping the beast nicely hidden in the background, surrounded by dust and destruction. Very atmospheric and brilliantly illustrated!
THE NEW COLOSSUS – (Rob Loukotka aka Fringe Focus)

A very eye-catching and clever piece by Rob, who not only manages to successfully illustrate a moment we didn't get to see in the movie, but he also does it in such a way that instantly puts a smile on your face. The positioning of the creature brings its head perfectly into alignment with the top of the damaged statue, and you just KNOW that it's seconds away from angrily launching that recently removed metallic cranium toward Manhattan island!
Retro Games With Modern Themes: Cloverfield – (Penney Design)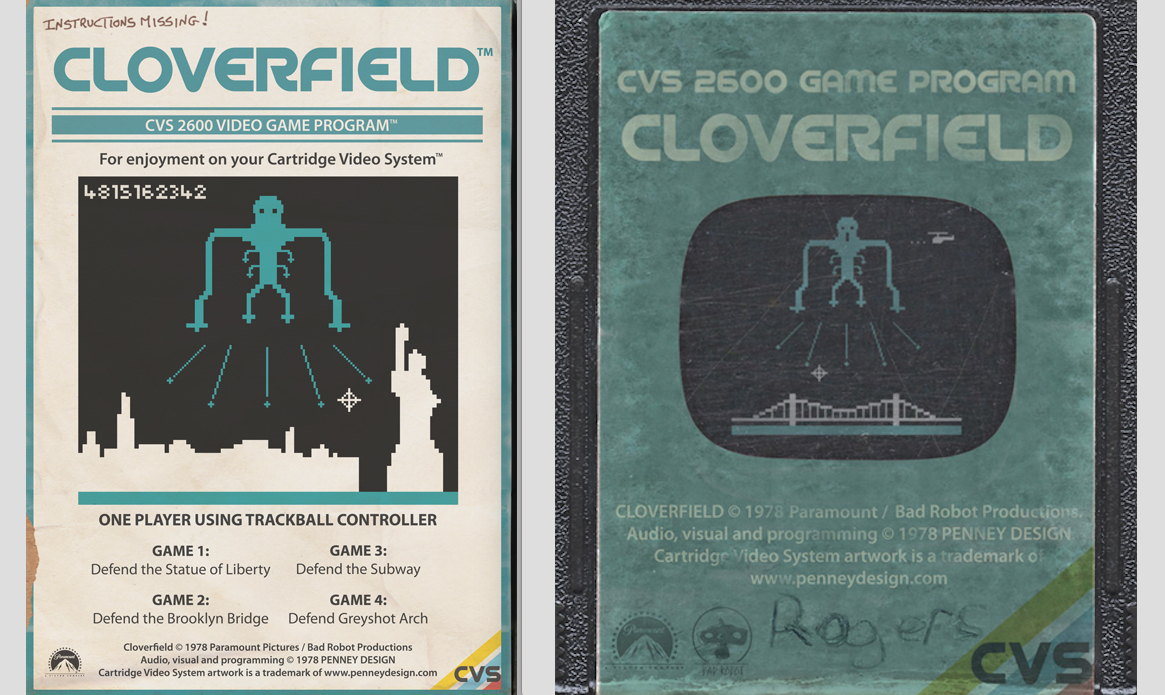 Let's briefly step away from the poster art for a moment, and just soak up the awesomeness that is this imaginary Cloverfield video game cartridge and box art! Penney Design have done an incredible job with this, from the weathered effects that make it look genuinely old, to even including some scribbled notes on the front of the box that inform people the instructions are missing … it's ultra cool retro heaven! I'm actually genuinely sad I'll never get to play this!
Cloverfield – (Alexander Iaccarino aka That Kid Who Draws)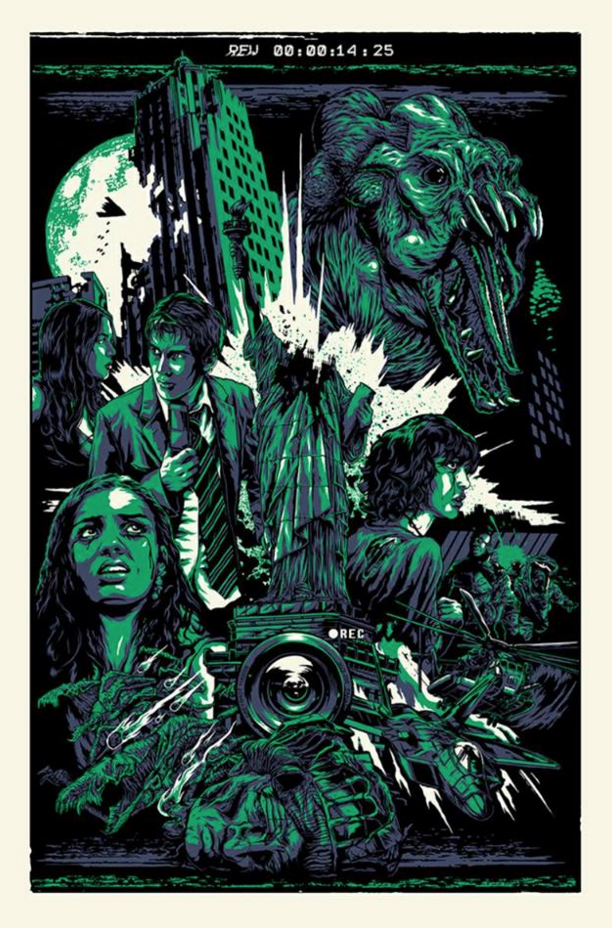 Alexander wins the EPIC award this week thanks to his utterly fantastic poster that pulls together many memorable moments and shots from the film. The horizontal static lines at the top and bottom of the piece remind us we saw everything through the lens of a simple video camera, and the color scheme gives it a sinister night-vision vibe. This was the poster that I thought of first when putting together the list and it's always been a big favorite of mine.
Liberty Falls – (Eelus)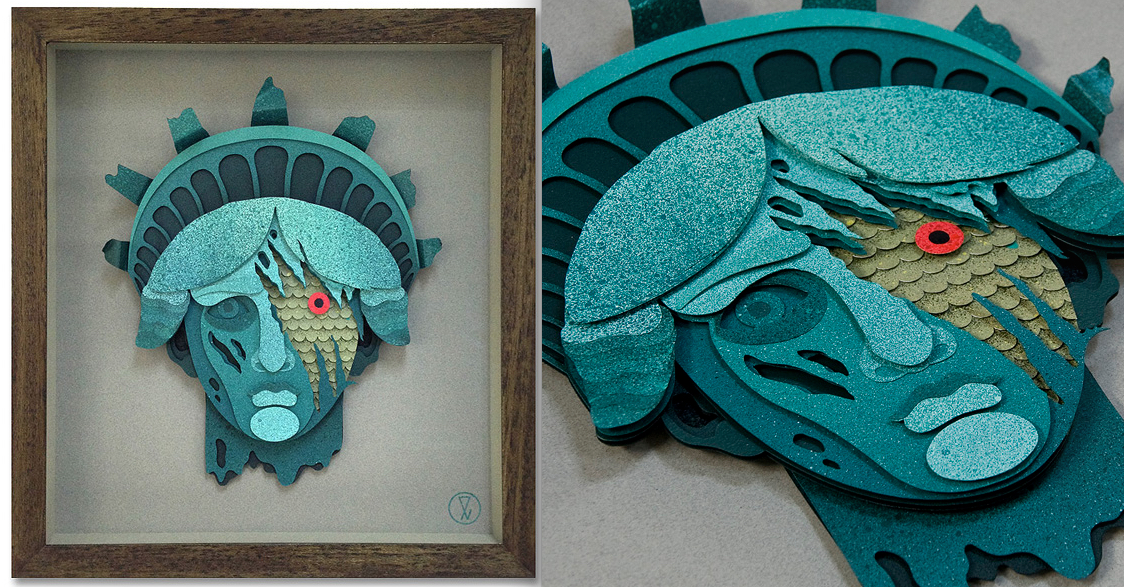 This unique hand-cut and spray painted piece of art was created by the brilliant Eelus, an artist I've admired and followed for several years now. The multiple layers give the piece some wonderful three-dimensional depth, and the paint creates the illusion of metallic texture and light. It was produced for the official Bad Robot Experience show at Gallery 1988 a couple of years ago, and I really envy anyone who got to see this piece in person. LOVE it!
Cloverfield Inspired Print – (Alex Pardee)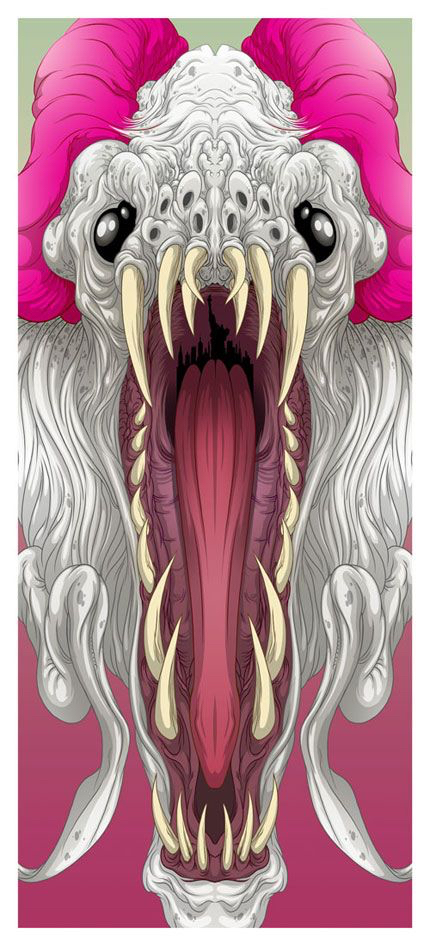 Poor old Hud … he spent the entire movie documenting what was going on around him, always cautious, always reluctant to be too heroic. Then just when it looks like he will get out of Manhattan in one piece, he gets CHOMPED … or at least smacked around a bit then dropped from a great height! Either way, the end result was one VERY dead dude! This stunning poster by Alex always reminds me of that moment, and it also comes with a subtle hidden New York skyline … can you see it? I'll never forget the hundreds of hours wasted by the online community who were convinced there were secret images contained within the official poster for the movie … well, this time there actually IS something to be found within this stylish masterpiece!
Cloverfield Parasite Venom – (Lucius-Ferguson)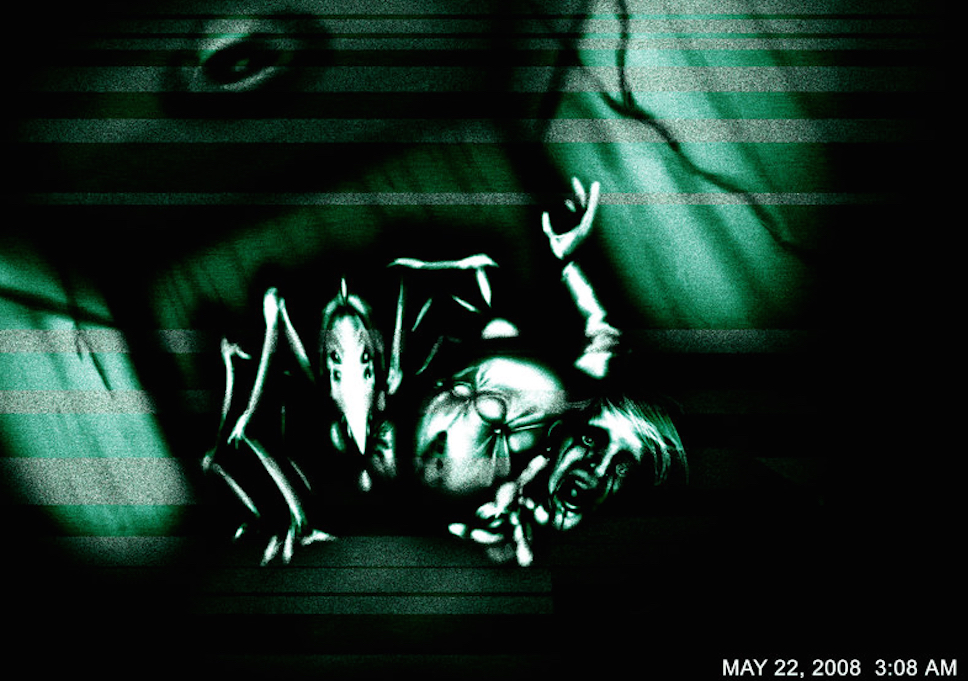 We finish for today with this seriously awesome piece of art that I discovered on DeviantArt. It features a doomed victim being filmed within a dark corridor or tunnel, their stomach is beginning to expand, and the presence of one those highly aggressive "parasites" suggests they have been bitten and are just seconds away from going POP! Cloverfield is a very good BIG monster movie, but by including these smaller fuckers it gave the characters some interesting and unexpected problems, and made sure the story never got dull. Above ground you were in danger of being crushed by falling debris or huge feet … and below ground you had to deal with spider-crab things the size of a dog!! There were simply no safe areas to retreat to, and that gave the movie a relentless flow of tension.
For further information on any of the posters you have seen here today or the artists who created them you are only a Google search away.
Support Halloween Love
If an item was discussed in this article that you intend on buying or renting, you can help support Halloween Love and its writers by purchasing through our links:
(Not seeing any relevant products? Start your search on Amazon through us.)