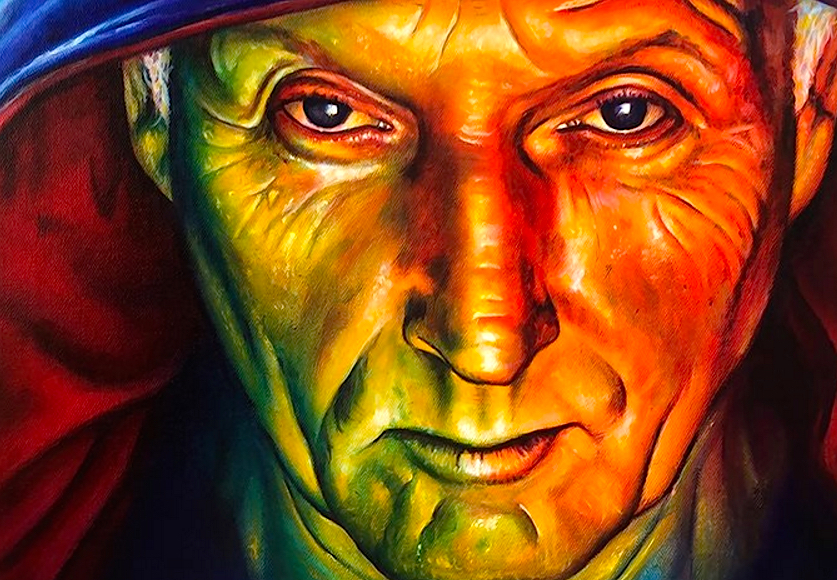 Sunday has once again arrived all too quickly and here at Halloween Love that means one thing – it's time for another batch of incredible poster images from the thriving alternative art community!
So far I've revealed my personal favorite posters that pay tribute to: Jaws – Stephen King's IT – Alien – The Shining – The Thing – Ghostbusters – Jurassic Park – Scream – A Nightmare on Elm Street – Halloween 3: Season of the Witch – Halloween – Silence of the Lambs – The Friday The 13th franchise – An American Werewolf in London – The Fly – Gremlins – The Texas Chainsaw Massacre – The Terminator – Wes Craven – Carrie and Trick 'r Treat.
This week we enter the world of a man who wants to play a game with you! You might not emerge from the experience in one piece, but bravery will be rewarded. All you have to do is reach for a SAW!
As always this list showcases MY personal favorite posters. The select few that pushed my art loving buttons and made me want to build little traps and 'test' my friends and family! There are hundreds more incredible designs out there, but these are the best of the best in my humble opinion.
Jigsaw – (Scott Spillman)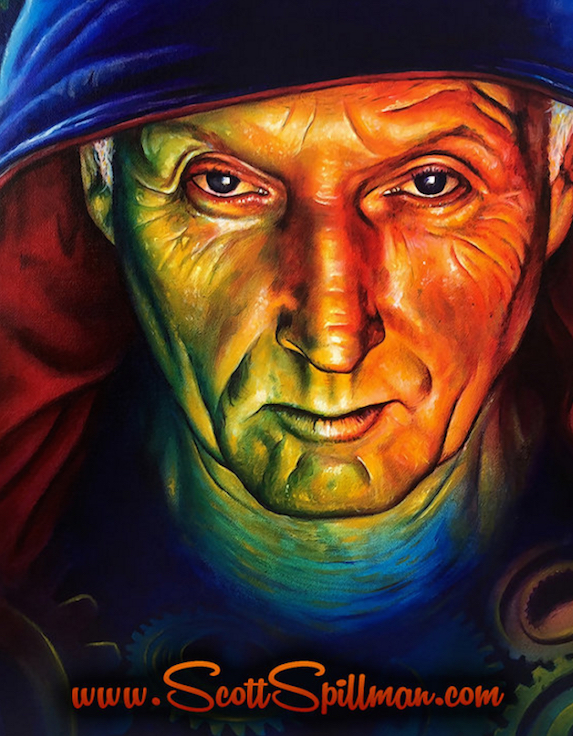 I'm a huge admirer of Scott's work, and this intense portrait of John Kramer in a determined mood is one of his very best. The Saw movies had plenty of problems, but you could always rely on Tobin Bell to elevate ANY scene he was featured in with his unmistakable voice and natural presence. He gave the franchise the sprinkling of magic it needed to truly succeed, and he made Jigsaw a character you loved and feared in equal measure.
Saw Reverse Bear Trap – (joeymasong)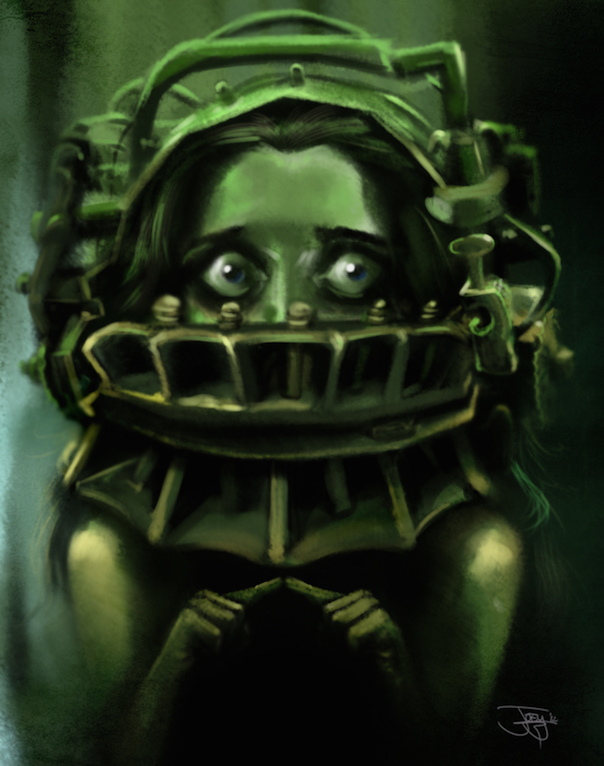 I LOVE a good caricature every now and then, and this effort by DeviantArt member joeymasong is a GREAT one! Everything that made this scene from the original movie SO memorable is there. From the murky green lighting, to the grimy metallic complexity of the trap … the artist has recreated Amanda's terrifying game in a stylish and enjoyable way.
Saw 3D Poster – (Jason Mecier)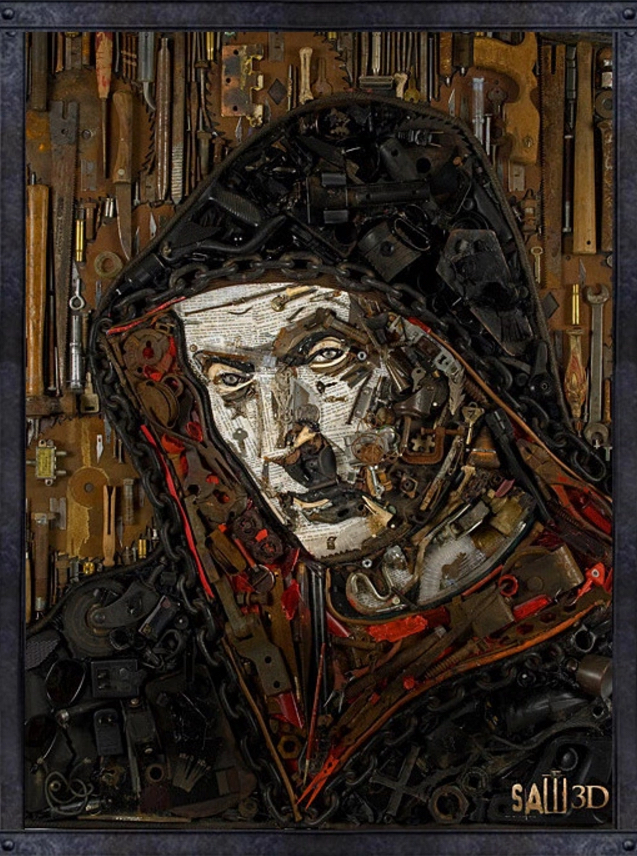 Jason is a highly successful pop culture artist who creates mosaic portraits out of ANYTHING! Trash, food waste, buttons, candy … you name it, he has used it to make art. This stunning Saw poster was actually featured as a promotional piece for the movie itself, and it's easy to see why. This is creativity on another level, and the choice of objects used within the image are perfect considering the subject matter. It looks like someone emptied out the entire contents of Jigsaw's gruesome workshop and got busy making a masterpiece.
SAW Inspired Piece – (Nathan Thomas Milliner)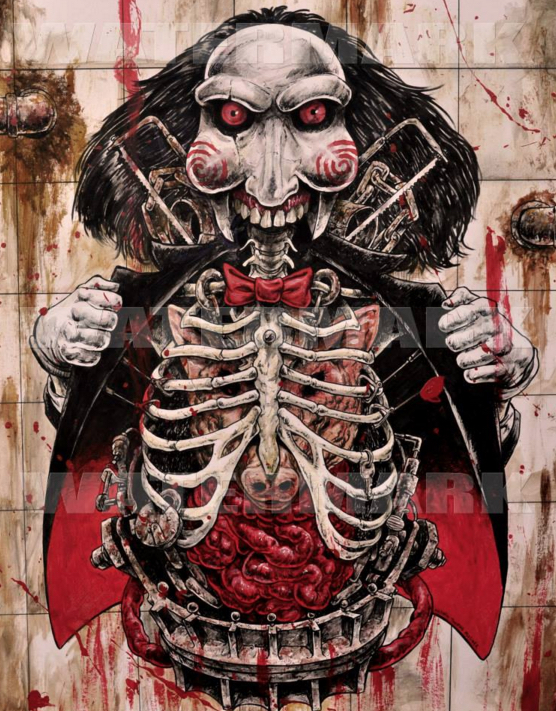 This incredible painting by Nathan features a deluge of imagery and ideas from the movies, coming together to form a gruesome tribute to the franchise that is all very familiar but presents everything in a fresh and unique way. It's rusty industrial design, merging with internal organs and blood, to create a gory and detailed masterpiece that 'traps' your eyes and forces you to really study the piece from top to bottom.
SAW 5 / Jigsaw – (Jens Warnke)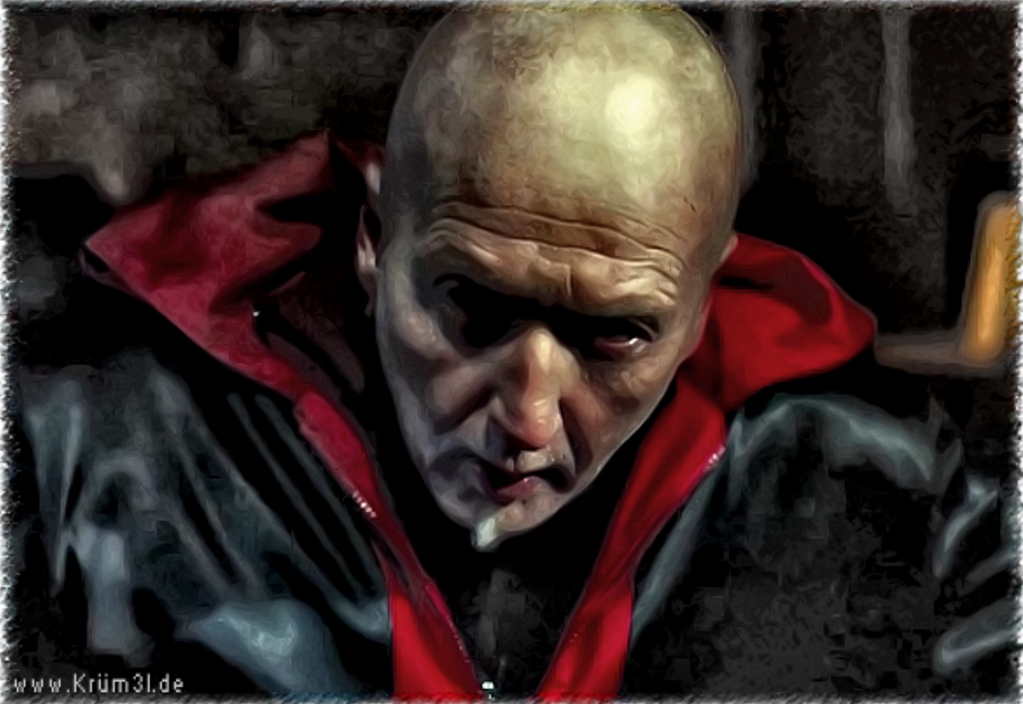 An incredible piece by Jens, that comes close to looking photorealistic due to the detail and skill involved. John Kramer was very close to death throughout the early Saw movies, and this is a portrait that perfectly captures the weakness and fatigue Jigsaw was fighting through to complete his grand scheme. Haunting and powerful work.
Saw – (Alejandro Fernandez)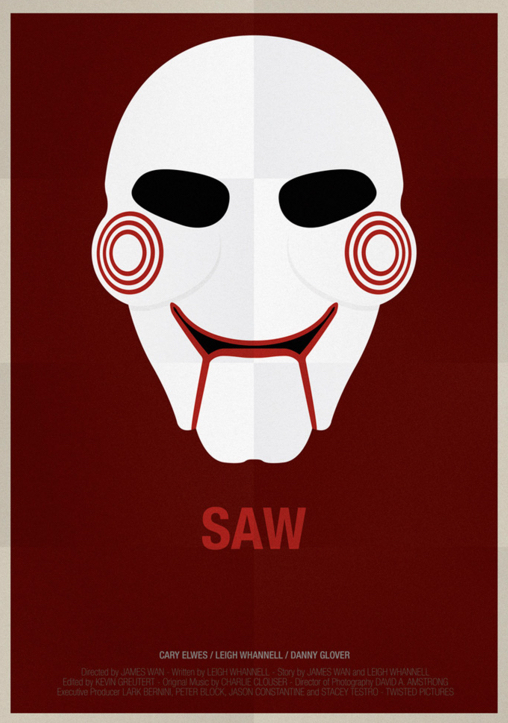 The most iconic and recognizable component of the entire Saw franchise was of course Billy, the menacing ventriloquist's dummy who would appear in Jigsaw's taped messages and explain the rules of each game to the individuals unlucky enough to be taking part. Those short messages were SO important during the early days of the franchise (when it was actually possible to escape the traps) and the combination of Billy's face and Jigsaw's voice was usually enough to make people pay attention and LISTEN. Alejandro's minimalist poster is clean, crisp and instantly reminds me of those disturbing tutorials Jigsaw would deliver. "Live or die … Make your choice"
Billy / Jigsaw – (Scott Spillman)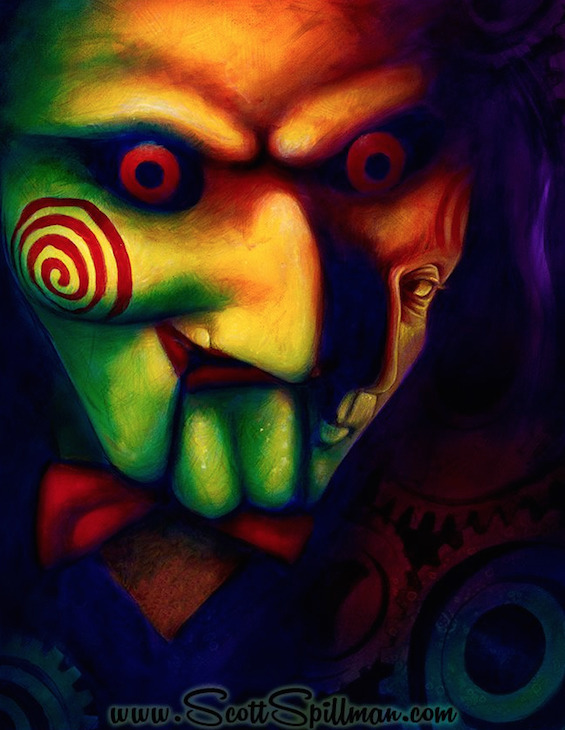 We finish for today back where we started, with another dazzling piece by Scott. This time he has focussed on Billy, with Jigsaw emerging from the edge of the puppet's face as a subtle reminder that this troubled and disturbed man was pulling ALL the strings from start to finish. Spectrums of color cut through most of the art Scott creates, and I'm personally a huge fan of this style. His work is eye-catching, memorable and really packs a visual punch!
For further information on any of the posters you have seen here today or the artists who created them you are only a Google search away.
GAME OVER!
Support Halloween Love
If an item was discussed in this article that you intend on buying or renting, you can help support Halloween Love and its writers by purchasing through our links:
(Not seeing any relevant products? Start your search on Amazon through us.)