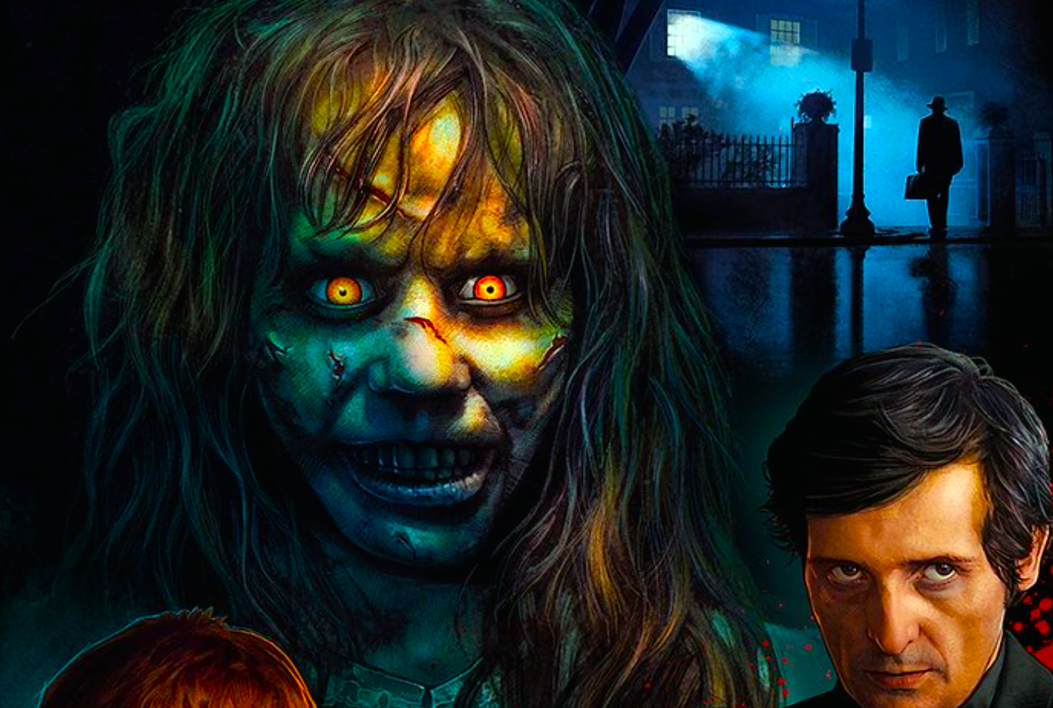 Sunday has once again arrived all too quickly, and here at Halloween Love that means one thing – it's time for another batch of incredible poster images from the thriving alternative art community!
So far I've revealed my personal favorite posters that pay tribute to: Jaws – Stephen King's IT – Alien – The Shining – The Thing – Ghostbusters – Jurassic Park – Scream – A Nightmare on Elm Street – Halloween 3: Season of the Witch – Halloween – Silence of the Lambs – The Friday The 13th franchise – An American Werewolf in London – The Fly – Gremlins – The Texas Chainsaw Massacre – The Terminator – Wes Craven – Carrie – Trick 'r Treat – SAW and The Descent.
Now it's time to get BIBLICAL, with some incredible art that focusses on William Friedkin's 1973 horror masterpiece The Exorcist!
As always this list showcases MY personal favorite posters. The select few that pushed my art loving buttons and made me want to walk like a spider while shouting expletives at my family! There are hundreds more incredible designs out there, but these are the best of the best in my humble opinion.
Grab your bible, fill a flask with some holy water, hail a cab, and follow me …
The Exorcist – (Phantom City Creative)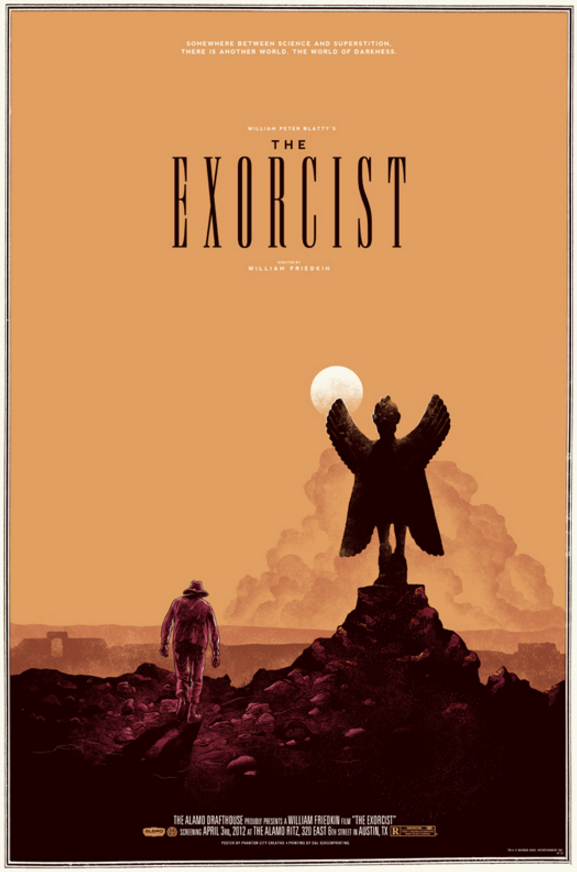 The sinister calm before the storm! Phantom City's stunning poster revisits that memorable moment from the start of the movie when Merrin stands before the statue of Pazuzu, wearily realizing an old enemy has returned. It's a highly detailed and beautifully crisp design, that manages to successfully replicate that all important ominous feeling you get every time this scene fades out. A battle between good and evil is about to take place, the only question is WHERE will it happen?
The Exorcist – (Midnight Marauder)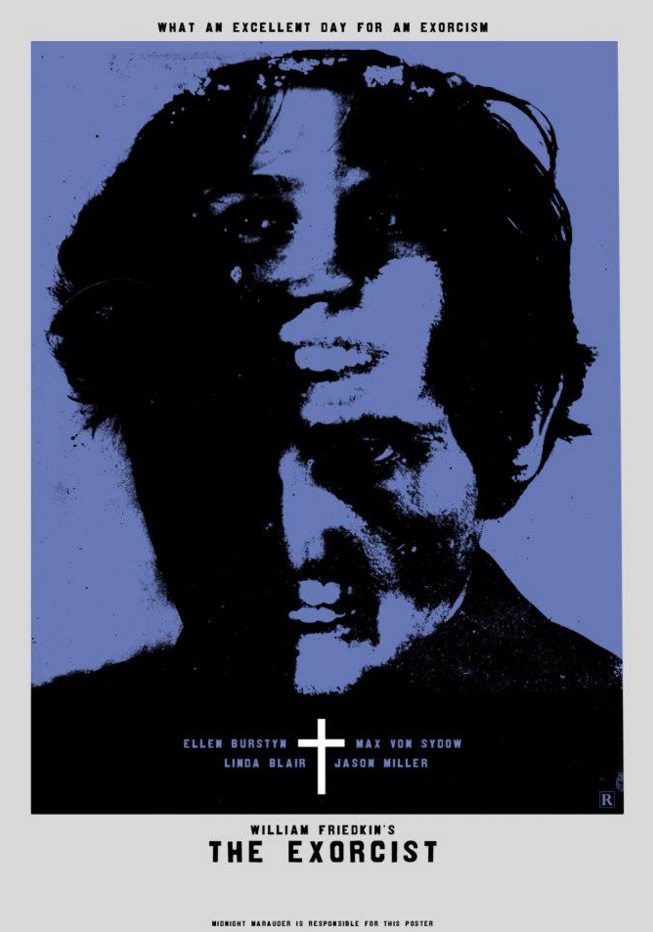 A moody and clever piece by Midnight Marauder, which gives Damien Karras some well deserved exposure. The guy DID sacrifice himself to save little Regan MacNeil after all, and this poster hints at the tragic solution he came up with at the end of the movie by placing Regan's smiling face at the top of his head. A head that was about to bounce off multiple stone steps AFTER going through a glass window!
The Exorcist – (Christopher Lovell)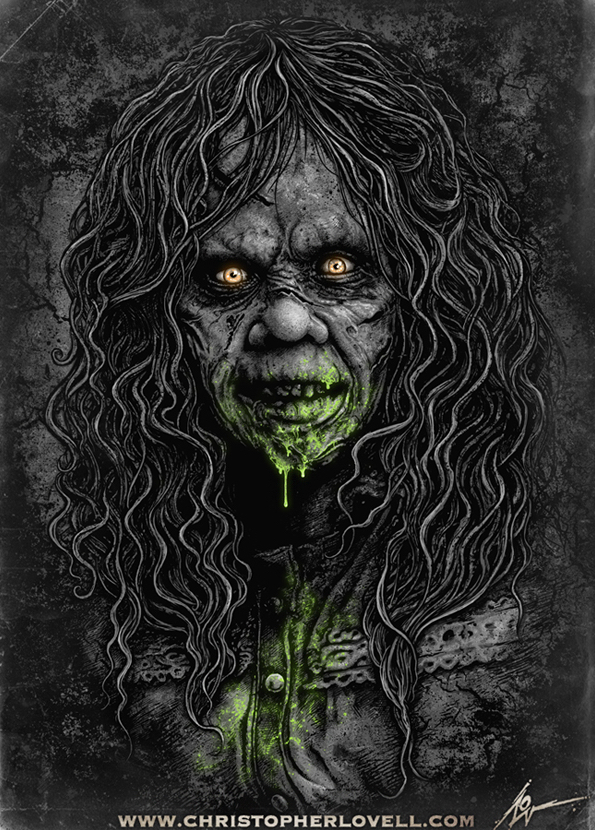 It's all in the eyes! Chris is the master of texture within fine detail, and he strikes once again with this magnificent portrait of Regan – fully possessed and leaking green shit all over her pyjamas.
"The Cross" – (Javier Vera Lainez)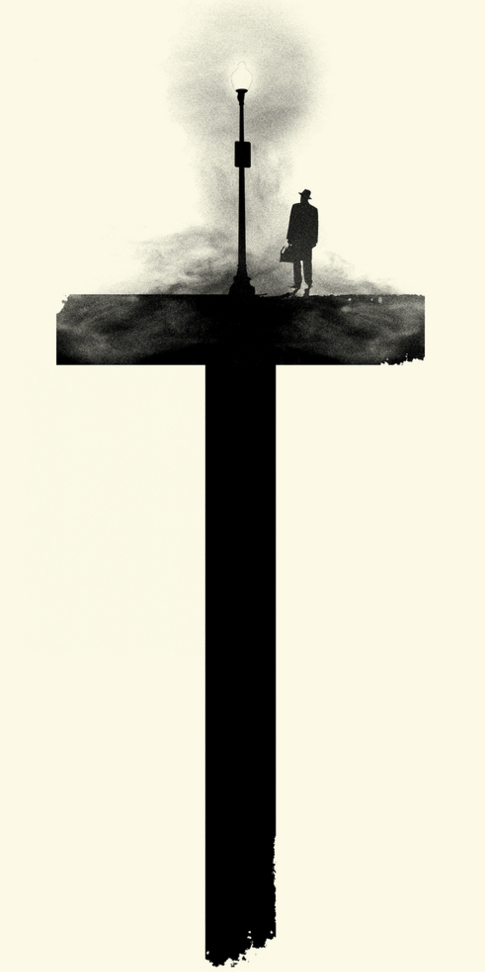 This incredible poster is from of a series of prints that artist Javier called "Tools". Each poster features the silhouette of a familiar weapon or important object from a classic movie, along with the character you would expect to see carrying it. The tools become the ground beneath their feet, dominating the posters in a powerful and visually unique way. I really LOVE this!
The Exorcist Poster – (Adam Rabalais)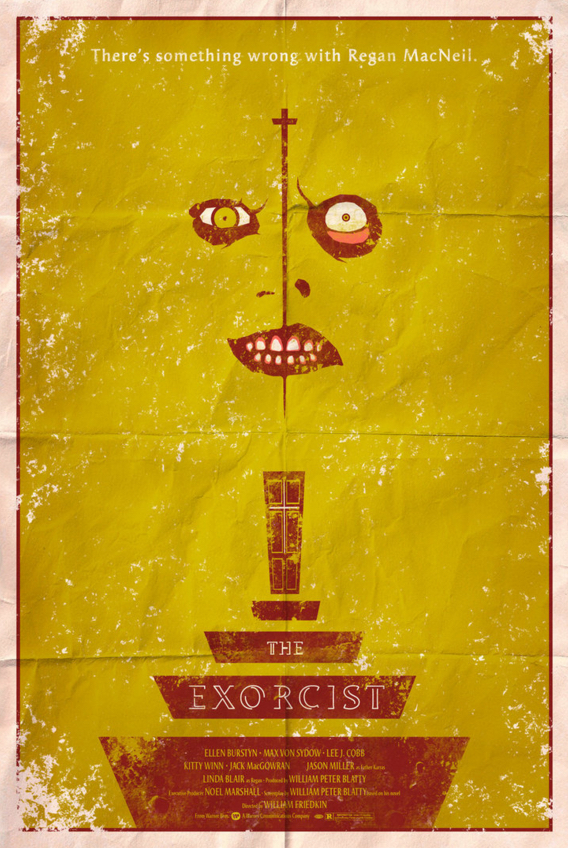 Many alternative posters feature that very familiar demonic face in some way, but this early creation by Adam has always caught my eye more than most, and was one of the first posters I thought of when I started putting together this list. It's filled with multiple pleasing design choices, has an unnerving quality that's hard to explain, and the color scheme is VERY appropriate. Pea soup anyone?
The Exorcist – (Christopher Franchi)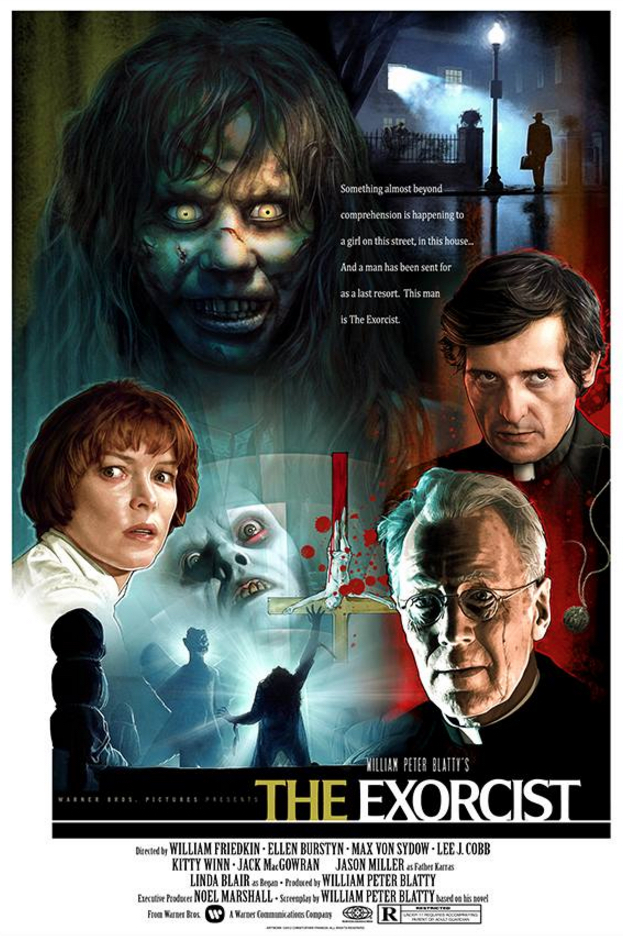 The Exorcist is a movie that tends to inspire artists to create subtle and dark posters with minimal content, but Christopher has taken his design in a more traditional direction, and it looks amazing! All the important characters are present, and the layout is very pleasing to the eye. It has a Struzan vibe, and that's always a good thing!
"The Sow Is Mine" – (Florey)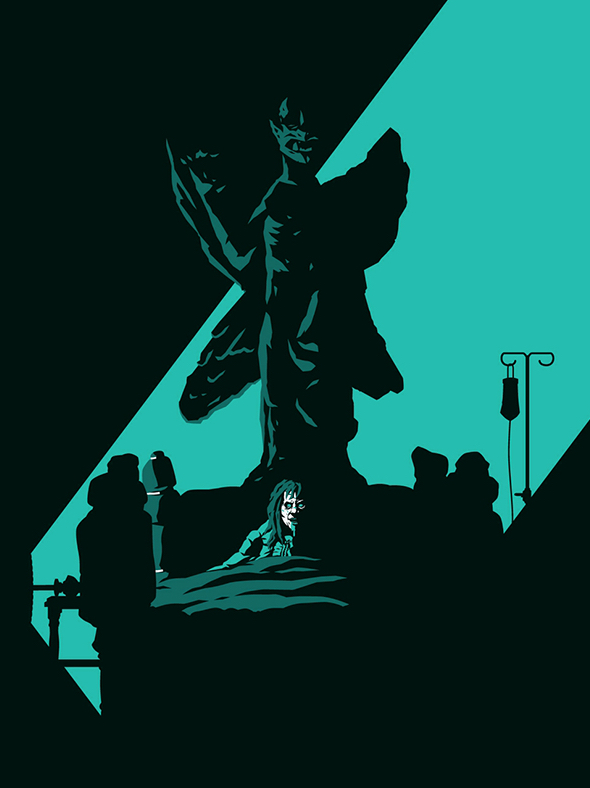 We finish for today with this dark and stylish illustration by Florey, who hides Regan in sinister shadows as the statue of Pazuzu watches over the bed she is strapped to. Creepy, intense and dripping with atmosphere, this is the kind of art I personally love and always find myself drawn toward.
For further information on any of the posters you have seen here today or the artists who created them you are only a Google search away.
Support Halloween Love
If an item was discussed in this article that you intend on buying or renting, you can help support Halloween Love and its writers by purchasing through our links:
(Not seeing any relevant products? Start your search on Amazon through us.)