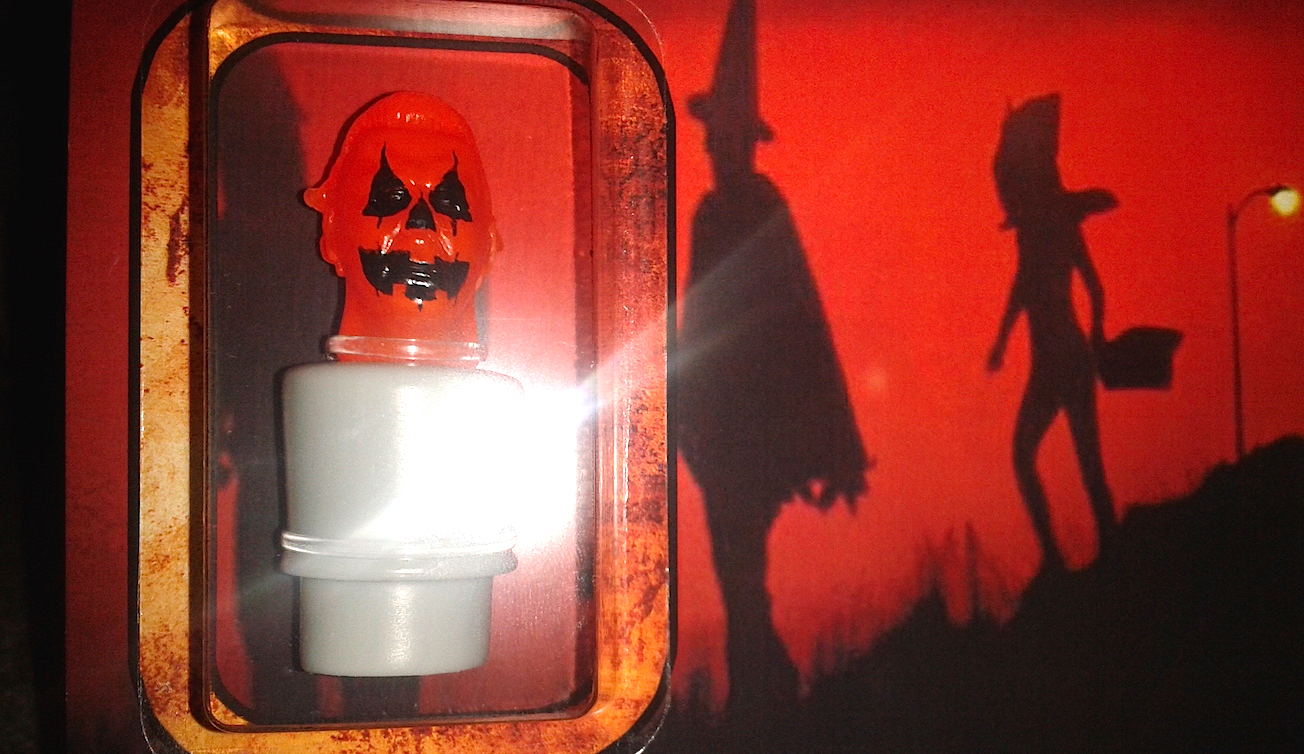 The Challenge:
Find seven unique and hand-crafted horror collectables to present as gifts to my good friends when we all meet up for our once a year weekend of reminiscing, talking, movie watching and beer drinking. Previous gatherings had seen some incredible items being handed out and this year it was my turn to deliver a little magic. The pressure was on me BIG TIME, and I was determined to come up with something painfully special!
The Solution:
Reach out to the home of Horror Pop Weirdness – Jack's Attic.
A combination of good timing, shared passions and a desire to make ultra cool resin toys resulted in a collaboration with Jack, and a plan to create seven special 'Kill People' peg figures that would hopefully have the power to make adult horror fans cry with joy!

So far I've revealed Stabface, Krueger, Crystal Blue and Blackest Eyes. Today, I'd like to introduce Jack O' Myers! I was going to post this article sooner, but I think holding it back until we entered October was far more appropriate, as you will see.
I'd love to be able to say that this design was carefully planned, considered and sketched like all of the other figures I challenged Jack to create, but it wasn't. This little dude was a classic spur of the moment idea, a concept that made me grin like an idiot and was impossible not to attempt once it occupied a place in my mind. I would ALSO love to be able to say that the PERFECT name we gave it was my idea like the other figures, but it wasn't. That came from the man who created it.
This piece just sort of happened – and I'm VERY glad it did!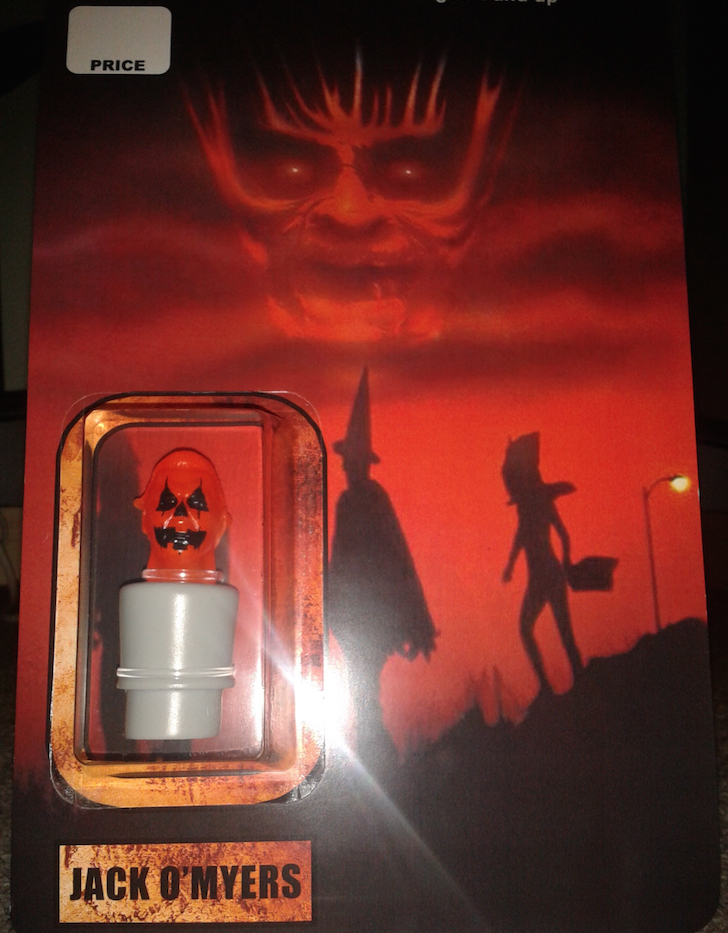 Originally there was going to be another Freddy figure, but my lack of understanding when it comes to the limits of what is possible when working with resin meant that a new character had to be conceived deep into the project. The friend it was destined to be presented to is a massive fan of the Nightmare on Elm Street films, but I also knew anything horror related and unique would get a hugely positive reaction from him, so an opportunity presented itself to attempt something very different to my original plan. I considered other variations featuring Krueger but nothing really felt right, I was trying too hard to be clever, so I just sat back and allowed my imagination to go nuts.
I contacted Jack and initially asked him to make a completely transparent orange Michael Myers figure and paint a large black grin around the mouth area, basically a Myers with a Halloween color scheme and jack-o'-lantern vibe. That idea then quickly evolved into painting the face in a way that was similar to the Silver Shamrock pumpkin mask from Halloween 3, limiting the orange color scheme to just the head, and making a backing card that featured the iconic Season of the Witch poster design. I simply couldn't resist making it a full-on tribute to that wonderfully different movie within the Halloween franchise. It had to be done!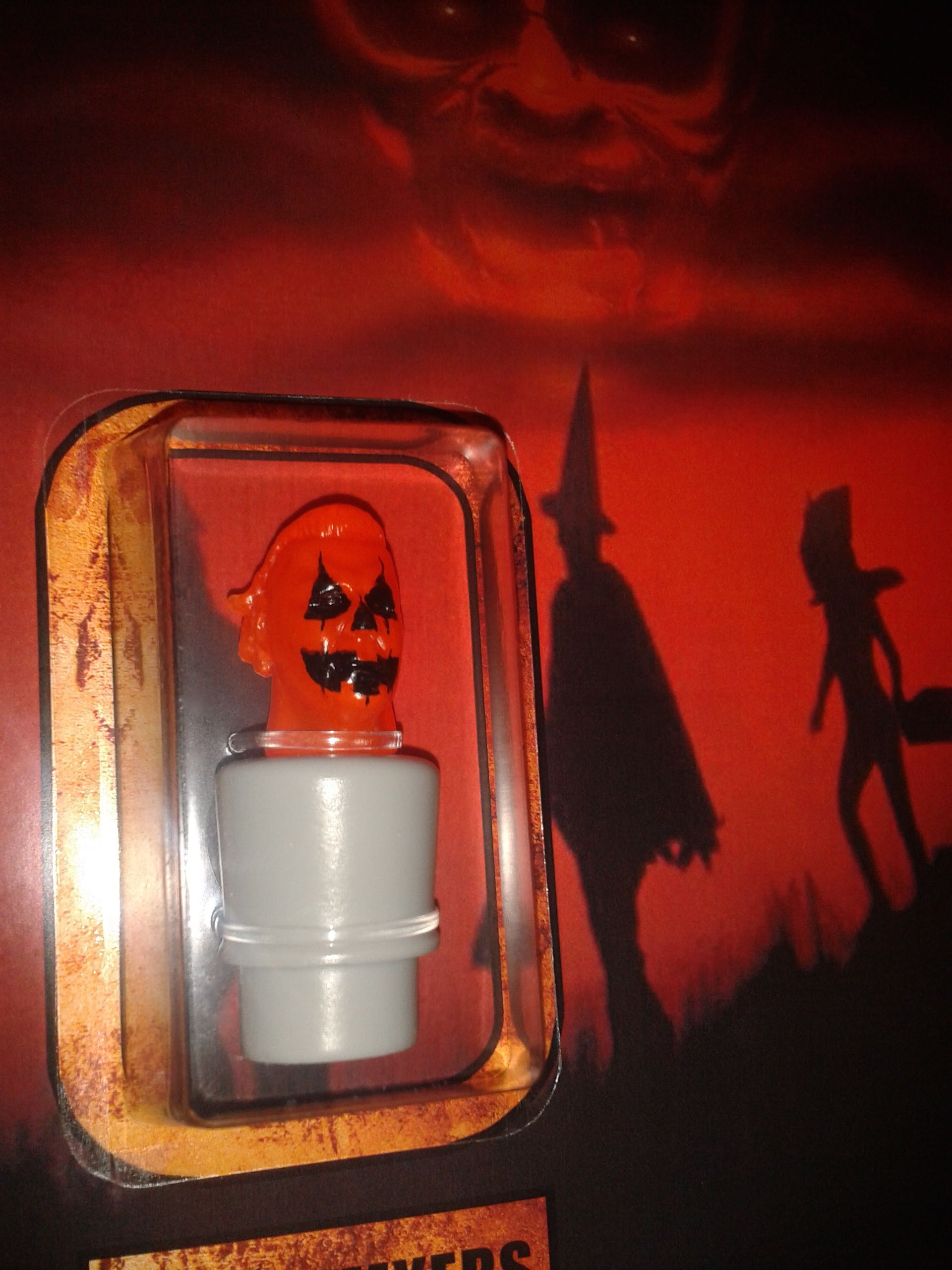 Jack started pouring resin with just the vague and excited messages I had sent him to work with, but as you can see, the end result was once again stunning, perfect and flawlessly put together. I love every figure he created for different reasons, but I think Jack O' Myers is one of my favorites because of how random and brilliantly weird it actually is. Horror fans will get it and understand the way it pays tribute to that unforgettable moment where Little Buddy pulls on his mask and kneels before the TV, but to everyone else this isn't going to be familiar or easily recognizable, and I like that.
The poster image of the children in their costumes silhouetted by the Arizona evening sky is ridiculously atmospheric, and we both agreed that it makes the figure an incredibly eye-catching display piece. It just gives it that pinch of autumnal dark magic, and I think and HOPE that all fans of the movie will look at this and smile. That was my aim, and it certainly had the desired effect when I handed it over within a gift box a few weeks ago.
Creating this figure also had one final side-effect that made its late creation all worth while … I ended up with a carded figure of my own!
I had been SO busy trying to figure out what I was going to get for the guys, and then SO relieved that Jack had said "yes" after I asked him to take on the commission that it never occurred to me that I should design something for myself! The reason I contacted Jack was because of my deep passion for the items he makes, so when my girlfriend asked me if I had taken the opportunity to get something unique designed for my own collection I slapped my hand across my head and glumly said "DAMN IT, no" …
Michael Myers head choices to the rescue!!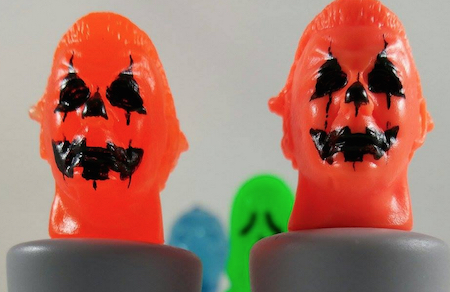 After I decided to make the body of the figure grey, to match the hooded top Little Buddy is wearing during his gruesome demise, I had a brief moment where I couldn't decide whether the orange head should be a transparent or solid color. Jack was good enough to make both so I could see what they looked like (see above), and I picked the transparent version to give to my friend because it gave it a subtle glow which I really like. When everything arrived in a large shipping box a few weeks later, I discovered Jack had carded the other figure as a thank you to me, and attached a seriously cool little 'Chase Variant' sticker on the side!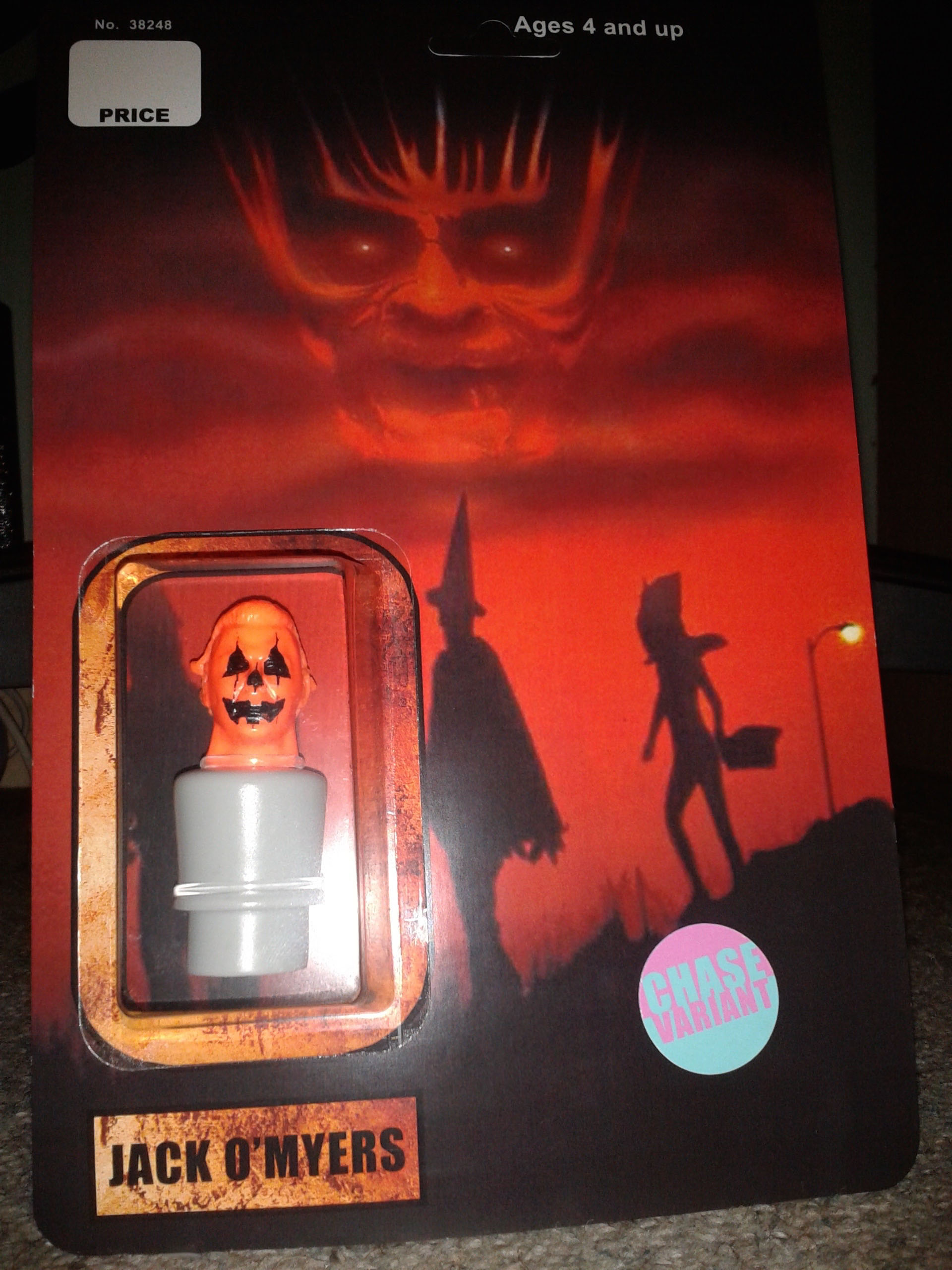 So I'm now the proud owner of a 1 of 1 variant edition based on a 1 of 1 figure! A chase indeed!
Until next time, stay safe and keep it horror!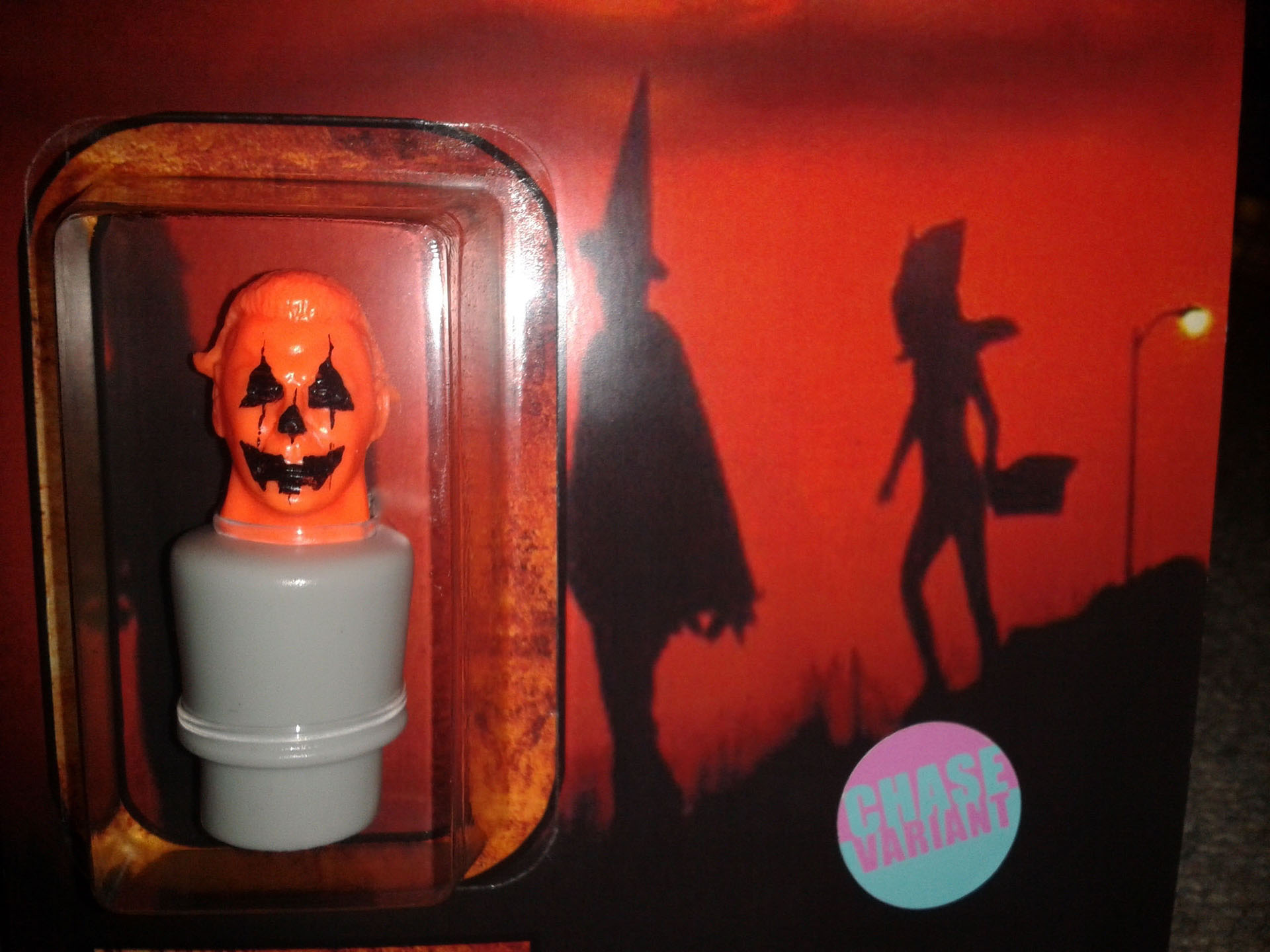 Support Halloween Love
If an item was discussed in this article that you intend on buying or renting, you can help support Halloween Love and its writers by purchasing through our links:
(Not seeing any relevant products? Start your search on Amazon through us.)