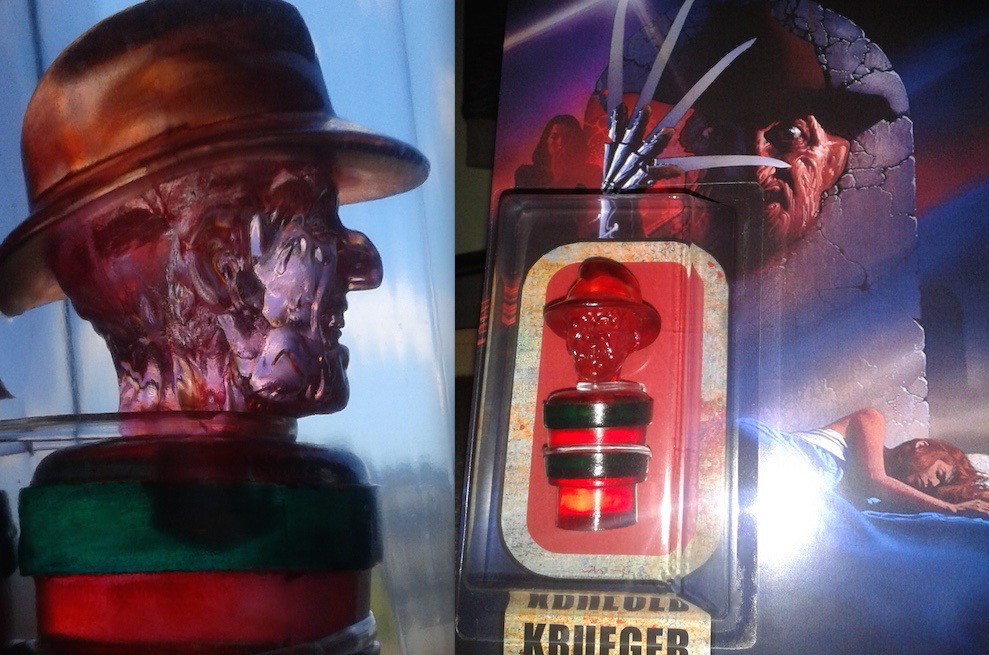 The Challenge:
Find seven unique, hand-crafted, and one of a kind horror collectables to present as gifts to my good friends when we all meet up for our once a year weekend of reminiscing, talking, movie watching and beer drinking. Previous years had seen some incredible items being handed out and the pressure was on me to come up with something painfully special!
The Solution:
Reach out to the home of Horror Pop Weirdness – Jack's Attic.
A combination of good timing, shared passions and a desire to make ultra cool resin toys resulted in a collaboration with Jack, and a plan to create seven special 'Kill People' peg figures that needed to have the power to make grown men cry with joy!
In the first article I revealed a brand new addition to the Jack's Attic roster – Ghostface aka STABFACE. Today another new crew member has emerged from the shadows, and you can call him KRUEGER!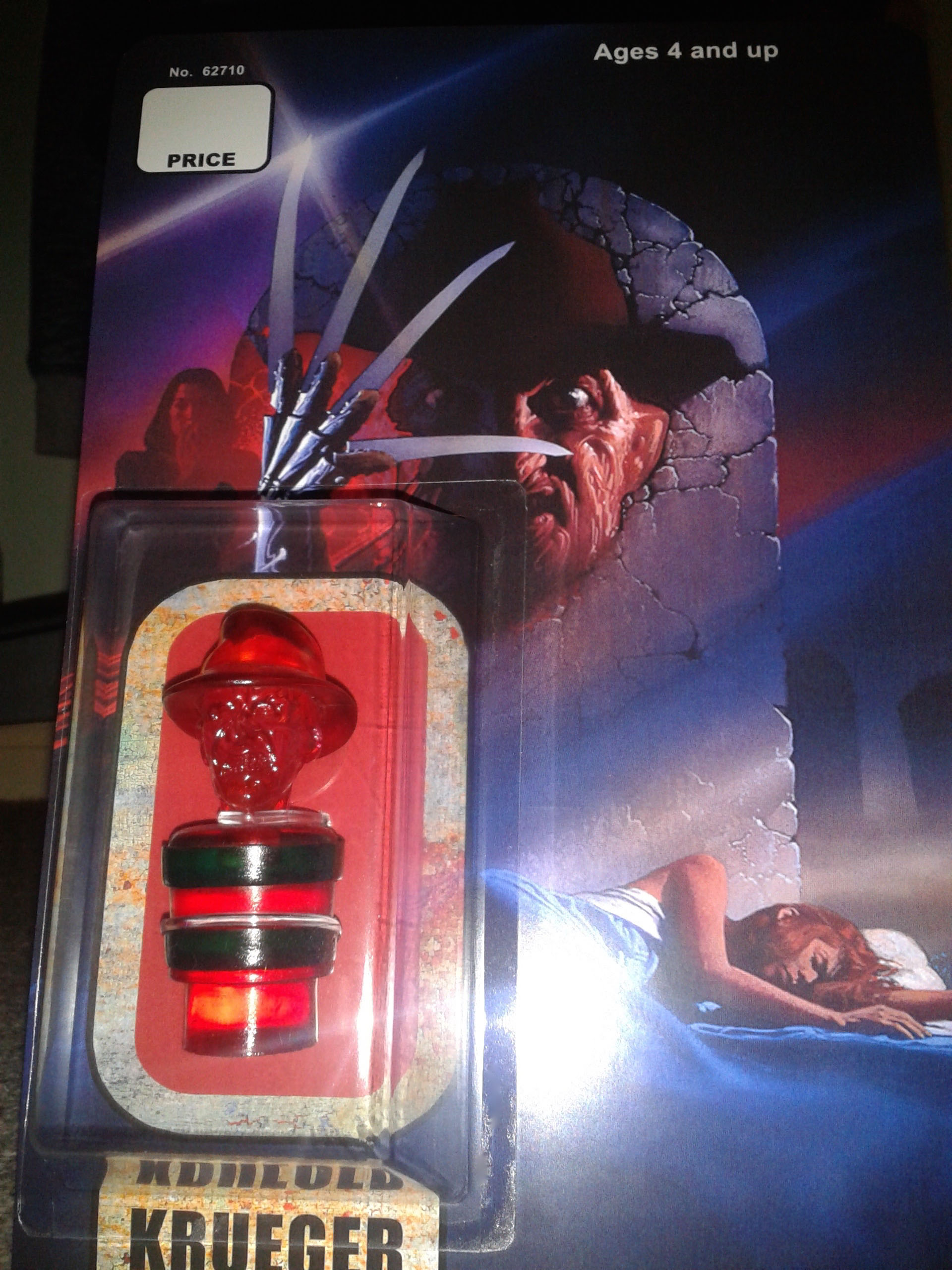 Freddy was a tricky figure for me in terms of coming up with a design because I knew the person it was destined for would appreciate something more traditional, and my brain was filled with nothing but wild ideas and bright crazy concepts (as always!). After a day or two of pondering I decided that it would look awesome to have the figure be completely transparent and give it a red and dark green 'striped' effect running from top to bottom, as a nod and wink to his legendary sweater. This idea would ultimately be refined and altered slightly, and after some experimentation we ended up with the stunning figure you see here today.
Transparent colors were carefully painted over a clear figure and what emerged was a ghostly and visually striking vision of the Springwood Slasher. Under artificial light the figure appears bright red and is amazing to look at, but that redness is mostly coming from the backing card panel situated behind Freddy.
Krueger truly comes alive when you hold the figure up to some natural light and look at it from the side … That's when the magic happens!
His sweater is there with its perfect dirty shades of red and dark green. His fedora glows with hints of brown and dark oranges, and his skin looks INCREDIBLE with fleshy shades of red and pink bleeding across his scarred face. As good as it looks in these pictures I can honestly say it looks even better when you are holding it in your hands. It's easy to forget how small the 'Kill People' figures actually are, and what Jack has managed to do here with so little surface to work on is astonishing. I just screamed "YES" when I looked at it with my own eyes for the first time. I wanted a classy, no-nonsense tribute to Freddy in resin form and I think we achieved that in style.
For the backing card I was determined to use one of the stunning Elm Street movie posters painted by Matthew Joseph Peak, but most of them feature Freddy in a very abstract way and I also didn't want to link the figure to one specific movie. I played with the idea of just using a standard publicity shot of Robert Englund posing as our favorite child killer but my mind kept returning to Peak's artwork. In the end I decided on the piece he painted for Freddy's Dead: The Final Nightmare, which I BELIEVE was only used on the front of the soundtrack release for the movie?
What I like about this art is that it doesn't look too connected to the film it was created for. It has a sleeping victim laying in a bed, it has the beautiful spectrums of color cutting through it that Peak was SO good at, Freddy is there waving his glove with menacing intent, and the whole thing is vivid and dreamlike. It complimented the figure we ended up making perfectly and the completed piece looks incredible on display.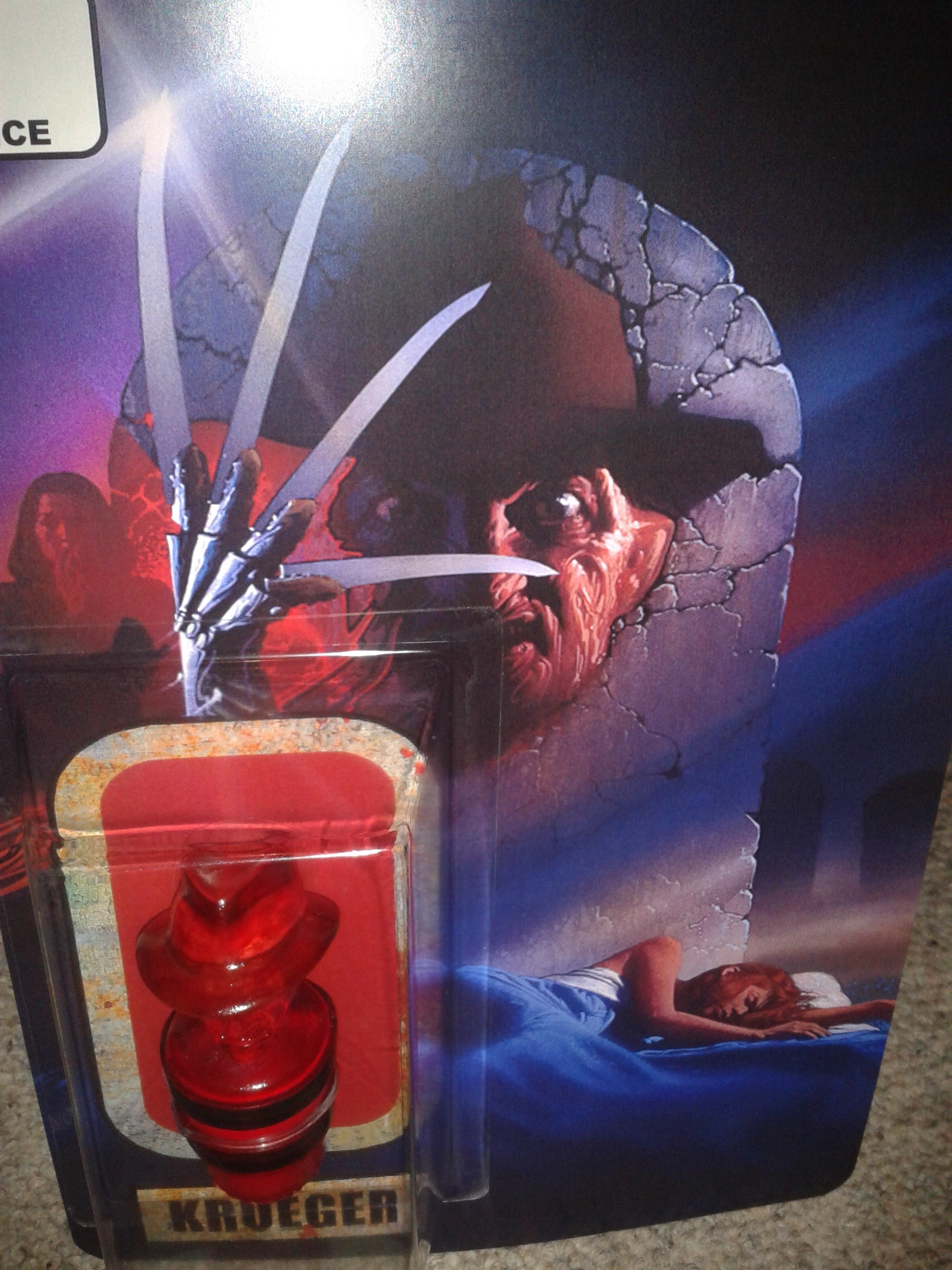 I challenged Jack with this one, and while my original idea wasn't achievable to a standard that looked effective, what we ended up with was FAR better than anything I could have imagined.
KRUEGER has arrived, and you might just be seeing more of him in the near future …
Support Halloween Love
If an item was discussed in this article that you intend on buying or renting, you can help support Halloween Love and its writers by purchasing through our links:
(Not seeing any relevant products? Start your search on Amazon through us.)