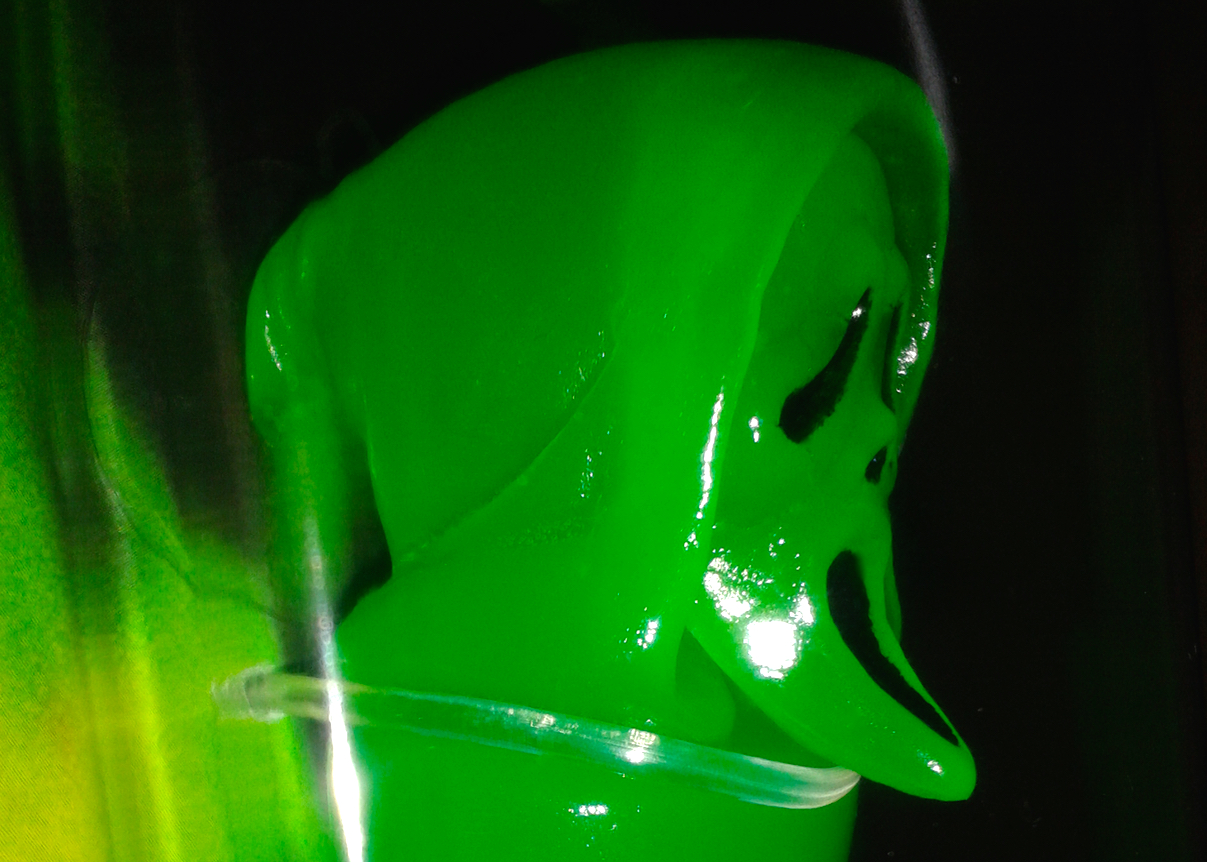 Once a year, every year, I pack an overnight bag and head for a very special get-together. It takes place at a different location every time I go, but what awaits me is always the same. Old friends, a few beers, laughter and plenty of horror movies and heated debate. These are friends from my younger days, and we all found each other because we all love watching scary movies.
Too often we lose touch with important people in our lives, valuable friendships can fade away due to relocating, new jobs and the challenges that family life can bring. You do your best to "keep in touch", but before you know it a year or two has passed in the blink of an eye and you end up tapping your phone and wondering if you should make that call.
When the seven of us left the comfort of education and entered the world of employment we made a pact that each year we would come together for one weekend no matter what we were doing or where we were living. We all knew that finding work would more than likely take us to various locations around the UK and beyond, so a decision was made to replace the pressure of trying to maintain half-assed online relationships with a promise to find 48 hours every year just for us.
We have several traditions that are maintained each time we gather, and the most enjoyable of all is without question the annual gift giving challenge. This task is on rotation, so once every seven years you have to find the most special and unique horror gifts you can lay your hands on for the rest of the gang. This year it was once again my turn, and after the wood carved horror icons that were presented to everyone last summer by a smug dude named Chris, the pressure was on me, big time!
I wanted items that were handmade, unique, and if possible one-of-a-kind. They HAD to be linked to horror in some way, and they had to be SO damn cool that even the most jaded of horror collectors would drop to their knees and worship at my feet while I handed them out.
I explored various possibilities and considered multiple options but I was just going through the motions. Nothing really excited me, and nothing came close to those DAMN wood carvings! The weeks and months were burning away and pressure was building when suddenly everything changed. I discovered Jack's Attic. I discovered the "Kill People" bootleg resin action figures, and I formed an online friendship that ultimately led to the creation of some very sexy horror collectables!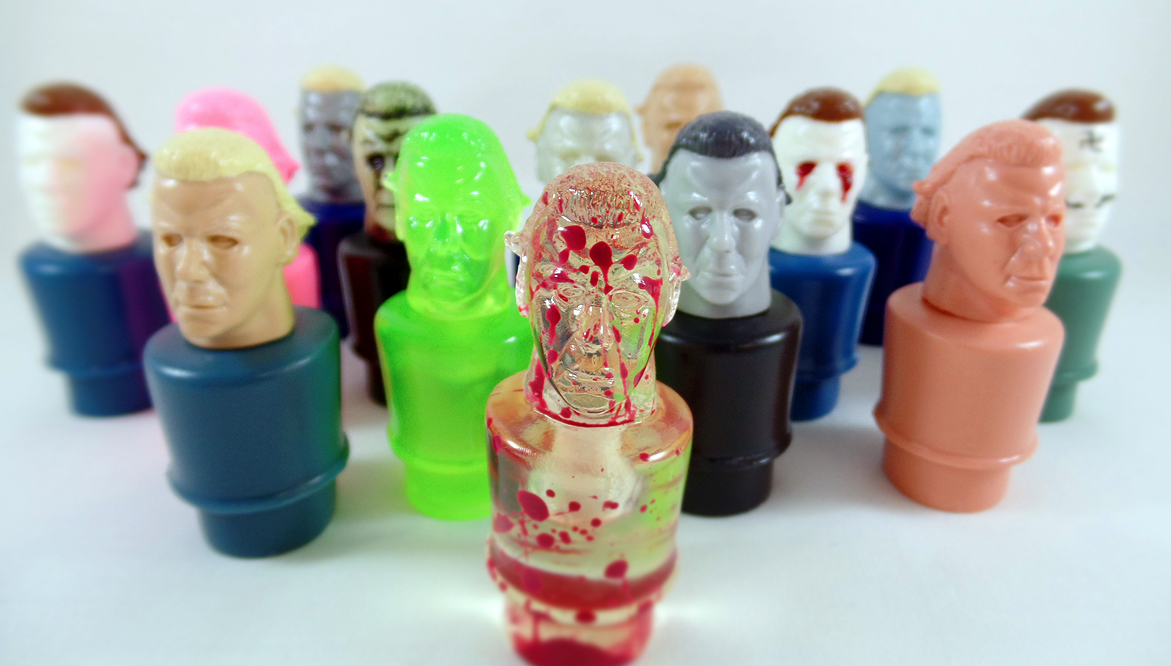 If you are regularly active within the horror community on social media then there is a good chance you have seen what Jack can do. If you haven't, then head over to his site after you are finished here and take a few minutes to have a leisurely browse. It's worth your time, trust me.
My search was over, and I now knew for certain what I wanted …
Seven Kill People peg figures, each with a color scheme and design that would pay tribute to the horror movies my friends are most passionate about. The idea excited me in a way that I had yet to encounter, and filled my imagination with ideas and possibilities. I contacted Jack, and by sheer luck discovered he was climbing down from the Attic for a few weeks to recharge his creative batteries, but liked the idea of working on a personal project to keep his skills ticking over. A collaboration was born, and the road toward resin heaven was now being travelled.
I entered the project believing that Jason and Michael were the only icons available to work with due to them being the only killers to have emerged from Jack's Attic thus far, but I was wrong. Very wrong. Two more familiar faces were lurking in the shadows, and today you get to see one of them for the very first time.
Created for a friend who is utterly obsessed with the Scream franchise, I'm delighted to present "Stabface" …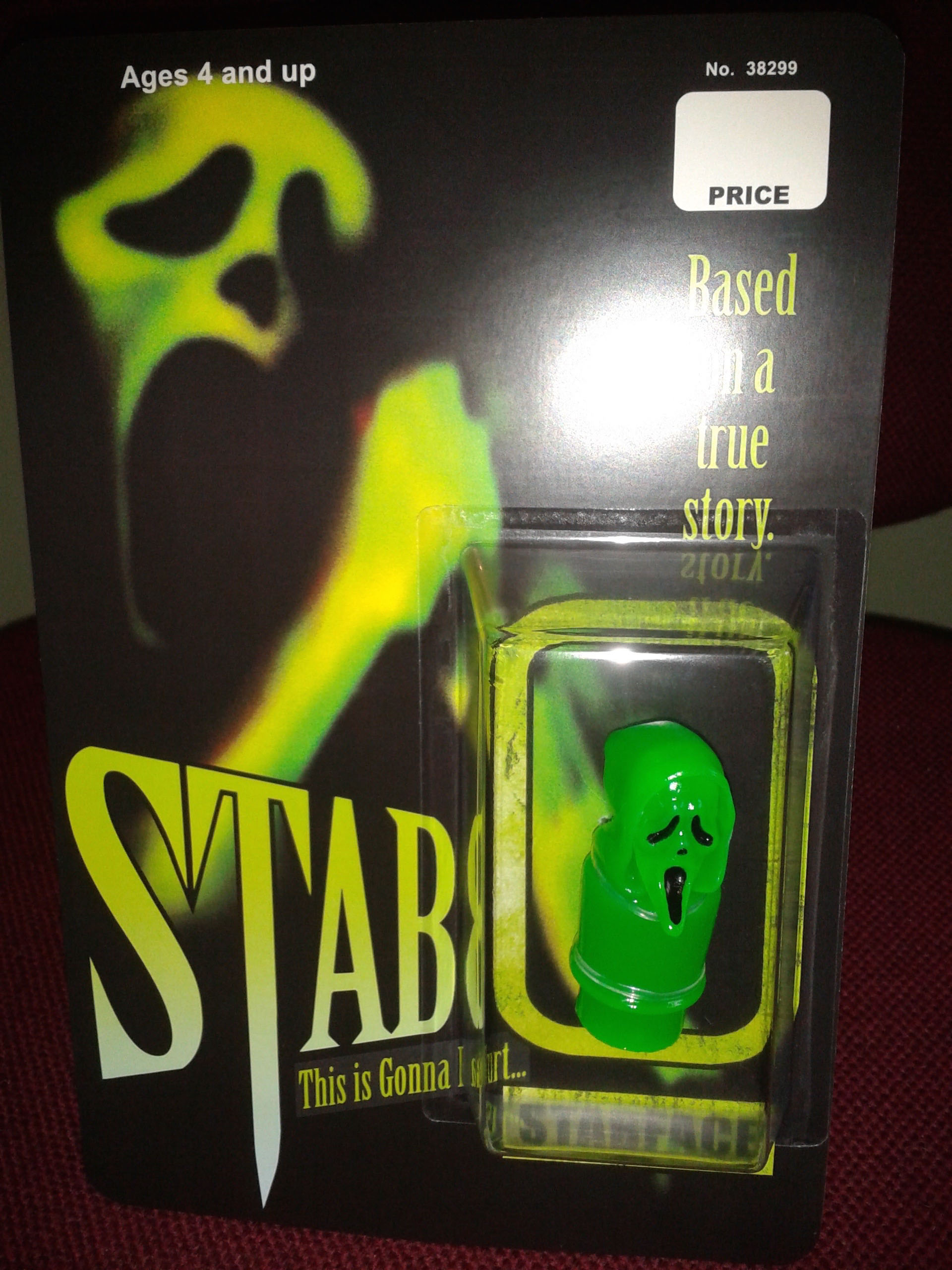 Stab is the film-within-a-film that featured heavily in the first few minutes of Scream 2, and continued to have a presence as the Scream franchise moved forward. I've always loved the poster that was created for this pretend production, and having a Ghostface Kill People figure linked to Stab rather than Scream was too cool an idea not to move forward with. It had that feeling of subtle awesomeness I was striving for, and I knew exactly how I wanted it to look.
There was only one color I was going to choose for such a figure, and Jack knocked it out of the park by mixing the most intense, vivid and radioactive shade of green you could ever hope to see! The whole piece is slightly transparent when held toward a light and the end result is just sumptuous.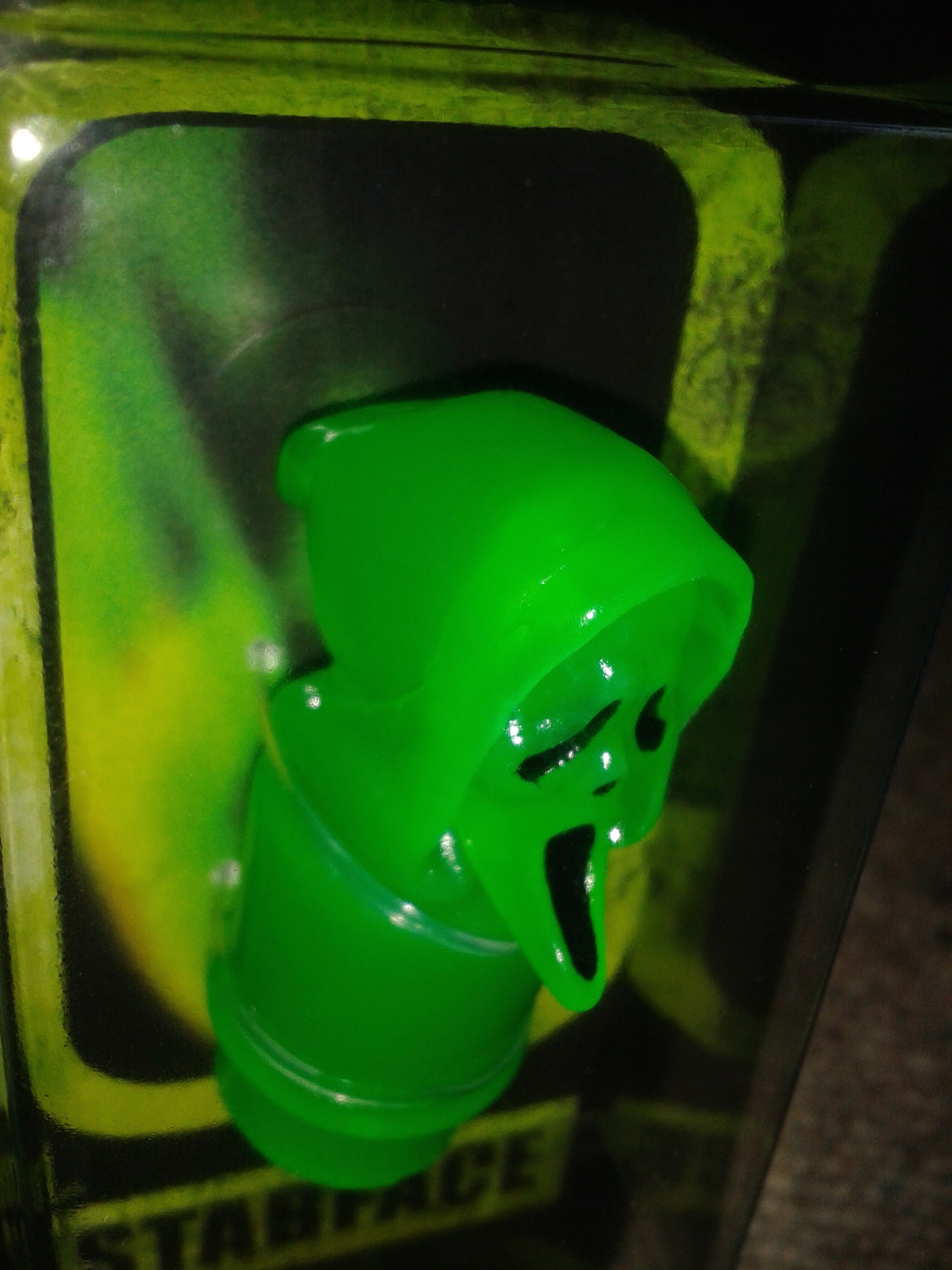 In the early stages of the project it had been suggested by Jack that we attach every figure to a Star Wars style backing card, making them look like genuine action figures that had been released into retail. Price sticker boxes were included, as were tiny item numbers. There's even an age safety warning to make sure little kiddies aren't exposed to these caged killers!
The front of the card perfectly compliments the figure thanks to the visually striking Stab poster in all of its ghostly green glory, while the back of the card features a group shot of all the figures that we designed and that all important checklist. You gotta have a checklist!
The final step was to seal the carded figure within a protective Star Case to preserve its minty freshness and this resin work of art was complete.
To see my idea made a reality was something I'll never forget, and it was a privilege to communicate with such a talented individual from start to finish. I gave Jack some fairly challenging concepts at the beginning of this project and he ended up surpassing my expectations in a way I didn't think was possible. Everything he does just drips with cool, and if you've been lucky enough to purchase any of his work in the past you will know exactly what I'm talking about.
Stay tuned to Halloween Love all this week as I reveal the rest of figures we brought to life for the gathering, including another new crew member who has a wicked sense of humor!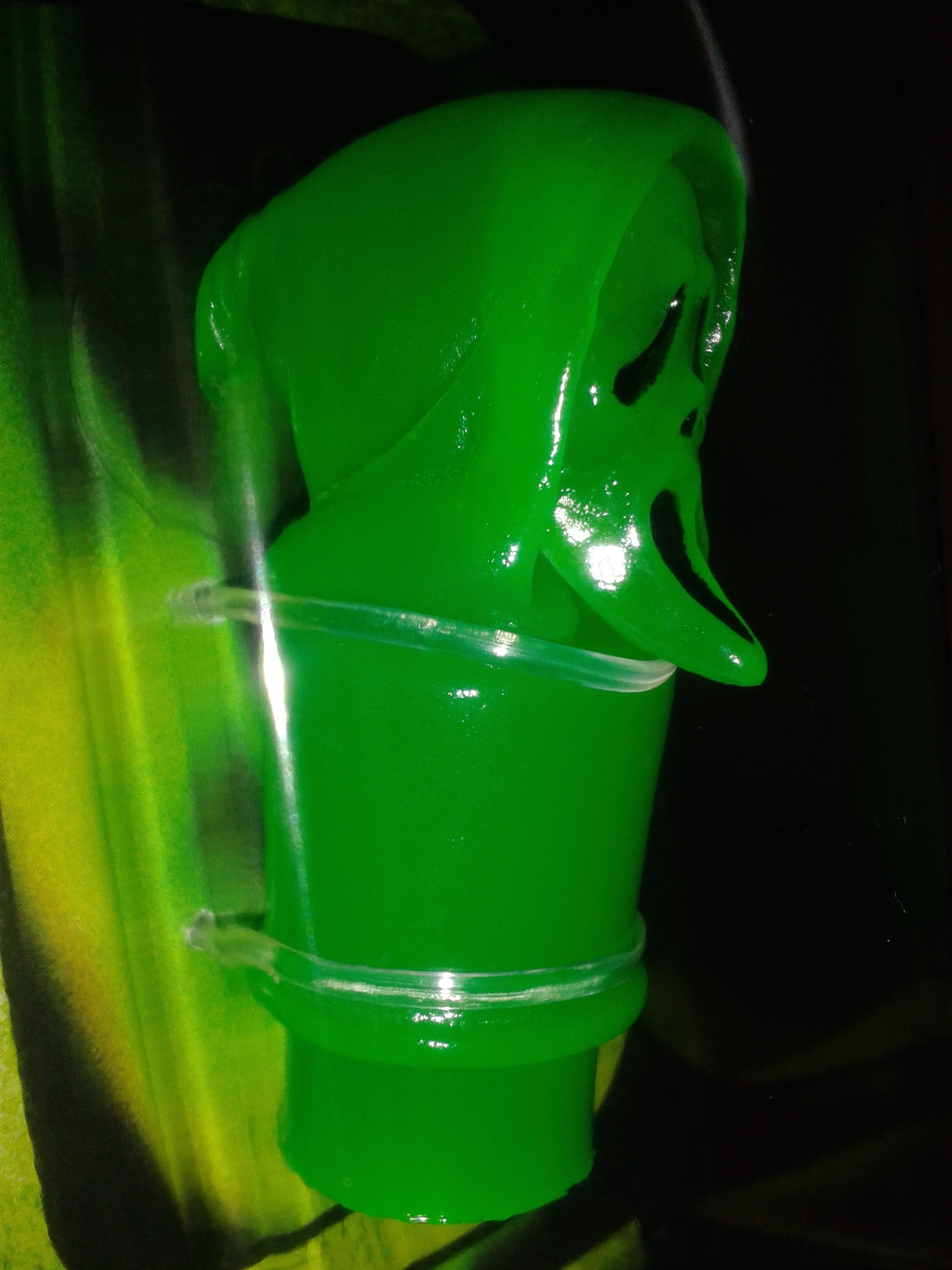 Support Halloween Love
If an item was discussed in this article that you intend on buying or renting, you can help support Halloween Love and its writers by purchasing through our links:
(Not seeing any relevant products? Start your search on Amazon through us.)