One of my favorite summer hobbies is treasure hunting, and I often spend my weekends looking for local yard sales, hitting up thrift stores, and seeking out flea markets. The thrill of the hunt is that you truly never know what you're going to come across on a neighbor's lawn or find tucked away in a box on a vendor's table, and this summer has thus far been pretty good to me.
This past weekend my brother informed me of an antique center in his area called Remember Yesteryears, and I didn't hesitate to make the 40-minute drive on Sunday afternoon to check it out. He promised wall-to-wall vendors and all sorts of vintage toys, and it was immediately clear when I stepped foot inside the 15,000 square foot building that I had arrived at the Mecca of treasures.
No really. That's totally their slogan.
I completely lost of track of time but I must have spent at least two hours inside Remember Yesteryears, and I'm pretty sure I still didn't see everything the place has to offer. There are no less than 100 individual dealers packed into the building, and with such a large focus on old toys and pop culture collectibles, the place is like the contents of my eBay search history come to life.
But enough yapping. You probably came here to see pictures of awesome old shit. So here are five horror-themed relics I came across in my travels through the so-called Mecca of treasures!
1) INFLATABLE GODZILLA – $40
You can bash 1998's Godzilla all you want, but there's no denying that the movie gave rise to some pretty awesome things. For starters, the film's original teaser trailer was one of the coolest of all time, and then there was all sorts of fun merchandising that hit toy stores around the time of release. The holy grail, at least in my eyes, is this human-sized inflatable Godzilla, put out by Toy Biz.
From what I gather, there were three different versions of this toy, measuring 4′, 6′, and 9′ tall. Still sealed, the one I found at the flea market was the 4′ version, despite the deceiving image on the box suggesting it's at least double that size. I immediately regretted not snatching this up almost as soon as I walked out of the door, and according to eBay, $40 was a pretty damn good price for it.
Needless to say, if inflatable Godzilla is still there when I return to my new favorite hangout, it will be coming home with me. I'm a fool. I should've just bought the goddamn thing when I had the chance.
2) DREAM WARRIORS VINYL RECORD – $10
There's no horror movie song more gloriously epic than metal band Dokken's 'Dream Warriors,' which was of course written and performed exclusively for the Nightmare on Elm Street franchise's third installment. The vinyl single, which also includes two other Dokken tracks, was released just about a week before the movie, in 1987, and the video for the main song famously featured Freddy himself.
Though I have a player in my house, I normally don't go digging through records when I come across them at thrift stores or flea markets, as I don't really collect them or know which ones to keep an eye out for. But this beauty was staring right at me as I rifled through a Rubbermaid container full of old video games, as if it was placed in the building for me and only me to find.
Oddly enough, I had received One Way Static Records' limited edition 7″ Dream Warriors EP in the mail earlier in the week, otherwise I surely would've added this one to my hoard.
3) VINTAGE HALLOWEEN COSTUMES – VARYING PRICES
There are few things I love more than vintage Halloween costumes, and the leading companies in that game were Collegeville and Ben Cooper. Between the two, Freddy Krueger, Alien, and even Jaws costumes were released in the 70s and 80s, and there's just something about those vinyl smocks and plastic masks that makes me feel all nostalgic inside – even if they weren't actually part of my childhood.
One of the booths at the shop had a small handful of vintage Halloween costumes for sale, including Mickey Mouse from Ben Cooper and Superman from Collegeville. All these years later, it's pretty awesome to come across old school treasures such as these still in their original boxes, though the vendor didn't have any characters that I was compelled to bring home with me.
Like Quint, Brody, and Hooper, my hunt for Jaws continues – the Collegeville costume, that is.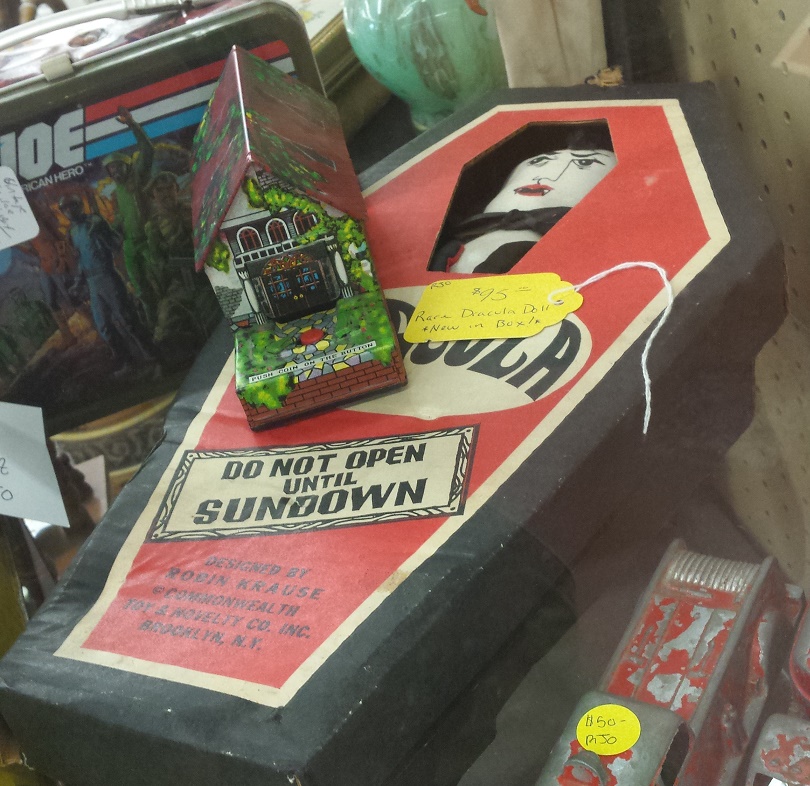 4) ANCIENT DRACULA TOY – $95
The oldest treasure I found this past weekend was unquestionably this vintage Dracula doll, which I had never before seen at the time I came across it. I also had no idea what it really was or where it came from, though the high price tag indicated that it was something special – something, in other words, worthy of being photographed and at least researched, if not outright purchased.
In doing a little research I've learned that it's basically a Dracula Beanie Baby that came out long before that line was created, in either the 1950s or the 1960s – hard to say which. As noted on the box, the 8 1/2″ doll was designed by Robin Krause for the Commonwealth Toy Company. The sale tag notes that it's rare and it indeed seems to be, as there's only one currently selling on eBay – without the box.
It's cool, but I'm not sure it's $95 cool. I mean. Ya know. I have bills to pay. And a cat to keep alive.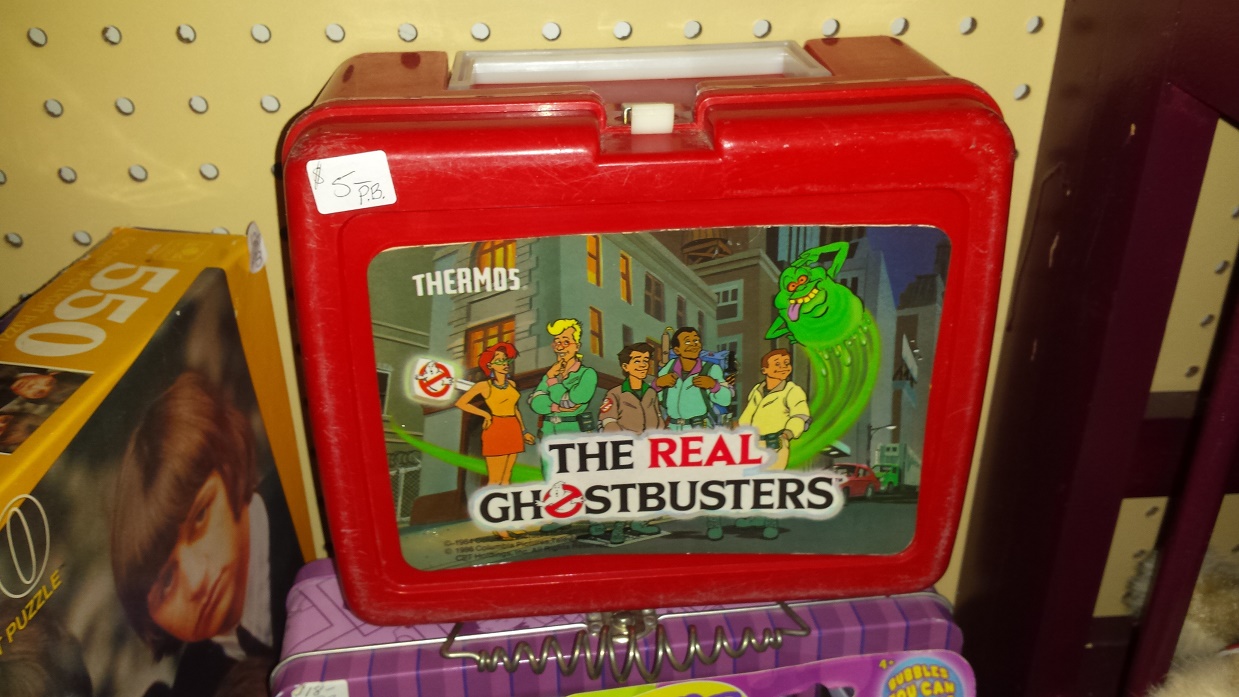 5) THE REAL GHOSTBUSTERS LUNCH BOX – $5
Two years after the release of Ghostbusters, the hit film paved way for an animated series in the form of The Real Ghostbusters, which ran from 1986 to 1991. For many, the cartoon served as the very first introduction to loveable ghost-hunters Peter, Egon, Ray, and Winston, and the show is notable for turning Slimer from villain to hero – and, in fact, providing him with the name we all know him by.
The Real Ghostbusters spawned a slew of merchandising, and it was of course Hi-C's beloved beverage Ecto Cooler that is most fondly remembered by fans. As was typical for the time, a couple of different lunch boxes were also whipped up, and I snagged this one at the flea market for just $5. There's no thermos inside but these normally sell for at least triple that price, so it was quite a steal.
Be sure to keep your eyes peeled for more treasure hunting fun throughout the summer here on HL. In the meantime, here are a few other horror goodies I spotted at Remember Yesteryears!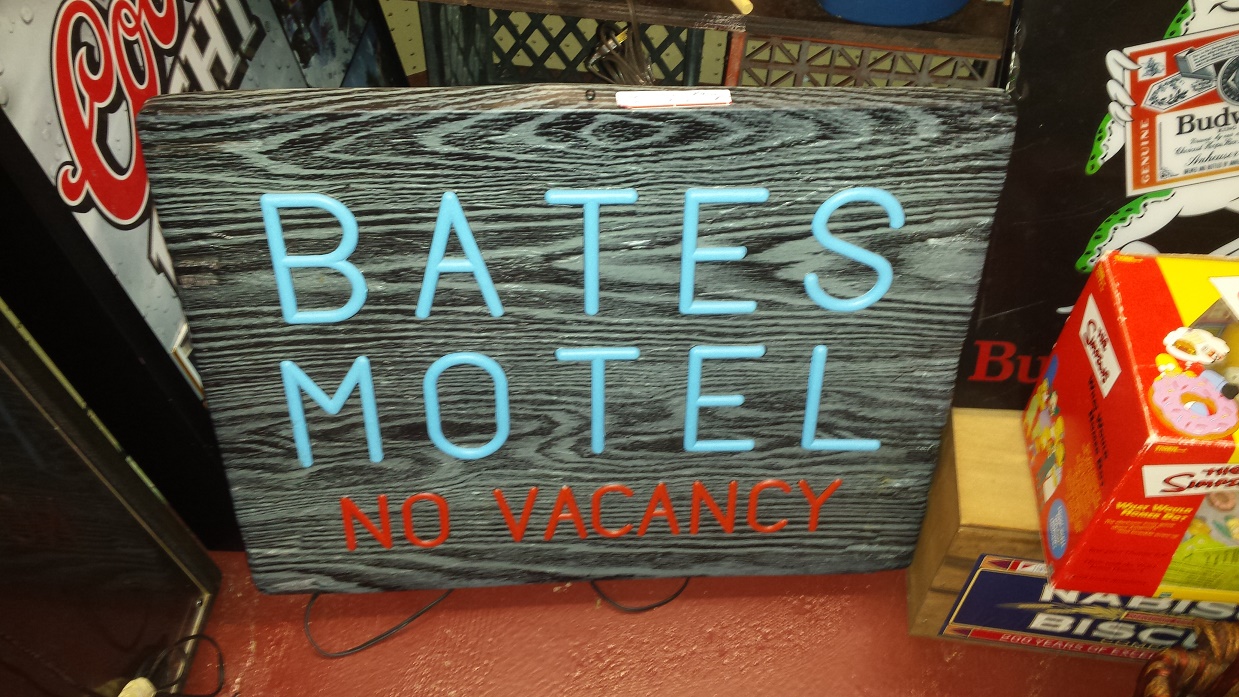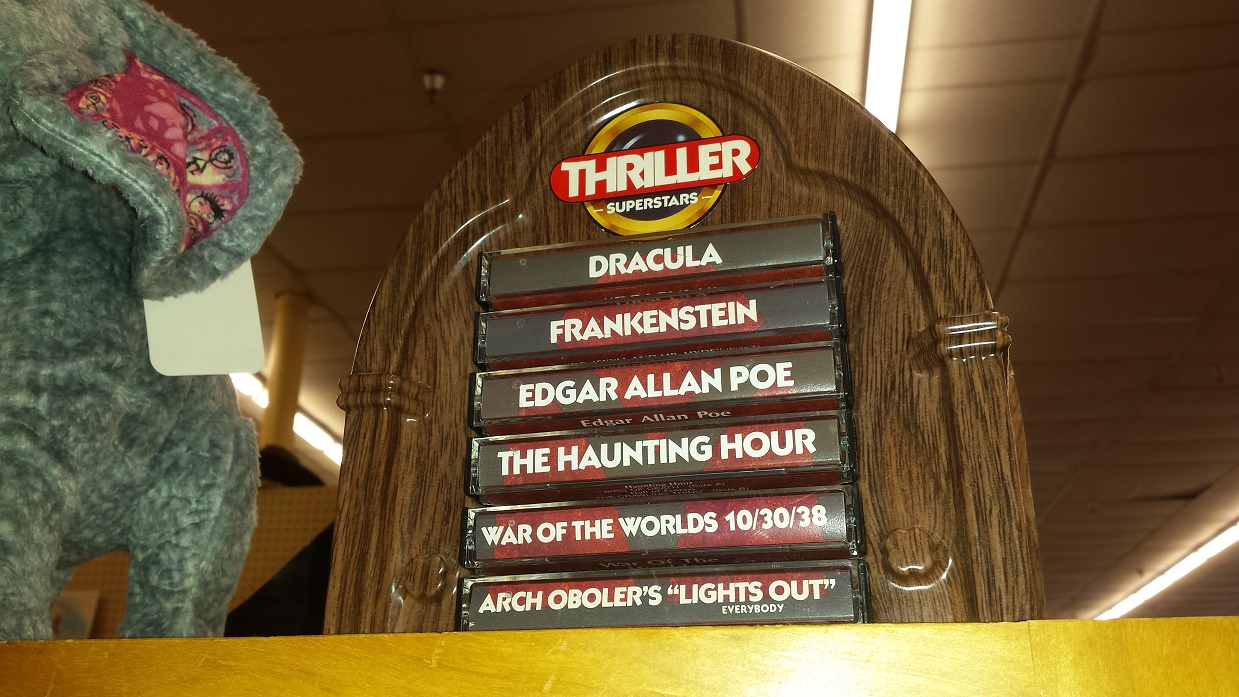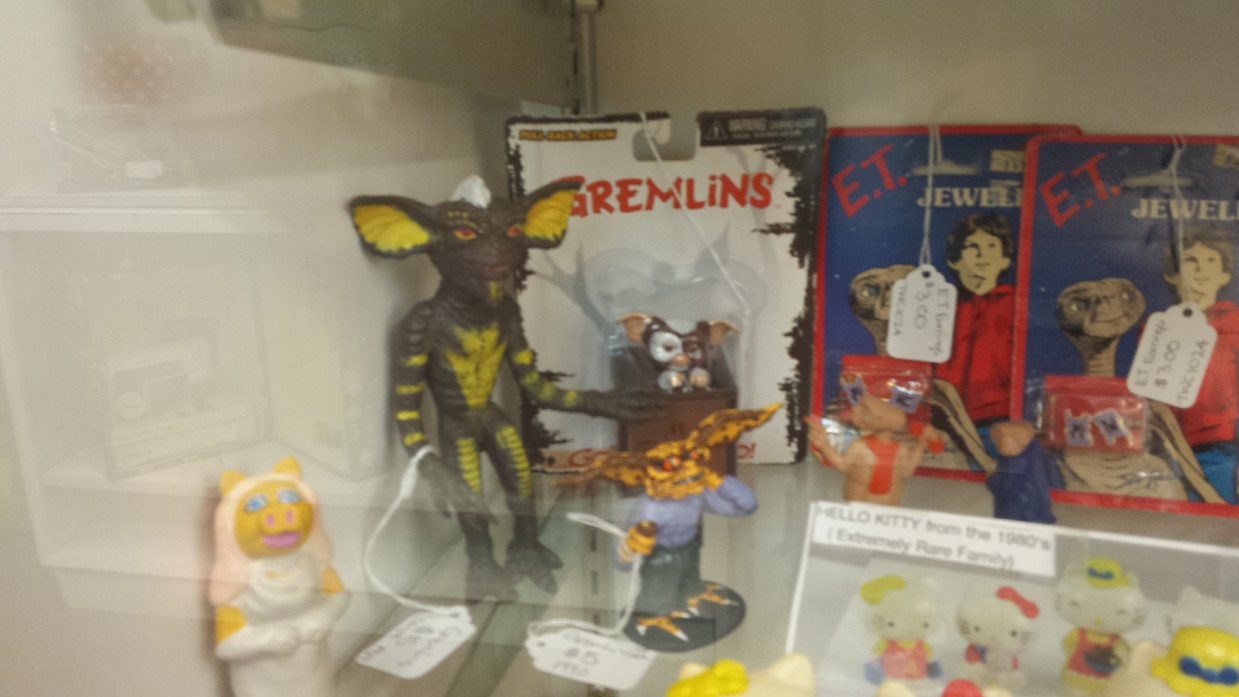 Support Halloween Love
If an item was discussed in this article that you intend on buying or renting, you can help support Halloween Love and its writers by purchasing through our links:
(Not seeing any relevant products? Start your search on Amazon through us.)