There's nothing more enjoyable than a good horror anthology, as the format allows for a handful of different movies to be rolled into one. Though you're shit out of luck if you find yourself not enjoying a typical movie, the beauty of anthologies is that there's always a brand new story right around the corner, and films like Trick 'r Treat and Creepshow serve as shining examples of the sub-genre.
Aside from the V/H/S franchise and the ABCs of Death films, horror anthologies have been few and far between in recent years, and I don't know about you, but I'm finding myself yearning for the days when they were coming at us hot and heavy. The good news is that the anthology format seems primed and ready for a return here in the horror genre, as a handful of such films are currently in the works.
To show you what I mean, here are five upcoming horror anthologies that should be on your radar!
1) TALES OF HALLOWEEN
Coming at us on October 16th is Tales of Halloween, which takes place over the course of a single Halloween night and looks to be this year's Trick 'r Treat. Put together by Axelle Carolyn, the holiday anthology features a whopping 10 individual segments directed by 11 different filmmakers, and the impressive roster of directors indicates that this one is going to be a real treat.
The stories, which center on the residents of an American suburb being terrorized on Halloween night, come from the minds of filmmakers such as Darren Bousman (Saw 2–4, Mother's Day), Lucky McKee (May, The Woman), Neil Marshall (The Descent), Paul Solet (Grace), and Mike Mendez (Big Ass Spider!), and feature titles like 'Sweet Tooth,' 'Grimm Grinning Ghost,' 'Friday the 31st,' and 'Ding Dong.'
Many of the directors even brought their horror pals along for the fun, so most of the segments will be packed with cameos from familiar faces. John Landis, Joe Dante, Stuart Gordon, Adam Green, and Lin Shaye all pop up throughout, and the stories are tied together courtesy of a radio DJ played by Adrienne Barbeau – essentially recreating her iconic role from John Carpenter's The Fog.
2) A CHRISTMAS HORROR STORY
If Halloween is getting its very own anthology this year then it's only fair that Christmas gets one too. Premiering earlier this week at the Fantasia Film Festival, A Christmas Horror Story was just acquired for distribution by Image Entertainment, and will be headed our way in due time. This one stars none other than William Shatner, who serves as the presenter of the stories.
Three tales of yuletide terror comprise A Christmas Horror Story, the segments directed by Steven Hoban (Darknet), Grant Harvey (She Made Me Do It), and Brett Sullivan (Ginger Snaps 2). Santa and Mrs. Claus battle off undead elves in the first story, while the second centers on the mythical anti-Claus known as Krampus. In the final story, a family is terrorized while buying a Christmas tree.
All three stories take place in the fictional town of Bailey Downs, which you may recognize as a fun little homage to the Ginger Snaps franchise.
3) HOLIDAYS
Not content with merely focusing on one holiday, upcoming anthology Holidays is going to cover all the major ones – from Mother's Day to Christmas, Halloween to Easter. The project is in the early stages of development at the time of writing this post, but with many respected filmmakers already attached, Holidays looks to be the ultimate holiday horror anthology.
Some of the genre's top directors are contributing to this one, including Kevin Smith (Tusk), Nicolas McCarthy (The Pact), Dennis Widmyer & Kevin Kolsch (Starry Eyes), Scott Stewart (Dark Skies), and Gary Shore (Dracula Untold). The anthology is being described as a collection of subversive holiday tales, and Kevin Smith is thus far the only director to reveal his story.
Titled 'CamHain,' Smith's segment will center on a group of CamGirls working on Halloween night. Epic Mealtime creator Harley Morenstein will star in the segment as a villainous pimp, and Smith teased that Jason Mewes will also appear in it.
4) GERMAN ANGST
Fresh off its North American premiere at this year's Fantasia Film Festival, German Angst is yet another horror anthology soon headed our way, set for home video release in the first quarter of 2016. Three horror stories comprise this unique anthology, and the binding theme throughout the individual films is that they all "deal with love, sex, and death in decidedly unconventional ways."
Germany's most shocking filmmakers are at the helm of this one, including Jorg Buttgereit (Nekromantik), Michal Kosakowski (Zero Killed), and Andreas Marschall (Tears of Kali). In the first story, a young girl keeps a man bound to her bed, while the second centers on a deaf-mute couple attacked by skinheads. In the finale, a man stumbles into an underground sex club and uncovers its horrifying secrets.
Needless to say, German Angst is going to be quite unlike any other horror anthology we've ever seen.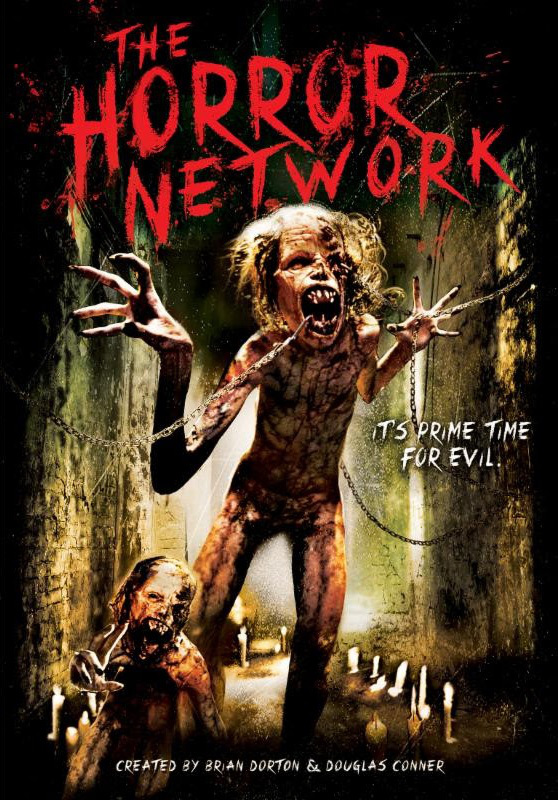 5) THE HORROR NETWORK
Anthologies aren't always about showcasing the talents of already established filmmakers, as they can also serve as a great way for up and coming filmmakers to cut their teeth and show what they're made of. That's precisely the idea behind The Horror Network, which Wild Eye Releasing will be putting out on DVD on October 27 of this year.
Brian Dorton, Joseph Graham, Manuel Marin, Lee Matthews, and the team of Douglas Conner & Ignacio Martin Lerma direct the five tales of terror in this one, the stories focusing on serial killers, ghostly phone calls, inner demons, otherworldly monsters, and creepy stalkers. A woman is taunted by an unknown caller in one story, while a killer preys upon a teen boy in another.
It's worth noting that Mama and [REC] star Javier Botet plays a nightmarish monster in one of the shorts, so we can be pretty certain that at least that one will be memorable and suitably frightening – and if you don't believe me, be sure to watch the trailer above.
Which of these horror anthologies are you most looking forward to? Comment below and let us know!
Support Halloween Love
If an item was discussed in this article that you intend on buying or renting, you can help support Halloween Love and its writers by purchasing through our links:
(Not seeing any relevant products? Start your search on Amazon through us.)