We've reached the end of another week – thank god! – which means it's time to once again take a look at the coolest, weirdest and/or most awesome images that I've stumbled across on social media this past week.
So let's get right to it, shall we?!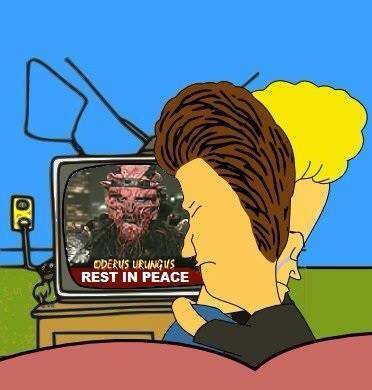 The horror community was dealt yet another loss this year with last Sunday's death of Gwar lead singer Oderus Urungus (Dave Brockie). While I admit that I'm not all that familiar with Gwar, it was Brockie's always hilarious appearances on the FEARNET original series Holliston that endeared him to me, and his presence on the show will certainly missed, going forward. Thought the above image was quite a fitting little tribute to Brockie, considering Beavis and Butthead were of course big fans of Gwar.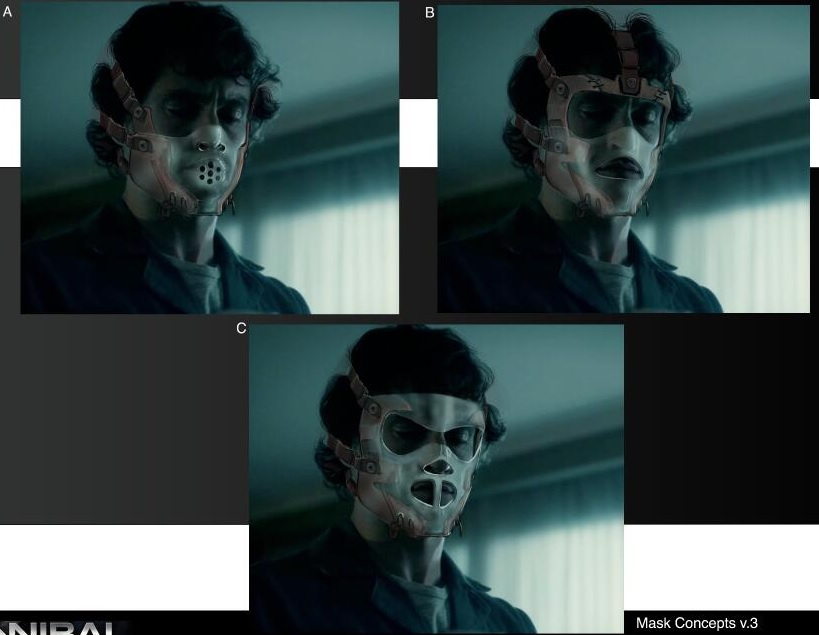 As a huge fan of NBC's Hannibal, and an avid toy collector, I've been hoping that a toy company would come along and pick up the license to the show, which is why I was so incredibly happy when creator Bryan Fuller revealed last night on Twitter that Funko will be releasing a series of Hannibal figures, as part of their POP! Vinyl line. Not sure when they're coming out, but I need them all… and I need them all right now!
By the way, if you're not watching Hannibal, you absolutely need to start doing so. Because it's the best thing on TV right now, hands down. Friday nights on NBC!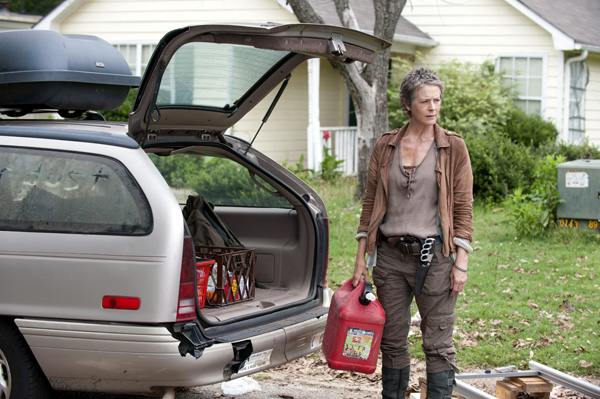 Speaking of spectacular TV shows that we should all be watching, The Walking Dead wraps up its fourth season this coming Sunday night, and the big question on everyone's mind – including ours – is what the hell is up with Terminus?! This compilation of images has been circulating around social media all week, which draws a connection between Terminus and those creepy paintings Michonne and Carl stumbled upon, earlier in the season. What does it all mean, if indeed there is a connection? Your guess is as good as mine!
The last few years have seen a big time resurgence in the vinyl format, and Waxwork Records has been one of the leading companies driving that resurgence. Earlier this week they revealed that Creepshow will be their next LP release, adorned with this incredible artwork from "Ghoulish" Gary Pullin. Pre-orders begin April 1st, and you'll find all the info you need to know over on Waxwork's website.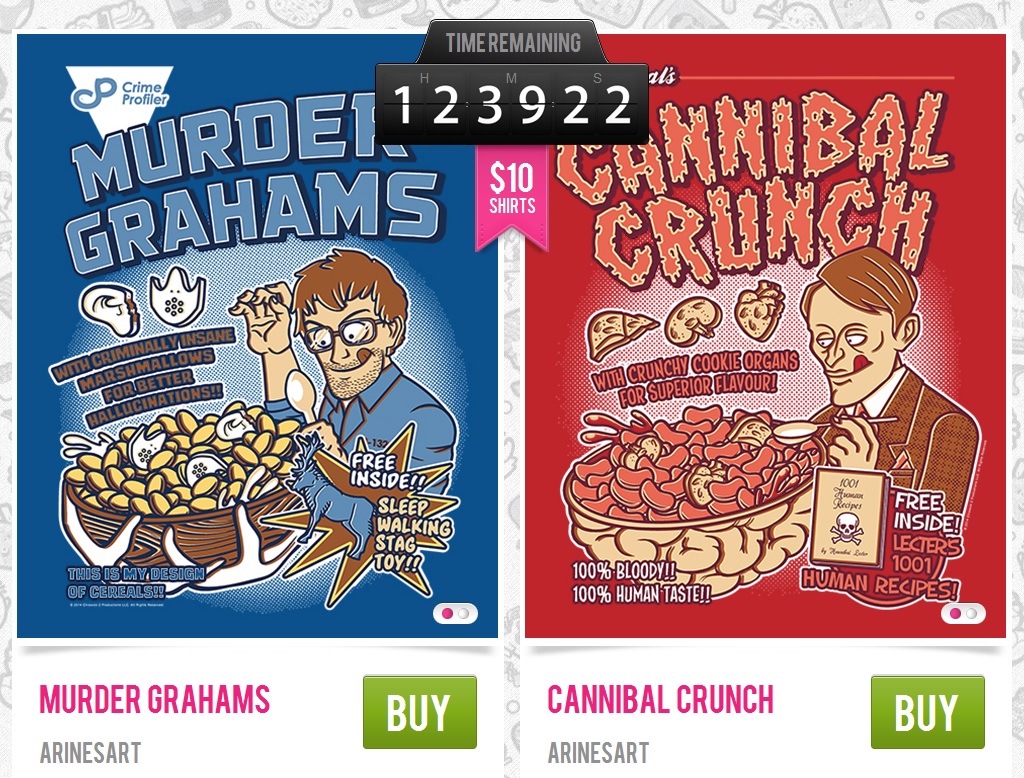 And now, back to talking about Hannibal, already in progress!
T-shirt a day website Shirt Punch put up these two Hannibal t-shirts today, which are available ONLY THROUGH TODAY. Head over to Shirt Punch to pick them up, before they go away forever!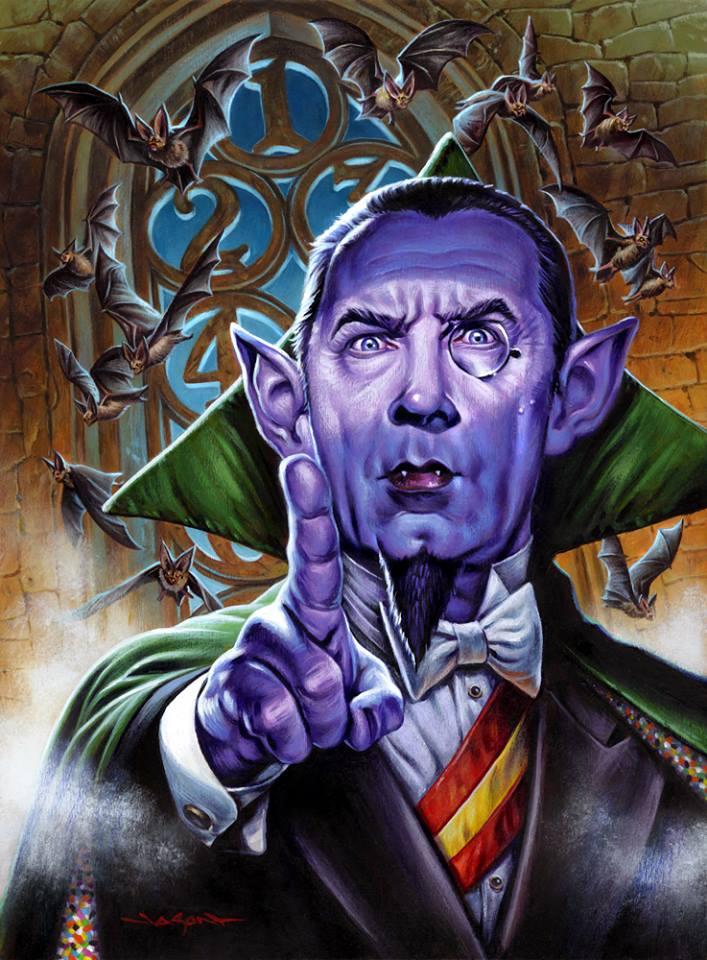 As far as I'm concerned, Jason Edmiston is the king of horror art, as he's proven time and time again. I fell in love with Jason's art thanks to a Cereal Monsters-inspired piece he did a few years back, which fused together the Universal Monsters with the likes of Boo Berry and Count Chocula, and this new piece is very much cut from the same cloth, fusing together Dracula and Sesame Street's Count von Count. It debuts and goes up for sale at this weekend's Monsterpalooza convention, in California.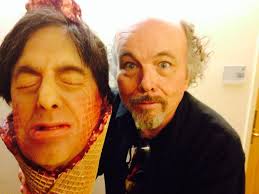 Remember how I was going on and on about my love for Ice Cream Man earlier this week? Well, coincidentally, this picture popped up on my Facebook feed the day after I wrote the post, and it was taken at last weekend's HorrorHound convention. Apparently, Clint now tours the convention scene with the original human ice cream cone prop from the film, which he allows fans to pick up and hold. It was about a year ago that I put the film's makeup effects artist, Mark Garbarino, back in touch with Clint, and Mark told me back then that he was still in possession of the prop. I can only assume that it was the reunion that I arranged that allowed for Clint to get his hands back on the prop, so it's pretty awesome to see a picture like this. I will hold it before I die… mark my words!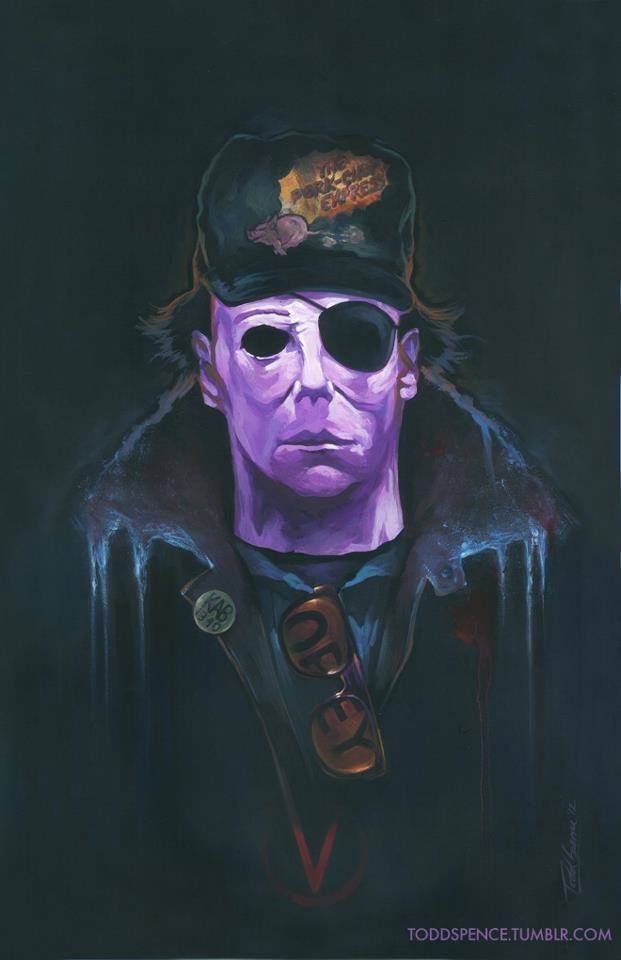 And finally, this awesome piece of John Carpenter tribute art from Todd Spence really caught my eye, as it fuses together some of Carpenter's best films. Obvious references include Halloween, They Live and Escape from New York, with other shout-outs to The Fog, The Thing, Christine and Big Trouble in Little China. You can pick up a print of the art over in Todd's Society6 shop!
Support Halloween Love
If an item was discussed in this article that you intend on buying or renting, you can help support Halloween Love and its writers by purchasing through our links:
(Not seeing any relevant products? Start your search on Amazon through us.)