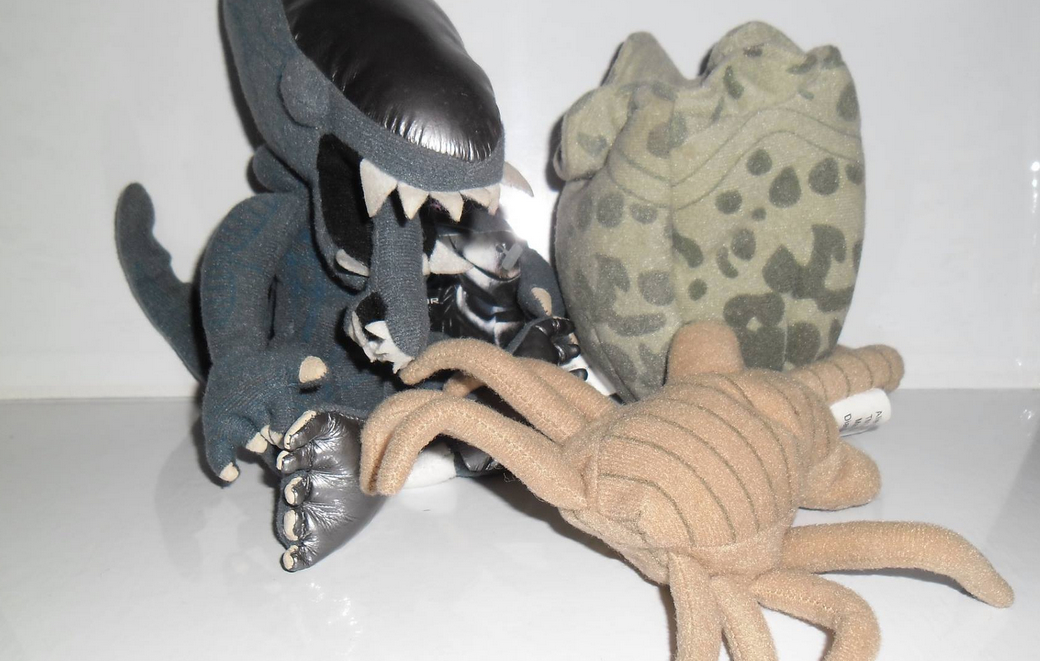 When you have a passion for movies, TV shows, books, comics and characters like we all probably do then more often than not that passion also extends into the realm of toys and collectables. They seem to go hand in hand with most people I've met over the years and there really is some wonderful stuff out there that is constantly pulling your wallet out of your pocket like an unseen evil force …
In this the first of an ongoing regular feature I'm going to corner fellow collectors and get them to reveal their favourite items, toys and collectables.
Anything can be featured with the only rule being that it (obviously) has to be linked to horror, Halloween or anything spooky and strange …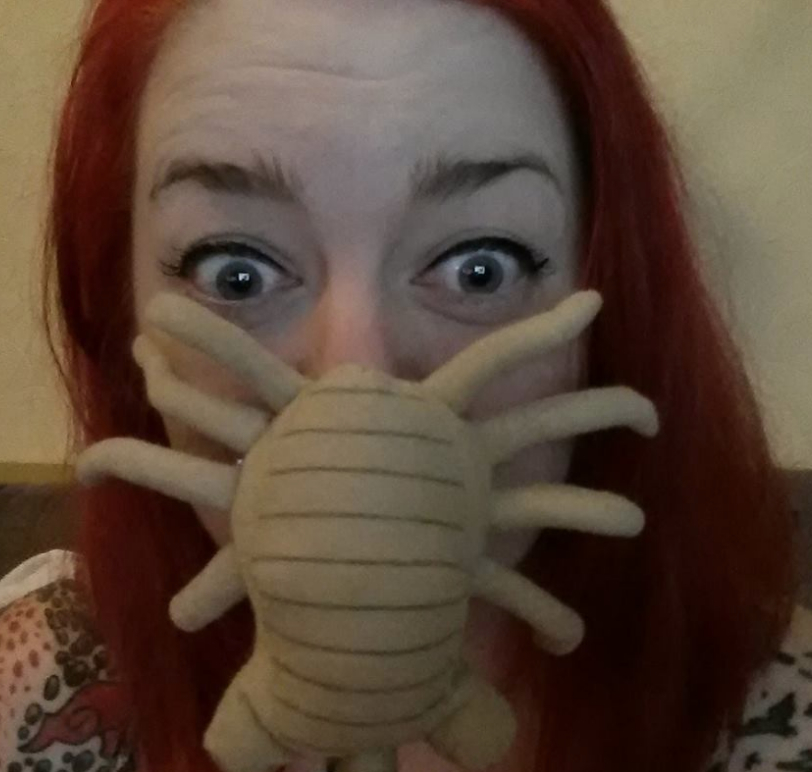 My first victim is Kasia a 36 year old photorealistic portrait painter who also dabbles in beautiful artwork for children based on cartoon characters and can also be found creating stunning wall murals from time to time.
Kasia has a collection of awesome things that could make you cry with joy … I've seen toy shops with less items than she has in her living room alone. What makes her collection even more impressive is that much of it was spotted and snared in charity shops, thrift stores and car boot sales.
This list could have been 100 items long but after much deliberation she narrowed it down to 10 prized possessions. Here she is to reveal more about her favourite spooky treasures …
1. Mez-itz Cinema Of Fear box set.
"I found these in a local Sci-Fi and collectables shop here in Plymouth that is now long gone. We don't have many in this area and it was a great shop which I still really miss years later. I love these because they have a simple 'Lego' vibe going on, they look strangely child appropriate despite the subject matter and the design of the box means everything looks perfect on display. I'm very much a keep things 'mint in box' girl when possible."
---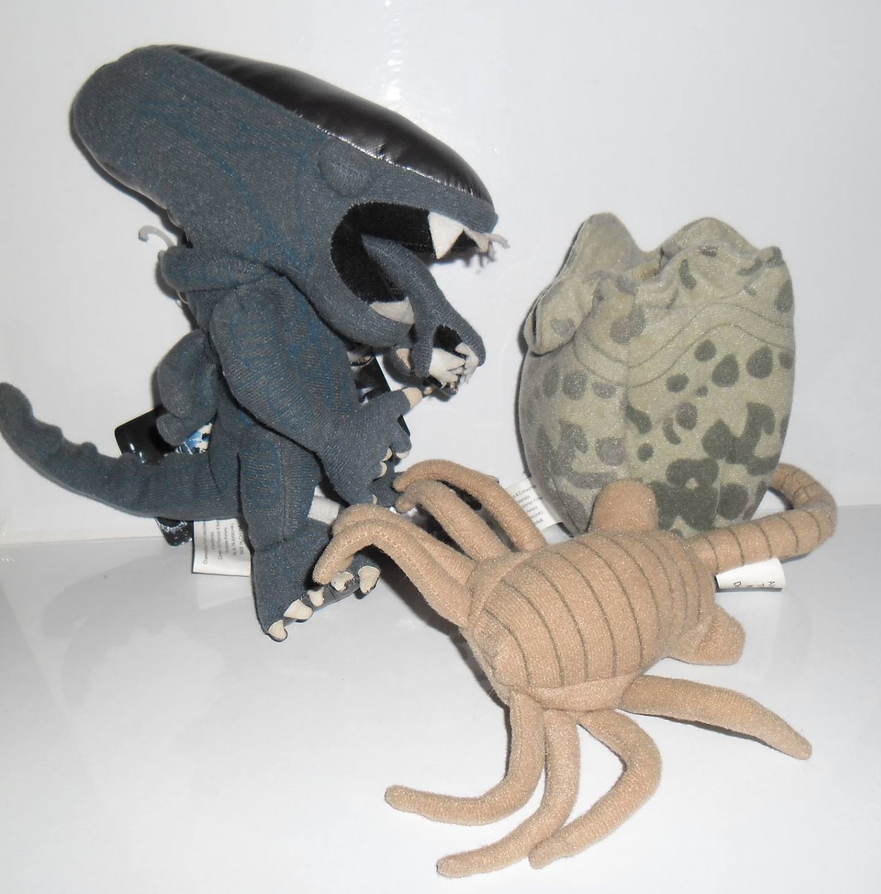 2. Plush AVP Alien + Facehugger with egg.
"These were a Christmas present a few years ago and again I love them due to the crazy combination of being cute but based on terrifying creatures. In my opinion you can't beat cuddly toys that are based on horror movie characters, they need to do more … I'd love a really well made soft Jason Voorhees in the future, does that already exist?"
---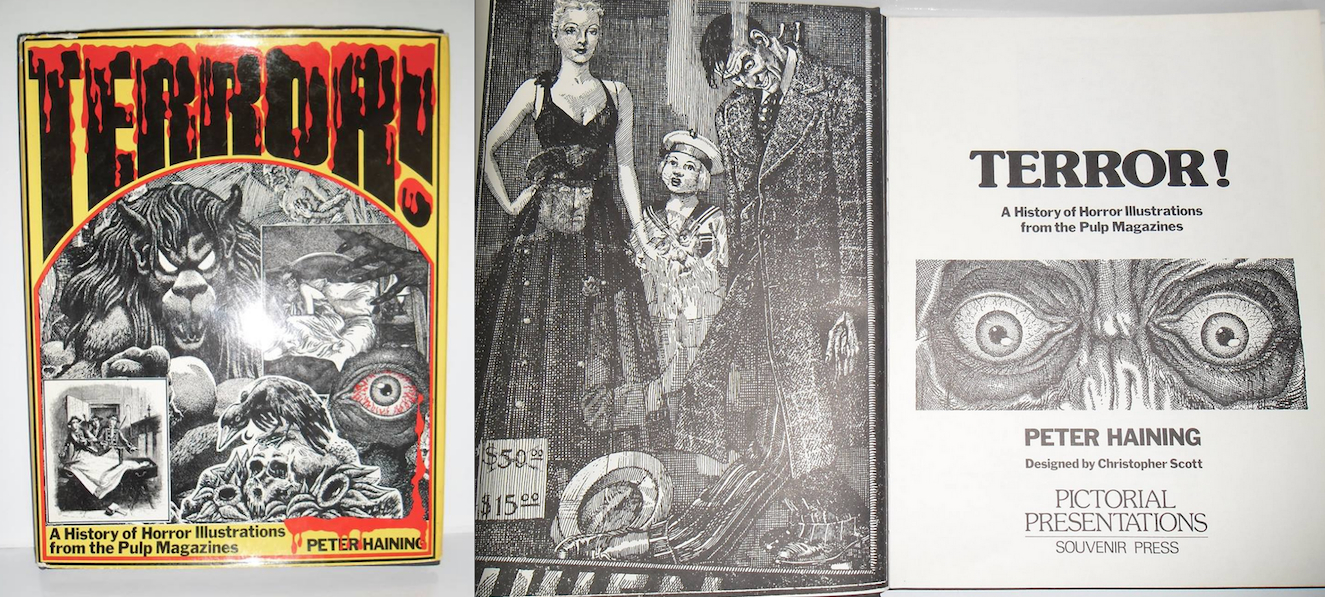 3. Terror! A History Of Horror Illustrations From The Pulp Magazines.
"I picked up this fascinating book in a charity shop for just £1 … It's packed with classic articles and some beautiful pictures, definitely one of my favourites. Charity shops are amazing places to me, mostly filled with junk but every now and then you find hidden gems and that's what keeps me coming back again and again, the thrill of the hunt. Every box is worth rummaging through, every shelf of books worth exploring."
---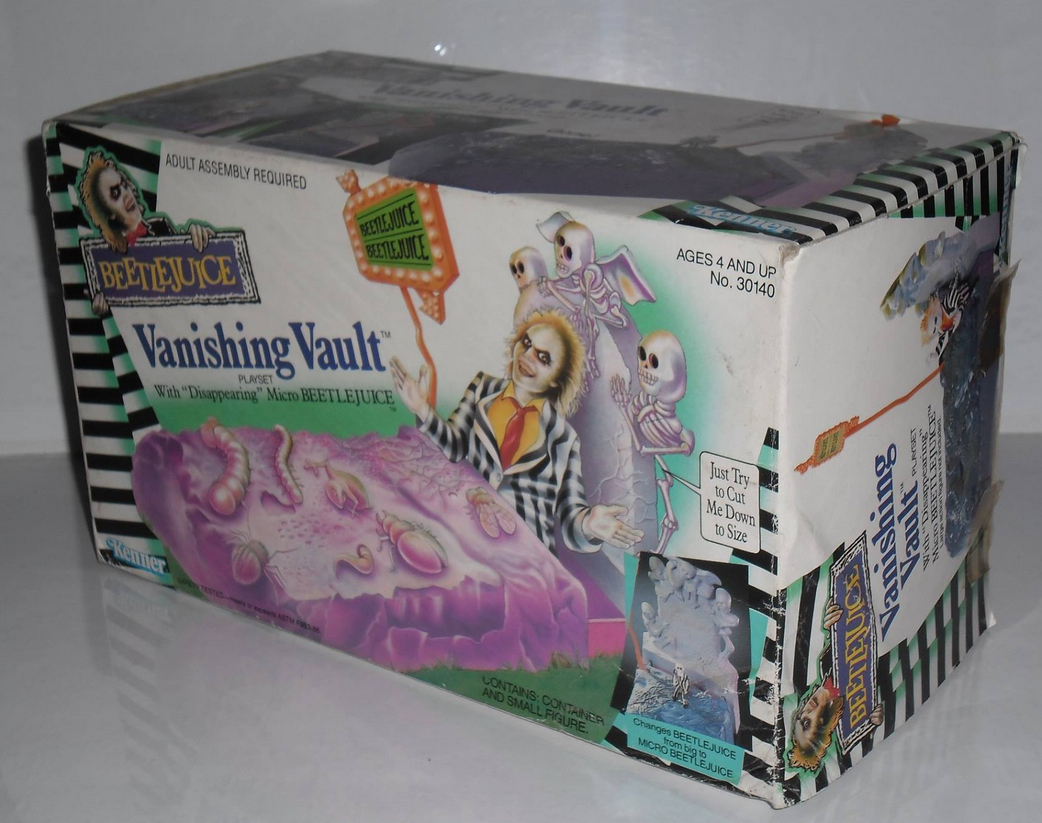 4. Beetlejuice Vanishing Vault toy.
"I have several loose Beetlejuice figures and toys but this is my favourite. I believe it was given to me as a present and purchased from a specialist toy store. The box has faded on several sides suggesting it has spent some time in a window on display but the front of the box is still nearly perfect and I love the painted graphics / artwork it features. The playset hasn't been assembled at all and I've been tempted many times to put it together, especially considering the box wasn't sealed when it came into my possession. It includes a very cute and detailed mini Beetlejuice figure inside which is just the sort of thing I find cool. It's gross, a bit weird and yet again, very much aimed at kids … I love it!"
---
5. The Nightmare Before Christmas toys.
"I picked up most of these in a strange little antique shop here in Plymouth that sells a nice range of very old stuff and some more modern toys and figures. I tend to buy the slightly more random and spooky characters featured in the film as I love their unique looks and the designs. My favourite piece is the Wolfman but I'm also very fond of the Mayor of Halloween Town."
---
6. Tragic Toys For Girls And Boys box set.
"More crazy stuff from Tim Burton. I picked this up because 'Junk Girl' and 'The Boy With Nails In His Eyes' are just so amazing, I love them! I'm not so keen on 'Oyster Boy' but he's trapped in the middle of the box with them so I do my best to love him as well. This has remained unopened because like the Mez-itz you can clearly see what's inside and it looks great on display. I would definitely collect more of these if I ever get the chance."
---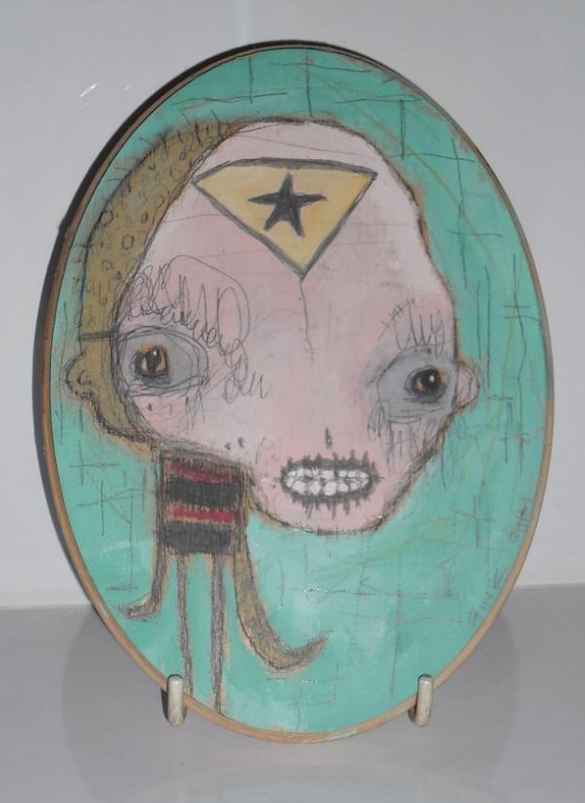 7. An original Gus Fink painted wood plaque.
"I got this off ebay a few years ago for a very reasonable price considering it's original art. I just adore its unique look and creepy beauty and ever since it arrived he has been given pride of place on my mantlepiece. As you can probably tell by now I like odd and strange things and this is VERY odd but it's probably one of my most prized possessions and I totally believe that Fink is going to become huge in the very near future."
---
8. Assorted Skull Toys and Items.
"I love spooky things and what's more spooky than skeletons and skulls? They are timeless images which are just so adaptable and iconic. Some of the things here are cute, some are creepy but most are just very cool. I've included my skull Pez dispenser which is just one from my fairly large Pez collection … I don't buy many Pez brand new and prefer to discover them second hand in shops and at boot sales. I think I have just over 100 now and skull guy here is one of my favourites."
"The large black skull is another favourite and is actually an ashtray which was bought for me by a friend who knows about my love of creepy stuff. I don't smoke but it's perfect for being displayed and I'd never let anyone flick ash into something so amazing anyway!"
---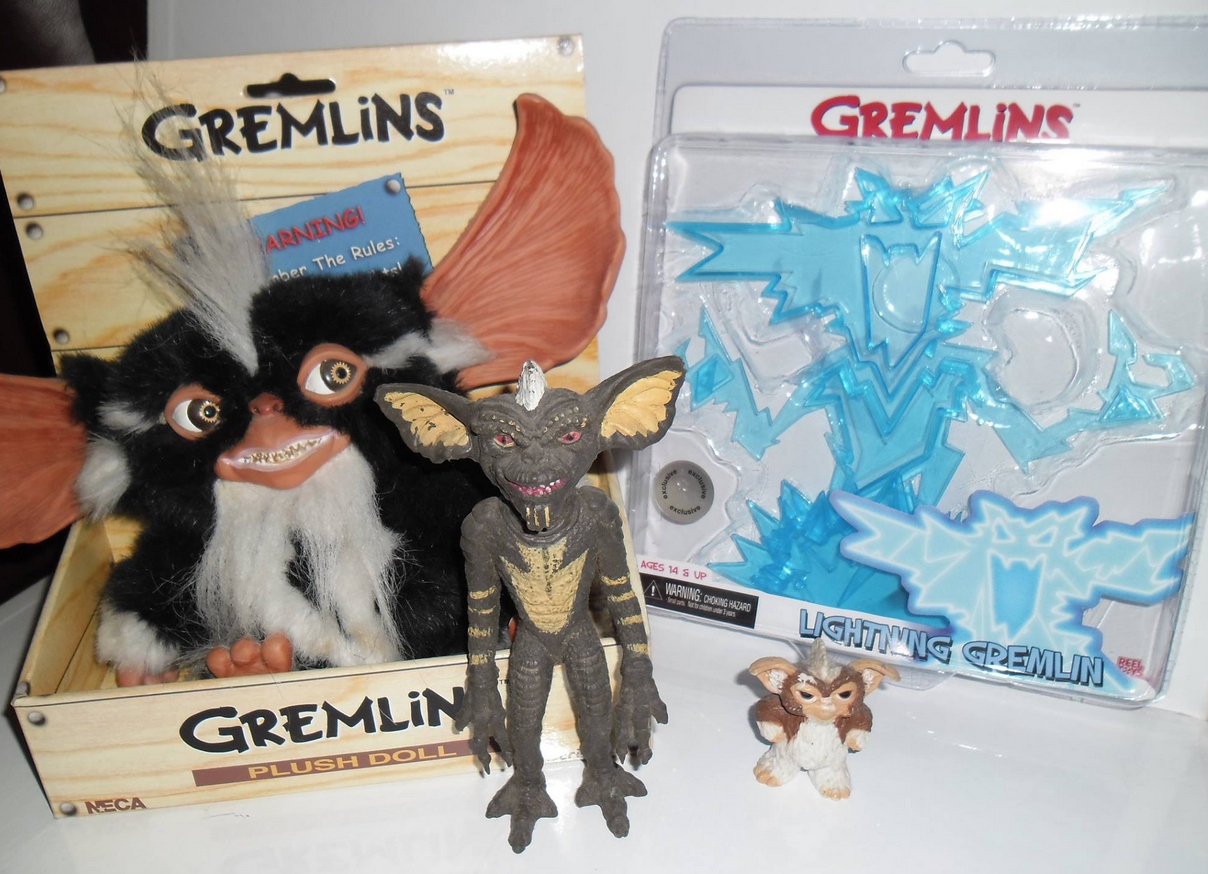 9. Gremlins toys / Bad Guys!
"I have several Gremlins toys but as you can see when I buy Gremlins I go for the bad boys! They just have far more interesting expressions and an overall look which really shows their characters, to me that makes them more appealing toys. I especially love the unique look of the recently released Lightning Gremlin … it's such a random character and it's just so cool that they made the effort to create a toy of him which is really accurate. It's actually one of my all-time favourite items now."
---
10. Saw – Novelty voice memo recorder.
"I really rate the original Saw movie and this was a gift from a friend who was aware of that, I'm especially keen on the Billy puppet that Jigsaw uses so this item became an instant favourite when it came to live with me. It still works perfectly and has become a device for my boyfriend to leave silly messages on whenever he gets the chance. I even dressed as Billy for a Halloween party with full make-up a couple of years ago while all the other girls turned up as predictable sexy Vampires"
Support Halloween Love
If an item was discussed in this article that you intend on buying or renting, you can help support Halloween Love and its writers by purchasing through our links:
(Not seeing any relevant products? Start your search on Amazon through us.)