Elephant in the Room is a series of interviews with people made famous by their roles in horror movies. But we're not going to talk about that. Nope. We're not going to mention those horror movies. We're going to take a slight departure from asking the typical questions and instead delve into what their lives are like right now. Naturally a link will be provided and I encourage you to check out all of their work, including what will sometimes be a vast array of horror films.
For the first installment of Elephant in the Room I bring you Christine Elise McCarthy. Christine has just published a new book titled Bathing and the Single Girl which can be purchased by clicking the link.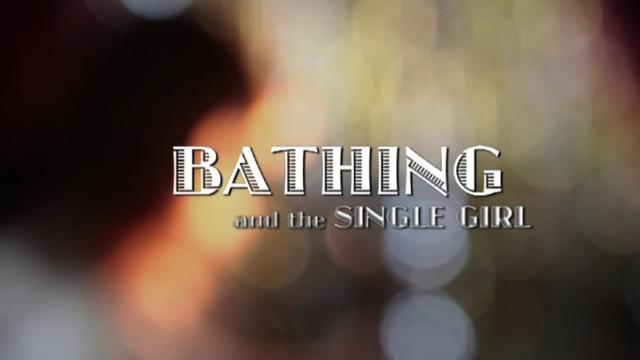 HL: What got you interested in writing?
CEM: I have always been interested in writing – ever since grammar school. I have two unfinished novels floating around in my garage. One was rom the fifth grade called JOSH – about a pair of Golden Retrievers & a series of gruesome accidents that befall them – not sure WFT that is about and another is about 400 pages – so far – about an 11 year old growing up with an alcoholic parent. Also – very dark.
HL: Why this book? Why this subject?
CEM: A few years ago, my screenwriting partner challenged me to write a short piece for a show called Four Stories & a Cover at the UCB Theater here in LA. They required a true, comic essay about your life. I wrote a piece that they accepted & the night I read it for the audience, they asked me for a title. I quipped, "Uhm – Bathing & the Single Girl?"
After I did it, someone suggested I do it again & tape it so that I could use it in my acting career as evidence of my comedy skills. So – I did. Then a cinematographer I know saw that & said, "That is hilarious but the footage is hideous. You should make it into a short film." So – I did. That ten minute film went on to screen at over 100 film festivals and, eventually, someone suggested I expand it into a novel. So – I did. The whole process from essay to film to novel was a domino effect of suggestions made by others. Now, someone just needs to suggest I win the lottery or land a critically acclaimed TV series. The film, by the way, can be seen on the book's site.
HL: Did you use elements from your real life? Are any of the experiences your own?
CEM: They say all first novels are autobiographical & the subject matter of Bathing & the Single Girl is very personal in nature but the book is fiction. I knew nobody would believe that and that disbelief is, actually, pretty insulting. It is saying that I am incapable of creating original scenarios and that the believability of the stories in my book is due in no part to any skill I might have as a writer but rather they smack of reality because they ARE reality. Of course, I have shared some experiences with Ruby, the lead character in the book, like fearing unemployment & being broke & awkward sex & personal insecurities. I think everybody has. I needn't write a confessional to portray those experiences. Still, because I knew nobody would believe it was all fiction and, in fact, folks might like it more if it were not fiction, I gave Ruby a lot of overlapping biographical details – she is an actress from Boston, our birthdays & the three dogs – that kind of thing. And sure – my own experiences absolutely color the tone of the book and two or three anecdotes might be largely true – but I will never admit which ones. I know from experience that the few true bits in there are most likely the ones people do not suspect and might even think are not plausible. That is just how it goes. Truth is stranger than fiction.
HL: How has the response to the book been?
CEM: Overwhelmingly positive. All the reviews are very generous & everyone seems to find the book hilarious – which was my sole goal – to write a book that made people laugh. It is not intended as any kind of commentary on relationships or loneliness or anything else. It was meant to cure one thing – not laughing. If you are not laughing – read my book. You will find yourself laughing soon enough.
HL: Where can we find the book?
CEM: Amazon.com, Barnes & Noble.com, i-tunes and most other online book retailers. It is available in paperback only through Amazon & in a few, regional indie bookstores. Those stores are listed on Bathing Book.
HL: Do you plan to write another?
CEM: Yeah, sure. But this took two years to get out into people's hands and it has been out for just under two months. I am still devoting time to get this one read by as many people as possible!
HL: You also seem to be a bit of a foodie! Do you create your own recipes? What got you interested in that?
CEM: I am a bit of a recluse but I enjoy cooking & eating and photography. My photography can be seen here at My Pin Up Art. For a while, I would just whip up delicious dinners for myself & then photograph them as a way to play with my cameras. Food had become the most interesting thing – visually, in most of my life. That can happen when you seldom leave the house. I'd post the prettiest images on Facebook & was always asked how to make what I posted. So – one day, on a whim, I started the food porn blog. I create a lot of the recipes, usually inspired by ingredients I happen to have around or by something interesting I found at the market. Sometimes I tweak recipes I see on Pinterest or I try to recreate something I had at a restaurant. I was a 25 year pescatarian until this year. Fukishima & the BP spill have gotten me off fish now, too. So – finding interesting things to make within these parameters is also a fun challenge. Ultimately, I would like to be vegan…but I am still working in that direction slowly.
Follow her on Facebook – facebook.com/christine.elise.mccarthy / facebook.com/BathingandtheSingleGirlTheBook
Follow her on Twitter – twitter.com/celisemccarthy
Support Halloween Love
If an item was discussed in this article that you intend on buying or renting, you can help support Halloween Love and its writers by purchasing through our links:
(Not seeing any relevant products? Start your search on Amazon through us.)