We've reached the end of another week – thank god! – which means it's time to once again take a look at the coolest, weirdest and/or most awesome images that I've stumbled across on social media this past week.
So let's get right to it, shall we?!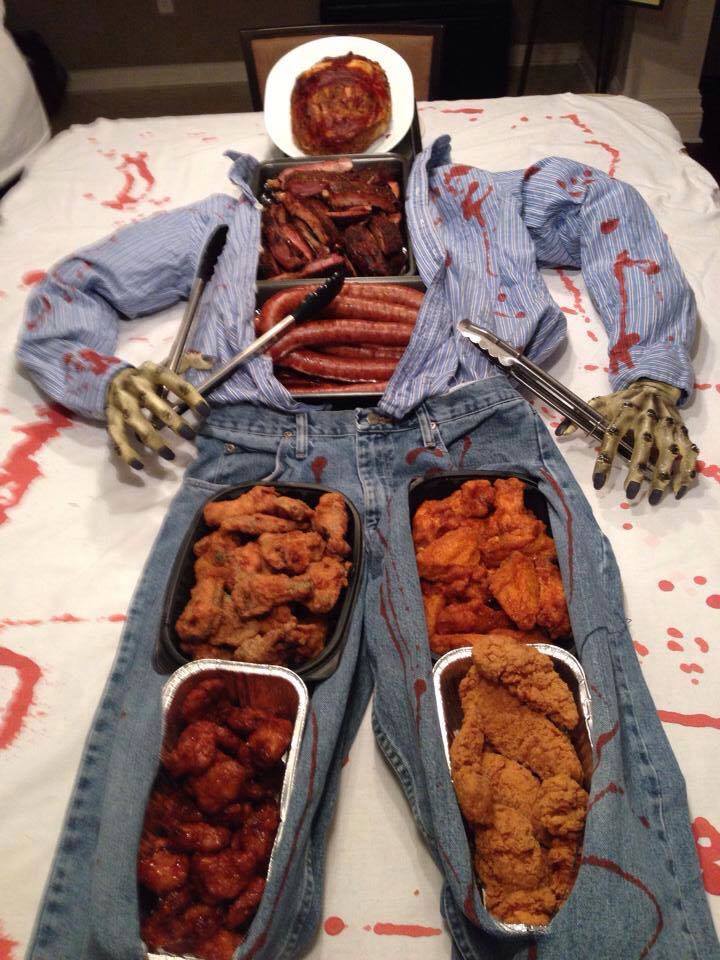 In preparation for The Walking Dead's fifth season premiere (read our recap!) this past Sunday night, super-fan Kim Atkinson Fiorini and her family whipped up this incredible celebratory feast, using the various meats they prepared to create a disemboweled zombie victim. I'm a vegetarian, but even I can appreciate how epic this is. Suddenly, the premiere party my wife and I held for ourselves doesn't seem so awesome anymore!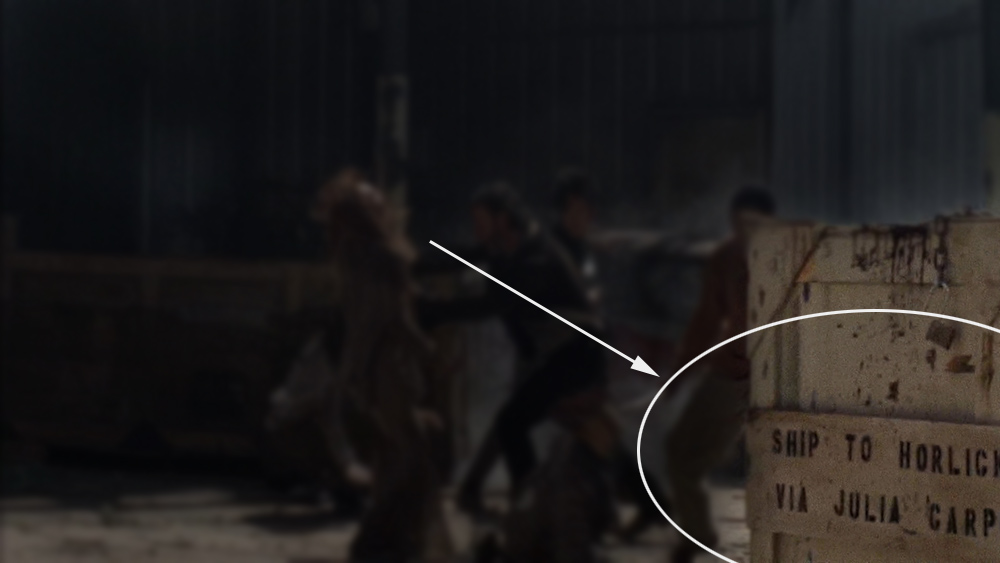 Speaking of The Walking Dead, did you spot this fun little easter egg in the premiere? Yes, that is indeed the infamous crate from Creepshow, and it's makeup effects artist/executive producer Greg Nicotero who is responsible for the homage. Nicotero directed the episode, and this is one of many little treats he's thus far worked into the show. Past homages have included cameos from several of cinema's most iconic zombies!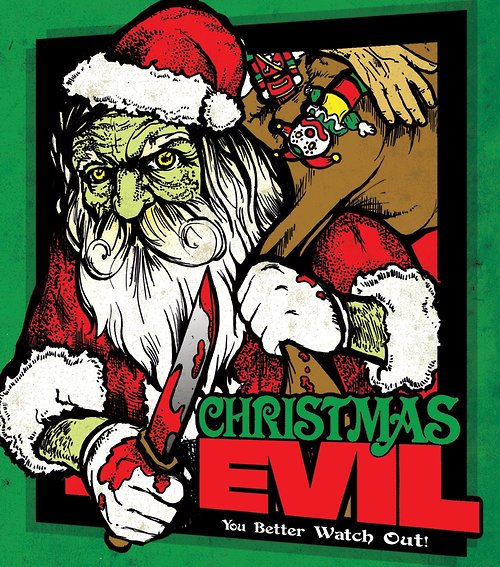 Not to jump the gun here on the holidays, but Vinegar Syndrome announced this week that they're bringing 1980's Christmas Evil to Blu-ray on November 18th, with all previous special features joining up with a brand-new 4K transfer. I'm sure we'll be talking more about the movie as we get closer to Christmas so for now I'll just say this; if you haven't seen this holiday horror gem, that's something you're going to want to correct this year!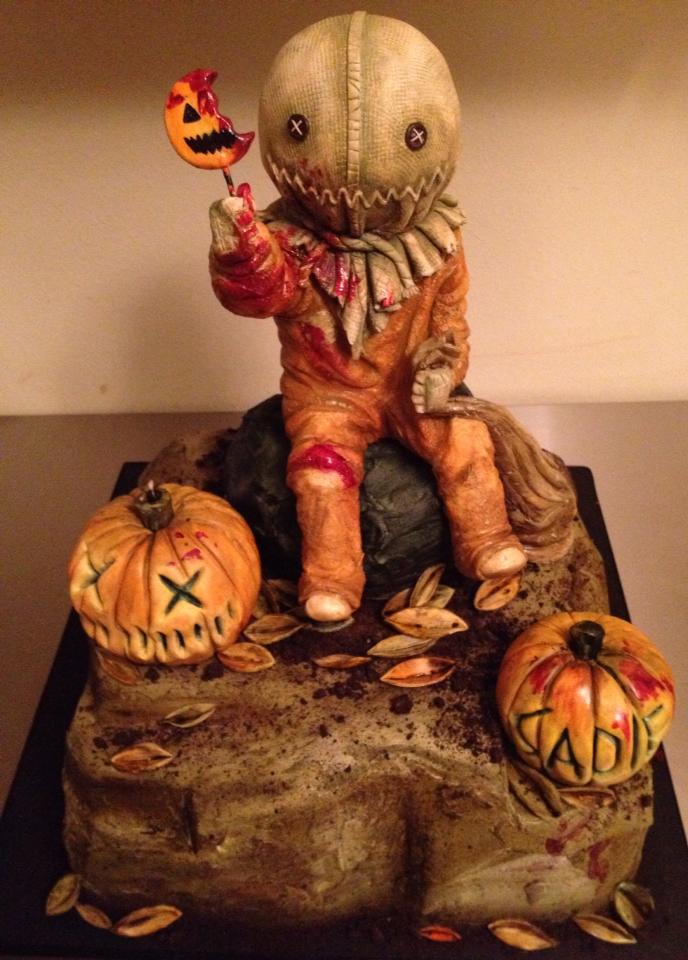 But that's enough about Christmas, for now at least. On the Halloween front, cake-makers Sideserf Studio recently showed off this beauty, which is pretty much the ultimate Halloween treat. Yes, what you're looking at is indeed a cake, depicting Trick 'r Treat's Sam in all his glory. I don't know who could ever bring themselves to slice into this bad boy and eat it, but I'm not sure I'd be able to even be in the room when such an atrocity was being committed. Is this thing beautiful or what?
The website Strange Kids Club is having a whole lot of Halloween fun this month, and yesterday they put up for grabs this special art print, designed by Glen Brogan. Limited to only 100, 'The Halloween Tree' is decorated with all sorts of horror icons, ranging from Pinhead to Count Chocula, and you'll find it only in their shop. Also for sale is a Mad Monster Party-inspired piece, also limited to 100.
I'll never be a fan of staged horror convention photo-ops, but I can't deny that this one is pretty cool. The annual Rock and Shock convention pops back up in Massachusetts this weekend, and on hand will be Brad Dourif, Fiona Dourif, Alex Vincent and even a screen-used Chucky doll – all of whom appeared together in the recent sequel Curse of Chucky. You can meet them all individually or take one of these group photos, made to look like you're all inside a Good Guys box. Hard not to love that!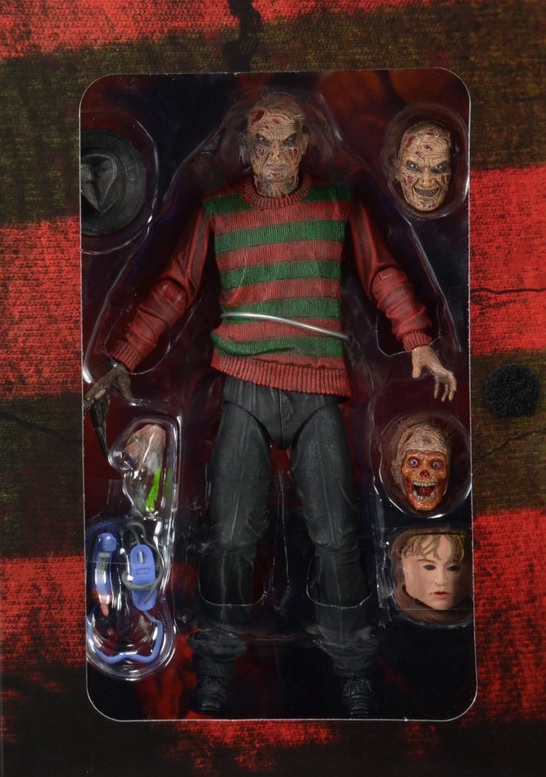 Over on their website this week, NECA unveiled a complete image gallery of their upcoming 30th anniversary Freddy Krueger toy, giving us a much better look than we had previously been provided. The 7″ figure is being billed as the 'ULTIMATE' Freddy toy, and I'm inclined to agree with the hype. Head over to NECA's website to see many more images of this must-own figure!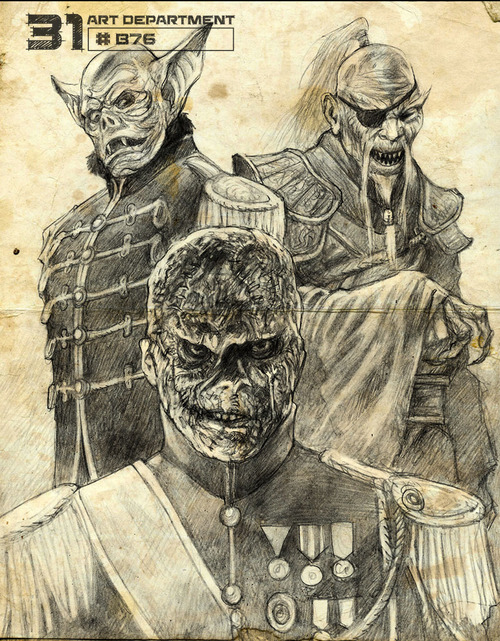 With only a couple weeks left in the fundraising campaign for Halloween horror flick 31, Rob Zombie showed off yet another piece of concept art for the upcoming film, though he refrained from revealing what exactly we're looking at. All we really know about the film is that it centers on five people who are kidnapped and trapped in a land called Murder World, where they have to fight for their lives in order to survive. If you haven't yet donated, head over to 31's FanBacked page to pitch in and learn more!
Support Halloween Love
If an item was discussed in this article that you intend on buying or renting, you can help support Halloween Love and its writers by purchasing through our links:
(Not seeing any relevant products? Start your search on Amazon through us.)