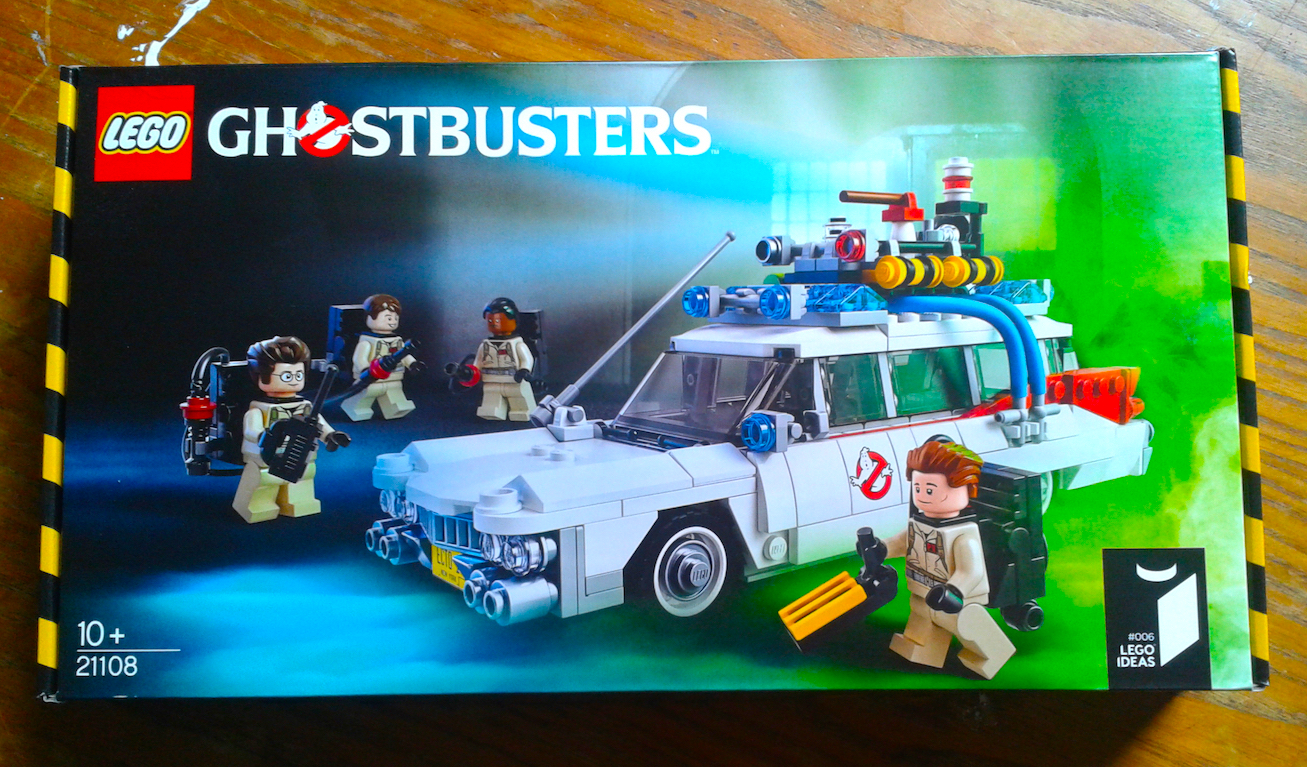 Ok, before we get started there's something I need to make clear – I don't DO Lego, and haven't touched the stuff since I was about seven years old. Even then I mostly ignored it and filled my time with other interests and activities.
Not because I had a short attention span as a kid or didn't enjoy building things (I constructed my fair share of giant Zoids and model kits) nope, for whatever reason I simply never climbed aboard the Lego train. My parents really tried to get me interested in these all-conquering little building blocks, but any sets I did get for Christmas and so on would end up unbuilt and mixed together in a giant pile of plastic at the bottom of an old laundry basket my mother gave me to store it in.
The weird thing is I REALLY admire Lego, and I love looking at the end results online, but I simply never had a passion for building it and NEVER desired owning a specific set … Until now.
Ghostbusters is just about my favorite movie of all time across every genre, so when Lego revealed the special edition Ecto-1, created via their 'Ideas' program, I suddenly felt the brick building itch! For the first time in my life I badly wanted to sit at a table and spend some time pushing it all together until I held something in my hands that hopefully looked like the picture on the front of the box.
So here we go – I have a fairly comfy chair, a packet of smokes, various beverages, a digital timer, the soundtrack to Rocky 4 AND a determination to build something sexy! I'm not stopping until the job is done.
Let's get this show on the road …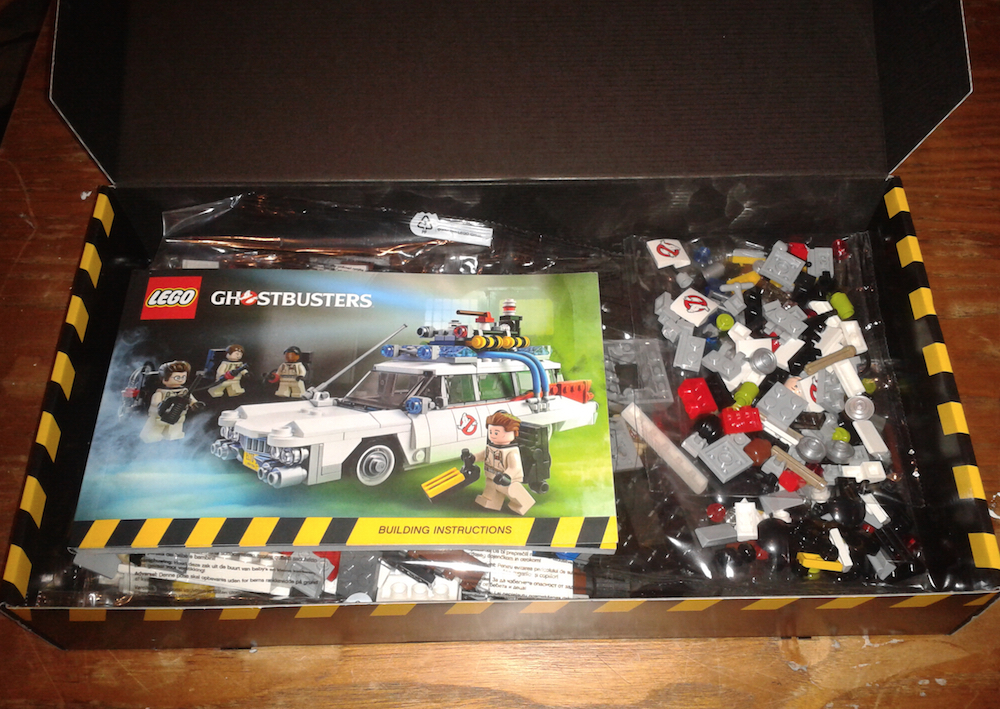 Time Passed: 1 Minute.
I don't know what I was expecting when I first opened the box, but what greeted me created a sense of mild panic. There were about seven sealed plastic bags filled with hundreds of tiny pieces that seemed to have been packed in a totally random order. I'm SURE there is method to the madness, but to a Lego novice like me, who has minor OCD issues from time to time, it was a daunting sight.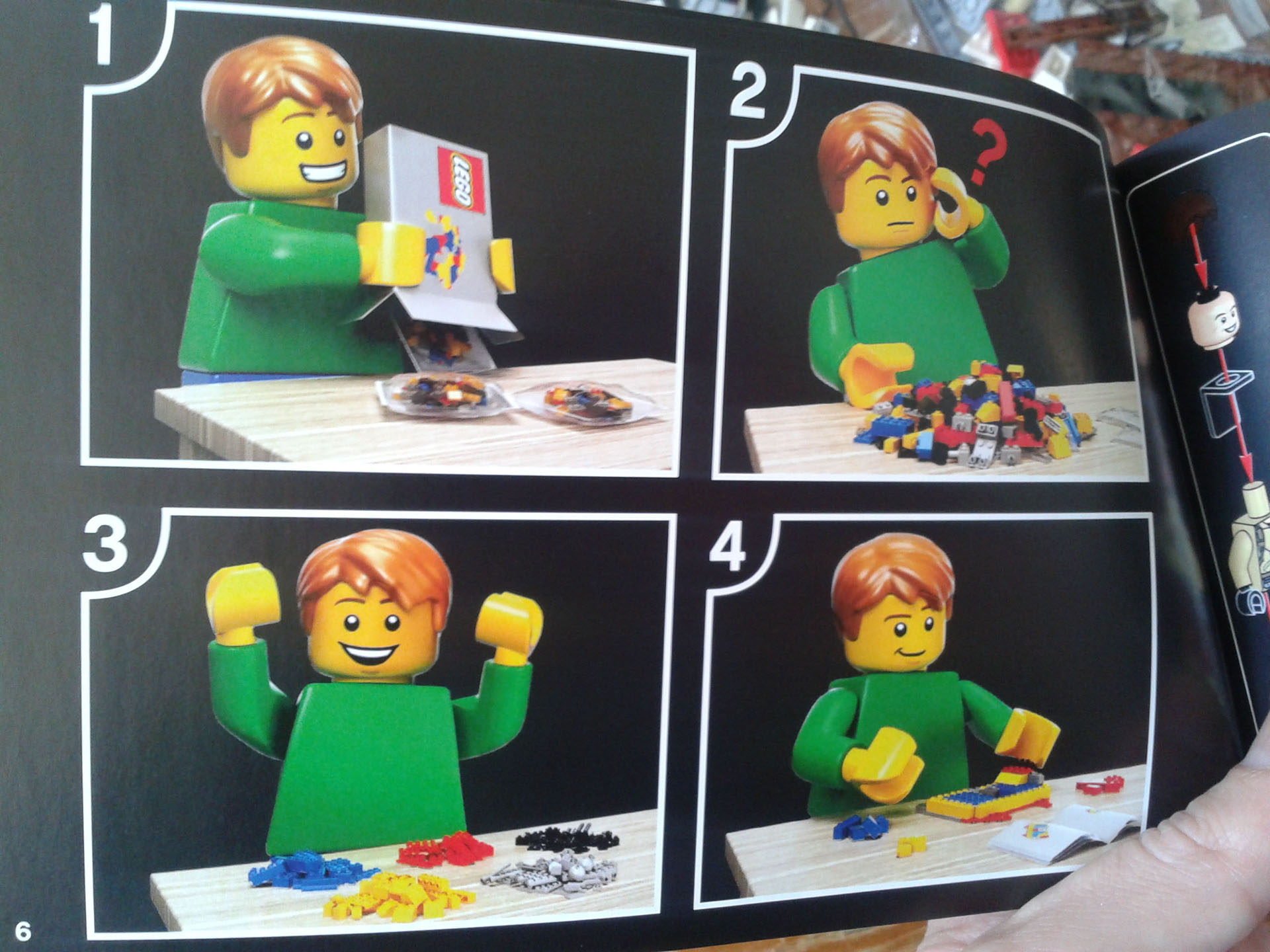 The instruction booklet featured a series of pictures showing a little Lego dude who looked just as concerned as I was – with the purpose of this page seeming to be a subtle suggestion that I should separate everything into neat color-coordinated piles of bricks to make life easier during construction. I was impatient to get started so ignored this advice and decided to just carefully pull open each bag at one end and pick out the pieces as I needed them.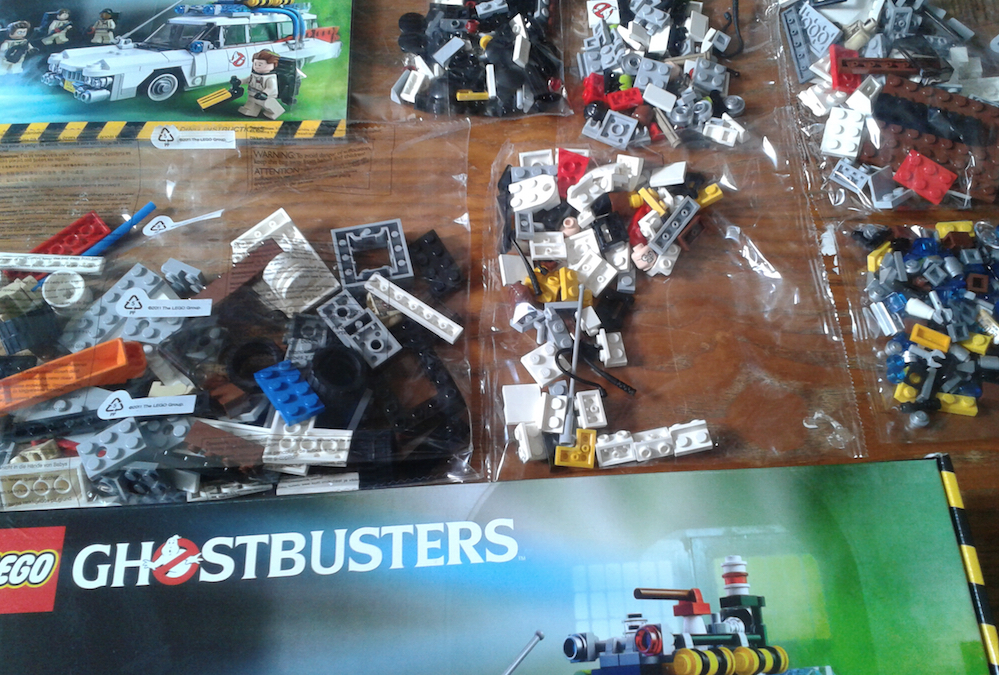 Time Passed: 5 Minutes.
Before I could get started on the Ecto-1, the instruction booklet silently informed me that the Ghostbusters themselves needed to be created first, along with their proton packs and a neat little display stand. Once again a strange and surprising wave of impatience washed over me, I was here to build a car DAMMIT! I sucked back a deep breath, started looking for some small plastic heads, and the project was under way! It was only four little Ghostbusters, surely I would have them completed in just a few minutes?

Time Passed: 60 Minutes.
Cigarettes Smoked: 3
So, an hour later and I'm already feeling the urge to kick over the table and do something else. The little guys looked great and making them went smoothly but the proton packs were very time consuming and I was still in the early stages, meaning every time I had to locate a little piece I would rummage through the still full bags over and over until I found what I wanted. Maybe I should have listened to the plastic dude who wanted me to separate everything!
I'm not sure what the hell is going on with Venkman's Lego hair but I can't lie, I felt like an excited child when I looked at them on the display stand fully equipped and ready to catch some ghosts. The level of detail was incredible, but they only have little legs – these guys needed transportation and it was up to me to make it happen!

Time Passed: 1 Hour 25 Minutes.
Number of times I had to tell my Girlfriend I didn't want help: 2
The early stages of the construction were dull and boring. The desire to stop for the day increased with each tedious rummage session through the bags, looking for a transparent piece of plastic the size of a flea's head! I get nostalgic for a moment when I spot a little wedge shaped computer terminal and a long lost childhood memory of seeing something similar in my unused Lego mountain suddenly springs to life in my mind.
What I'm holding so far looks nothing like my all-time favorite movie car but it's impossible not be impressed by the sheer technical planning that must go into the design of a Lego model such as this. Every tiny brick and piece has a purpose. Sometimes it's a visual purpose – sometimes it's there to stop the whole thing falling apart. I was admiring Lego more and more with each passing minute, but I wasn't truly enjoying using it.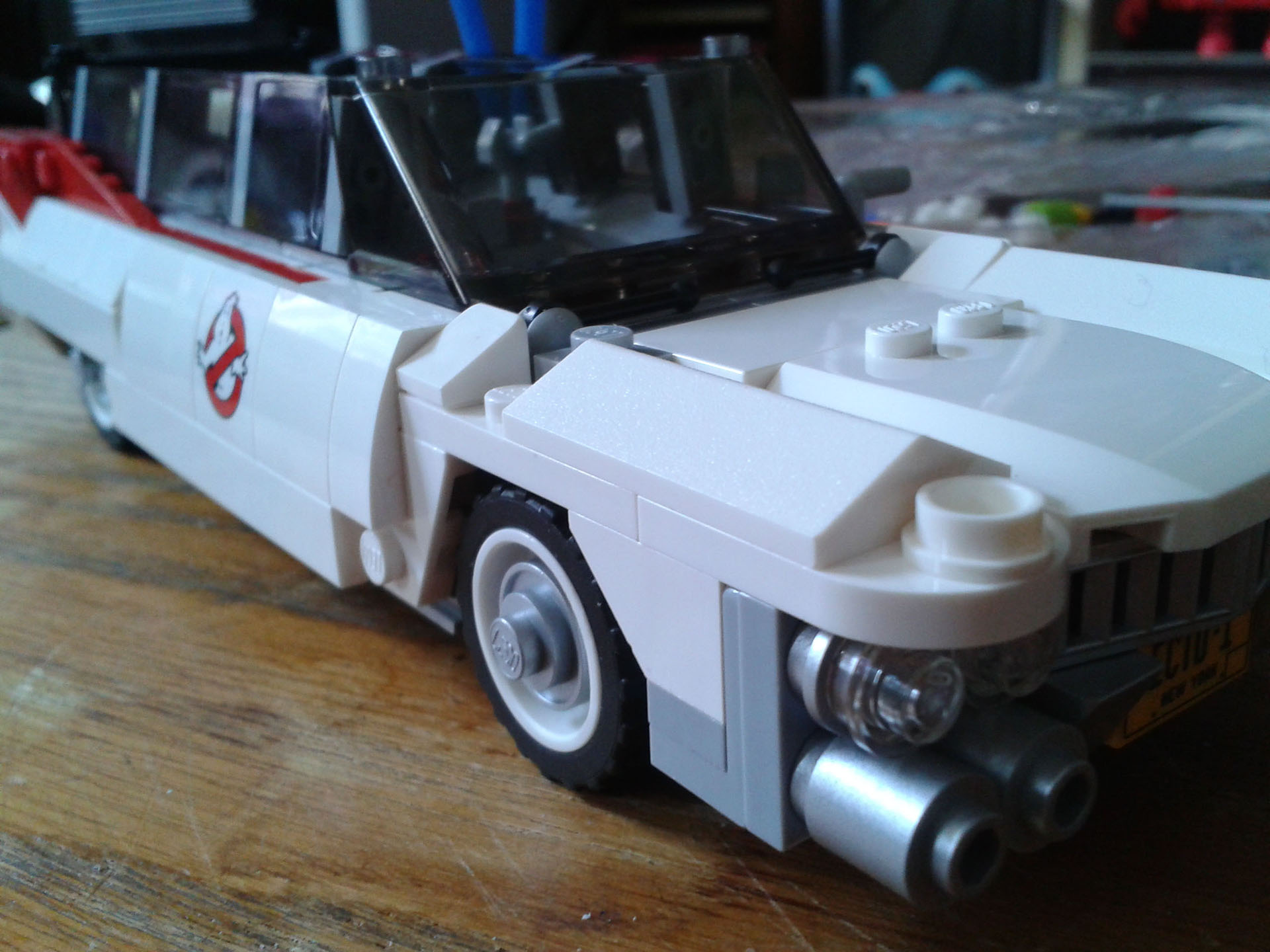 Time Passed: 2 Hours 30 Minutes.
Cigarettes Smoked: 6.
After a bathroom break and taking a moment to stretch my arms (while making a noise like a grumpy 80 year old), I resume the task. It's at this point that something strange happens – I become a bit robotic and start to actually enjoy what I'm doing. The search for each small piece takes seconds, I seem to instinctively know where to put it before the booklet can show me, and best of all I'm now holding in my hands something that looks like the Ecto-1. Pride in the creative process had infected my mind, is this what Lego fans feel regularly? It felt good.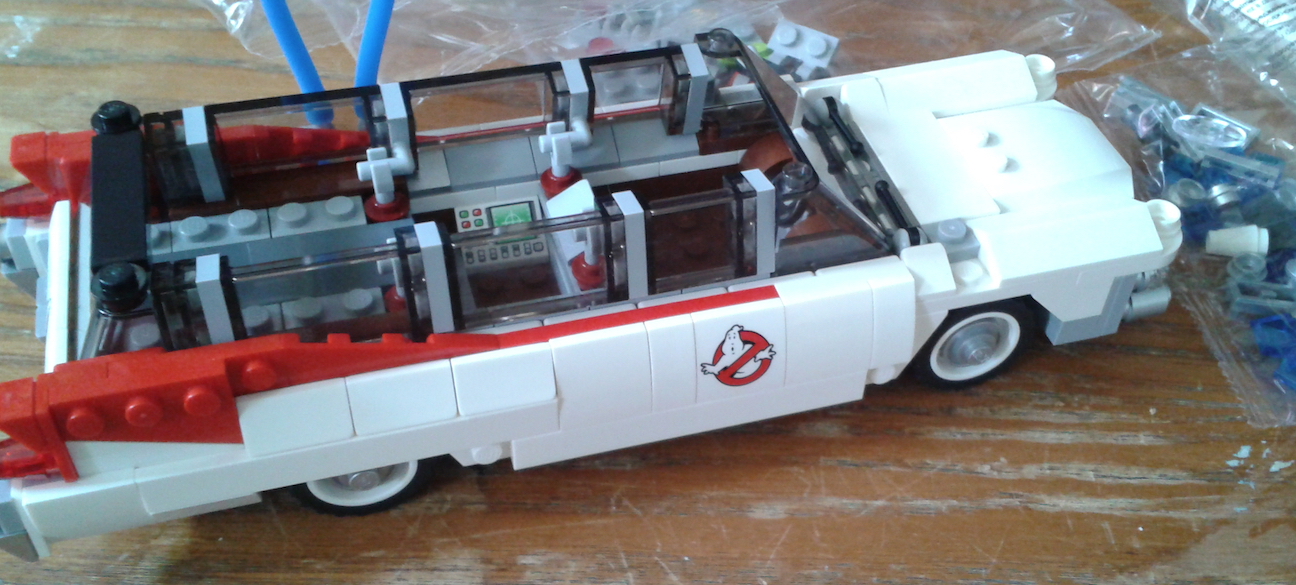 Time Passed: 3 Hours.
Energy drinks consumed: 3
Number of times the TV distracted me: 27
Nearly there! The body of the car was completed, only the insanely complicated and busy roof area remained. I'm still in the 'zone' but my back muscles are not happy with me! If I decide to do this on a regular basis I'm going to have to make contact with some experienced Lego builders and ask them how they sit when building. I SUSPECT sitting on the edge of my chair in a hunched position wasn't the smartest way to go, but I dare not move or stop now! One last push!

Total time taken: 3 Hours 47 Minutes.
Cigarettes Smoked: Too many.
DONE! The instruction booklet directed me to tuck the blue rubber hose under the roof equipment and that's it, the Lego Ecto-1 was complete. There were several small pieces left over which prompted me to spend 5 minutes nervously flicking through the instructions, just in case I missed anything, but I can only assume the machine that packs everything decided to give me some spares?
Nothing was missing, and it did indeed look EXACTLY like the picture on the front of the box. I was thrilled, elated, proud and a little bit exhausted. My lower back was on fire, my fingers had frozen into Lego building claws and I had smoked WAY too much – but you know what? In the end I had a lot of fun doing it.

I'd be lying if I said I have come away from this with a burning desire to instantly build more Lego models – I haven't. I purchased and built this set because of what it was, and how unique and exciting it was to me. The end result is fantastic and everything I hoped it would be, but I still feel like a part-time fan and a Lego outsider, maybe that's all I will ever be? Or maybe it takes more than one model to get bitten by the bug …
I'm now heading out to find some nicotine patches and a masseuse!
Support Halloween Love
If an item was discussed in this article that you intend on buying or renting, you can help support Halloween Love and its writers by purchasing through our links:
(Not seeing any relevant products? Start your search on Amazon through us.)