This past weekend saw my home town once again welcome the ONLY convention that reaches this corner of the UK – Dev-Con. It's primarily a Sci-Fi and comic book gathering with plenty of dealers and the occasional guest who appeared in Star Wars for about ten seconds, but to a horror fan like myself there isn't much to get excited about other than looking out for cosplayers dressed like Freddy Krueger.
My girlfriend is a relentless collector of old toys, retro junk and anything linked to 80s pop culture, so once again I was wearily dragged to the show and began the process of moving from table to table mentally PLEADING for someone to be selling something that would interest and excite me. I usually leave with exactly the same amount of money in my pocket that I entered with, but this Saturday was different – this Saturday I found some seriously cool shit and grabbed it all before running out of that sweaty hall as fast as my legs would carry me!
The items in question were unfolded promotional VHS case sleeves, which were sent to VHS rental store owners back in the day to help promote new movies when they arrived in the shop. They look exactly like the sleeves that were inserted into the front of VHS cases but they are completely flat with no creases at the spine section, and often have printed 'stamps' on the back which feature wording such as "Sample" and "Display purposes only. Not for rental or sale".
As a kid I remember going to our local store and seeing them ALL over the walls, creating a kaleidoscope of imagery and artwork that just sent my imagination and excitement levels through the roof! I've said it before and I'll say it again … Being around during the golden age of movies becoming easily available through Betamax and VHS rental is something I will always treasure. From the smell of the musty shop lined with those large black cases, to the bonding I shared with my dad as we walked to the store together, it was a time in my life that just felt magical.
I think I'll always be a proud VHS junkie! From display standees to movies on tapes that I'll probably never use or watch, if I see something linked to horror from that era I'll nearly always end up walking away with it in a bag. I feel like I need to save these things, preserve them, and I don't think that will ever change.
I've found a few of these promotional sleeves over the years on ebay, but what made the examples I unearthed on Saturday even more interesting was that many of them were still attached to press release letters from the UK offices of the movie studios distributing them. To ME, that is nuclear meltdown level awesome!
So, what did I find? Let's take a look …
First up was this nostalgia busting sleeve and press release for Fred Dekker's The Monster Squad! The letter is five pages long and features a wonderfully written synopsis followed by a surprisingly thoughtful and detailed look at the production of this 80s classic. I believe the eye-catching logo featured below Craig Nelson's stunning poster artwork was only used here in the UK when the movie was released on home video, but please feel free to correct me on that one!
The next find was this fantastic sample sleeve and press release letter for Stephen King's underrated werewolf tale Silver Bullet. This film, along with An American Werewolf in London, were my first experiences of movies that featured werewolves in a mature and terrifying way. They were creatures that genuinely scared the crap out of me as a kid, and I can still vividly remember hiding my face behind the sofa cushions every time a transformation was about to happen. Good times!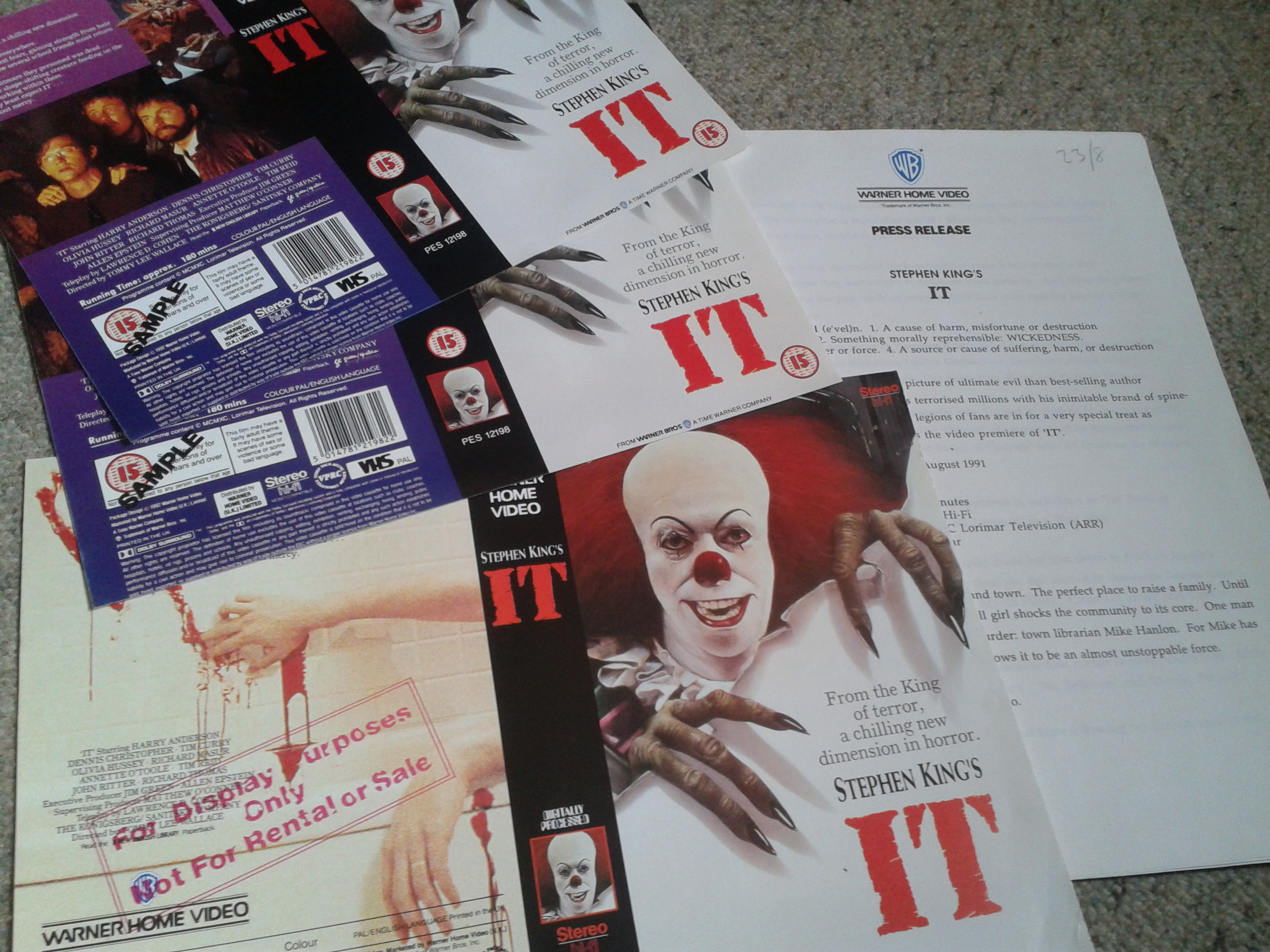 More Stephen King magic appeared in the form of several pieces that were used to promote IT, including a press release letter which revealed that a copy of the movie on VHS would cost the rental store owner £50 (a serious chunk of money back in 1991). This was attached to three display sleeves, with the large version being especially interesting because it was produced when the movie had yet to be certified, meaning there are no age symbols on the front or back of the sleeve, which is VERY unusual here in the UK.
I remember IT being heavily promoted over here as the rental release date approached, and I'll never forget that summer because my family stayed in a holiday hotel for two weeks during which we occupied a room that overlooked a rental store that had huge posters of Pennywise attached to every window! I loved the view! … My mother wasn't so keen.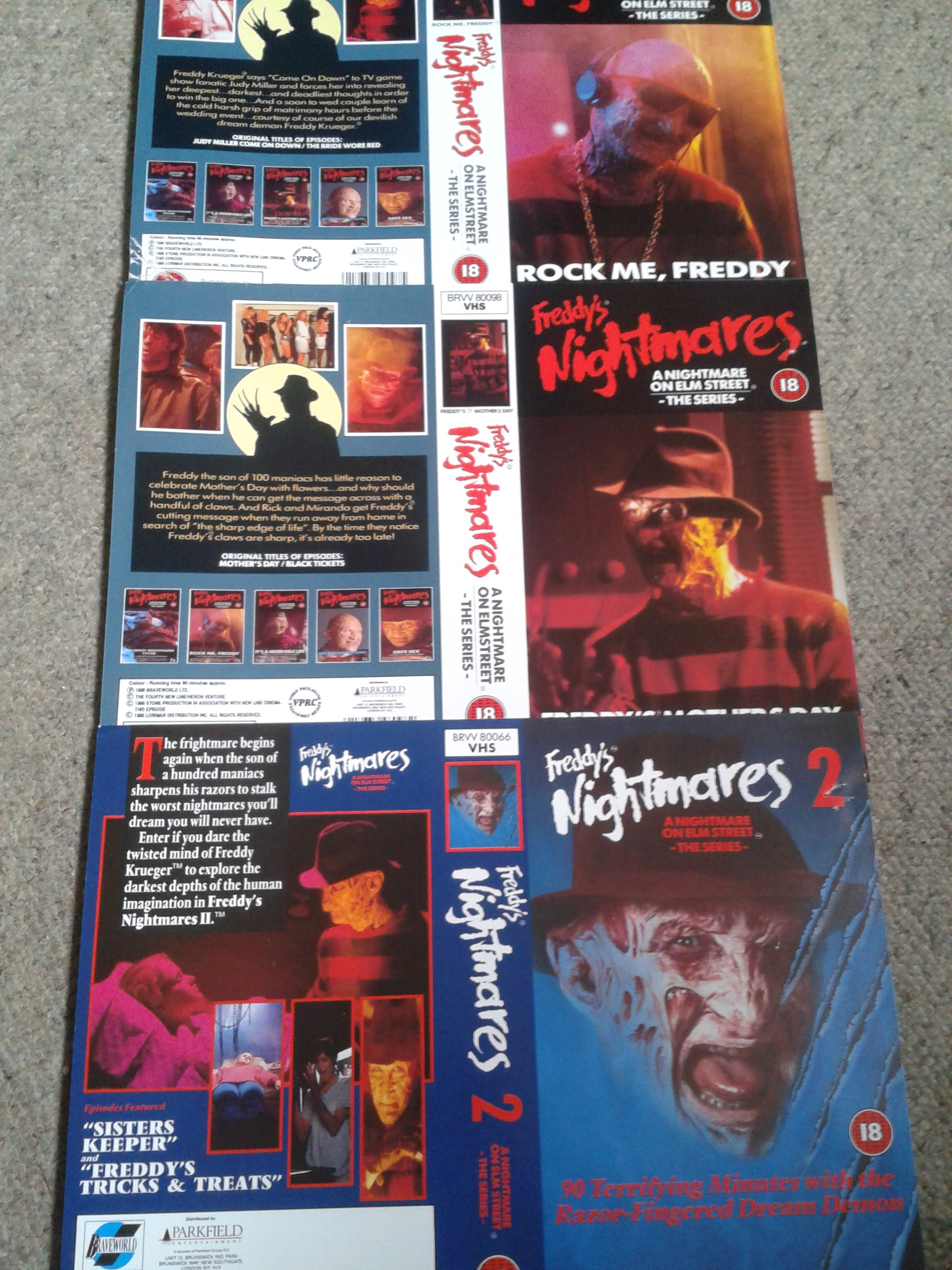 My personal favorite find of the day was probably these perfectly flat Freddy's Nightmares sleeves which have somehow survived the test of time in remarkable condition. The dealer I bought everything from is a regular convention seller, and I knew it was unlikely I would find items linked to the big horror franchises like Elm St. due to their popularity, so these were a VERY pleasant surprise.
It's the ghost with the most! MAN, I loved Beetlejuice as a kid. The flat sample sleeve for the movie remains in perfect condition, and when I pulled it out of the box I discovered it was attached to a press release and sample sleeve for vol 1 of the 1991 cartoon show.
As I reached the back of the box I was hoping to find just one more ultra cool horror movie set, and fate delivered in the form of several sleeves that were created to promote the first two Child's Play movies! The larger sleeve for the original Child's Play is once again not certified, while the smaller version carries the "15" certificate it would eventually be awarded. Both were attached to a one page press release letter.
The set also included a big and beautifully glossy sample sleeve for Child's Play 2 that has a warning printed on the reverse which appears to show that the sleeve was going to be used on copies of the film that were sent out to be reviewed. I wasn't a fan of this franchise back in the day, but I've grown to love that creepy little bastard and these were a perfect way to end my journey through that dusty box of VHS memories.
OH, I also picked up this sleeve and press release for Hulk Hogan's Rock 'N' Wrestling! … Because … Well, because it's awesome!
I HAD to save the Hulkster!!
Support Halloween Love
If an item was discussed in this article that you intend on buying or renting, you can help support Halloween Love and its writers by purchasing through our links:
(Not seeing any relevant products? Start your search on Amazon through us.)