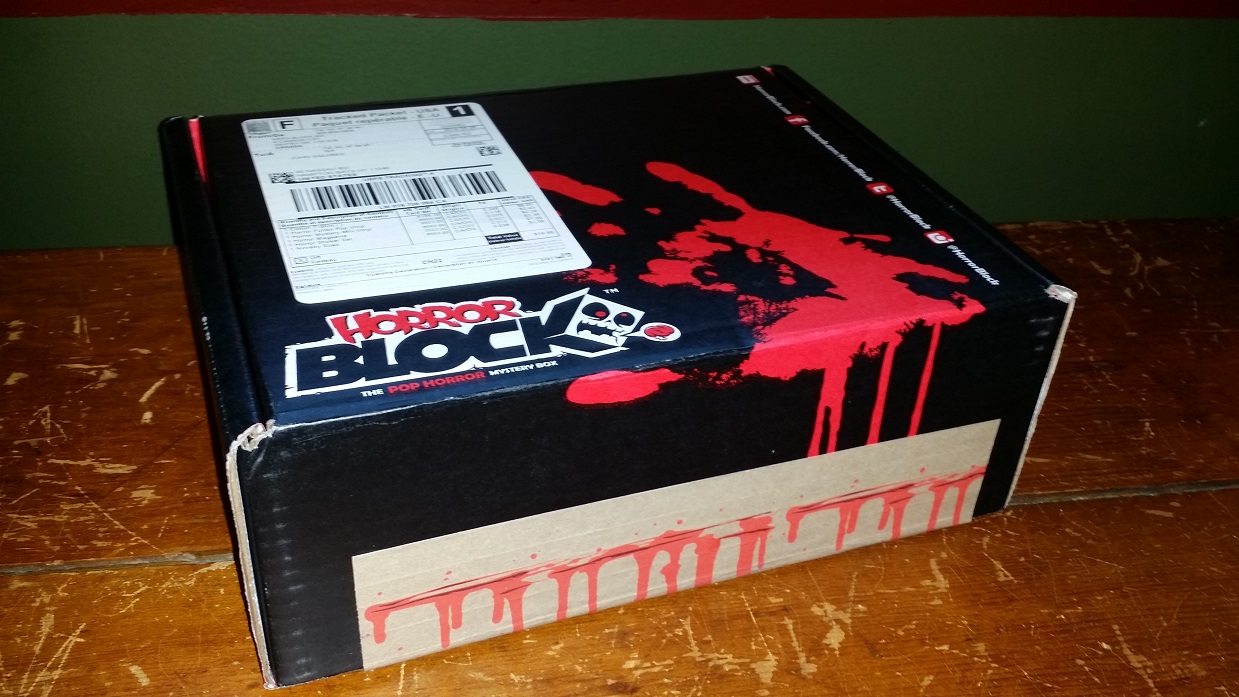 Last week here on Halloween Love I made a post about four horror-themed mystery boxes that have recently become available to us fans, one of which was the just launched Horror Block.
An off-shoot of the popular Nerd Block, Horror Block is a subscription box that's filled with toys, t-shirts and various other goodies that can fit inside of a shoe box, delivered directly to your doorstep every single month.
In one of the most perfect bits of timing I've ever experienced, a sample Horror Block arrived here at the HL Headquarters over the weekend, just a couple short days after I hit the publish button on that aforementioned post.
So today, we take a look inside the inaugural Horror Block Mystery Box, to find out exactly what's inside. Do the contents add up to the $20 monthly fee? Let's crack this bad boy open and find out together!
One of the coolest things about Horror Block is that they've partnered up directly with Rue Morgue, allowing for the latest issue of the magazine to make its way into each month's box. For me personally, this is a huge selling point, as I'm a big fan of Rue Morgue – and horror magazines in general.
Issue #146 of Rue Morgue, found inside the June Horror Block, features a retrospective on the 'lost' 1983 slasher film Curtains, which Synapse releases on DVD and Blu-ray July 29th. Also included in the issue is a look back on TV shows that were spawned from horror movies, an interview with Scanners director David Cronenberg and star Stephen Lack, as well as reviews of the latest books, films and CDs.
It must be noted that each issue of Rue Morgue sells for a staggering $9.95, so that's a guarantee right there that each Horror Block is worth at least $10.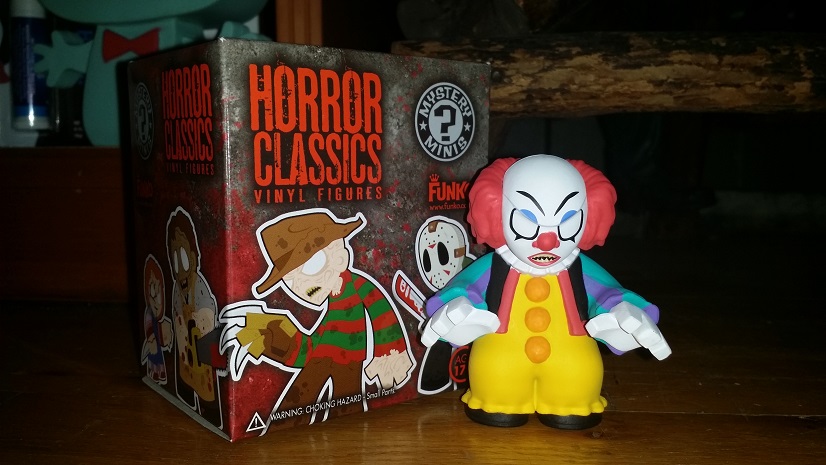 Up next we've got one of Funko's 'Horror Classics' mystery mini vinyl figures, which are randomly packaged in the blind box style that's become synonymous with vinyl collectibles. The usual suspects like Freddy, Jason, Michael Myers and Leatherface comprise the line, filled out with fun additions like Captain Spaulding, Trick 'r Treat's Sam, Hannibal Lecter and even a blue and purple NES variant of Jason.
As you can see from the above photo, I pulled Pennywise from this particular box, which is one that I didn't yet have in my collection. What makes this figure so cool is that it's the first ever officially released toy of cinema's creepiest clown, a character who had been shafted on the toy front for way too long. Also included in the line is a glow-in-the-dark Pennywise variant, which is incredibly rare, found in one of every 144 boxes.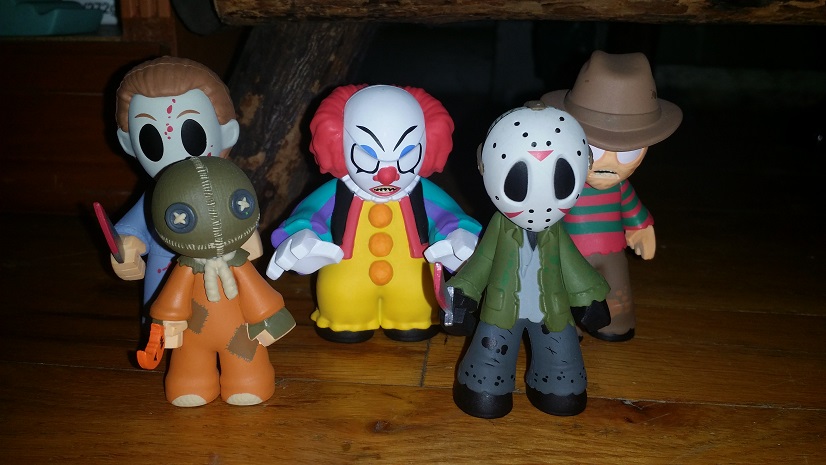 Here's a look at all of the toys from this line that I have in my collection thus far, to give you an idea of what some of the other characters look like. Again though, keep in mind that Pennywise is the only one that was found inside last month's Horror Block.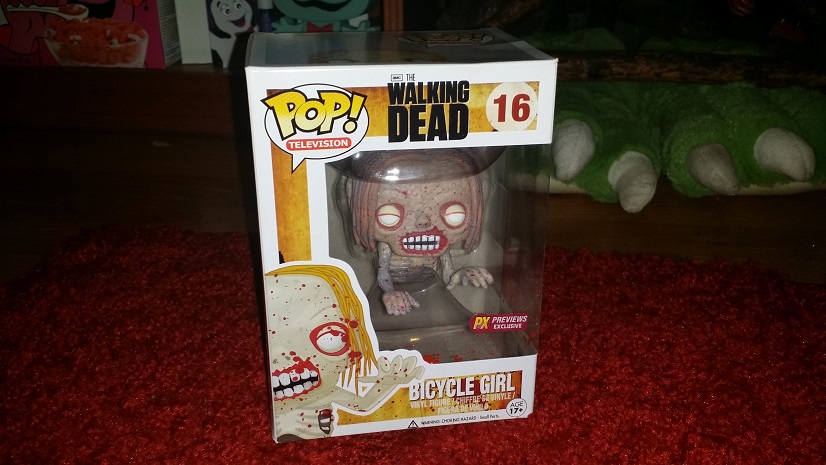 Speaking of toys, I also found inside the Horror Block one of Funko's POP! vinyl figures, which are quite a bit larger than the mystery vinyls. The company has been adding to their POP! line for the last several years and to date it includes nearly every single horror icon we know and love, with figures from the Walking Dead line making their way into June's Horror Block.
I pulled the half-bodied 'Bicycle Girl' from the very first episode of the show, which is actually the blood-splattered Previews Exclusive edition. 'Bicycle Girl' is without a doubt one of the most recognizable walkers – errr… crawlers? – in the history of The Walking Dead, and she's honestly the one I wanted most from the line.
As much as I want to take her out and play with her, I tend to keep collectibles like this in their original boxes, as I feel that toys oftentimes look much cooler in the packaging, than outside of it. Plus, you never know what might become a high-ticket item in the future, so it's always good to keep toys in their boxes. At least, that's the way I see it.
Toward the bottom of the box was a bar of novelty 'Blood Red Soap,' which is one of those fun little gags intended to freak out guests. When the normal looking bar of soap makes contact with water it essentially 'bleeds,' with red coloring flowing down the hands of your unsuspecting victim. Now, to find my potential victim…
This set of horror icon stickers was designed by artist Playful Gorilla, and they're actually high quality 'gelaskins,' meaning they're easily removed from any surface they're applied to, without leaving behind any pesky residue. Stickers of the future, if you will. Pretty cool, and I love the way that the designs make the villains look like Madballs.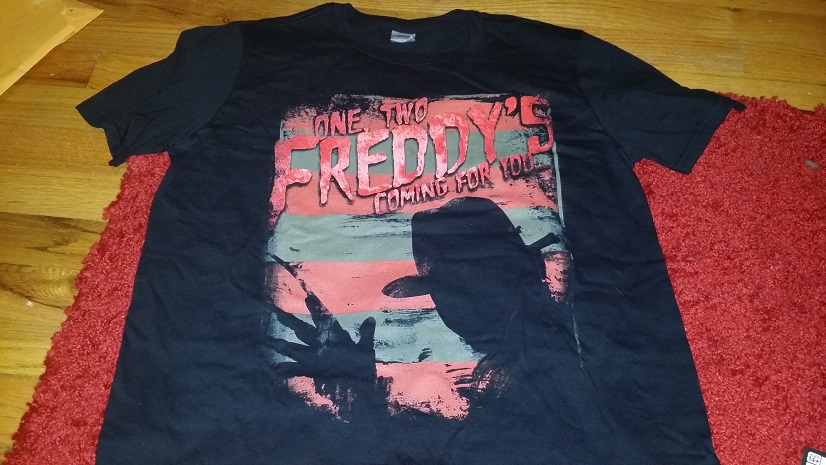 And finally, another big selling point of the Horror Block is that a limited edition t-shirt is included in each month's box, which arrives in your size. When you sign up, you're asked what your t-shirt size is, this way you never get a shirt that won't actually fit you.
June's shirt was right up my alley, as Freddy is my main man. It's admittedly not the coolest shirt, especially given how many awesome horror shirts are on the market these days, but it's hard to complain given the fact that most t-shirts cost at least $20. In the future, I'd love to see Horror Block partner up with Fright Rags, as that would really sweeten the pot a whole lot more.
According to my math, the contents of the Horror Block I just opened up are together worth at least $50, and so I see absolutely no reason why anyone should not be all over this deal. The fine print of the subscription is that shipping costs around $10, making the grand total of each month's box $30, but even still, you're getting more than what you're actually paying for, so it's really a win-win situation.
At the time of writing this, you've got just over two weeks to get in on July's Horror Block, which ships out on the 25th. It must be noted that the contents of the boxes are totally different each month, so have no fear if you're not impressed by what you see above.
Head over to Horror Block to sign up for the July mystery box, and let us know what you found inside, once you receive it!
Support Halloween Love
If an item was discussed in this article that you intend on buying or renting, you can help support Halloween Love and its writers by purchasing through our links:
(Not seeing any relevant products? Start your search on Amazon through us.)