The annual San Diego Comic Con kicks off in just a couple short weeks, running this year from July 24th through the 27th. As anyone who's ever experienced the event can attest, Comic Con is the absolute mecca for geeks like ourselves, the convention center jam packed with absolutely everything that we love so much.
Since it's essentially the ultimate celebration of geekdom, companies and studios naturally use Comic Con as a platform to debut all sorts of new products and movies, and the event has also become known for its exclusives, which are handed out and sold to fans who are lucky enough to be able to attend.
This year in particular, toy companies are busting out all the stops when it comes to their Comic Con Exclusive offerings, with a handful of incredible toys being sold at the event – and only at the event.
As we wait for the 2014 Comic Con to get started, let's preview the show of shows by taking a look at five of those exclusive toys that all of us who aren't able to attend are likely going to be paying top dollar for on eBay, come the morning of the 28th!
First up we've got one of NECA's many event exclusives, in the form of the very first ever action figure of 'Super Freddy.' Freddy transforms into Super Freddy during Mark Gray's dream sequence in The Dream Child, which is essentially the superhero version of the character.
Super Freddy is notable for being one of the only times Freddy was played by someone other than Robert Englund, with Hills Have Eyes remake star Michael Bailey Smith playing the role.
Standing 8″ tall and decked out in real fabric clothing, Super Freddy is limited to only 5,000 pieces, and will be selling for $40. He's a part of the company's retro-inspired line, which kicked off last year with Jason Voorhees and a classic version of Freddy.
NECA also unloads a new Predator figure and a Pacific Rim box set at the event.
Independent company Super 7 first came onto the scene a couple years ago at the San Diego Comic Con, unveiling a line of retro Alien toys that were exact replicas of action figures that Kenner almost released way back in 1979. This year, they bring the Alien 'Egg Chamber Action Playset' to the con, which looks like something Kenner very well may have put out in the 70s, had their Alien line not been cancelled.
Selling for $100, and limited to only 250 pieces, the playset serves as a display base for Super 7's 'ReAction Figures,' replicating the iconic scene where Kane came face-to-face with a terrifying creature. The little girl's face on the box art says it all, in terms of how awesome this playset is.
Super 7 will also be offering up 'Deep Space Alien Eggs' for $25 apiece, which will house exclusive Alien toys that have never been seen or made available before. The eggs serve as blind box packaging, and you won't know who you've got until you crack yours open.
Speaking of Alien, it was Kenner's 18″ toy of the title monster that spelled the end of the planned action figure line based on the film, with parental outrage leading to it being pulled from shelves. This year, Gentle Giant releases a 24″ exact replica of that infamous toy, and at Comic Con they're offering up an exclusive glow-in-the-dark variant.
Though the toy is no doubt incredibly cool, it's likely that the price tag will turn off many, with it selling for a whopping $499. This particular variant is limited to 250 pieces worldwide, if that's any consolation.
You can pre-order the regular version over on Gentle Giant's website, which is also selling for $499 – oddly enough, that's more than the original 1979 figure typically sells for.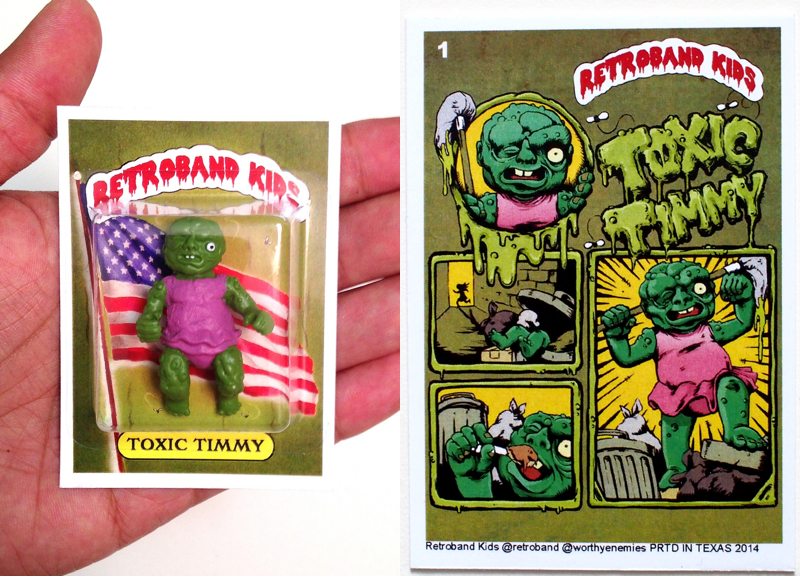 When it comes to custom horror toys, nobody does it better than Aaron Moreno's company Retroband, which has to date churned out retro-style action figures of everyone from Silent Night, Deadly Night's Billy to Halloween 3's mask-wearing trick or treaters.
Aaron just unveiled his own exclusive toy for the event, in the form of this custom-made mini-figure of The Toxic Avenger. It's the first in an upcoming line of 'Retroband Kids' toys, which I can only assume will be filled with horror icons that are depicted as kid-friendly characters.
The hand-sculpted and hand-painted figure measures only 2″ tall, and 50 of them have been made. They'll be selling for $45 each, at the DKE Toys booth. If Retroband's past releases are any indication, they won't last more than a few minutes!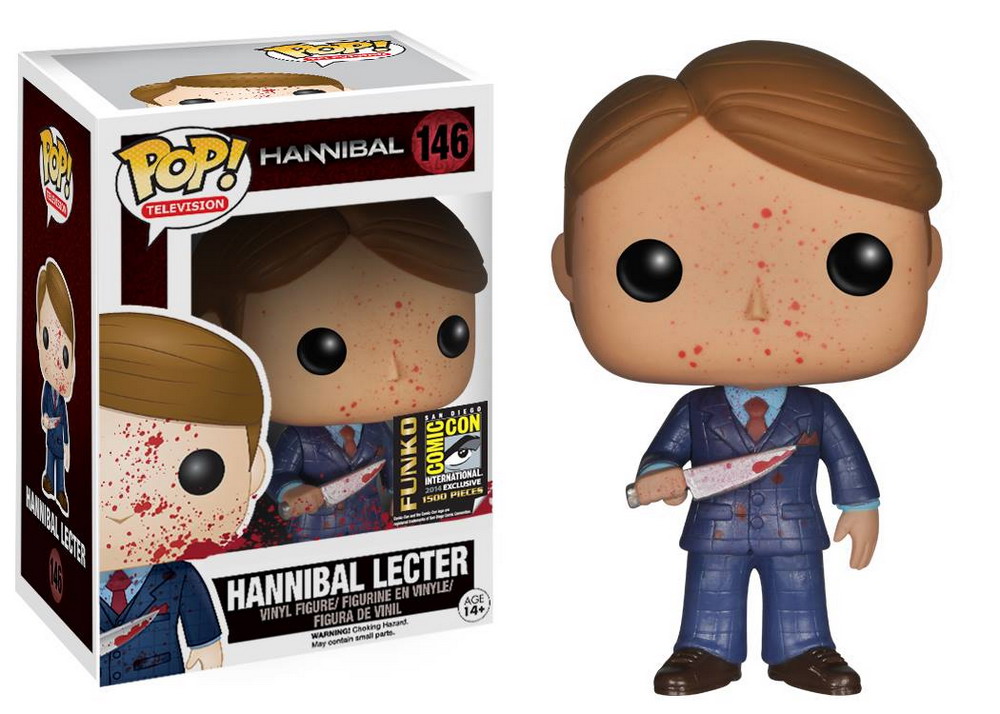 Funko is killing it at Comic Con this year, with all sorts of Ghostbusters vinyl figures being released at the event in celebration of the film's 30th anniversary, along with an 'invisible' blood-covered Predator retro figure – the latter being part of their partnership with Super 7.
Also up for grabs at the company's booth will be this exclusive blood-splattered variant of their upcoming Hannibal Lecter vinyl toy, based of course on the awesome NBC series.
Sometime this summer, a full line of Hannibal vinyl toys will be released, including the regular version of Hannibal, along with Will Graham, Jack Crawford and even the creepy Stagman.
Which of these exclusive toys do you want most? Comment below and let us know!
Support Halloween Love
If an item was discussed in this article that you intend on buying or renting, you can help support Halloween Love and its writers by purchasing through our links:
(Not seeing any relevant products? Start your search on Amazon through us.)