There are few things in this world that are more exciting than the sight of the mailman or delivery driver walking up to your doorstep, with a package in his hands.
No, not that package, you pervert. I'm of course referring to a cardboard box, just waiting for you to tear it open, like a kid on Christmas morning.
As exciting as such a delivery is when you know what's in the box, that excitement is increased tenfold when you have no idea what to expect once you rip off the tape and peel back those glorious cardboard flaps – well, unless you're Detective Somerset and it's the ending of Se7en…
It's for this reason that mystery boxes are one of the truly great pleasures in life, and this year has seen the debut of a handful of them that are tailor made for us horror fans, which all deliver memorabilia and various other goodies right to our doorstep.
Here are four horror-themed mystery boxes that you might want to purchase or invest in subscriptions to!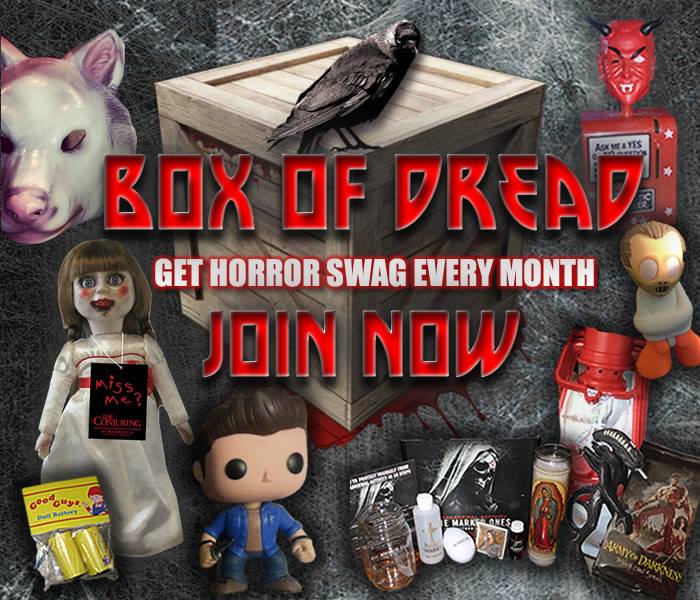 First up is the Box of Dread, which comes our way courtesy of longtime horror news outlet Dread Central. Launched at the tail end of last year, the Box of Dread is a monthly subscription box that can be subscribed to in two different ways; you can either sign up for a single month, for $14, or three months, for the reduced price of just $13/month.
Every month, the contents of the individual boxes are completely changed, so you never receive two of the same item. Official partnerships have been struck with brands like The Walking Dead and current hit movies, which have recently included Godzilla, The Conjuring and Oculus.
For July's Box, Dread Central has partnered up with Full Moon, meaning each one will be packed with all sorts of merch from the company – including a one month free subscription to Full Moon's instant streaming service, a $6.99 value in and of itself.
Typical items found in the Box of Dread include DVDs, toys and promotional swag, and each month a special 'Seventh Box' is randomly sent to one subscriber, which is packed with high-value items.
Head over to the Box of Dread website to subscribe, and check out the Box of Dread Facebook page to see what subscribers have found inside their boxes!
Speaking of Full Moon, the company famous for films like Puppet Master and The Gingerdead Man has got a mystery box of their own, which is aptly titled the Full Moon Mystery Box. For $35, you get a box that's promised to be full of at least $100 worth of merchandise from Full Moon's online shop, including DVDs, Blu-rays, t-shirts, toys and posters.
Purchase of a Full Moon Mystery Box also enters you into a raffle to win replica dolls from the Puppet Master films, which typically sell for around $100.
Unfortunately, Full Moon doesn't at the present time have a Mystery Box up for grabs, with the latest one selling out just a couple weeks back. But be sure to bookmark their website and check back often, as they're bound to come back real soon – likely after the July promotion with Box of Dread comes to a close.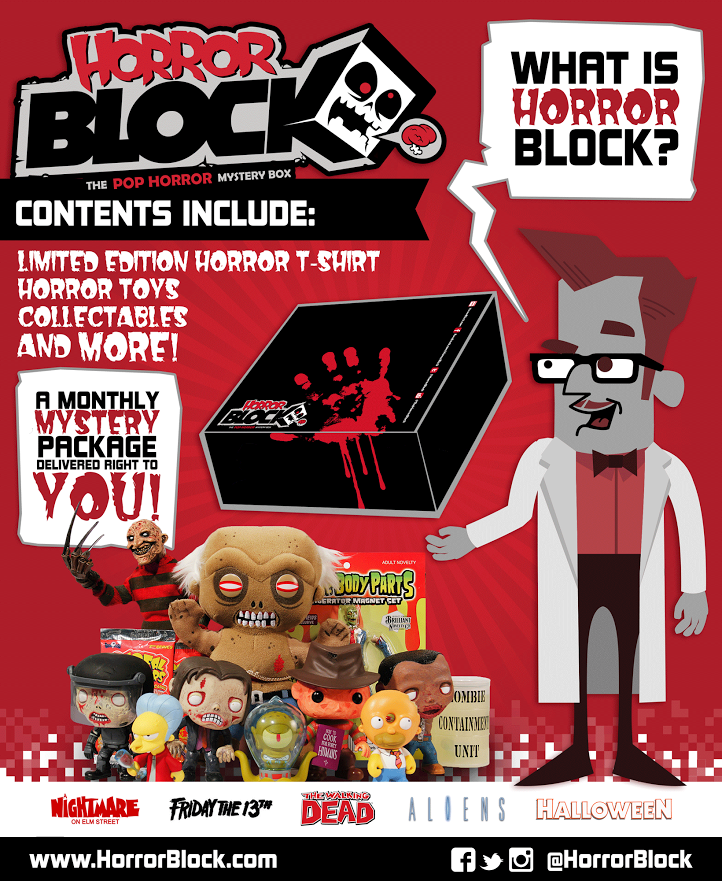 The most recently launched horror grab bag is the Horror Block, from the makers of the popular Nerd Block. The exciting thing about this particular mystery box is that they've partnered directly with the hottest toy and merchandise companies, ensuring that each box is overflowing with all the awesome collectibles that us horror fans fiend for.
The Horror Block even just announced a partnership with Rue Morgue Magazine, which will put the latest issue inside each month's box. Every box also includes a randomly selected horror t-shirt, in the size that fits you best.
Subscriptions to the Horror Block cost $19.99/month, and you can currently get in on the July box, being sent out at the end of this month. Head over to the Horror Block website to learn more, and get a sneak peek at the kinds of things you'll find inside!
And last but certainly not least we've got Rotten Rentals, which is a tad bit different than the other services, but has very much the same idea. Catering directly to those who get all warm and nostalgic inside at the thought of VHS tapes, Rotten Rentals offers up mystery packages that are housed inside of actual VHS boxes, which are custom-made by the company.
Selling for $6, each Rotten Rentals VHS pack is available with the cover art of your choosing, ranging from classic favorites that were available on VHS back in the day to newer films that never had VHS boxes created in their honor. Each pack includes a random assortment of vintage trading cards, miniature figures and horror movie promo items, with randomly inserted redemption cards for things like autographs and high-priced movie collectibles.
In addition to single packs, you can also sign up for the Rotten Rentals "Video of the Month Club,' which delivers one pack to your door each month. Subscriptions range from 3 months to 12 months, with varying price tags attached.
If you're into nostalgia and you've got deep sentimental attachments to your VCR, Rotten Rentals is the mystery box service for you!
Support Halloween Love
If an item was discussed in this article that you intend on buying or renting, you can help support Halloween Love and its writers by purchasing through our links:
(Not seeing any relevant products? Start your search on Amazon through us.)