We've reached the end of another week – thank god! – which means it's time to once again take a look at the coolest, weirdest and/or most awesome images I've stumbled across on the internet this week.
So let's get right to it, shall we?!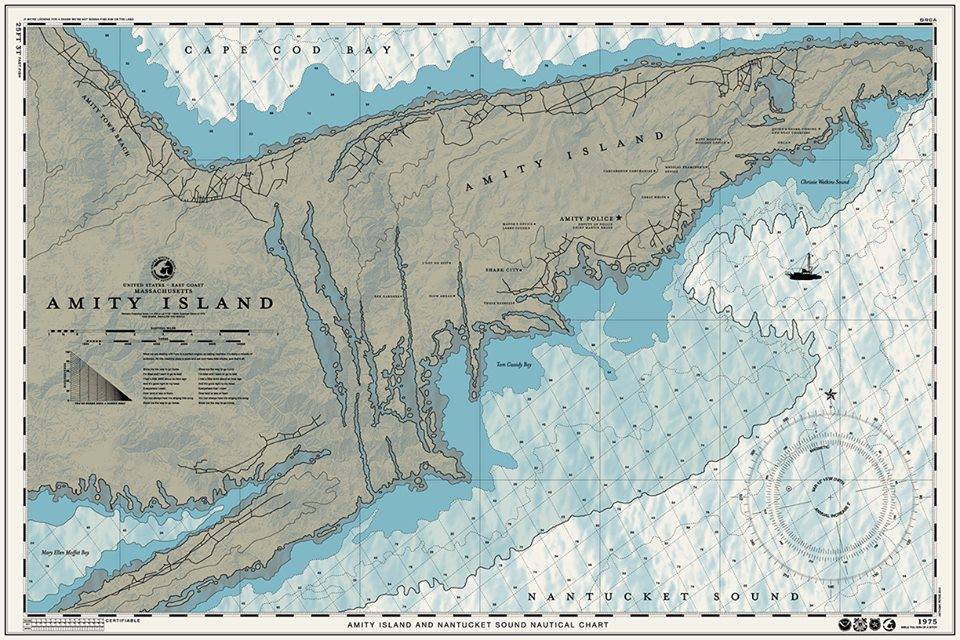 Artist Anthony Petrie currently has a solo exhibit at California's Gallery 1988, titled 'Charts.' Putting a different spin on some truly iconic movies, Petrie's unique artwork turns classic films into maps, and the results are quite different than any movie art you've ever seen. Up above is of course Jaws (which has a red-colored variant), and over on the online gallery you'll also find charts for Escape from New York, The Shining, Jurassic Park and The Thing.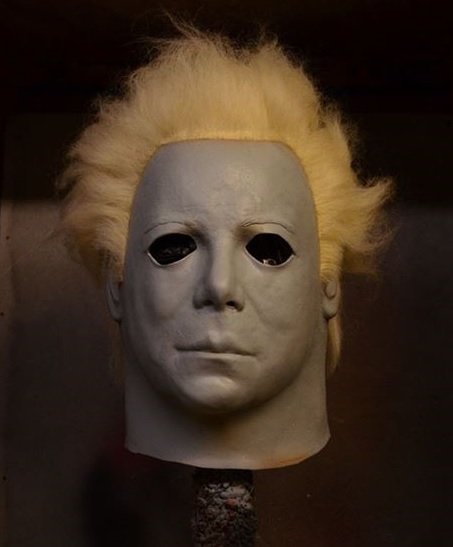 Earlier this week we took a look at Trick or Treat Studios' upcoming masks for the 2015 Halloween season, and the company has teased a few more since I made that post. This year, they're adding a Ben Tramer mask to their ever-expanding Halloween collection, which is of course based on a lookalike mask seen in Halloween 2 – the one that got poor Ben Tramer killed. If I'm not mistaken, this is the first EVER officially licensed Tramer mask.
Last year, NECA added Leatherface to their retro line of toys, inspired by the MEGO figures of old. This year, a few different variants are headed our way, based on other outfits and masks he's worn throughout his killing career. First up is this 'Dinner Scene' Leatherface, based of course on the original Texas Chain Saw Massacre's most memorable scene. Decked out in a suit, tie and 'pretty lady' mask, this version of Leatherface slices into toy stores this coming April.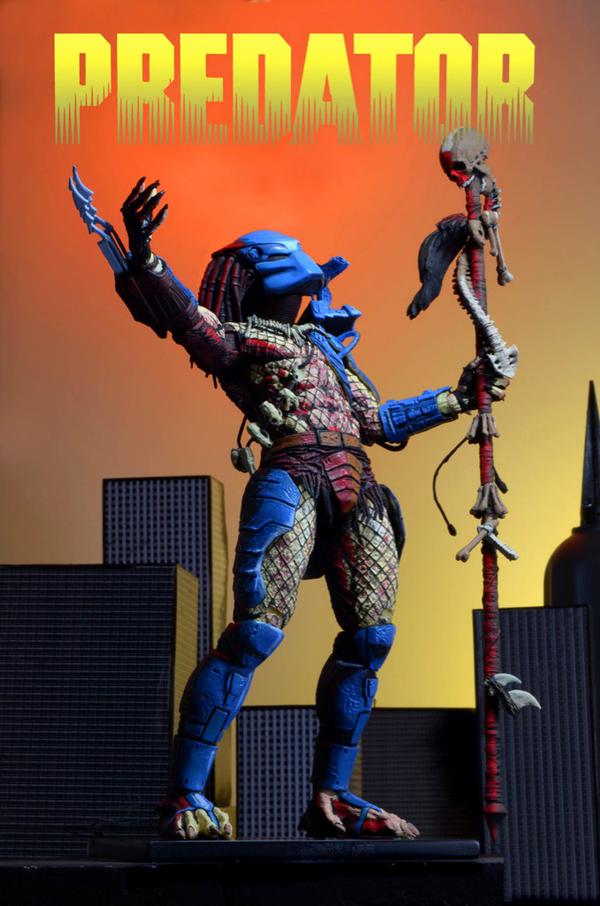 Speaking of NECA, the company also showed off another 2015 offering, which is based on Issue #1 of Dark Horse's Predator comic book series, from back in 1989. The figure is in celebration of the series' 25th anniversary, and no release date has been announced. I know many have grown tired of NECA's penchant for simple repaints, and though I agree that a little more variety from them would be nice, you can't help but appreciate the oddball toys they've brought to the table in recent years. Fun, and totally harmless – so quit your whining!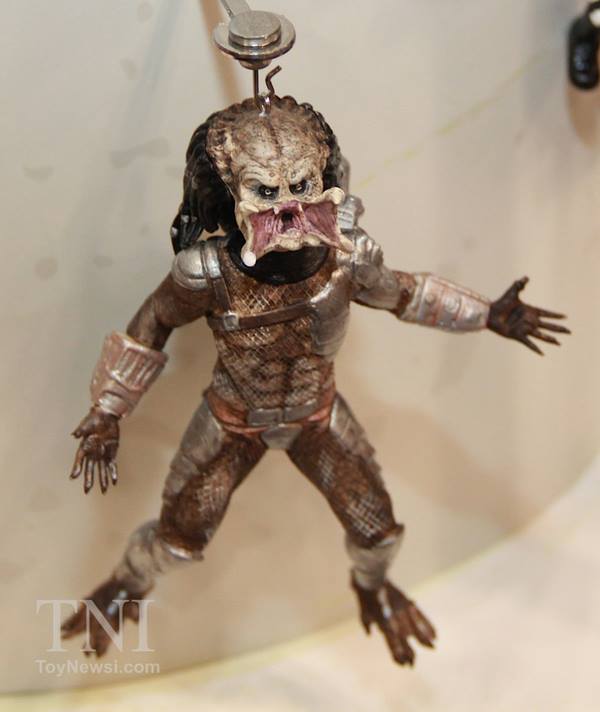 IMAGE CREDIT: TOY NEWS INTERNATIONAL
Another Predator figure comes our way courtesy of Hallmark this year, and yes, this is one of their trademark holiday ornaments. As strange as it is to see Hallmark delving into horror, this isn't the first time they've done so, as last year saw the release of Jaws, Alien and Frankenstein ornaments. Also coming this year are Gremlins, Beetlejuice and Daryl Dixon ornaments – so you can't say that Hallmark doesn't love us horror fans… they love our money, at least!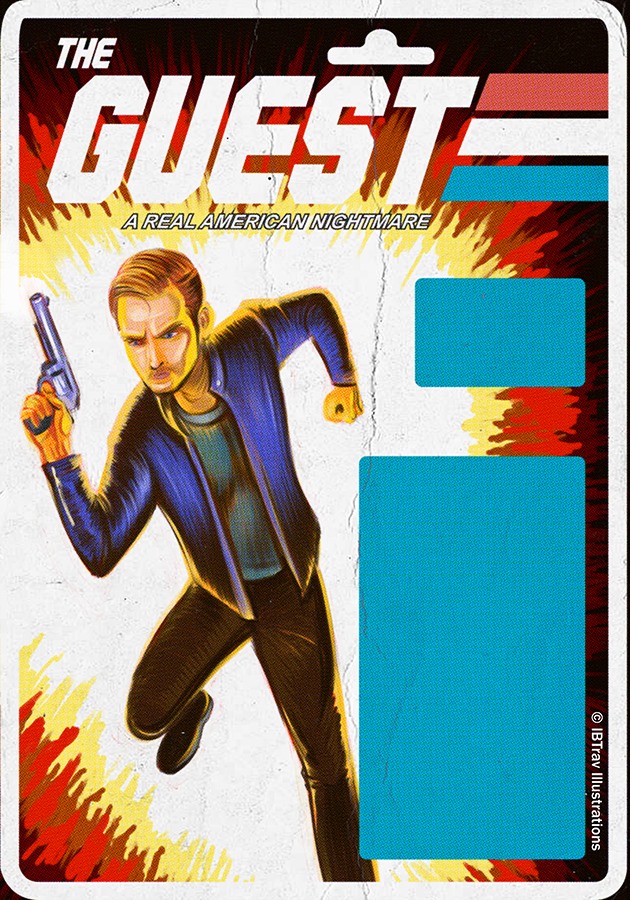 I kicked off this week with a post about The Guest, which is by far the coolest movie released last year. It's not a horror movie, per se, but it's one that is tailor made for folks like us. In tribute to the film, artist Travis Falligant whipped up this GI-Joe-style cardback for a faux David Collins toy, which is something that needs to become a reality. PLEASE. SOMEONE.
Here's an interesting little relic I stumbled across in my weekly eBay travels, which comes from the shop Parting With Old Stuff. What we have here is a vintage Pumpkinhead trade ad, whipped up for promotion before the movie was ever made – note that there's no cast, and the director listed is Armand Mastroianni, rather than Stan Winston. I love it. I want it. I MUST HAVE IT.
Rob Zombie celebrated his 50th birthday earlier in the week, and this past weekend his wife Sheri threw a big time party for him. Various pictures were spread across social media in the wake of the party, the coolest of which was this little House of 1000 Corpses reunion, featuring the Zombies and stars Sid Haig, Bill Moseley, Chris Hardwick and Jennifer Jostyn. Hard to believe, but Corpses was released 12 years ago, and this year marks the 10th anniversary of The Devil's Rejects.
We're old. We're all old. Enjoy your weekend, you old person.
Support Halloween Love
If an item was discussed in this article that you intend on buying or renting, you can help support Halloween Love and its writers by purchasing through our links:
(Not seeing any relevant products? Start your search on Amazon through us.)