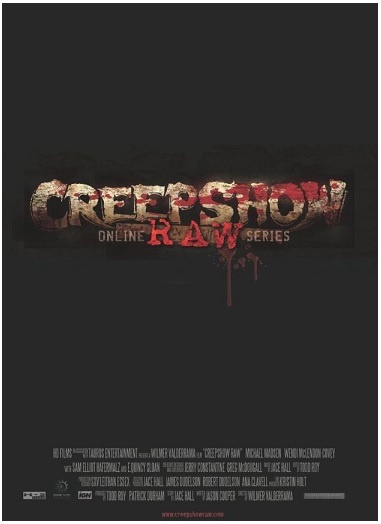 It's somewhat surprising that the Creepshow franchise didn't go further than it did, as the 1982 film was a big time hit for Warner Bros – both critically and financially. A sequel to the EC Comics-inspired anthology followed in 1987, which similarly turned a respectable profit.
In 2007, rights-holders Taurus Entertainment released a film called Creepshow 3, though lumping it into the original franchise isn't quite fair. Not only did Stephen King and George Romero have nothing to do with the alleged third installment but it also ditched the comic book premise, making it an in-name-only sequel that failed to hit any sort of mark.
But that's not where the story of Creepshow ends, as 2009 saw the debut of a web-series that almost immediately dropped off the face of the earth, and is very rarely discussed or even mentioned within the horror community. So let's talk about it, shall we?
The failed web-series was originally announced back in 2008, when Taurus Entertainment licensed the rights of the Creepshow property to HD Films, run by Jace Hall. The producer of popular horror-inspired games like Condemned and F.E.A.R., Hall's plan was to continue the franchise as an online series comprised of short films, intent on washing the taste of 'Creepshow 3' out of our mouths.
On October 30th of 2009, right in time for Halloween, the pilot episode of Creepshow Raw debuted on video game website IGN. Directed by That 70's Show's Wilmer 'Fez' Valderrama, the episode was titled Insomnia, and starred Michael Madsen as a drunken step-father who gets what he deserves, courtesy of a monster living inside of his step-son's closet.
Featuring music and art panels (by Alex Pardee) that evoked the feel of the first two films, and a pretty kickass 80s-style monster, the 8-minute pilot episode showed a whole lot of promise for the series. A nice blend of humor and horror, the premiere episode captured that EC Comics vibe, managing to feel more like a true Creepshow sequel than the entirety of Creepshow 3.
But don't take my word for it. Check out the full pilot episode below!
Though at least 10 episodes of Creepshow Raw were planned, Insomnia is the only one that ever aired. Shortly after hitting the net, the show all but disappeared, and no information was ever provided about subsequent episodes. If scripts were written, none of them ever entered production, and the web-series faded into obscurity as quickly as it came into our lives.
I had a chance to speak with Jace Hall a couple years back and he told me that Taurus Entertainment decided not to continue with Creepshow Raw, which spelled the end of the series. According to what he told me, he and the company still speak from time to time about bringing Creepshow back in some way, shape or form, though to this day the franchise still lies dormant.
As with all aborted projects, we are left to imagine what could've been of Creepshow Raw. Judging by the pilot episode, what could've been was a fun little web-series that (at least somewhat) satiated our desires for the return of Creepshow, so it's a damn shame that Taurus Entertainment got cold feet and pulled the plug. Would love to see it come back someday, with up and coming filmmakers given the chance to show their stuff.
After all…
WE. NEED. MORE. ANTHOLOGY. HORROR.
On a related note, read all about Pinfall, the George Romero-penned installment of Creepshow 2 that never ended up finding its way in front of the cameras!
Support Halloween Love
If an item was discussed in this article that you intend on buying or renting, you can help support Halloween Love and its writers by purchasing through our links:
(Not seeing any relevant products? Start your search on Amazon through us.)