As we already discussed at length here on Halloween Love, 2014 was a damn fine year for horror – on the indie front, at least. In addition to a handful of exceptional films, there were also incredible performances aplenty, proving that horror and bad acting don't always go hand-in-hand.
Now that we're in the final days of the year, I wanted to take a look back on some of those performances, highlighting the ones that really stood out for me. Trust me when I say that it wasn't easy to cut the list down to only five, so at the end of this post you'll find a few honorable mentions that are worthy of similar praise.
Without further adieu, here are my top five favorite horror movie performances of 2014… in no particular order!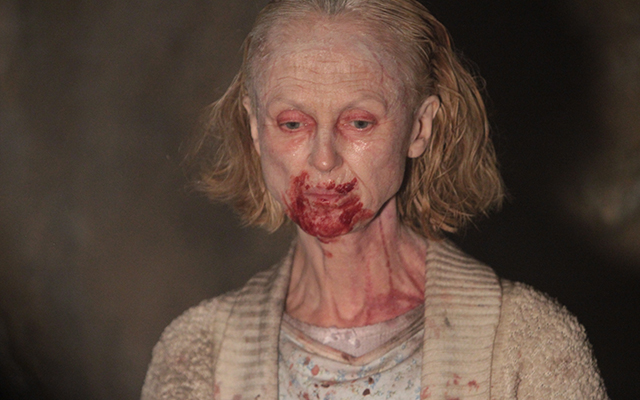 1) JILL LARSON – THE TAKING OF DEBORAH LOGAN
Veteran All My Children actress Jill Larson took on an entirely different role for The Taking of Deborah Logan (review), playing a demonically-possessed woman with Alzheimer's disease. With little makeup and no CG-enhancements, Larson's Deborah Logan is one of the most convincing possessed characters in the genre's history, and it is she who is responsible for much of the film's effectiveness.
In this year's best found footage effort, Larson is as terrifying as Regan MacNeil, and her head need not spin around to give you nightmares – though it does split in half, in a chilling moment that will forever disturb your sleep. If I was only handing out one acting award this year, I'm fairly certain that she would be the recipient.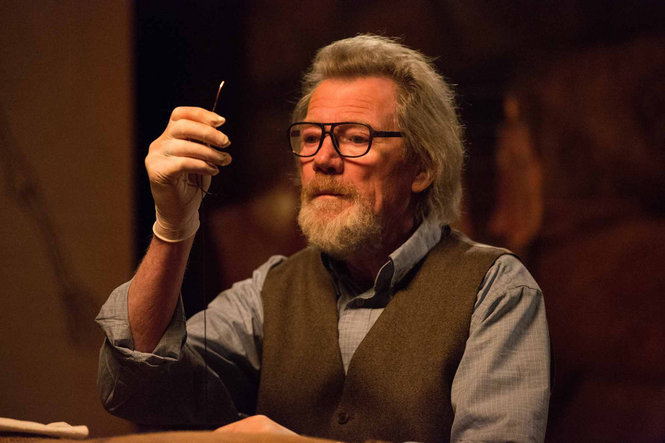 2) MICHAEL PARKS – TUSK
Just a few years after stealing the show in Kevin Smith's horror debut, Michael Parks did the same in this year's Tusk (review), which was hands down the most polarizing horror film of 2014. Whether you respect Smith's whackiest movie to date or found little to like about it, you simply can't deny that Parks was exceptional in it, portraying sadistic seafarer Howard Howe.
Combining the frightening intensity of The Human Centipede's Dr. Heiter, the goofy humor of Christopher Walken and the 'I'd love to have a drink with this guy' charm of the fictional 'Most Interesting Man in the World,' Parks is at his scenery-chewing best in the role, crafting – just as he did with Red State – one of the most memorable movie villains in recent memory.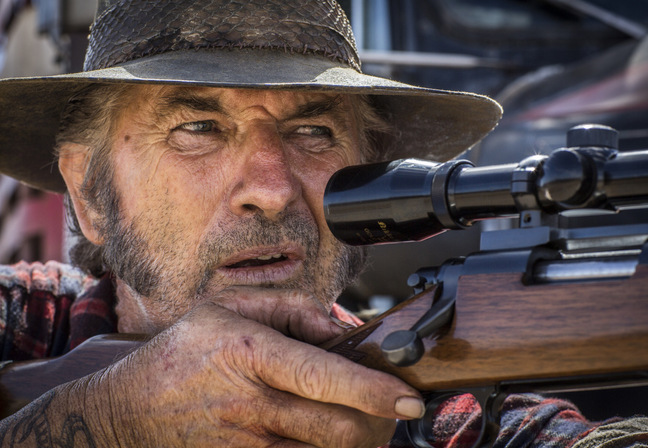 3) JOHN JARRATT – WOLF CREEK 2
Back in 2005, the name John Jarratt became permanently etched in my mind thanks to Wolf Creek, wherein he played ripped-from-the-headlines outback villain Mick Taylor. Jarratt reprised the role for this year's sequel, nearly a decade later, firmly cementing Taylor's status as a bonafide horror icon that can hang with the best of them.
More than anything, the hugely entertaining Wolf Creek 2 is a highlight of Mick Taylor, and therefore a highlight of Jarratt's acting ability, and he's so damn good in the role that it's somewhat hard to not root for him – a hallmark of a true horror icon, no? Here's to hoping Jarratt reprises the role a few more times in the near future, as Mick Taylor is just so much fun to watch.
4) GENE JONES – THE SACRAMENT
No horror movie released this year was more effectively chilling than Ti West's The Sacrament, a POV affair inspired by the real-life Jonestown Massacre. Playing the film's fictionalized version of Jim Jones, known simply as 'Father,' Gene Jones is downright bone-chilling in what is perhaps West's best film to date, and it's simply impossible to look away whenever he's on screen.
'Father' is terrifying in that Charles Manson sort of way, as he talks such a good game that you fully believe he's capable of making others do horrifying things. It's that believability that makes The Sacrament so completely disturbing, and I can't imagine the film being nearly as effective without Jones' powerhouse performance. Horror villains don't get much scarier than this.
5) NICK DAMICI – LATE PHASES
Werewolves haven't quite been synonymous with good horror in recent years, but that all changed with Spanish filmmaker Adrian Garcia Bogliano's English-language debut. With very little CGI and some truly awesome, retro-style wolves, Late Phases is the best werewolf film to come along in a while, powered by a surprisingly human story.
At its core, Late Phases is the story of blind war veteran Ambrose, played with incredible likability by Nick Damici. Reminiscent of Clint Eastwood's character in Gran Torino, Ambrose is the sort of grizzled dude who doesn't easily get along with people, preferring the company of his beloved dog. He's perhaps my favorite character from this year's output, and one of the truly great horror heroes of our time.
Honorable Mentions: Anne Ramsay in The Taking of Deborah Logan, Morgana O'Reilly in Housebond, Naya Rivera in At the Devil's Door and Essie Davis in The Babadook.
Support Halloween Love
If an item was discussed in this article that you intend on buying or renting, you can help support Halloween Love and its writers by purchasing through our links:
(Not seeing any relevant products? Start your search on Amazon through us.)