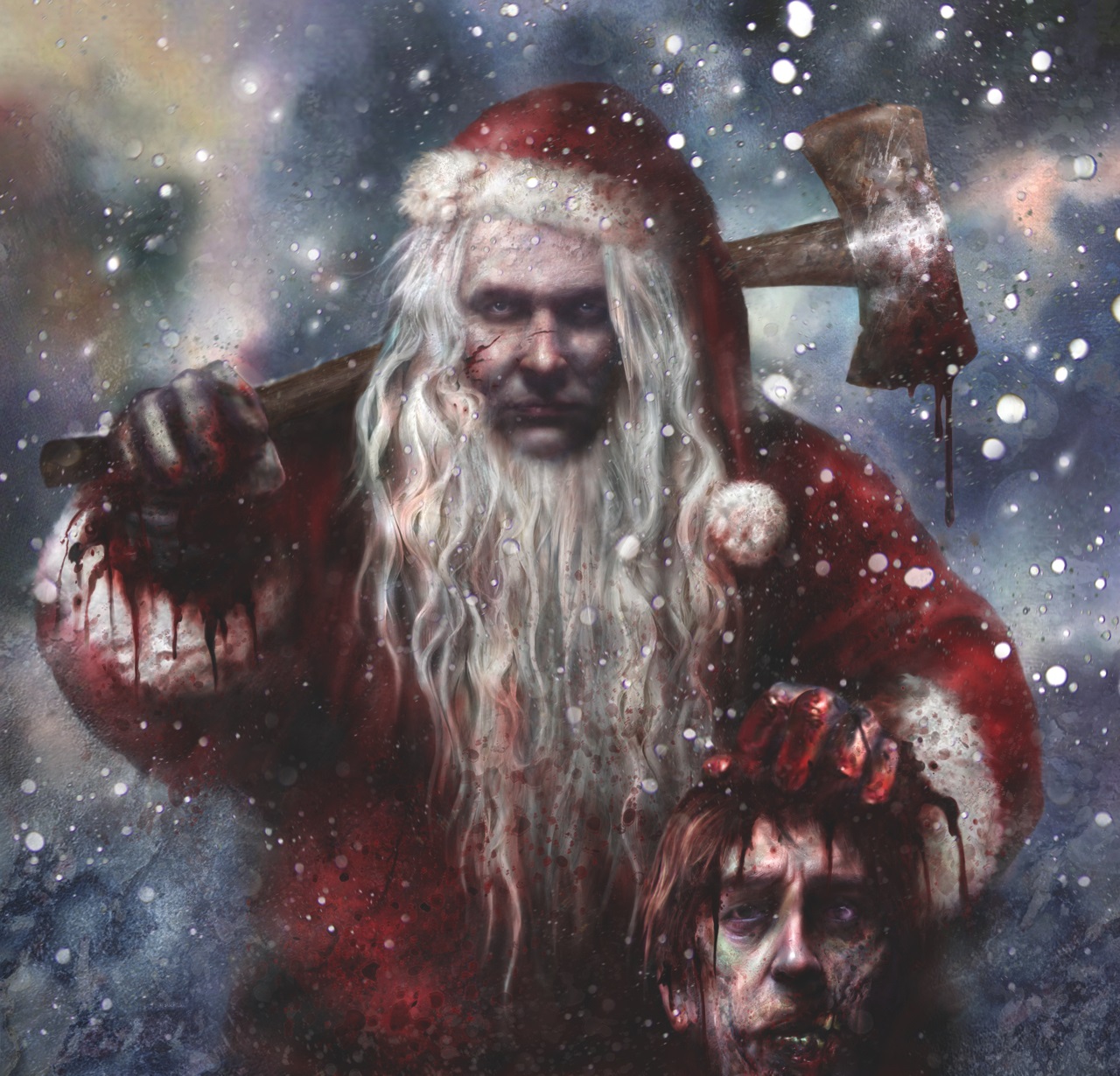 UK-based label Death Waltz Recording Company dropped a little treat down the proverbial chimney this holiday season in the form of Silent Night, Deadly Night's very first soundtrack release, on both vinyl as well as CD. The limited edition two-disc affair, which quickly sold out, served to celebrate the film's 30th anniversary, and boy does it ever.
Unfortunately, orders weren't shipped out until very late this month, resulting in many not receiving their copies until Christmas had already passed. I ordered the CD the day it went on sale (back in November) and the mailman dropped it on my doorstep on the night of the 24th, so needless to say it simply wasn't possible for me to get a review up in time for Christmas.
But hey. It's never a bad time to talk great horror, so let's get on with the review, rather than dwell on the fact that Silent Night, Deadly Night's annual moment in the spotlight has sadly passed. After all, it only passes if we let it.
Housed inside of gatefold packaging, the CD version of the release includes two discs and features the same piece of art as the vinyl, whipped up by Nick Percival. On the inside is a smattering of newspaper clippings from the time of Silent Night, Deadly Night's highly controversial release, and both discs are adorned with the gory cover art.
The vinyl release, limited to just 400 copies worldwide, includes other little bells and whistles that are absent from the CD release, such as a booklet featuring liner notes from the film's writer and producer. The LPs themselves are also quite beautiful to look at, and though I admit to kicking myself for instead grabbing the CD, money was simply too tight this month to splurge on the more expensive option.
But enough about my personal finances.
On Disc One is Perry Botkin's 25-track Silent Night, Deadly Night score, which runs for a total of around 40-minutes. If you've seen the film you've of course heard the score, though I must point out that I never realized just how batshit crazy Botkin's work here was, until I listened to it outside the confines of the movie. In some way, it was like hearing it for the first time.
Silent Night, Deadly Night is one of the more unique slasher films to come out of the 80s and the score is right in line with that, sounding quite unlike the music that typically lies underneath a film of this sort. Disjointed, all over the place and with very little auditory connection to Christmas (aside from two brief tracks), Botkin's delightfully deranged score is a madball mish-mash of synth and acoustic piano, reflecting Billy's descent into total madness.
The beauty of releases such as this is that they give you the opportunity to truly appreciate scores that you've heard a dozen times before, by isolating them and making them the stars of the show, and I honestly can't say I truly appreciated Botkin's contribution to Silent Night, Deadly Night until I gave this CD a listen. And I expect I'll now take more note of the score, next time I watch the film.
Related Story: Silent Night, Deadly Night 30th Anniversary Blu-ray Review
But as much as I enjoyed listening to the score, the real treat of Death Waltz's holiday 2014 offering is Disc Two, which includes 10 tracks and runs about 30 minutes long. Something you might not know about Silent Night, Deadly Night is that it was originally going to spawn a tie-in Christmas CD, which was shelved after the controversy over the film's theatrical release. This is that CD, presented here for the very first time.
Composed and recorded by Morgan Ames, the only songs from the planned CD that ended up being used in the film were 'Santa's Watching,' 'Warm Side of the Door,' 'Merry Christmas Baby' and 'Sweet Little Baby,' which are of course included on this disc. They're joined by six previously unheard tracks, with names such as 'Slayrider' and 'Christmas Party' – the latter of which is humorously followed by 'Christmas Flu' and 'Christmas Fever.'
In contrast to the score, Ames' spin-off record is both festive and upbeat, though the connection to the film tinges many of the tracks with a nice layer of creepiness. 'Santa's Watching' and 'Slayrider,' in particular, are decidedly sinister, and you can't help but imagine many of the other tracks accompanying the film's bloody carnage.
That said, the album is surprisingly perfect for family-friendly holiday listening, as those with no knowledge of Silent Night, Deadly Night would ever have any idea that it bears any connection to the highly controversial holiday slasher. One can't help but wonder whose decision it was to task Ames with making such an unconventional companion piece to the film, though it's impossible to not appreciate that decision.
As a hardcore fan of Silent Night, Deadly Night, I'm always eager to discover new things about it, and I cannot thank Death Waltz enough for digging up this lost gem and at long last bringing it into all of our lives. Listening to this album for the first time felt like unearthing new deleted scenes from one of my favorite horror movies, which was both a thrill and one hell of a holiday treat.
If you're as much of a fan of Silent Night, Deadly Night as I am, this release is an absolute must, as essential to your collection as a copy of the film itself. Now that it's sold out, you're going to have to pay a little bit more for it, though you can still find decently-priced copies over on eBay. So make sure to snatch one up, before those prices go even higher.
And remember, friends: It's ALWAYS Christmas, on the warm side of the door.
Support Halloween Love
If an item was discussed in this article that you intend on buying or renting, you can help support Halloween Love and its writers by purchasing through our links:
(Not seeing any relevant products? Start your search on Amazon through us.)