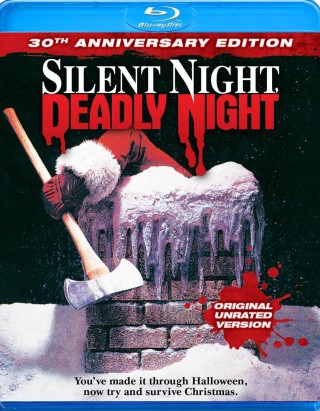 I'm a total fiend for Silent Night, Deadly Night, which means that I'm compelled to buy every single home video release of the film that comes out. Yesterday, for the first time, the holiday horror classic hit Blu-ray. Of course, I bought it.
Now I've already written a post here on HL about my love for the movie, so if you want to know what it is about Billy Chapman's killer Santa rampage that I'm so fond of, head into the archives and read the post Five Things I Love About Silent Night, Deadly Night.
To rehash those opinions would quite frankly be pointless, so for the sake of trimming out all that repetition and regurgitation, let's keep it simple: Silent Night, Deadly Night is one of my favorite slasher films of all time, and I. FUCKING. LOVE IT.
Now that we've established that, let's get into the film's brand new 30th anniversary Blu-ray, which comes our way courtesy of Anchor Bay!
Silent Night, Deadly Night's home video history is as rocky as its infamous theatrical history, with nearly all previous releases of the film quickly going out-of-print. The only way you can currently get it on DVD is in a re-released two pack with the famously awful sequel, so it's somewhat of a minor miracle that I'm even holding a Blu-ray copy in my hands right now.
First off, let's talk cover art. Adorning the Blu-ray case here is the film's iconic piece of 'killer Santa entering the chimney' (or is he exiting it..?) art, which is one of my favorite horror movie posters of all time. I normally prefer Blu-ray releases of my favorite movies to feature brand new art, ala Scream Factory, but I'll make an exception in the case of this one. It's hard to be disappointed with this art, even if all previous home video releases of the film have used it.
Next up is picture quality, the film for the first time presented here in high-def. The video presentation is nothing to write home about it, as it looks like an up-converted version of the previous DVD release. That said, there is a slightly noticeable difference between this disc and the DVD, as the colors are brighter and the picture all around more crisp and detailed.
One shot in particular stuck out to me as looking particularly good, thanks to those brighter colors. After decapitating the bully on the sled, Billy holds his bloody axe against a snowy backdrop, and the red on his Santa suit pops so well that it almost looks like he's in color, while the background is in black & white. I don't remember ever taking note of that shot on past viewings, though it's again one of only a few shots where I noticed any real picture quality improvement.
The major bummer of this release is that those 'uncut' scenes still look as crappy as they did on the DVD releases, which I suppose you can't blame Anchor Bay for. From what I understand, there are no high quality versions of those scenes in existence, so their hands were tied when it came to cleaning them up. Deep down I was hoping that they had somehow found a way to make their addition to the film look more seamless, but unfortunately they stick out like really sore thumbs – thought I'm very glad they kept them in there.
It's funny because in the commentary track (which we'll get to in a second), one of the guys is shocked by the poor quality of those restored scenes and mentions that he hopes they don't look so shitty when the Blu-ray is released to the public, which makes me think that Anchor Bay didn't even bother to listen to the track – if they had, I'm sure they would've edited out that bit!
But again, the film all around looks good enough, and I guess we have to just be happy that Anchor Bay didn't go crazy with digital noise reduction, and make a mess of it. It's not that it looks bad, it just doesn't look as good as some might have been hoping it would. You can see every individual hair on Billy's ass crack during that awkward sex scene, so that's good enough for me.
As far as special features are concerned, all previous content from the DVD releases is included on the disc, along with a BRAND NEW commentary track. Over the years, every release of the film has had the same couple features, so it was definitely a pleasant surprise to see that Anchor Bay at least shot something new, to celebrate the 30th anniversary.
It's the commentary track that makes this one a must-own for all big time fans, as the subjects haven't previously been interviewed about the movie. On the track are writer Michael Hickey, editor/2nd unit director Michael Spence, producer Scott. J. Schneid and composer Perry Botkin. Though it's sorely lacking in the behind the scenes insight I was hoping for, some good stories are told and memories relayed, covering things like the film's origins, the shooting locations, the theatrical protests and what the guys like/don't like about the movie.
Most of the time, the four are watching the film as fans rather than providing that insight I had mentioned, and Botkin (who hadn't seen it in 30 years) offers up very little aside from a few quick statements here and there. The track is at its most interesting when things like un-shot scenes and script changes are being discussed, and I'm thinking those recollections are so limited because most of those guys weren't actually on set, while the film was being shot.
In any event, it's nice to hear stories from guys we hadn't heard stories from before, and that alone makes the track a treat. Of particular 'holy shit, I've never heard that!' interest to you will likely be the revelation that a Silent Night, Deadly Night Christmas album was at one point planned, the plug being pulled once the film became so controversial. Morgan Ames, who wrote that awesome 'Santa's Watching' song, wrote another eight Christmas-themed tracks that tied into the movie, none of which have ever been heard. Can somebody please put that album out?!
Another interesting bit from the track is when it's revealed that writer Michael Hickey wasn't very familiar with slasher films at the time, which is cited as a reason for his script being so unique. Whereas nearly all other slashers focus on the victims, Silent Night, Deadly Night is the story of the killer, making it stand out from the pack. Just one of the many reasons it's one of my favorites of the bunch, and it's interesting to know that it has a lot to do with Hickey not trying to replicate what others were doing.
Ported over from the DVDs are a 35-minute audio interview with late director Charles E. Sellier Jr., an 11-image poster & still gallery and the 22-image 'Santa's Stocking of Outrage' featurette, the latter of which I absolutely love. Actual letters sent in by parents and protestors during the height of the film's controversy are highlighted here, and it's absolutely fascinating to read those hilarious reactions. So glad they kept that feature, for this release.
The only other thing worth noting is that the poster & still gallery is different from the one featured on the DVDs, including a handful of foreign posters, a recent re-release poster, a piece of promo art from back when the film was called Slay Ride, and even a custom Billy action figure. I wish they had added the new stuff to the old gallery, rather than create a whole new one, as there was some awesome art in the DVD version that's nonexistent here. Though I suppose that's a minor complaint.
All in all, Anchor Bay could've – and by all means should've – done so much more to celebrate the 30th anniversary of such a classic, which makes me wish a company like Scream Factory had gotten their hands on the film. I appreciate the new commentary track, and the slightly improved transfer, but a few more features would've really made this one a special release. That said, I still can't imagine any mega fan of the movie going without it in their collection, if only for the commentary track. So it's totally worth the upgrade, if you can find the disc for a good price.
If you, like me, need to own EVERY release of this film available, be sure to pick up Arrow Video's UK DVD, which has an incredible new piece of art (plus a poster of that art) and includes a booklet featuring interviews with Sellier and Linnea Quigley. Your home video collection will be pretty damn happy with that, the DVD two-pack (which is currently the only way to get the sequel, so you'll need to hold onto it) and this new Blu-ray in it!
Support Halloween Love
If an item was discussed in this article that you intend on buying or renting, you can help support Halloween Love and its writers by purchasing through our links:
(Not seeing any relevant products? Start your search on Amazon through us.)