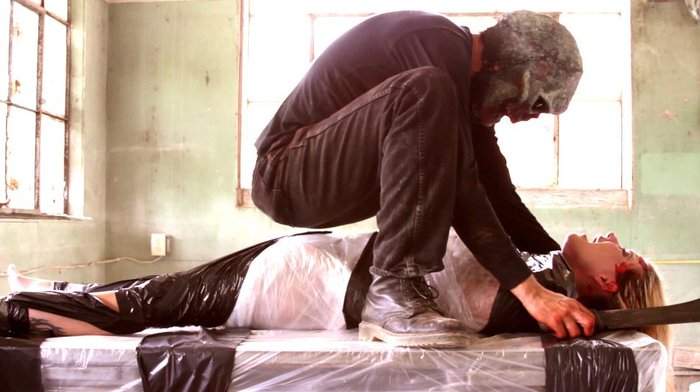 Found (sometimes stylized as "found.") is a microbudget indie feature from Scott Schirmer based on a novel by Todd Rigney. The movie finally saw a release in 2014 after working the festival circuit since 2012, where it won numerous awards and accolades. It's about a young boy who discovers that his brother is a serial killer, and keeps the heads of his victims, but that's really just the surface of the movie. It's often described as a coming-of-age film, which is also true, but even that fails to adequately describe it.
For me, the story tackles a great deal of subjects, including bullying and racism (this is dealt with a bit more in the novel), and effectively captures the nostalgic feeling of being a kid, and going to the video store looking for horror movies. That's the part that spoke to me the most in the novel, and was translated pretty well to the screen by Schirmer.
Part of that translation comes through the films within the film that Found's characters watch. One of these is Headless, and that part of Found was so notorious, it's probably the most talked-about part of the movie by those who have seen it, and it got the film banned in Australia. Naturally, they're now making a feature-length version of Headless (directed by Arthur Cullipher, who did the gore effects on Found), which should see the light of day sometime in early 2015. Schirmer is producing.
We caught up with Leya Taylor, who served as the Director of Photography on both films and as a producer on both (associate on Headless, and discussed the making of both films.
Halloween Love: What was the most difficult aspect of your job during the making of Found? What was the most fun aspect?
Leya Taylor: Every production that I've ever been a part of has had its own unique challenges, and with found., it was the length of the shoot. Persevering and maintaining perspective became difficult at times. We all have day jobs, and shooting nearly every weekend for eight months definitely took its toll.
While challenging, working together for such a long time also had its good points. We all knew we loved the story and that it was important to us that the film be a good representation of that. Every day of shooting became a mini-adventure, especially with Gavin [Brown, who plays lead kid Marty] on set. We had trials and tribulations just like any independent film, but over time we all grew to be really comfortable with each other, finding our groove in the process.
Working on that project was my first real experience as both a producer and a cinematographer, so the best thing about it for me was learning a tremendous amount on the fly. I learned about forms to use, different ways of composing shots, and how those play into the editing process, the screenings, and the eventual delivery of items for distribution. But the learning goes further than the technical; it also involves working with people, friends and newcomers alike. As someone who is not shy, but awkward, this was a valuable lesson as well.
HL: What's your favorite shot in Found?
LT: This is a difficult question to answer. There are some that I love and some that I can't stand to look at. Both Damien and Scott spent a lot of time behind a camera as well, and I think we all tried our best to make it pretty, as Scott was fond of saying. Every time I watch found. there is a voice in my head (Scott's) that keeps repeating, "Is it in frame? Is it in focus?"
HL: What have been the biggest differences between working on Found and working on Headless?
LT: As I said earlier, every production has its unique issues. Headless, for example, was shot much faster than found. (thank God). I think that one of the things that made Headless such an attractive next step was that while shooting found., it was the part where we all felt most comfortable. For that movie-within-a-movie we mostly shot documentary style, and we used all natural lighting in our amazing location. We had great actors who made it all feel very natural. And while the special effects were challenging, they were supposed to be schlocky and outdated. Compared to the rest of the film, we were in our element. Shooting the feature-length version of Headless was more challenging because of the number of effects and the sheer audacity of the project. The other element to this that has made it so much different is that now we have people who are waiting to see it. People who saw found., or just love a good indie slasher, or heard specifically about the project through social media, and are now anxiously awaiting the result. This is a brand-new phenomenon for us and it was never far from our minds while we were shooting.
The best thing about Headless is that we've had a great team from the start. Nathan [Erdel, screenwriter] and Kara's [Erdel, producer] involvement has been wonderful. Nathan gave us a great script to work from, and Kara's producer-ly skills cannot be understated. She is a veritable beast when it comes to the administrative side of things. Shane [Beasley, who plays the killer] has gone above and beyond, being both the star of the film and a member of the special effects crew. Arthur, the man with the vision, did an amazing job of maintaining his creative integrity and getting what he needed on set. Scott [Schirmer, producer on Headless] did so many things it's hard to even begin to list them all. We had incredible actors, all of whom really got into their parts and really elevated the material to a new level. We also had a wonderfully talented team of about 8 effects artists who worked for weeks and months to get everything together for shooting. They put so much time and effort into this film, and it would never have gotten done without them. And as with any film, there are so many wonderful people who contributed in so many ways. Film is definitely a collaborative art form and that is a beautiful thing.
HL: How does Arthur Cullipher's directing style differ from Scott Schirmer's?
LT: They're both very good friends of mine, and my roommates, so I really have to be careful here. Just kidding. They're both really great, but in different ways. Scott is like a lovable dictator. He knows exactly what he wants, and he knows how to get it. He's the man with the plan, and everyone knows it.
Arthur is a different breed of animal altogether. He's a special effects artist first, so his directorial style keeps that in mind. He has a great love for and considerable knowledge of the films from which Headless takes its inspiration, which was why he was a natural choice for directing the feature version.
They're both really great with actors, and they're both the type of director who also edits their own work, which is great from a cinematographer's perspective because they know what they want and they're thinking about cutting it together as we shoot.
Both have a unique set of skills and strengths; Scott is much more the mainstream filmmaker while Arthur is more along the lines of the occult. They both want to make great movies, and are trying their damndest to make that happen. Obviously I've never worked with either of these directors, but I imagine it's much like the difference between working on films with Spielberg and Jodorowsky.
HL: So shooting is nearly complete. Have things come together as planned?
LT: Things have come together beautifully. I think we got a lot of amazing stuff this time around. We got to experiment with some really cool effects, there were many amazing experimental lighting opportunities as well. People are not going to expect what's coming to them. It'll be trippy, weird, gross, beautiful, disgusting, and disturbing when all is cut and rendered.
HL: When is Headless expected to premiere?
LT: I believe that if everything stays on schedule, we'll be able to have the DVDs for our Kickstarter people out by the end of February/beginning of March. We'll probably have a small local showing of the film, and we've already been solicited by a couple of film festivals, so hopefully we'll get into those as well.
HL: What's next for Leya Taylor after Headless? When I interviewed Scott back in the summer, he mentioned he would be producing your directorial debut. What can you tell me about that?
LT: Yeah, the water is really boiling on that project. I've been working with Scott and Matt Medisch (who will be co-producing the film) on moving heavily into pre-production for that and we're all really excited about the opportunity. I can't say too much about it yet, but it's an adaptation of a really great novel by an incredibly talented author out of upstate New York named Dustin LaValley. More announcements to come, and soon! We're aiming to shoot that project in the spring. Also working on preliminary pre-production for a couple of films with Scott – he's got some really exciting stuff in development as well. 2015 is going to be a very busy year, but that's just the way I like it!
Support Halloween Love
If an item was discussed in this article that you intend on buying or renting, you can help support Halloween Love and its writers by purchasing through our links:
(Not seeing any relevant products? Start your search on Amazon through us.)