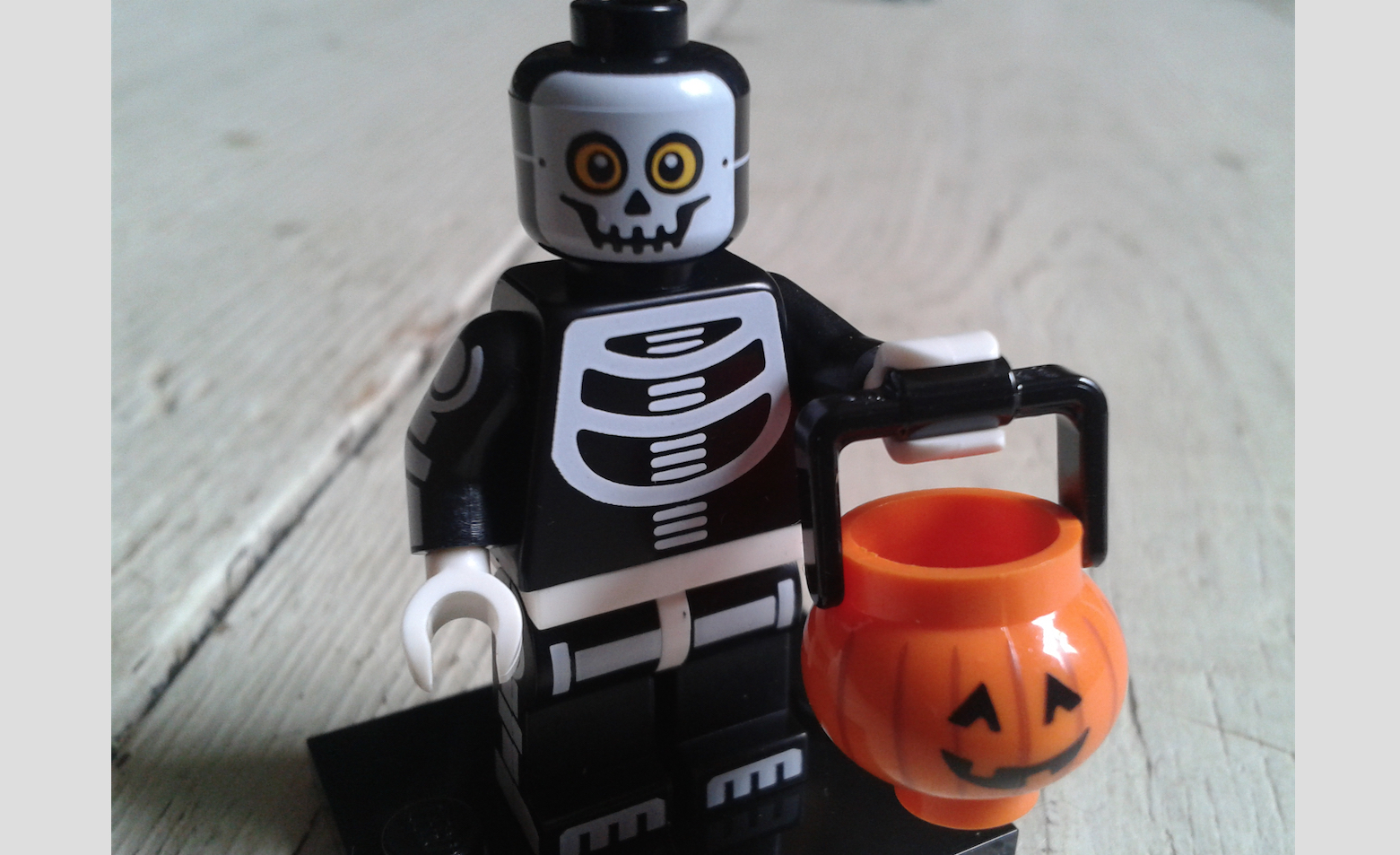 Series 14 of the incredibly popular Lego Minifigures arrived last week, and for the first time since they started releasing these blind bagged individual characters I decided to get involved and buy a few. I'm not normally much of a Lego collector at all, but when it was revealed that this latest series had a theme they were calling "Monsters" you KNOW I had to get involved with that and check them out.
For horror fans it's a dream collection because you are guaranteed to be getting figures you will probably appreciate, and with the Halloween season right around the corner the timing could not have been better.
So, with some loose change in my back pocket I moseyed into my local Toys-R-Us last Saturday, located the display stand near the tills, and grabbed five packs.
There were a few specific characters I was hoping to find and obviously there is always the danger of buying duplicates when figures are packaged in this way, but I had a secret weapon at my disposal – my girlfriend. Seriously, she is some kind of psychic when it comes to blind bagged items. She stands very still, spends about twenty seconds squeezing and feeling each bag in silence, then turns to me and tells me what's inside! Her success rate is up around the 90% level most of the time, so I challenged her to help me find at least two of the figures I REALLY wanted with no doubles!
Let's take a closer look at what was lurking within the foil and see if she worked her magic once again …
Bag 1 – Crazy Scientist.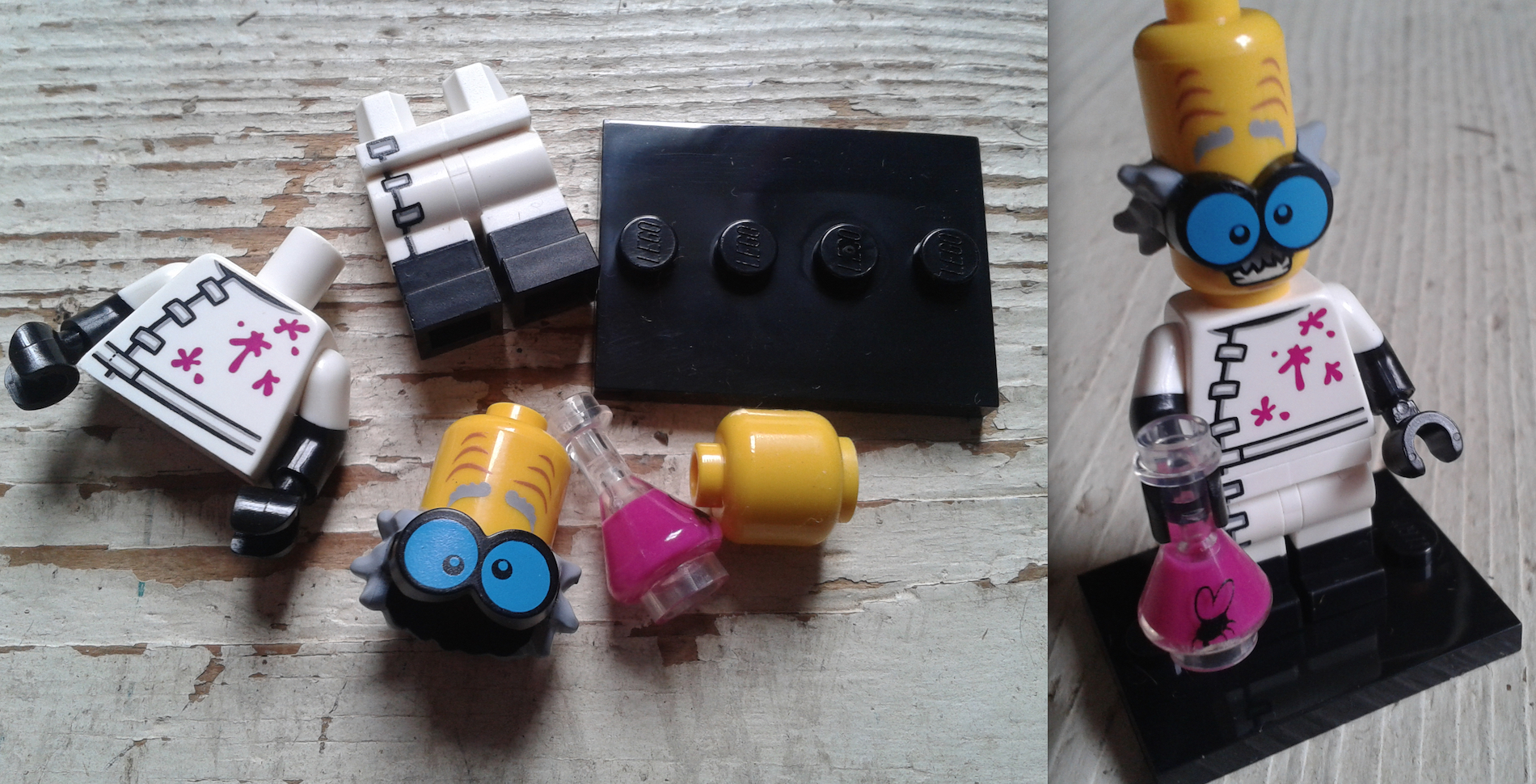 Love this guy! The elongated head with the magnified eyes gives him much more 'character' than your average Lego figure, and the beaker of Fly Serum is a very cool accessory.
Bag 2 – Wacky Witch.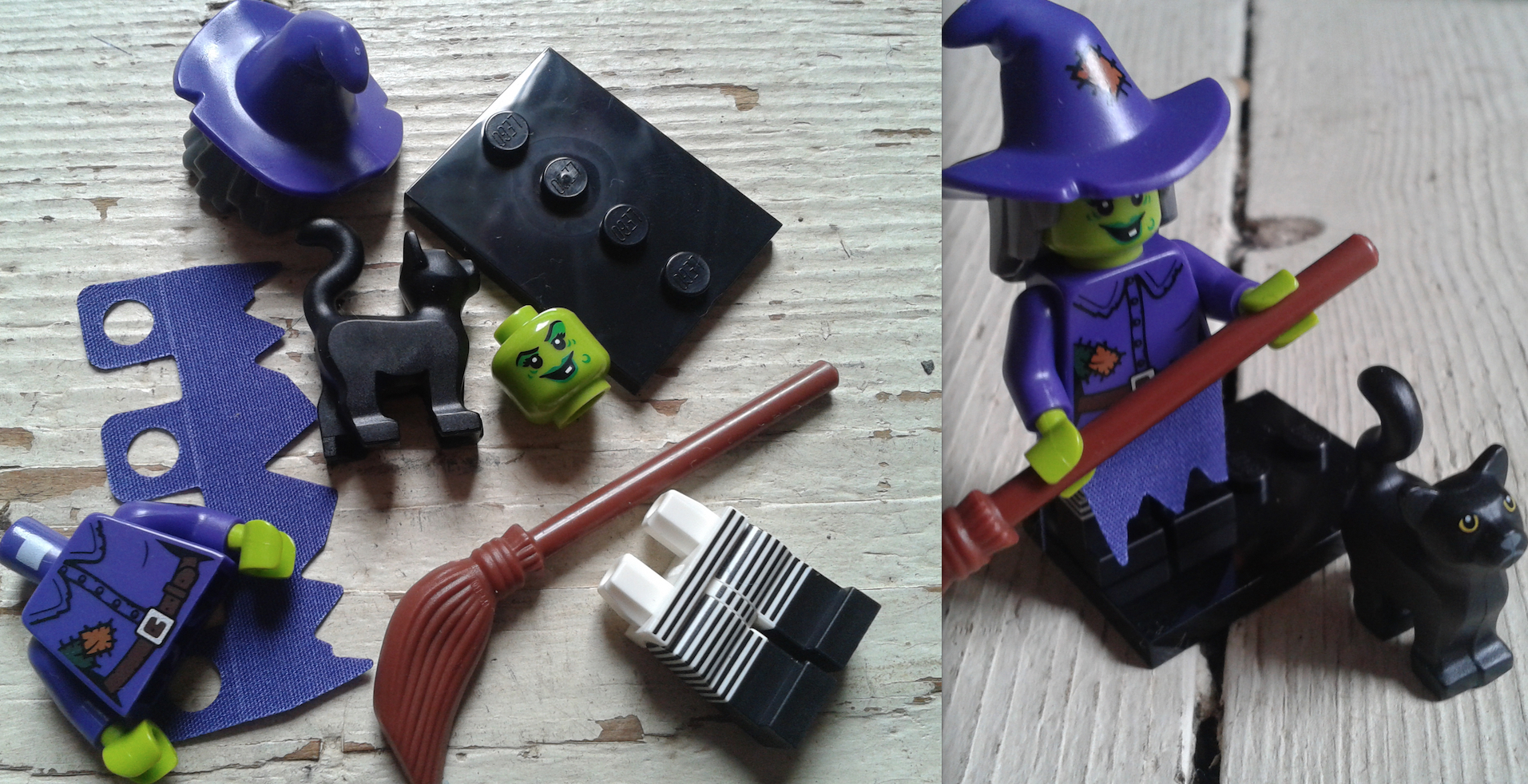 This very nice figure is fairly easy to find because the shape of the hat is a huge giveaway when you are fondling those bags! She comes with a broomstick, a small feline companion, and the bottom of her purple dress is made of cloth which increases the display quality of the piece.
Bag 3 – Gargoyle.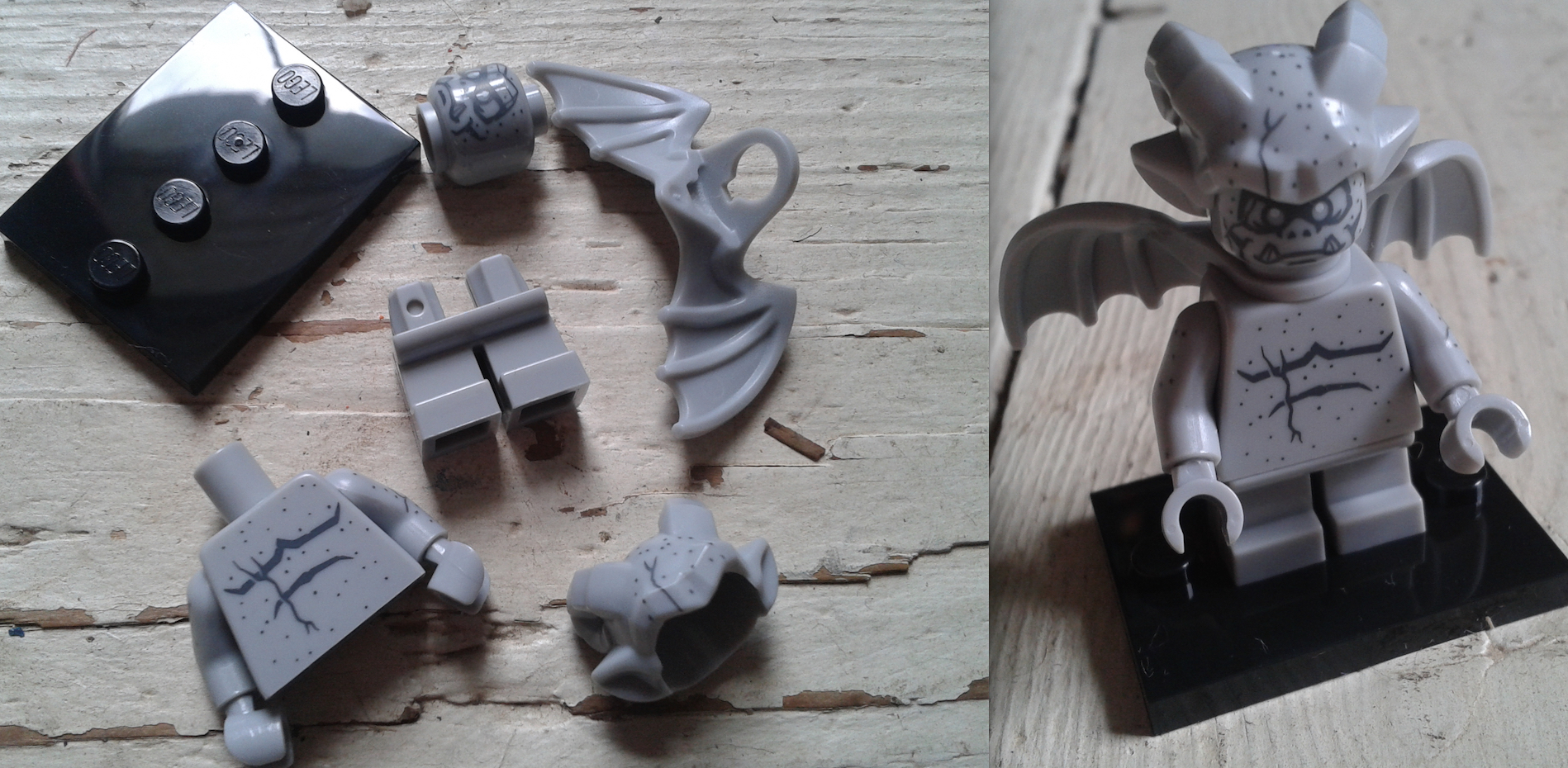 This little dude is probably the blandest character in the whole collection but I was personally really pleased to find it. He has shorter legs than your average Lego figure and they don't bend at the waist like normal, but come on! He's a Gargoyle! All they do is stand around looking menacing while birds crap on them.
Bag 4 – Specter.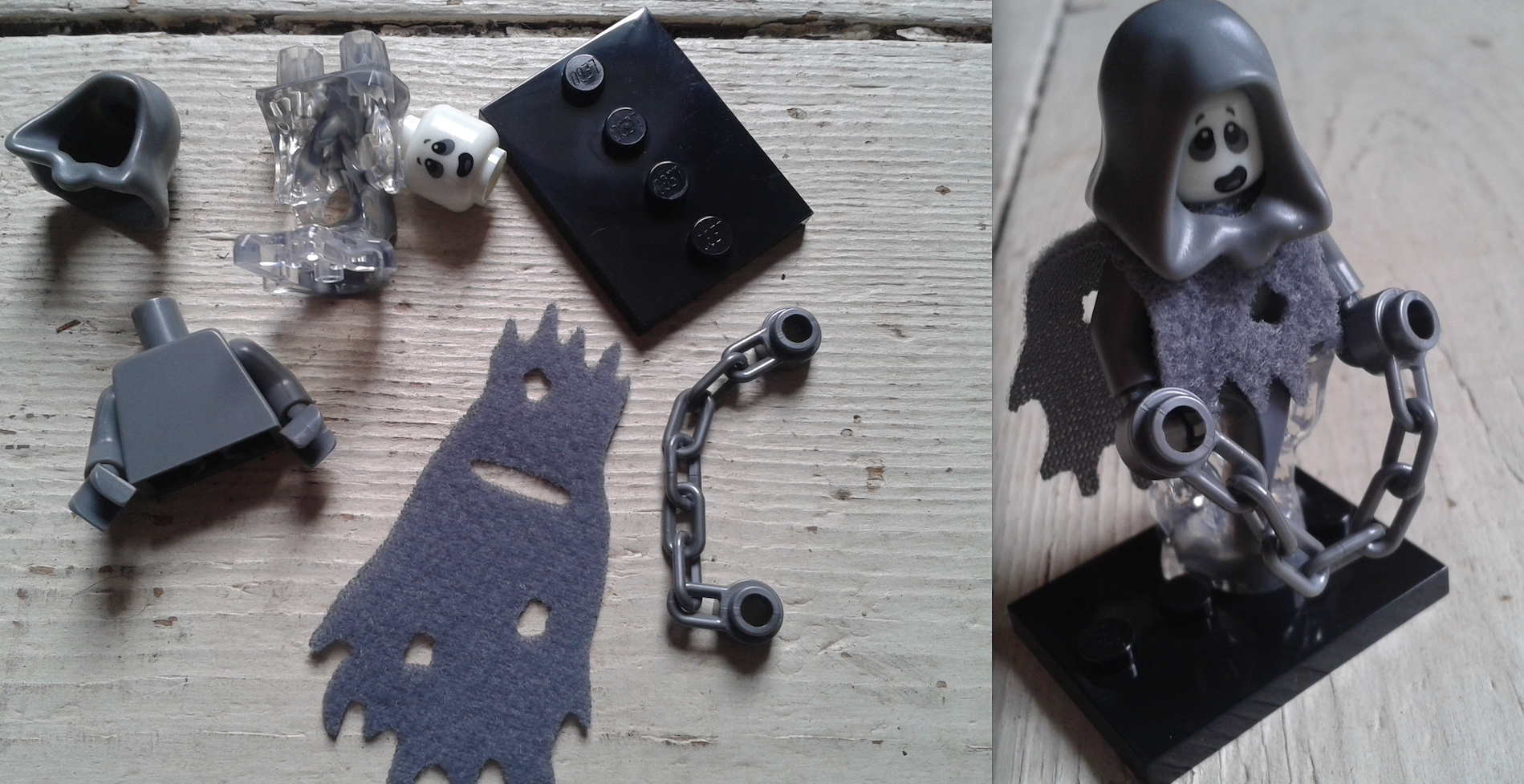 Yes! This was the figure I wanted most of all. Instead of legs he has an awesome transparent swirling piece of plastic that attaches to his waist for that all important floating ghostly effect. He comes with a soft fabric shroud, his head VIVIDLY glows in the dark, and you also get a small chain that can be attached to his hands. It really is a beautifully designed piece, and as someone who has rarely collected Lego since childhood I was seriously impressed with the way it looked.
Bag 5 – Skeleton Guy.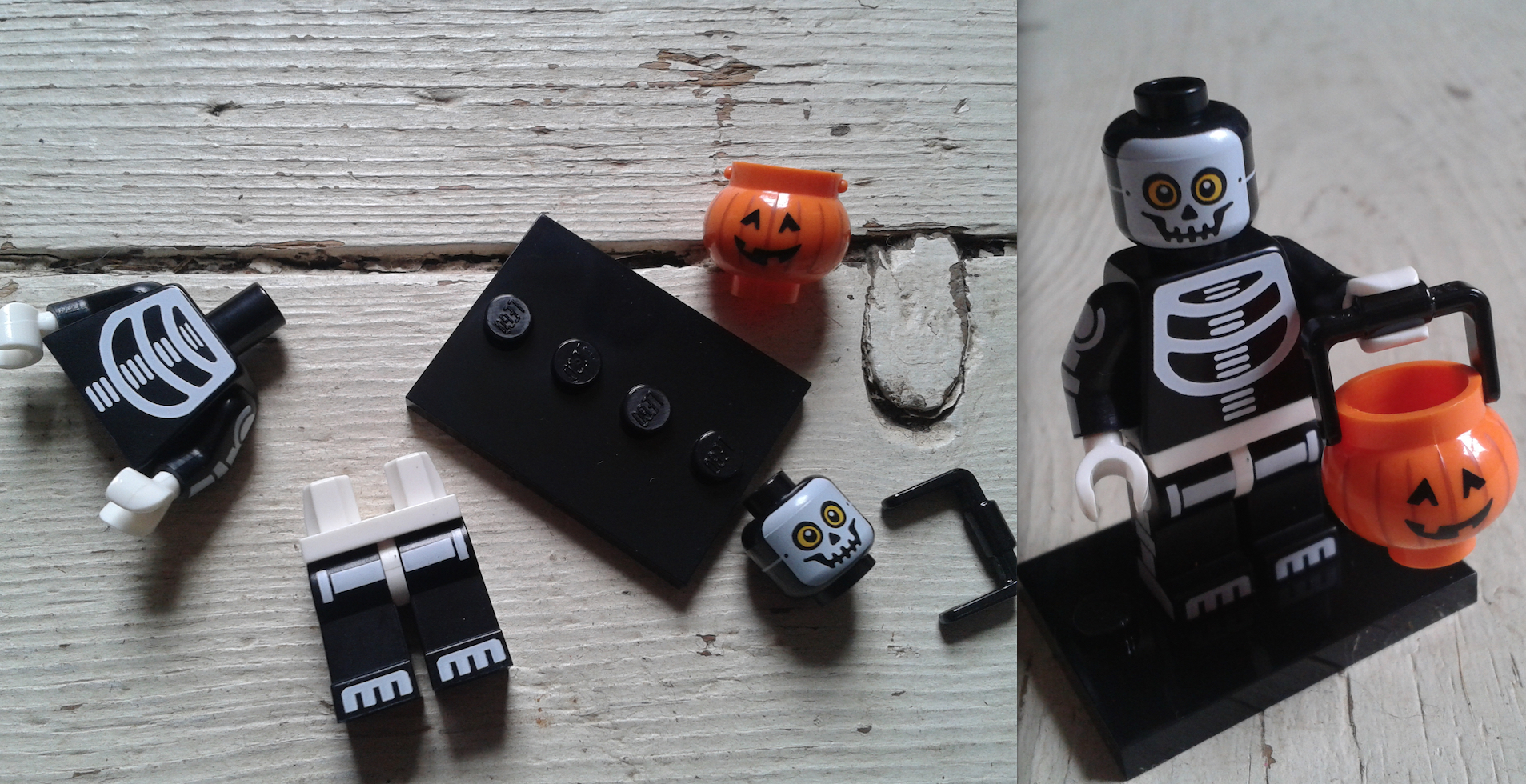 We finished by finding arguably the coolest figure in the collection, especially if you are obsessed with Halloween imagery and skeletons like we are. This little guy is heading out for an evening of trick-or-treating in his favorite spooky costume, you can even see the string holding the mask to his tiny face! He's also equipped with a jack-o'-lantern basket to carry his candy haul home at the end of the night. I like this one, a LOT!

I think it's fair to say the little lady came through for me once again with these. We more or less found the five figures I liked the look of the most from the promotional checklist, and it's ALWAYS pleasing to avoid getting any duplicates. These cost me about £2.60 each which I personally think is borderline too much, but at the end of the day it's Lego, and quality is absolutely guaranteed. Everything assembles perfectly, nothing is ever missing or broken, and they do look damn good lined up on a shelf.
If like me you rarely buy Lego but admire it from a distance then I can happily recommend that you take a few steps closer and pick some up. The theme will get you in the Halloween season mood and nearly all the figures are worth finding which makes opening them a fun experience.
Go build some Monsters!!
Support Halloween Love
If an item was discussed in this article that you intend on buying or renting, you can help support Halloween Love and its writers by purchasing through our links:
(Not seeing any relevant products? Start your search on Amazon through us.)