My favorite thing in the whole world from the moment I could sit up on my own until about 11 years of age was my teddy bear. Most kids have something that gives them comfort … a blanket, a pacifier, but mine was a small blue bear that I would hold up to my face and 'sniff' the top of its head whenever I was upset or tired.
Over the years it inevitably started to fall apart due to just how much I would cuddle and sleep with it. My mum had to keep stitching up split seams, both eyes needed to be reattached and his ears basically rotted away until they were tatty stumps. In an attempt to slow down this damage my bear was dressed in clothes that were made for premature babies, and while it meant his body was protected his head was still exposed to my constant love and sniffing. Toward the end of our time together his head was was attached to his body by just a few pathetic strips of material where he once had a neck, and combined with the discolored clothing he was a sorry sight indeed.
I still loved him just as much as ever, but to my family this bear had become a visual terror, they were repulsed by his zombified appearance.
I kept him in a box for years after I stopped needing him for comfort at night, I simply didn't have the strength to throw away my childhood companion. But one day I lifted the lid and noticed the top of his head had started to get a bit mouldy. I guess a childhood of snot and tears will do that! So I gave him one last hug and dropkicked his little ass into the trash.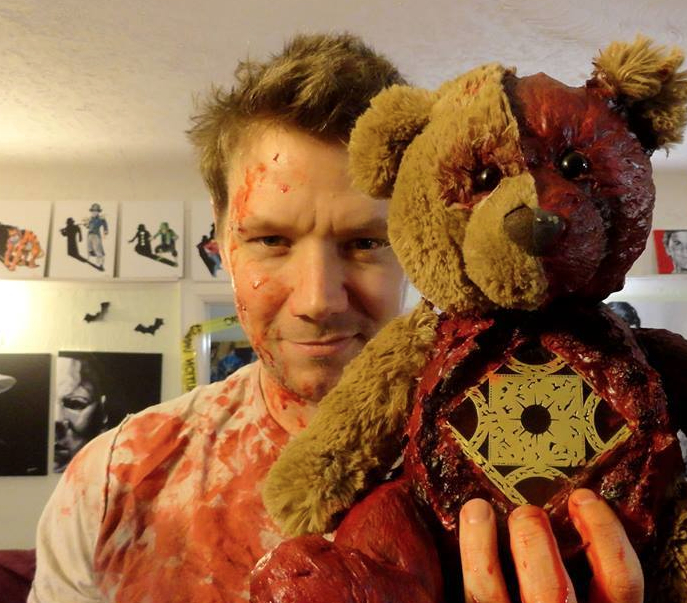 This week my quick-fire artistic Q&A is with the incredibly talented Lee Howard, creator of the wonderful Quiet Room Bears. As bad as my little pal got he never reached this level of terror and due to my own experiences they are items I have admired from afar for quite some time. Lee gave me a fantastic insight into these cute nightmares and I've included plenty of awesome pictures … Enjoy!
Halloween Love: Can you tell me a little about your artistic journey, were you creative from a young age?
Since I was a little dude, I have always loved doing art, really. Throughout grade school and high school, art was always my best subject, and even though I was one of the 'losers' in school because I didn't really play sports, people still knew me for art, which was actually great and may have saved me from bully-beatings! (Thanks, art!).
HL: Is it safe to assume you have a passion for horror, considering what you transform your Quiet Room Bears into? And were you inspired by anything leading up to the first bear you created?
When I was REALLY young, I was SUPER scared by scary movies and horror (I remember seeing scenes from Salem's Lot back when it originally aired on TV and it gave me nightmares), but one Sunday afternoon when I was 10, my older brother Bill showed me A Nightmare on Elm Street 2 : Freddy's Revenge and that basically flipped a switch in my brain and ever since that day I became horror-obsessed.
Basically what led to the 1st bear was about 12 or 13 years ago, my brother & his wife had a themed Halloween party, which was 'Rosemary's Baby Shower', where they had this demon baby in a crib & they did a 'whoever brings the best present for the baby, wins a prize!!' contest and I figured 'every baby needs a teddy bear, so the son of Satan needs a teddy bear so horrible looking that it would make you want to barf in your mouth to look at it', so I created the first one and it went over SO well, that I thought 'maybe I should make more, but make them look all different'.
At the time I didn't have a name for them or anything and it wasn't until about a year later that I decided to start them up again, which is when I decided to call them Quiet Room Bears and came up with a whole back story about the mental institution where they are created, the inmates that make them, and the Quiet Room itself being an entity of pure evil. Nightmare on Elm Street 3 was a big influence (the kids in the institution were put in a quiet room when they got all riled up), as well as the Brad Anderson movie Session 9, which is what made me decide to call each bear 'session 1', 'session 2', 'session 3' and so on. (side note : I managed to send a Quiet Room Bear to Brad Anderson a year or so ago! I never heard back on how he liked it hahaha. Maybe I weirded him out too much?).
HL: Can you give me a rough idea of the process involved in creating one of the bears, and how long they can take to complete?
The process for creating the bears is a long one actually. It's honestly really rare that I pre-plan how I am going to make each one, I kind of just look at a teddy and just kind of know how I need to cut it up and what I need to jam inside it (I'm not a real psychopath, I assure you!), but one bear alone can take up to a week, which is why I usually try and work on a BUNCH all at once. It's a very long process, not to mention that after the bears are finished, I have to work on all the packaging, which includes a hand stitched burlap sack, which gets all painted/bloodied up with the bear's 'session' number scrawled on it, as well as a BUNCH of printed materials like its 'certificate', post cards and more that go with each and every bear that someone buys.
I want to make sure that when someone gets a Quiet Room Bear, that they aren't just buying a product, but you're buying art, and you're buying a little blood-soaked experience. While some of the Quiet Room Bears MAY be a tad more pricey than some of the other 'horror bears' that have started to pop up in the last little while, I can assure you that people are getting WAY more out of mine than the other guys.
HL: Possibly a tough question, but … do you have a favorite? Perhaps one that exceeded your expectations when completed?
As for a favorite, hmmm, tough call. 'Session 1', the first one will always be a favorite, and the only one I will never sell. 'Session 7' is a special one because I gave it to actor/artist Mark Patton (who played Jesse in Nightmare on Elm Street 2) because we became Facebook friends and, amazingly, he loved the Quiet Room Bears, so I gave him one and he was SO AWESOME in helping spread the word and shared the Bears on his page. I will always be in debt to Mark and am SO proud to call him my friend. Session 45 and 51 always jump out to me too, as they seemed to be really popular online and got shared all over the place. Also, any of the movie-inspired ones have been EXTREMELY fun to make and have gone over SO GREAT online as well.
HL: Customizing and individually creating a wide variety toys and action figures seems to have become a thriving community. Have you found that to be the case?
I have really noticed that customized art has been on the rise in the past while, which is awesome because the world can always use more art. And like I said earlier, there are SO MANY more 'horror bears' that have popped up in the last 4 or 5 years or so, and I guess are technically my competition (although the other guys mainly make, like, 'zombie bears' type of thing), but thematically mine are really different and the world is big and can always use a BUNCH of bloody art all over the place, so there is room for everyone.
I've been EXTREMELY lucky with the world-wide fanbase that the Quiet Room Bears have gotten and I love all my fans and bear-owners (which I call 'inmates'. Once you own a bear, you're now an inmate of the Quiet Room for life!), and the fact that I have gotten to get Quiet Room Bears to some of my horror heroes such as Mark Patton, Lezlie Deane (from Freddy's Dead and her FANTASTIC band Scary Cherry and the Bang Bangs), the ridiculously awesome Jen and Sylvia Soska (directors of American Mary and See No Evil 2) and even Marilyn Manson himself!!
HL: Finally, what does the immediate future hold for you artistically? Is there any direction you would like to explore that you haven't had the time to attempt yet?
As for the future of the Bears, I have a lot more movie-inspired ones I would like to do, but in the future, I would REALLY love to make a short film based on the Quiet Room, which would explain what the Bears are exactly. I am working (on and off) on a feature length script, but I think starting with a short film is the best, and I would love to see if I could premiere it at the Toronto After Dark film festival, with whom I have worked with the past 2 years and created a unique Quiet Room Bear (called TADDY!) for them, so it would be a perfect place to debut it.
I honestly don't want to stop until everyone knows the name Quiet Room Bears in the same way that people know Freddy, Hellraiser and Chucky. I really feel like I have an original story to tell and the horror community is so awesome and welcoming and always hungry for new stories, and I think it's about time that the Quiet Room takes in many … MANY new inmates!
On behalf of myself and everyone here at Halloween Love I want to say a huge thank you to Lee for taking the time to be involved. For all the latest news and pictures of his work just head over to his awesome facebook page. It's well worth a visit.
Support Halloween Love
If an item was discussed in this article that you intend on buying or renting, you can help support Halloween Love and its writers by purchasing through our links:
(Not seeing any relevant products? Start your search on Amazon through us.)