We've reached the end of another week – thank god! – which means it's time to once again take a look at the coolest, weirdest and/or most awesome images that I've stumbled across on social media this past week.
So let's get right to it, shall we?!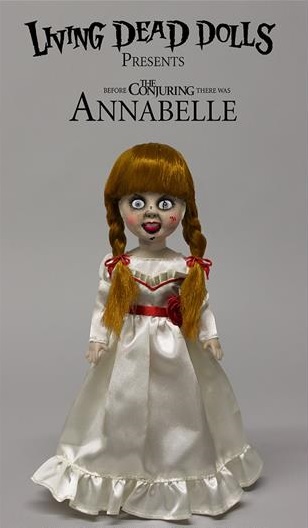 Mezco recently announced that they picked up the license to The Conjuring, and today they unveiled/put up for pre-order a Living Dead Doll of the film's creepy doll Annabelle. The toy was made in conjunction with the release of Annabelle, a spin-off film which hits theaters on October 3rd. Big fan of the Living Dead Dolls, and I love that the line is being used to give us all little Annabelles of our own. Consider yourself pre-ordered, you creepy little bitch.
An artist buddy of mine by the name of Trevor Henderson recently started creating a line of his very own jointed Halloween decorations, which are some of the coolest pieces of fan art out there. In addition to the three seen above, Trevor has to date also whipped up a Michael Myers and Brundlefly, which you can see over on his Facebook page. He plans on putting them all up for sale real soon, so keep tabs on that page if you're dying to hang one up in your home!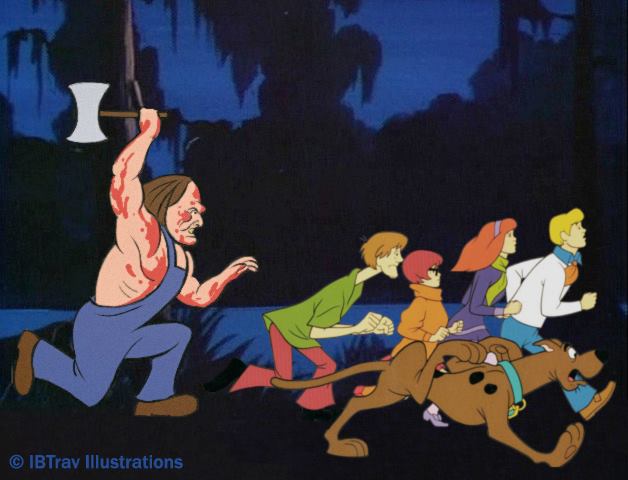 A couple weeks back I featured one of artist Travis Falligant's Scooby Doo/horror mash-ups here in the weekly image wrap up, and I simply can't help but give him another shout-out this week. Travis' idea of putting horror icons into the world of Scooby Doo has proven a massive success within the community, and he's been replying to all the love by churning out a steady stream of new additions. The best place to keep up with all the latest art is through Travis' Twitter, so be sure to give him a follow!
The calendar switch from August to September means the beginning of Halloween season and the return of the General Mills monster cereals, so be sure to keep your eyes peeled for the loveable gang, next time you head out to your local supermarket.
Whereas last year marked the return of Yummy Mummy and Frute Brute, this year sees the premiere of brand new box art for each character, and I'm thinking the only way General Mills can possibly keep up the momentum – and one-up themselves – would be to introduce a brand new character next year – which they haven't done in decades. Perhaps 2015 will be the year of the Creature?!
On a related note, check out Five Fun Facts about the monster cereals!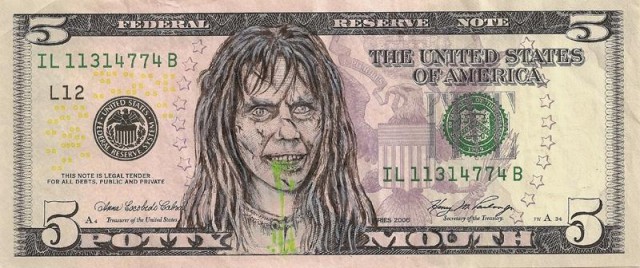 If you're an artist and you really want to attract the attention of the internet you need a gimmick – something that sets you apart from the pack. James Charles' gimmick is that he likes to doodle on paper currency, turning the presidents into movie monsters and other iconic pop culture characters. For this particular piece, Honest Abe became the demonic Regan MacNeil, and in the process a $5 bill became a much more valuable piece of art. Make a pit stop at James' website to see more of his money art!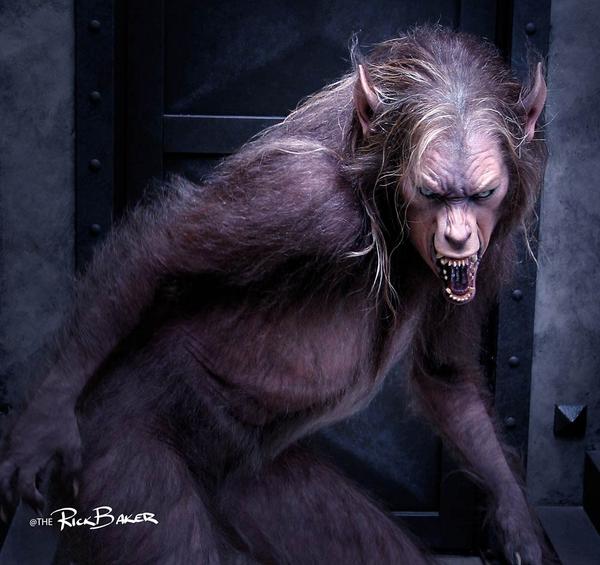 Makeup FX legend Rick Baker tweeted out this image the other day, which shows off one of his creature designs for Wes Craven's 2005 werewolf film Cursed. Unfortunately, production issues led to Baker's work being excised from the finished film, and him being replaced by KNB FX. If you like what you see here, follow Baker on Twitter to see another image of the werewolf that almost made it into the movie!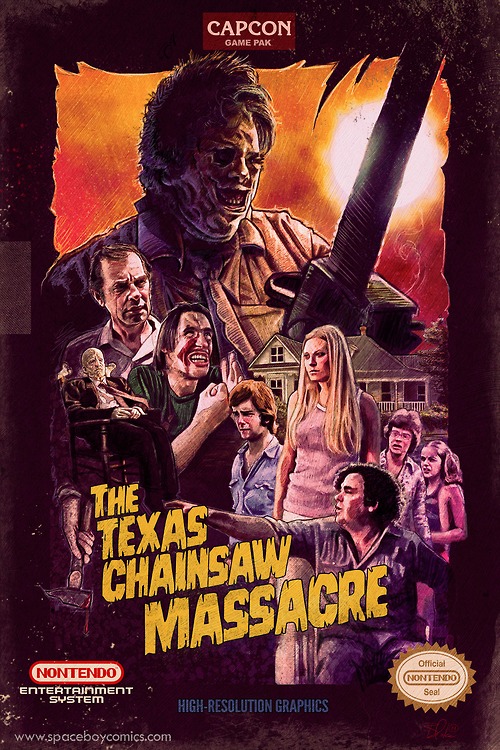 Once upon a time, a Texas Chainsaw Massacre video game was released for the Atari 2600, which actually allowed you to play as Leatherface. But what if the film was given the same treatment on the NES? Well, artist Blake Armstrong imagines such a world with this awesome piece of faux art, unveiled earlier in the week. Not sure if he'll be selling prints or if the art was made just for fun, but you can follow Blake on Twitter so you'll be among the first to know if prints do go up for grabs!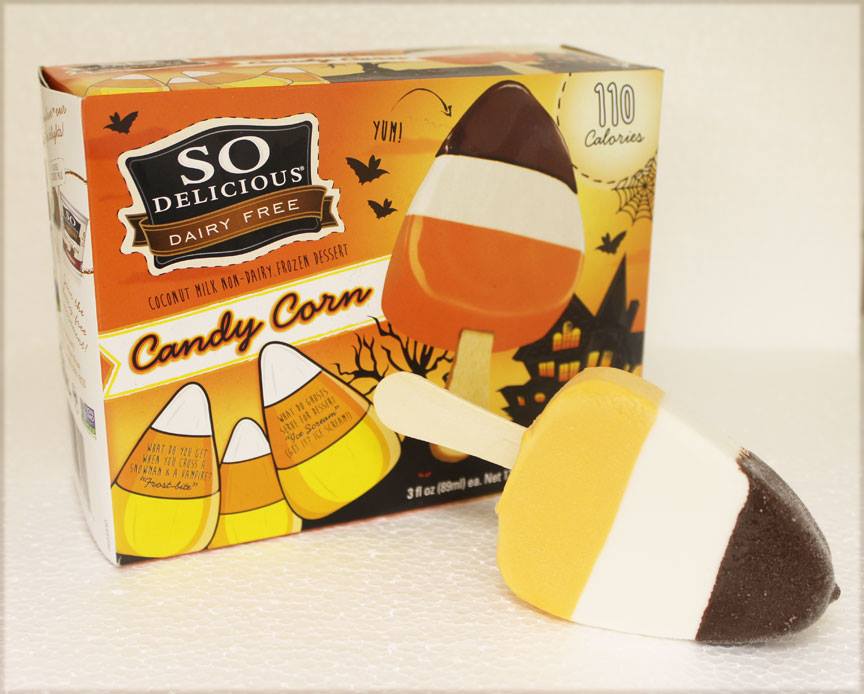 We wrap things up with a brand new Halloween treat hitting grocery stores in the coming weeks, courtesy of the dairy-free company So Delicious. I've had some of their ice cream products before and they indeed are quite delicious, and it's for that reason that these candy corn pops are at the tippy top of my 'Groceries Most Wanted' list. The company is also putting out pumpkin spice ice cream pops, along with pumpkin-flavored coconut milk. Nothing I love more than food companies going all out to appease the Halloween Gods!
Support Halloween Love
If an item was discussed in this article that you intend on buying or renting, you can help support Halloween Love and its writers by purchasing through our links:
(Not seeing any relevant products? Start your search on Amazon through us.)