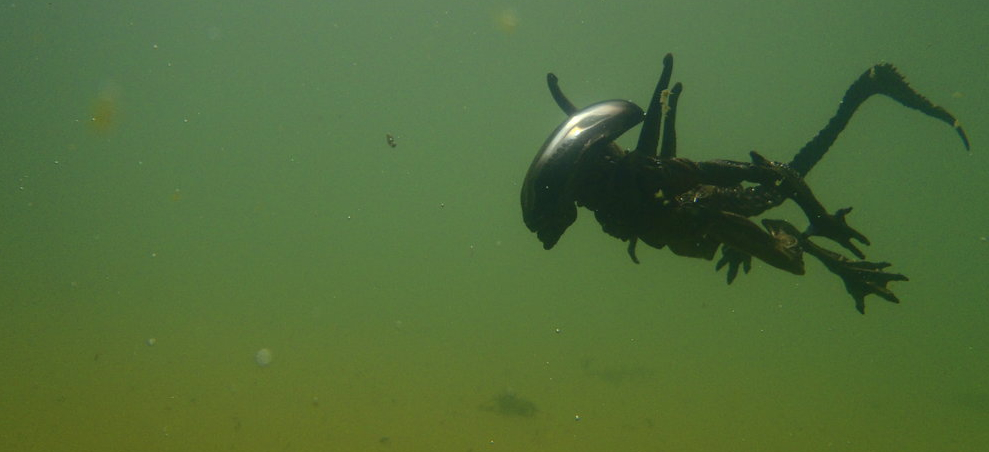 Ok, try to picture the scene. A ten year old boy is in his backyard and with him is his large plastic box of Star Wars figures. He spends about 30 minutes digging a deep, circular hole in the dry, hard dirt under the grass then when he is happy with it he begins sticking small bits of snapped off twigs around the inside edge of the hole pointing out but slightly downward.
When the twigs are all the way around he pours some sand inside the hole and over the grass surrounding the 'dig' site. He then starts selecting figures that are appropriate to the scene he is TRYING to recreate and gets them to stand around the hole by any means necessary … even going as far as burying their feet if he had to.
Finally, when he is happy with what he has created he runs into the house and drags his Father outside carrying a camera. Pictures are taken, and a week later (after waiting for the pharmacy to return the prints!), the small boy can sit in his room and study the fruits of his labour.
That boy was me … and that was the day I decided I was going to neatly damage my parents nice lawn by building my own Sarlacc Pit!
This was of course long before good old Uncle George decided to give the damn thing a bird beak and little me was very proud of the way the pictures turned out, (In reality it was awful, but I had fun!). It began a bit of a love affair with trying to display my toys in cool ways and then get my long suffering parents to take countless photos of my work … which I still have today.
I hadn't thought about that day for years until a few weeks ago when I was asked by a friend to help him upload some family pictures onto the photo sharing site Flickr. After we were finished I spent a little time browsing the site and was suddenly presented with hundreds of pictures featuring action figures of all kinds being displayed in creative and visually amazing ways.
One photographer and devoted collector particularly impressed me and she goes by many names, Rebecca Loves-Monsters / Rebecca Beaver / (Splitty), take your pick …
Working through her pictures you could clearly see a natural progression in ability and effort, until it reached a point where her latest shots were just blowing me away one after the other … Many feature horror and spooky characters and I couldn't resist contacting her to see if she would mind telling me a little bit about this hobby and to see if I could share some of my favourite pictures here today.
I'm delighted to say Rebecca was more than happy to allow me to create this article, so first of all here is a bit more info from the lady herself;
"I first started taking pics of my collectibles about three years ago, mostly just a way to share figure info, and I noticed many older figures didn't have good out-of-box photos online, so it was to share that information too.
However, I couldn't stop playing around by painting my own backdrops on paper, squirreling away props, and finding new lighting. The last year or so is when I started getting really flamboyant and dramatic. I'm excited to see what they'll look like in a few more years."
"One of my favorite horror characters is Pinhead from Hellraiser, but my favorite movies tend to by supernatural or monster movies like Suspiria, The Shining, Evil Dead 2, The Thing, Near Dark, Argento & Fulci etc. It's hard for me to pick a favorite because I'll just go on and on…. Some of my recent favorites, though, are Dead Snow, Troll Hunter, The Host (the Korean one), The Revenant, Grabbers, and yes, Bad Milo." (:P
What follows are MY favourites from her collection … Rebecca gives brilliant little descriptions with each picture she posts on Flickr and I will include them as well to provide a little more insight into these stunning images … take a look!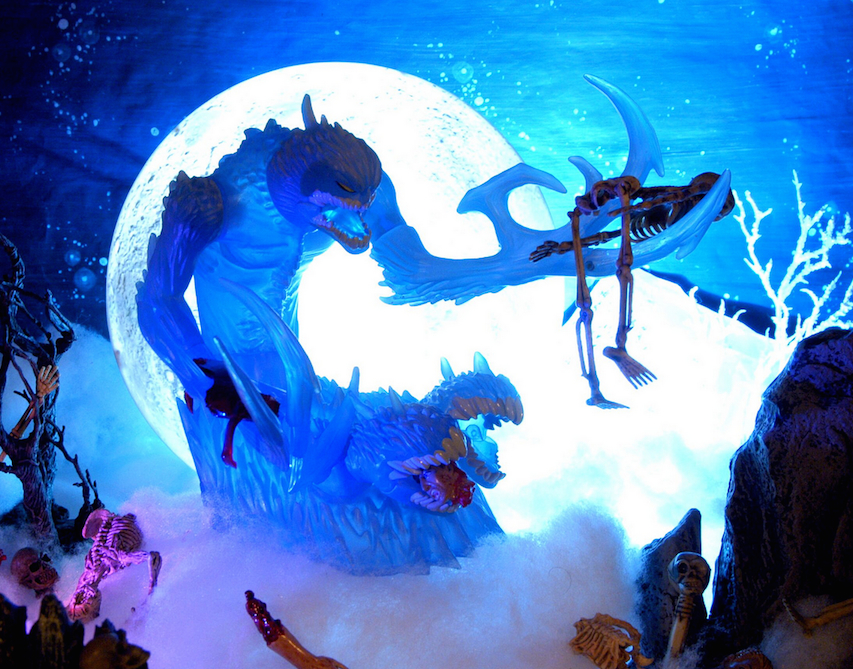 "Rendition Snowman Action Figure – Blue 2. Maybe he's cleaning up his area, you know, movin' bones around. This is the 7 inch 1998 Rendition Snowman action figure, based on the comics. This is the regular easiest to find blue edition. It's actually transparent too!"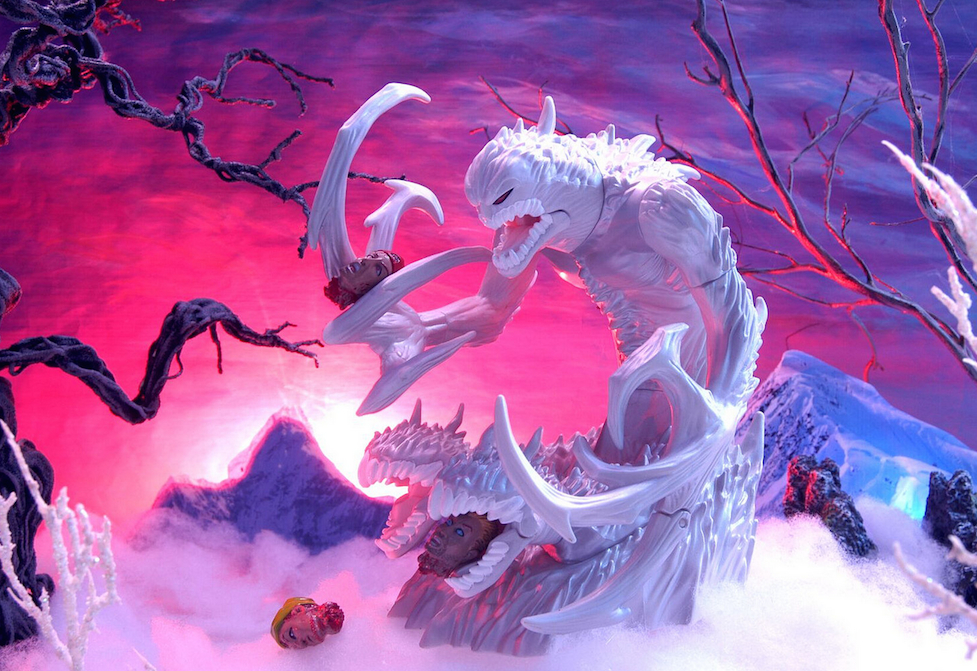 "Rendition Snowman Action Figure – Silver Variant 1. This is the 7 inch 1998 Rendition Snowman action figure, based on the comics. This is the super duper rare silver edition. It's a white with a silver coating, and the only one I've ever seen is the one I bought off ebay! Seller found it in the 'back of his warehouse'."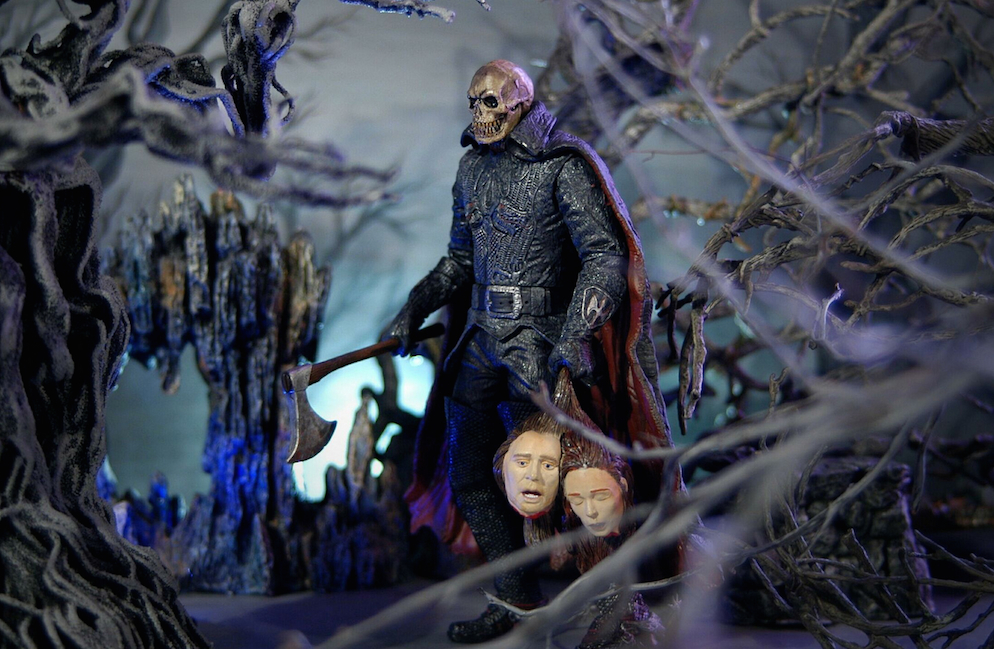 "Sleepy Hollow Headless Horseman, McFarlane action figure. This does not look like a good night to go strolling through the woods. Strange things are afoot!"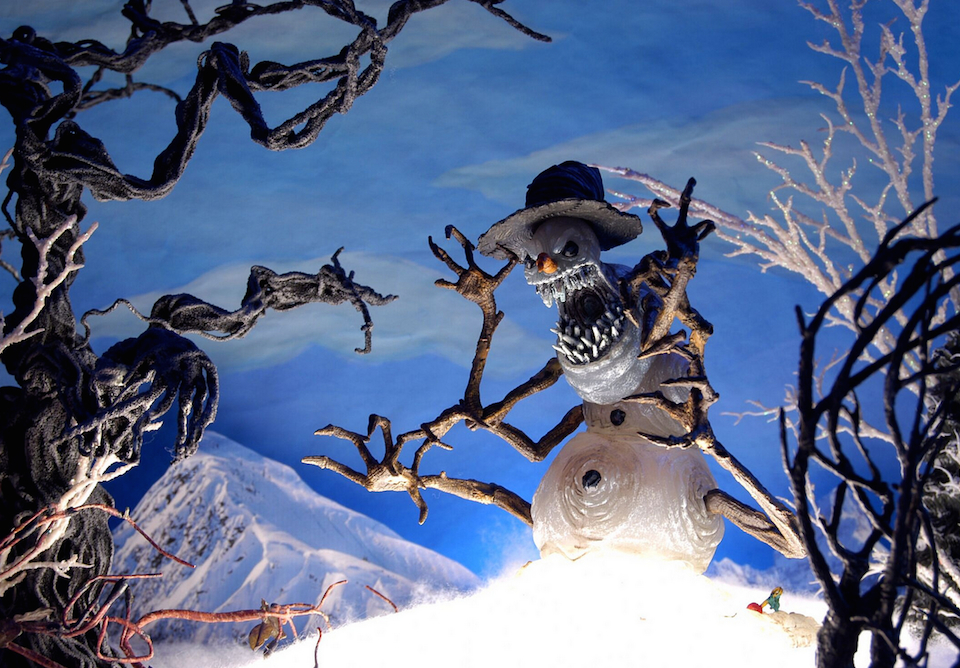 "Ahh Frosty, the six armed snowman! This is McFarlane's Twisted X-mas Frosty Snowman action figure, about 7 inches tall."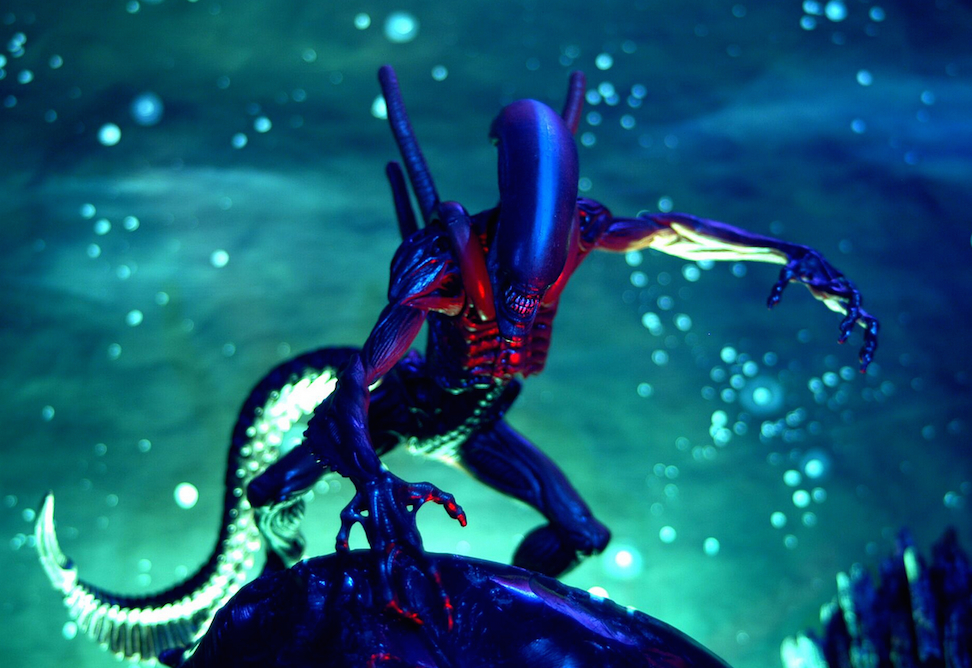 "Kenner Alien Resurrection Warrior Alien Action Figure. I'm one of the few people, I think, that actually LIKED Alien 3. The depressing somber minimalistic mood, and I really like the creepy sneaky Dog alien in it. Since Kenner didn't make any figures from this unpopular flick, I was glad to see the Alien Resurrection Warrior alien, that at least looked a little like the dog alien. He's a very large 8 inches tall/long."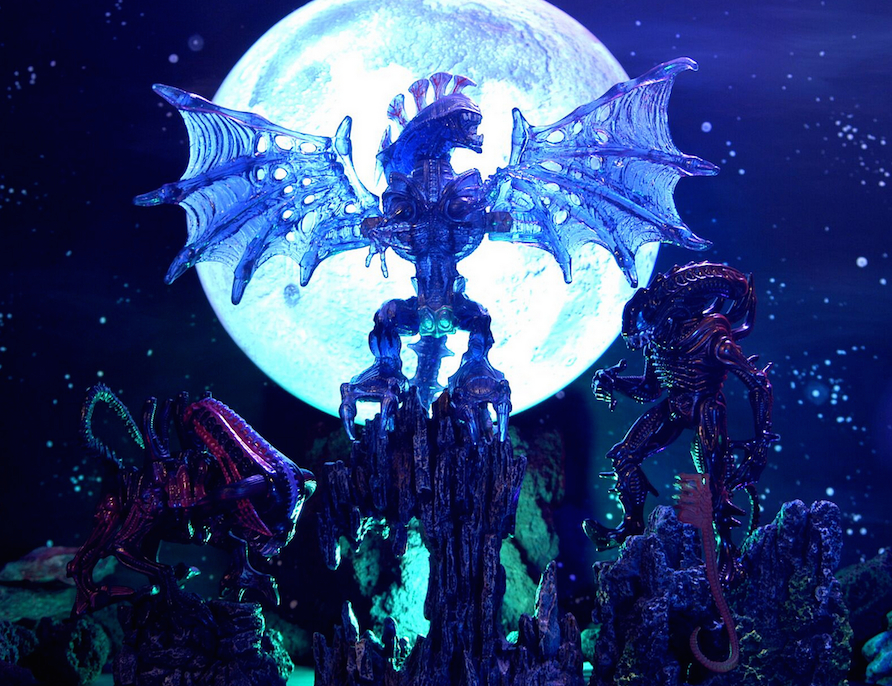 "Here's some of my regular Aliens early series 1992 action 5.25-6 inch figures. I plan on filling in more when I find them (really want cougar & panther), but for now, this is the Bull alien, the translucent Flying Queen (I wonder if she keeps bumping into lights like moths?), and the Scorpion Alien."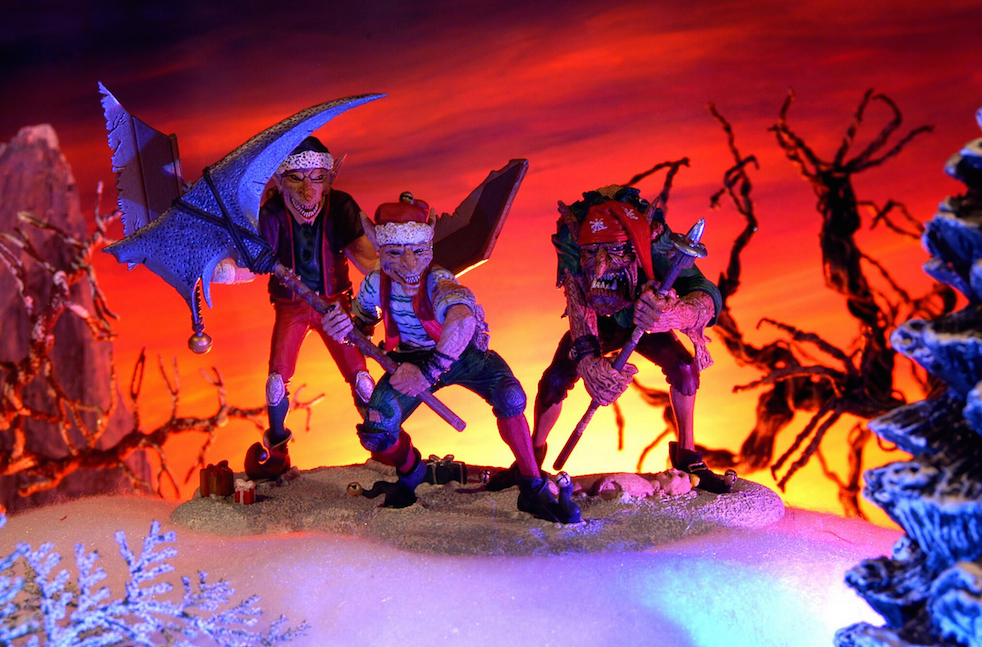 "McFarlane Twisted X-Mas Santa's Little Helpers action Figures – Set. Santa's Elves!! Wondering what they've been helping him do….. burying bodies?"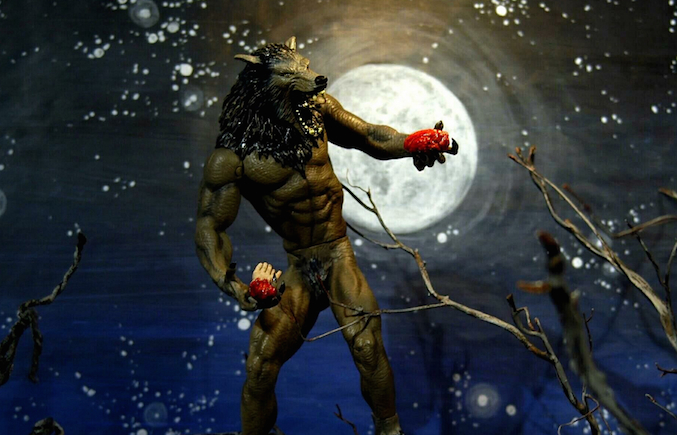 "Dog Soldiers Grey Werewolf – Now Playing Sota Toys. Werewolf with a pile of human remains! Holding a still beating heart of the latest victim. This is the awesomely detailed 8.5 inch large Dog Soldiers Werewolf – Now Playing line by Sota Toys 2007. This is actually the grey one, but my highlights make him look more brownish."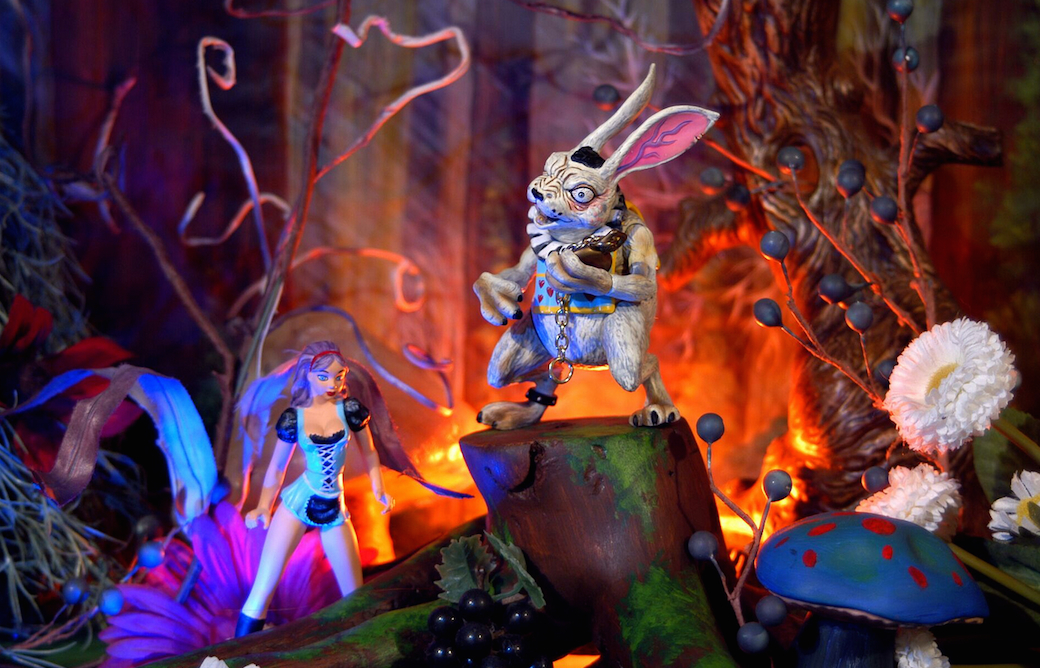 "Mezco Scary Tales Alice in Wonderland & Rabbit action figures. Now my favoritest photo ever."
"So sad that Mezco 2001 Scary Tales did NOT make a caterpillar to go with the Alice in Wonderland line. *SIGH* That would have been heaven. So instead I just had to make Alice and Rabbit chillin' in the forest instead (alice has custom black, red, purple paint colors so she is whack)."

I've only scratched the surface here … head on over to Rebecca's Flickr page to see MANY more amazing pictures … and not a rubbish Sarlacc Pit in sight!
Support Halloween Love
If an item was discussed in this article that you intend on buying or renting, you can help support Halloween Love and its writers by purchasing through our links:
(Not seeing any relevant products? Start your search on Amazon through us.)