You wouldn't even need to take more than one step inside my house to figure out that I'm a toy guy. Collecting toys is a hobby I've just never gone ahead and grown out of, and my walls and shelves are absolutely jam-packed with toys both new and old, out of the box and in the box, in mint condition and battle damaged. I'm quite frankly more into toys than most five year old boys, and I'm damn proud of it.
As a horror fan, one of my favorite toy companies is NECA, a company that all of my fellow toy collectors are no doubt very familiar with. NECA is the leading company on the horror toy scene right now, as they have been for the last several years. Though I've never actually been to Toy Fair, it is NECA's new offerings that make me as excited as a kid on Christmas morning when Toy Fair comes around, and they've never failed to impress me with the new and upcoming products they unveil.
And this year is certainly no exception.
The 2014 Toy Fair just kicked off yesterday, and runs through this Wednesday, and NECA has already shown off a slew of upcoming products and action figures, adding exciting new collectibles to their Evil Dead, Friday the 13th, Nightmare on Elm Street, Alien and Predator lines.
If you're reading this right now, you probably weren't lucky enough to attend the event this year either, but that's okay, because we live in the internet age. And in the internet age, you need not leave the house to take in the sights and sounds of events like Toy Fair.
Let's take a closer look at all of NECA's 2014 horror offerings, thanks to the spectacular coverage of the website Figures.com!
First up we have Series 3 of NECA's Alien line, which is comprised of three figures, from three different installments in the franchise. On the left is Kane from the original Alien, center is Bishop from Aliens and on the right is the 'Dog Alien,' from Alien 3.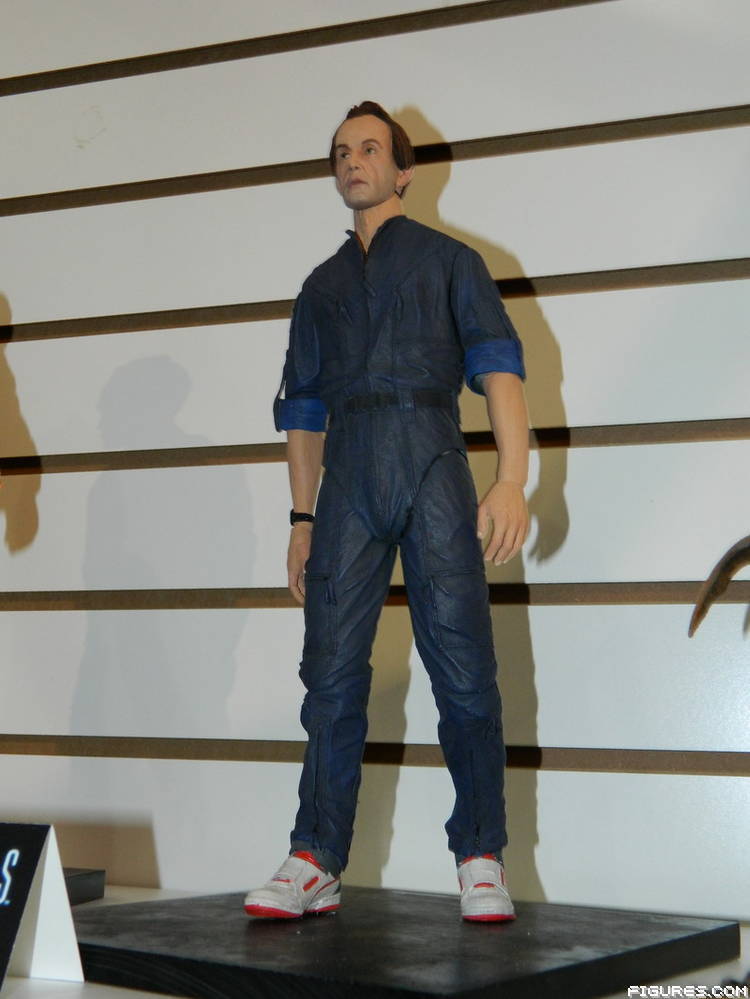 Most exciting of the three, for me personally, is the figure of Bishop, who was played by the always badass Lance Henriksen. I've been waiting for a Bishop figure for quite some time, and I'm so happy to see that he's going to soon be joining the line. The whole series is due out in July of this year.
Also on display was the company's debut figure of Alien's Dallas, who will be a part of the fourth series of the line. No word yet on who/what will be in the series with him, but Series 4 is due out this coming fall.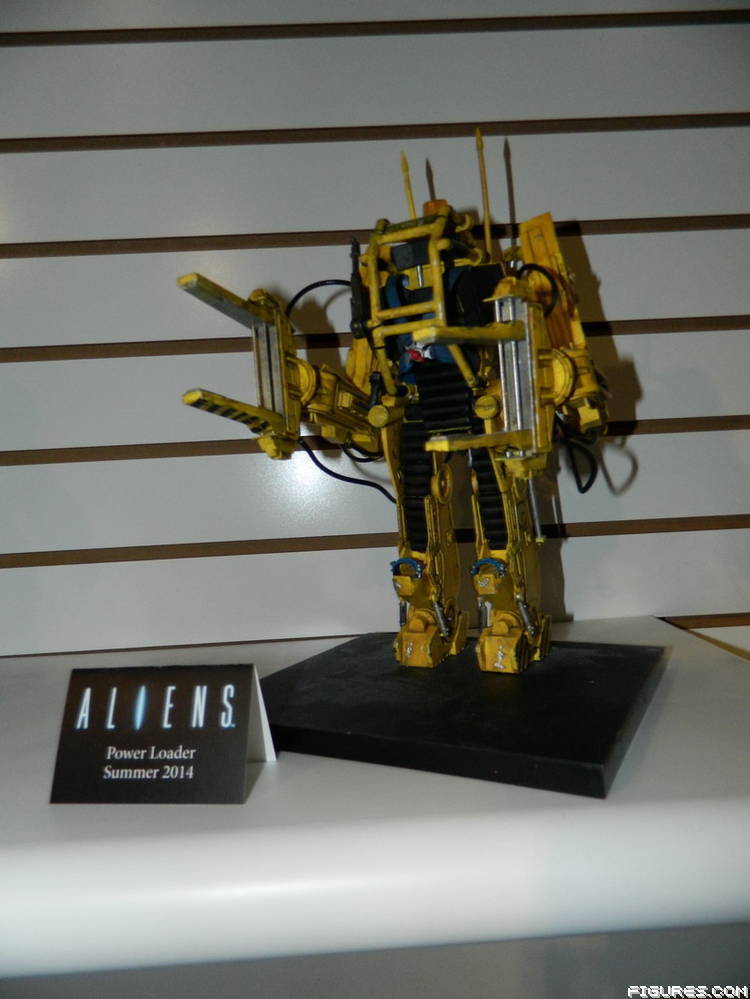 Rounding out NECA's 2014 Alien offerings is this awesome mini-replica of the Aliens Power Loader, which was of course piloted by Ripley in the film. Will we soon have a Ripley figure to go inside of it? I sure as hell hope so, but the company has yet to tease such a toy. The Power Loader will find its way onto toy shelves once the weather warms up, and summer returns to melt all this pesky snow away.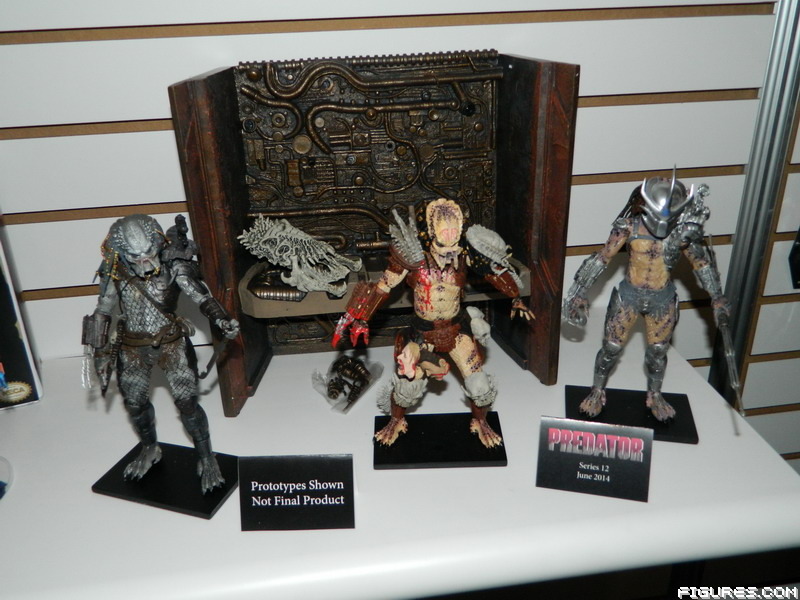 Whenever NECA gives love to the Alien films, they always give the same amount of love to the Predator universe. This here is Series 12 of their massive Predator line, which includes Bad Blood Predator (center) and Enforcer Predator (right), from the Dark Horse Predator comic books, as well as an update of Elder Predator (left), from way back in Series 3 of the line. Series 12 is headed our way in June.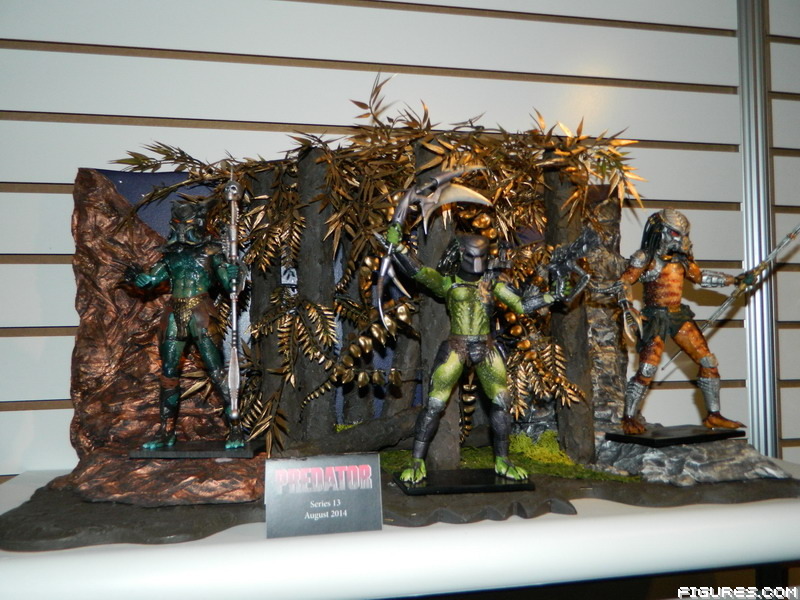 Series 13 was also shown off, which is comprised of NECA's interpretations of Predator figures released by Kenner, back in the 90s. Kenner created colorful new characters for their line, and NECA's takes on Cracked Tusk, Renegade and Scavage fill out the impending 13th series, due out in August.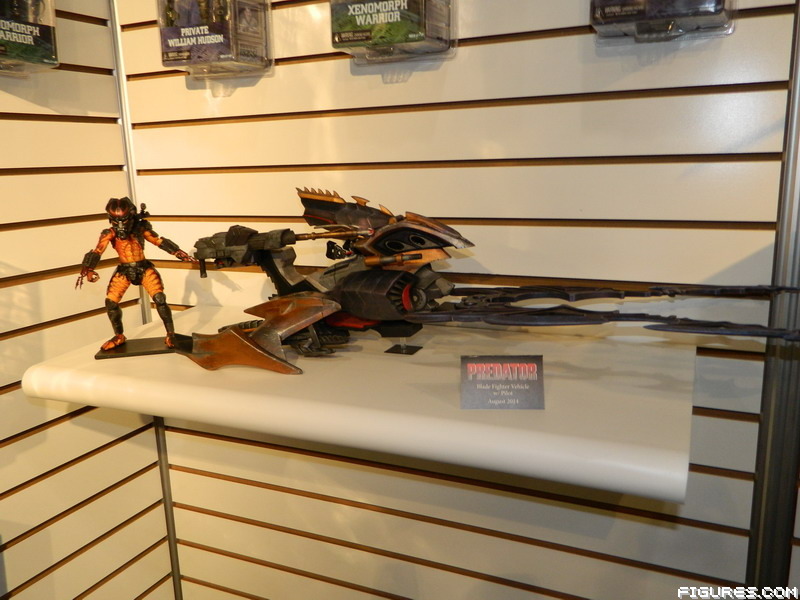 As if that wasn't enough Predator goodness, check out this mega-sized Blade Fighter vehicle, which is also based on a Kenner release. Measuring two feet long, the vehicle comes with an exclusive Viper Predator figure, and will be selling for $70. Expect this bad boy in August.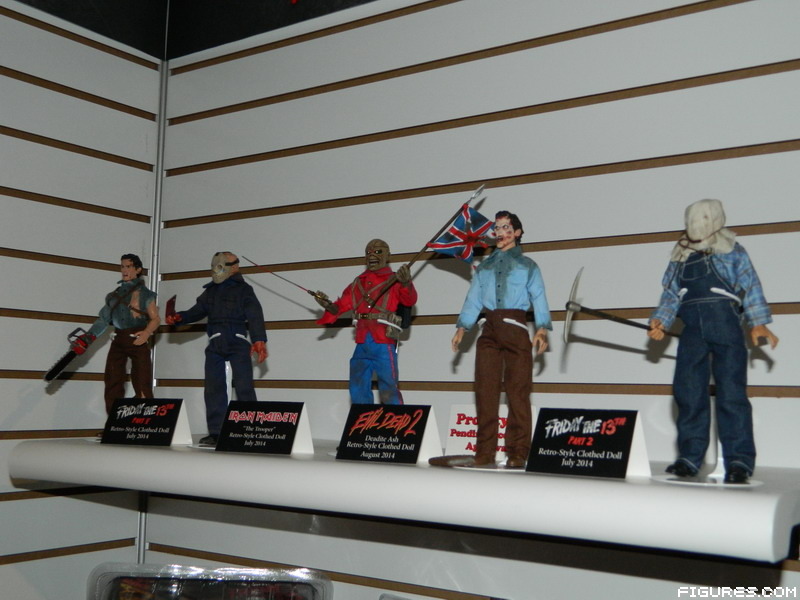 NECA kicked off their retro line with Freddy and Jason figures last year, and this year they not only add two new Jason figures to the line, but also two retro-style figures of Evil Dead's Ash Williams. Left to right you'll see Ash, Friday the 13th: Part 5 'Jason,' Iron Maiden's mascot Eddie, Deadite Ash and Part 2 Jason. Regular Ash is set for release next month, with Deadite Ash following in August. All of the others will be available in July.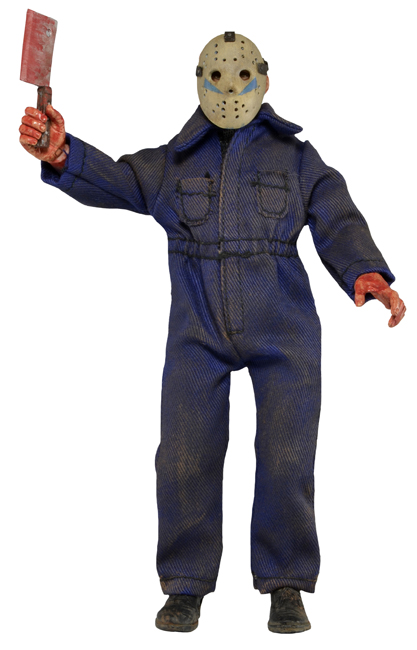 This marks the action figure debut of Roy 'Imposter Jason' Burns, who has been one of the most sought after toys from Friday the 13th fans for many years. Honestly never thought I'd see a Roy figure, but boy am I happy that NECA is giving some love to A New Beginning!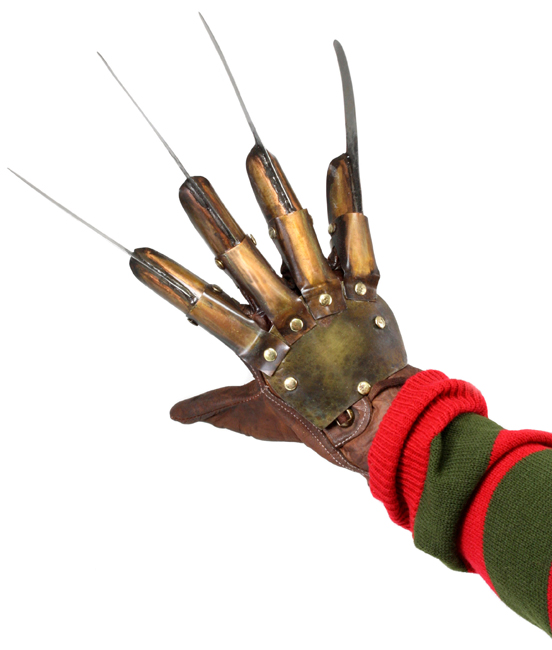 We wrap up the Toy Fair coverage with this prop replica Freddy glove, based on A Nightmare on Elm Street 3: Dream Warriors. Made of a leather-like material, with riveted metal attachments, the glove includes a mannequin hand form for display purposes, and will slice its way onto toy shelves in July.
Which of these collectibles are you most excited about picking up? Comment below and let us know!
Support Halloween Love
If an item was discussed in this article that you intend on buying or renting, you can help support Halloween Love and its writers by purchasing through our links:
(Not seeing any relevant products? Start your search on Amazon through us.)