One of my absolute favorite ways to kill time is to crack open a few cold ones and go on late night treks through the wild and whacky world of eBay. The auction site is hands down the best place on the internet, as it's like a yard sale that you can visit any time you want, from the comfort of your own home, and you only ever have to browse through items that you actually care about and want.
In other words, it's like a yard sale where all of the smelly clothes and dirty coffee mugs are replaced by vintage toys, horror memorabilia and whatever else it is that you're into.
In even less words… Pure. Bliss.
As anyone who's done it can attest, getting drunk and jumping down the eBay rabbit hole isn't exactly the smartest thing to do, because it oftentimes results in you waking up in the morning and coming to the realization that you bought something that you probably wouldn't have bought, if the booze wasn't in the picture. Believe me, I've done it more times than I care to admit. And my bank account is never happy about it.
But I've fine tuned my drunken eBay adventures over the years, and nowadays I tend to add things I want to my 'Watch List,' rather than actually going ahead and ordering them. If I still want them in the morning, when my head is a bit clearer, I'll sometimes order them. But more often than not they end up sitting on the list until someone else snatches them up. Truth be told, I'm cheap these days. Really cheap. Even when I'm drunk.
In this new feature here on Halloween Love, I open up my ever-growing eBay 'Watched List' to you guys, and show off the awesome things that I want, but will probably never actually buy. Who knows; maybe you'll want them too, and these posts will help bring them into your lives!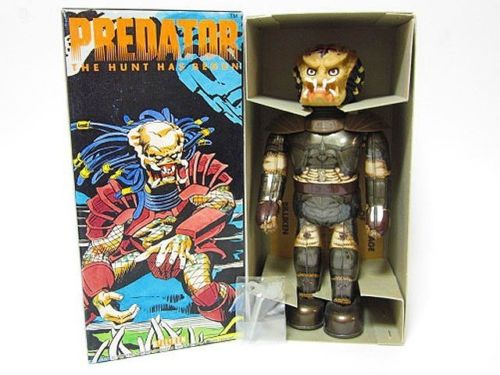 'VERY RARE JAPANESE COOL PREDATOR HUNTER SCARY SHOKAI MONSTER ANTIQUE TIN TOY'
As the lengthy title of this first item suggests, what we have on our hands here is a Japanese Predator toy, which is the only one of its kind that I've ever come across. Absolutely no information is provided about the toy in the description of the auction, though the Japanese seller is looking for $1,200 for it. Obviously not something I'll ever be shelling out the money for, but a collectible that a lottery-winning version of myself would be all over.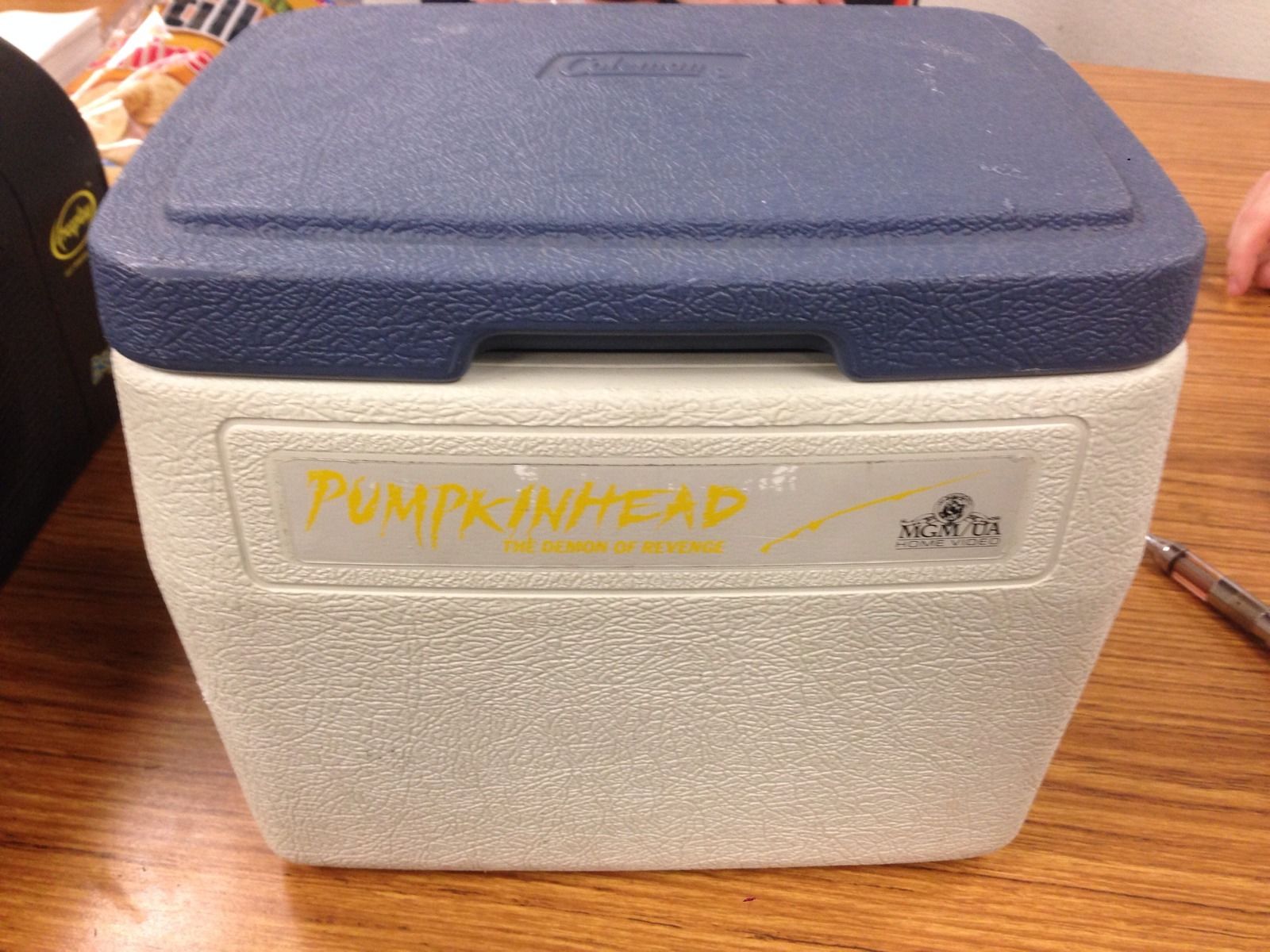 'VINTAGE PROMO MGM PUMPKINHEAD COLEMAN COOLER "DEMON OF REVENGE" HORROR'
I must admit that I have an odd fascination with horror movie promo items, and I've built up quite a collection of them over the years. But this is without a doubt one of the strangest tie-in items I have ever seen. While promotional goodies typically relate to the theme of any given movie – a plastic ice cream scoop was handed out to promote Ice Cream Man, for example – this cooler is not at all something you'd expect that MGM would whip up to promote Pumpkinhead, which is more or less what's so awesome about it. I guess it's a reference to the fact that the kids who killed Ed Harley's son were drinking beer at the time? That's the only thing I can think of. The oddball Pumpkinhead cooler has a starting bid of $19.99.
'HIGH TENSION (HAUTE TENSION) FRENCH HORROR MOVIE CUSTOM'
Kenner-style retro toys are all the rage on the custom scene at the moment, and this figure of High Tension's Marie is one of the most original I've seen. High Tension is one of my favorite horror movies of the last decade – though I guess it's more than a decade old now – and Marie is one of the more memorable characters in recent years, totally deserving of having her own action figure. Absolutely love this custom, which is selling for a mere $36. A hell of a good deal, considering how much similar customs tend to go for.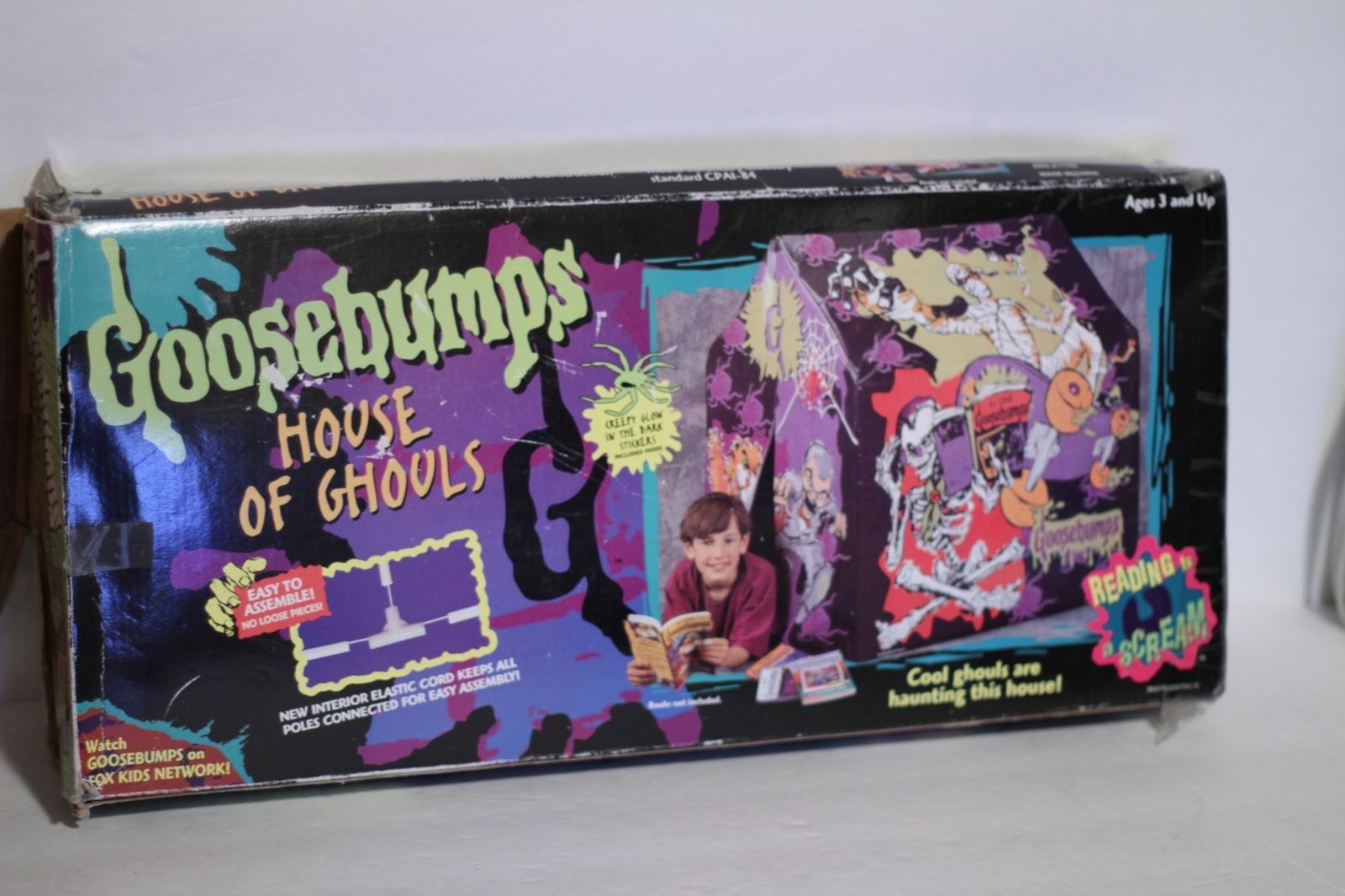 'GOOSEBUMPS R.L. STINE HOUSE OF GHOULS VINTAGE PLAY TENT FORT 1990s'
I'm consistently amazed by the wealth of Goosebumps products that were released in the 90s, which somehow slipped under my radar when I was a kid. Though I loved the books, and the TV series, I missed out on all the merchandise, and almost every time I hang around eBay I find another piece of it that I never knew about. Case in point; this Goosebumps play tent, which is adorned with some of the most iconic characters from the franchise. So wish I had this as a kid, and I'm incredibly tempted to move it from my 'Watched List' to my 'Bought List.' My cats would probably love it, even if my 27-year-old body can't fit inside it. You can buy the tent right now for $129.99.
Until next time, this has been It Came From My eBay Watched List. I'll be back with more eBay fun real soon!
Support Halloween Love
If an item was discussed in this article that you intend on buying or renting, you can help support Halloween Love and its writers by purchasing through our links:
(Not seeing any relevant products? Start your search on Amazon through us.)