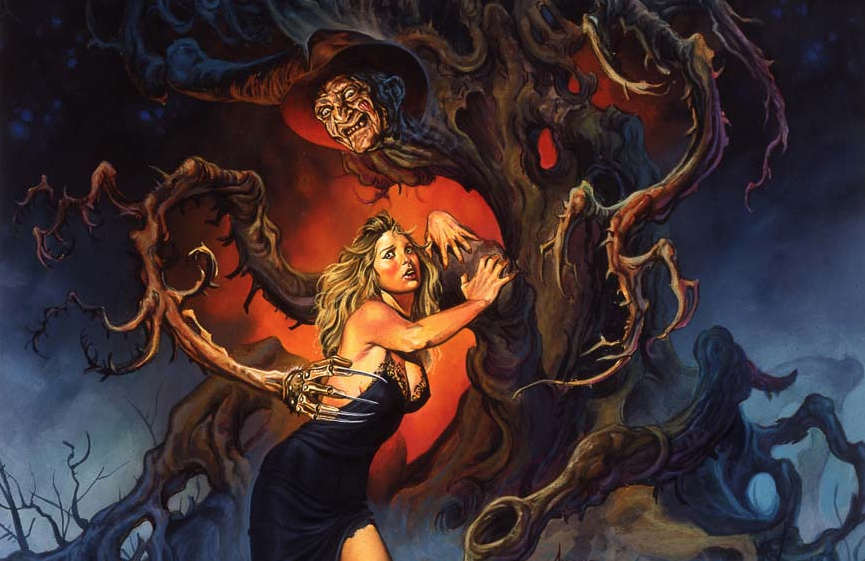 Horror icons and comic books – It's been a tricky combination to make work over the years.
In my younger days I was heavily involved in the world of comics, and as a lifelong horror fan it was always exciting when a publisher won the rights to produce a book based on one of the major horror franchises. Even more so when you got the impression that the people involved were also passionate about the characters and wanted to create something faithful and special.
I'd be here for hours if you wanted my opinion on what mistakes were normally made regarding the writing, but what they generally did get right was the art, ESPECIALLY cover art.
Today I'm going to reveal the second batch of my favorite cover images from the years when I was working in the business. (The first article can be found HERE)
A good cover is so important, it CAN mean the difference between selling copies or having them sit in the bargain bins gathering dust – and in my humble opinion the examples you are about to see are some of the very best. Take a look …
Halloween – Chromium Mega-Premium Edition (2000)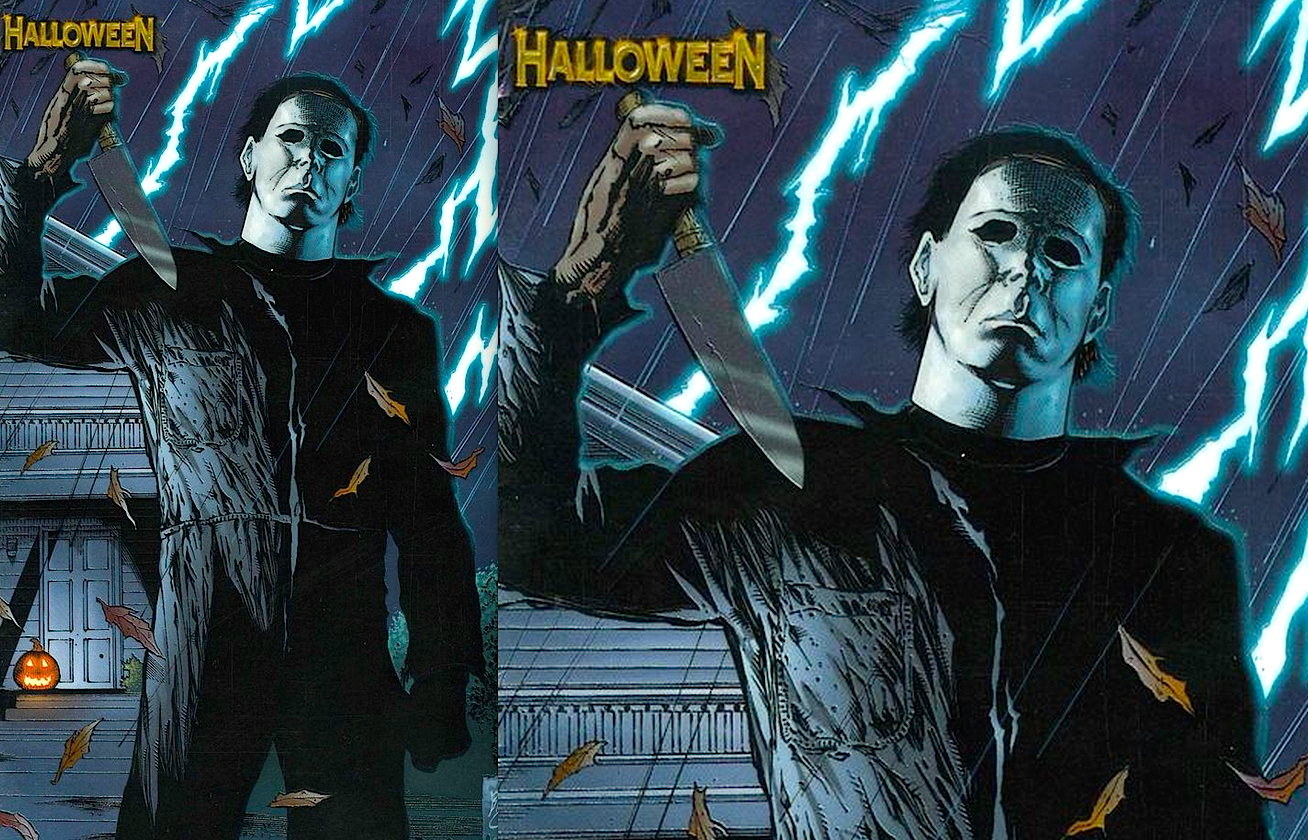 Ahhh Chromium! Nothing symbolizes the excess of the 1990s comic boom more than a really jazzy Chromium cover. This was basically just a reprint of the first Chaos Comics Halloween book, with a metallic cover slapped on. The print run was limited to 2500 copies, and these days it can be a tricky (and expensive) item to track down. Pictures and scans don't really do justice to how nice David Brewer's cover artwork looks when you hold it in your own hands, and back in the day it was THE horror variant to own!
Nightmares on Elm Street 1 (1991)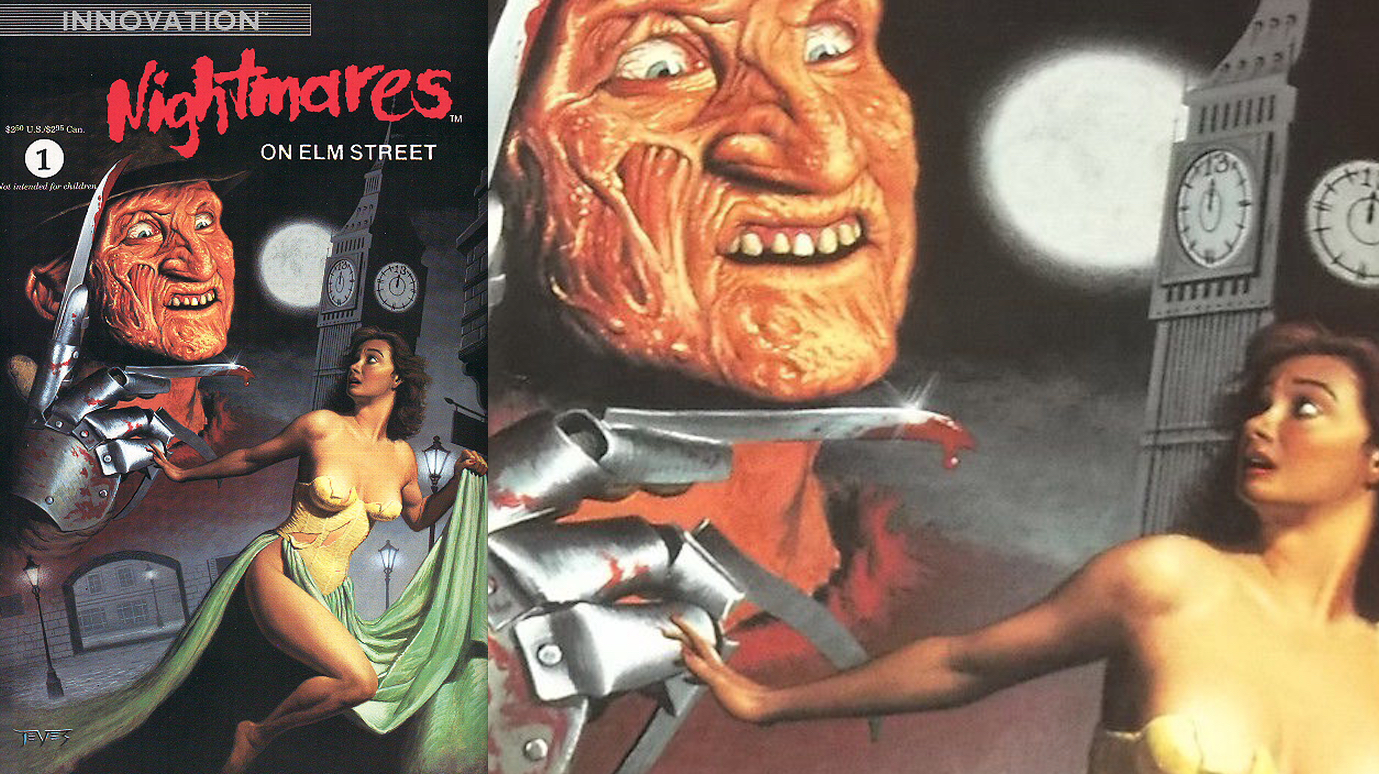 Innovation Comics ALWAYS made a real effort to give their Nightmare on Elm Street books eye-catching covers, and this image painted by Miles Teves for the first issue they ever published was one of the very best. It's part Elm Street and part Jack The Ripper, coming together to create a Victorian London nightmare! Incredible art that deserves every drop of praise it gets and much more!
Halloween : One Good Scare – Convention Exclusive (2003)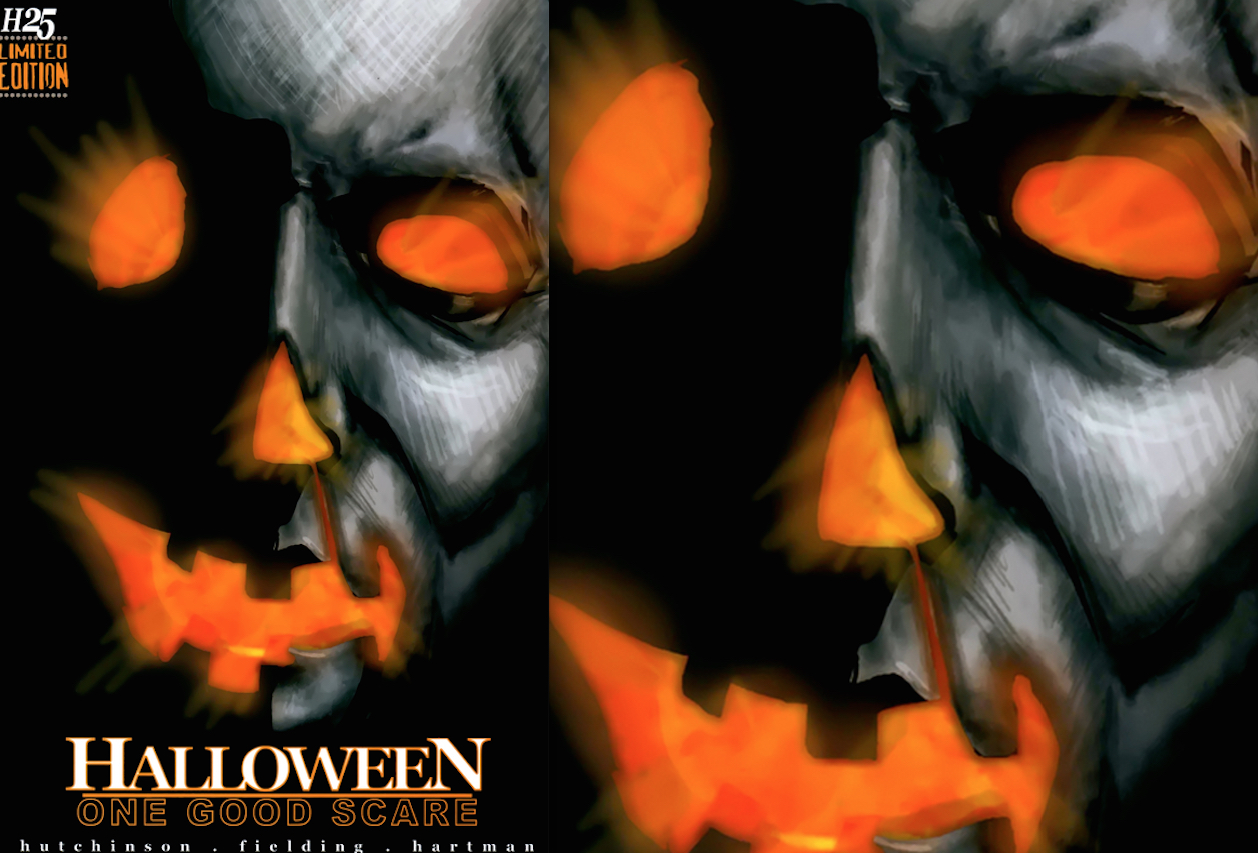 This dark and brooding one-shot was produced exclusively for the Halloween 25th anniversary convention, with some of the remaining copies being made available online from time to time in the years since. Despite being produced independently with (I assume) a very tight budget, the end result was a polished and VERY high quality product that Halloween fans went nuts for! The vibrant and impossible to ignore cover art was created by Peter Fielding, who also provided the atmospheric interior artwork.
A Nightmare on Elm Street : Special – Wrap Variant (2005)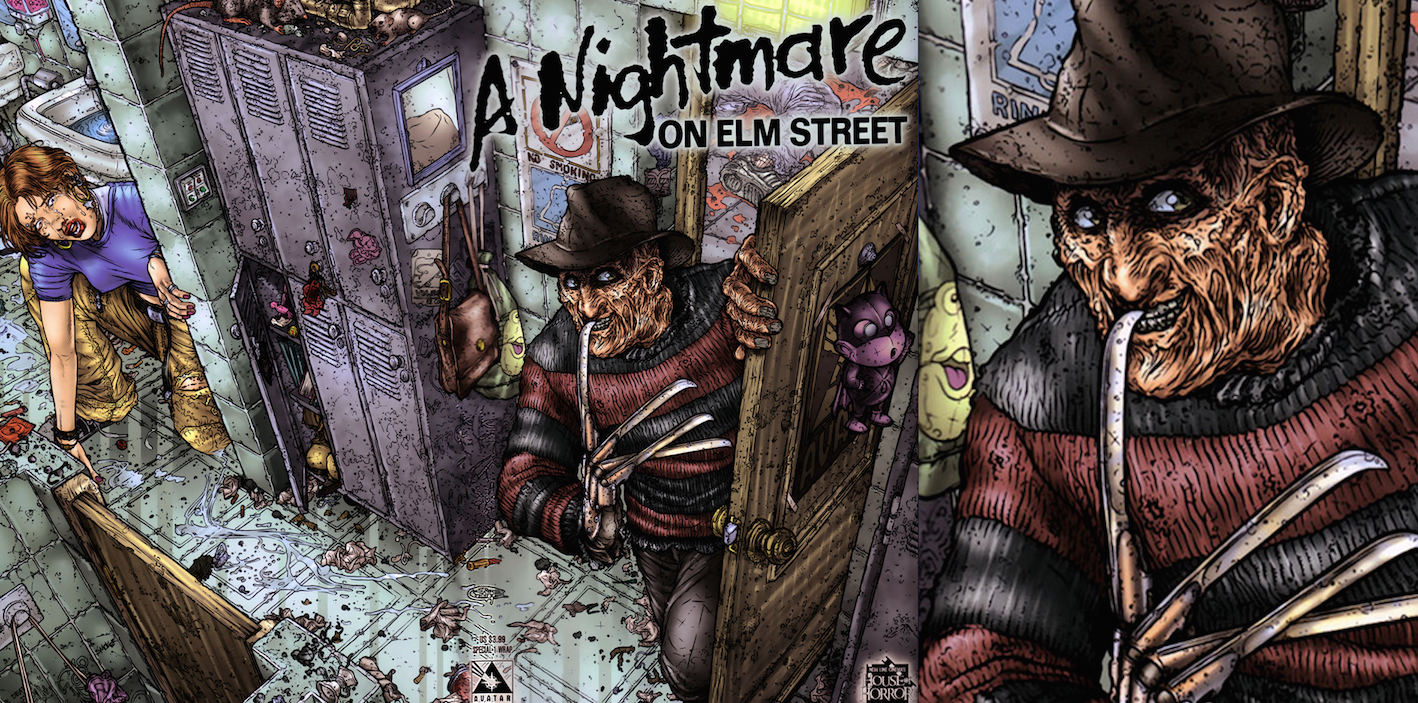 Most of the Elm Street comics published by Avatar were illustrated inside and out by a Spanish gentleman called Juan Jose Ryp, who produces just about the most detailed and intricate artwork I have ever seen. One of my favorites from the MANY covers he created is this, the "Wrap" variant for the original Special issue that Avatar released. Juan is one of those artists who gives the same attention to detail on everything he draws – be it Freddy Krueger himself, or some tiles on a bathroom wall. The end results are always staggering and a joy to look at again and again.
Freddy Krueger's A Nightmare on Elm Street 2 (1989)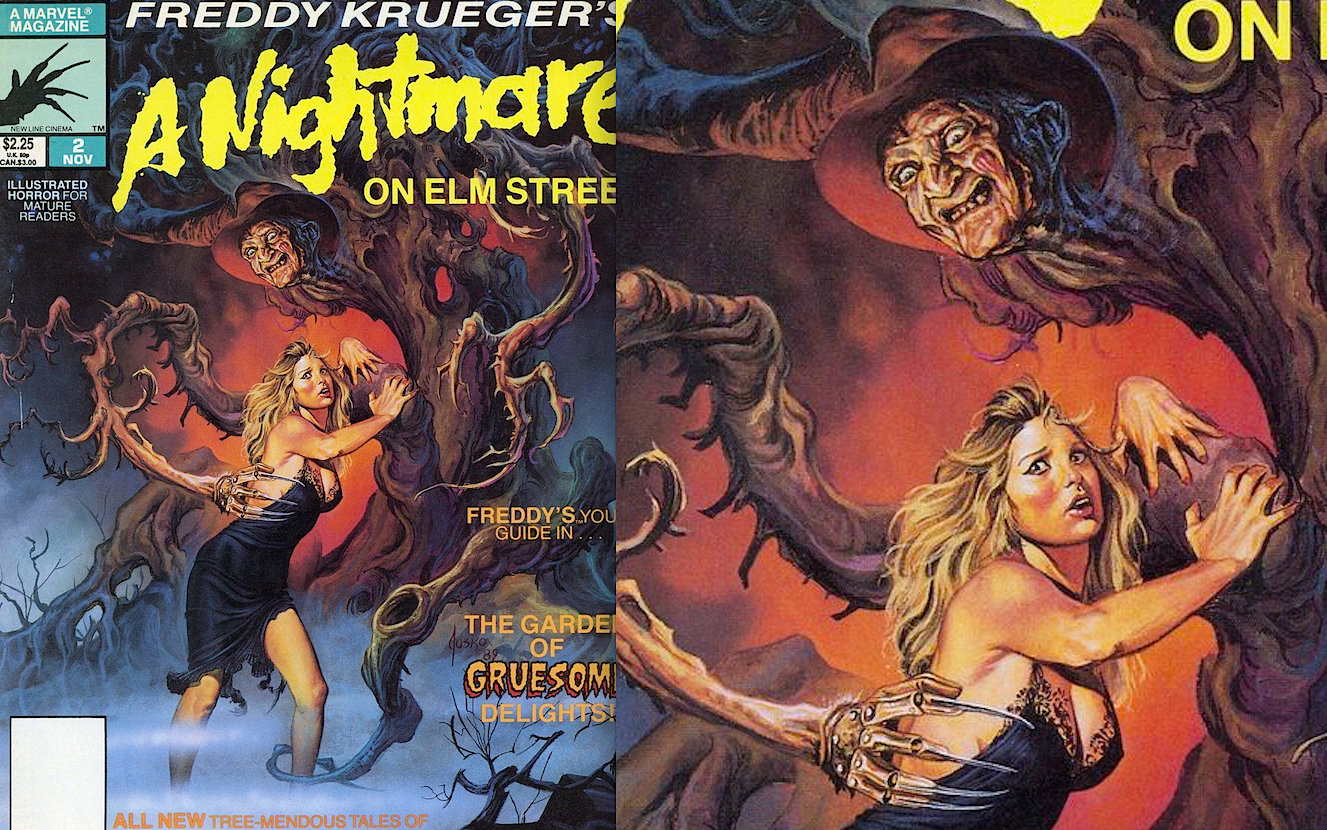 Published by Marvel Comics, this series lasted just two issues, with the word on the street suggesting Marvel cancelled it due to the fear they MIGHT get complaints in the future about the content! Yes, they basically preemptively pulled the plug before they were forced to. It's a shame because this magazine sized B&W comic had made a promising start, and the painted covers by art legend Joe Jusko were utterly stunning.
Friday The 13th: Special – Painted Variant (2005)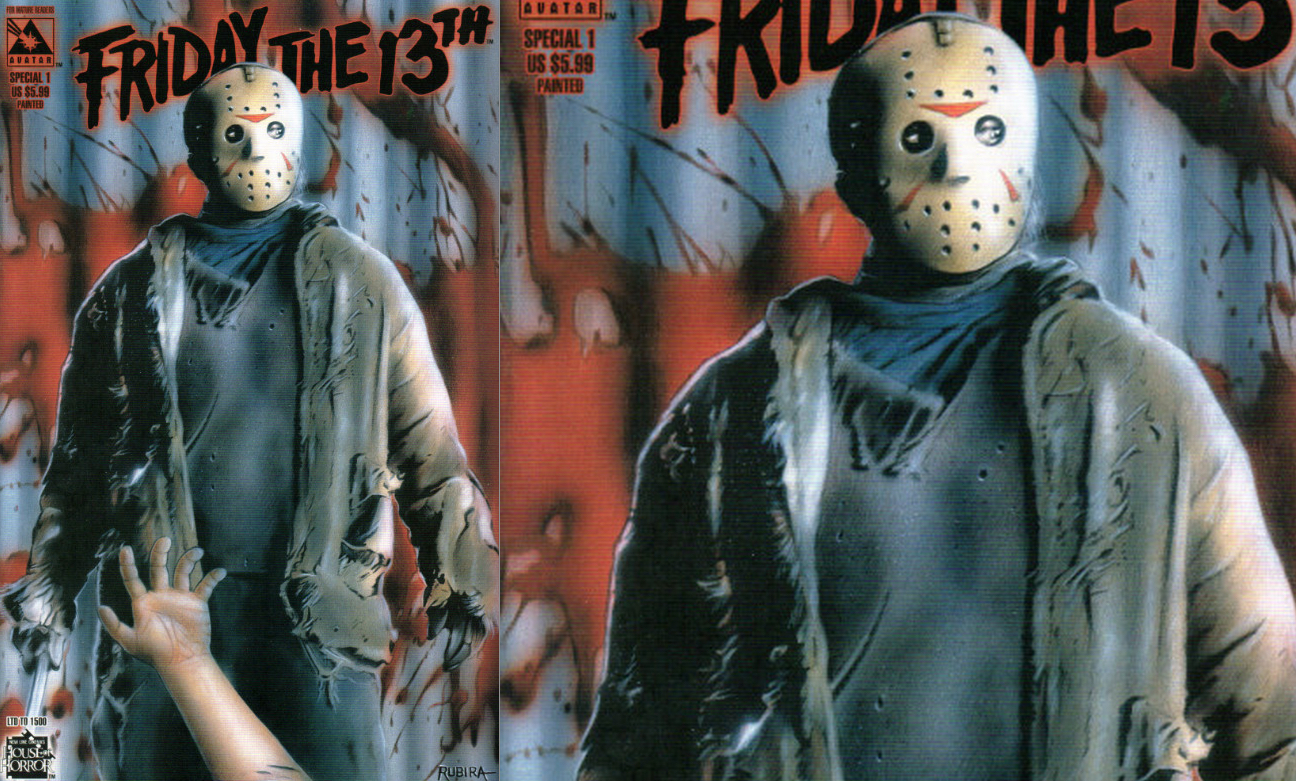 When Avatar unleashed their trio of licensed horror icon comic books it was easy to become a little overwhelmed with all the variant covers they produced. Generally nearly all the covers were illustrated by the artists who provided the art inside the books – but the exception to that rule were the "painted" variants created by Lucio Rubira. They instantly stood out from the crowd, and were the most popular with collectors I encountered. In the first list I featured his epic Nightmare on Elm Street cover and today I've selected this wonderfully gory and sinister image of my main man Jason.
Clive Barker's Hellraiser 1 (1989)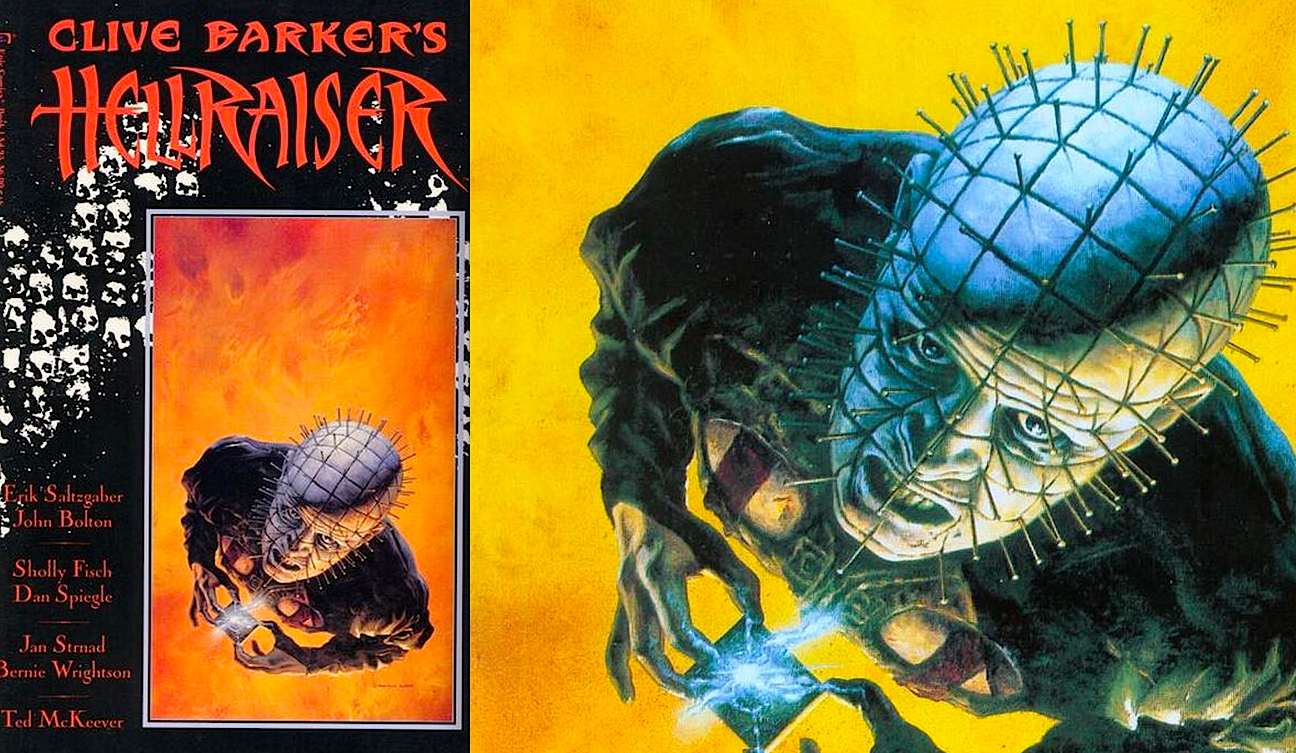 Due to the success of the first two Hellraiser movies and the growing popularity of the characters (especially Pinhead), Epic Comics attempted to expand the franchise with mixed results. Each issue contained several short stories that had links to the universe Clive Barker had created in the movies, and despite average sales the comic lasted nearly four years and featured artwork by many notable creators. Whenever you start a new series like this you NEED your first issue to have a cover with impact and it doesn't get much better than a painted masterpiece by the great John Bolton.
Halloween Nightdance 1 – Previews Exclusive Glow-In-The -Dark Variant (2008)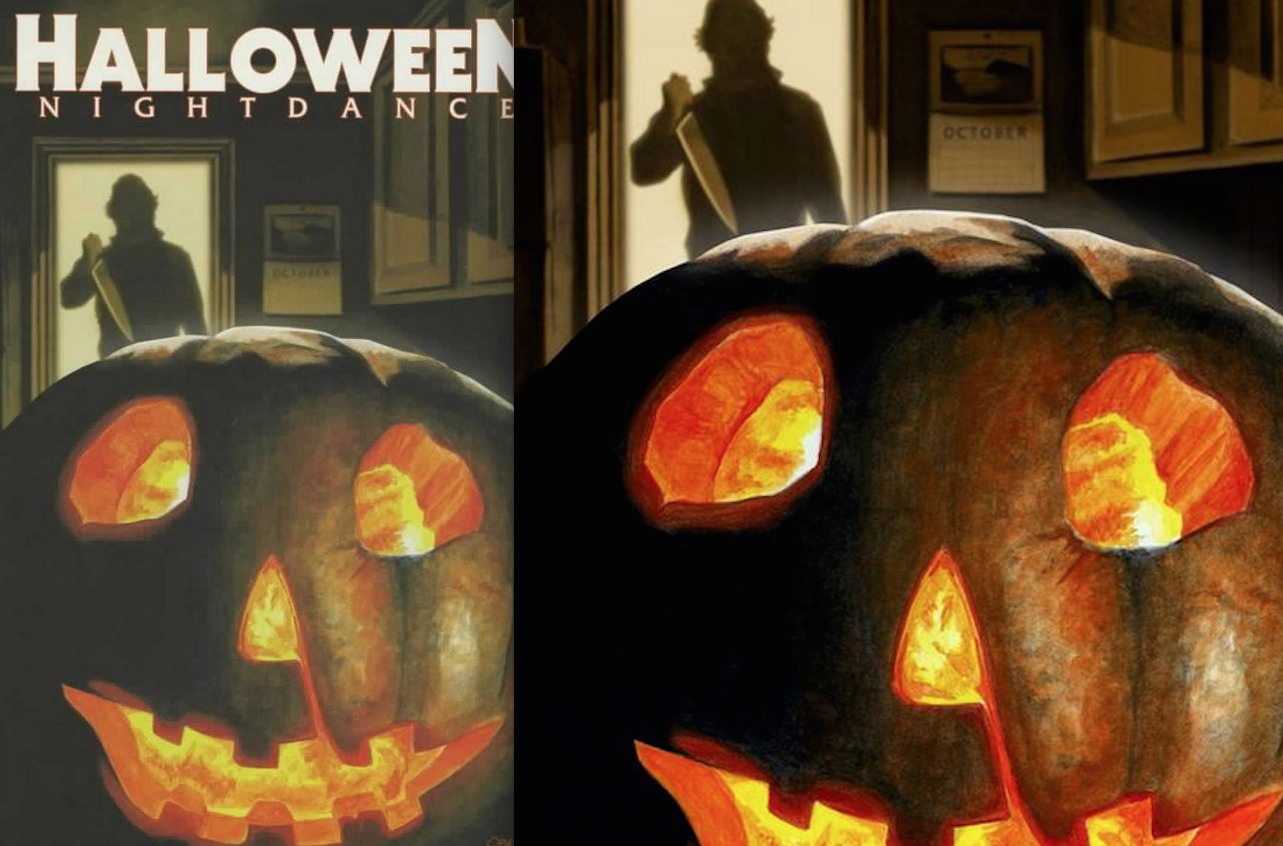 We finish for today by returning to where we started – a novelty cover featuring good old Michael Myers! This time it's the first issue of the Halloween series published by Devil's Due, and a look at Crash Cunningham's stunning variant cover art. The added glowing effect was a fun bonus, but to be honest it wasn't needed. Art like this would sell a book on its own. Atmospheric and wonderfully nostalgic.
I'll be back with another batch of incredible comic covers soon. Until then, stay safe and keep it horror!
Support Halloween Love
If an item was discussed in this article that you intend on buying or renting, you can help support Halloween Love and its writers by purchasing through our links:
(Not seeing any relevant products? Start your search on Amazon through us.)