Horror icons and comic books, it's been a tricky combination to make work over the years.
In my younger days I was heavily involved in the world of comics, and as a lifelong horror fan it was always exciting when a publisher won the rights to produce a book based on one of the major horror franchises. Even more so when you got the impression that the people involved were also passionate about the characters and wanted to create something faithful and special.
I'd be here for hours if you wanted my opinion on what mistakes were normally made regarding the writing, but what they generally did get right was the art – ESPECIALLY cover art.
Today I'm going to share the first batch of my favorite cover images from the years when I was working in the business. A good cover is SO important, it can mean the difference between selling copies to casual customers, or having them sit in the bargain bins gathering dust. In my humble opinion the examples you are about to see are some of the very best, take a look…
Halloween: Nightdance 1 (2008)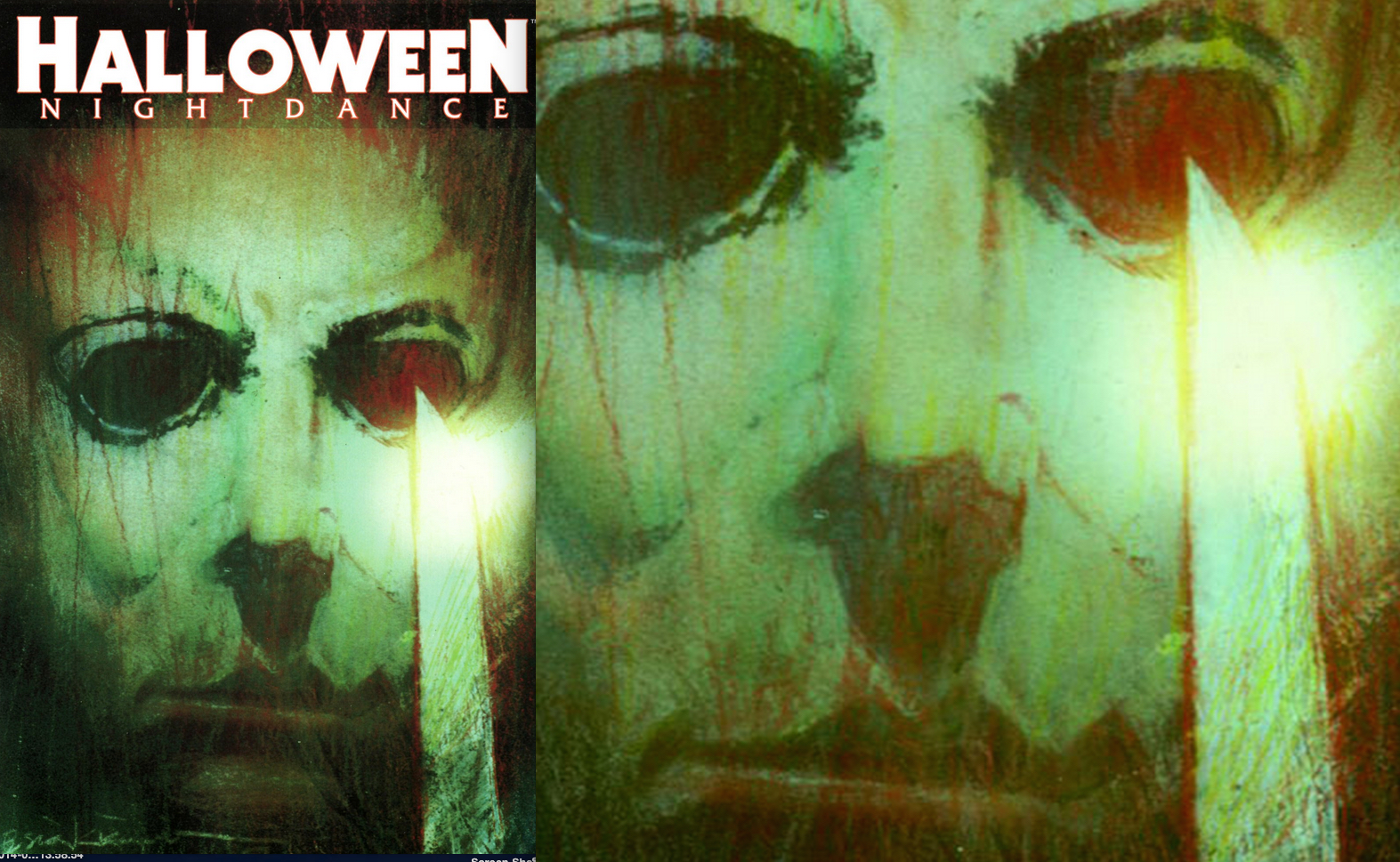 When Devil's Due got the Halloween license they went a little 'cover crazy'. Each issue had multiple variants, and as someone who NEEDED every cover it was a painfully expensive time for me. But hey, who needs to eat when you own a batch of crazy cool comic books! This masterpiece by living legend Bill Sienkiewicz was one of the variants for the first issue, and has remained one of my favorite Michael Myers images of all time.
A Nightmare on Elm Street: Special – Painted Variant (2005)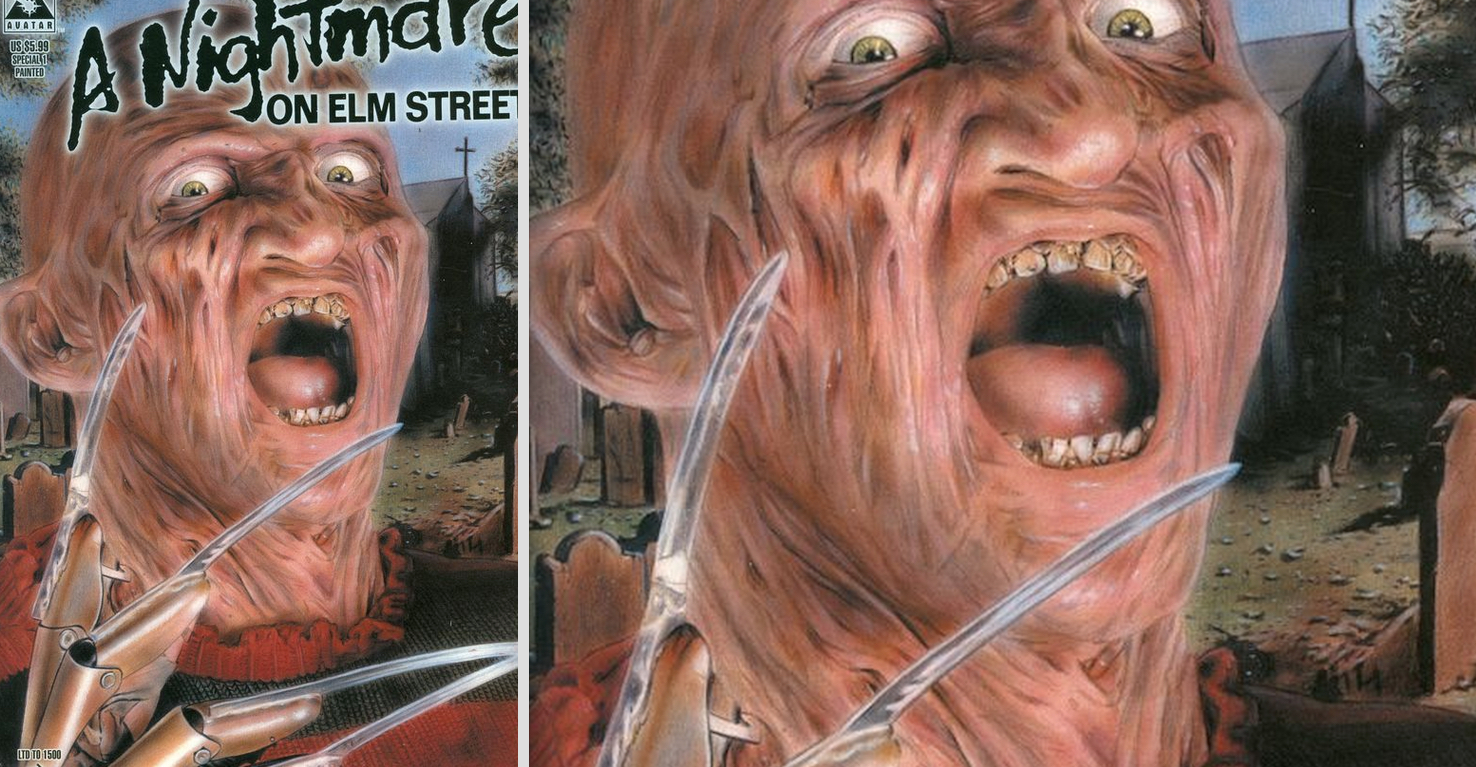 Speaking of variants! Ten years ago Avatar comics also tried to bankrupt me when they obtained the rights to produce comics based on Freddy, Jason AND Leatherface. Each character started with a one-shot 'special', and each issue had more variant covers than I care to remember. The best of the bunch from the Nightmare On Elm Street comic was this masterpiece by Lucio Rubira. Unlike all the other covers it was fully painted and it just REALLY stood out on the shelf.
Friday The 13th: Special – Terror Variant (2005)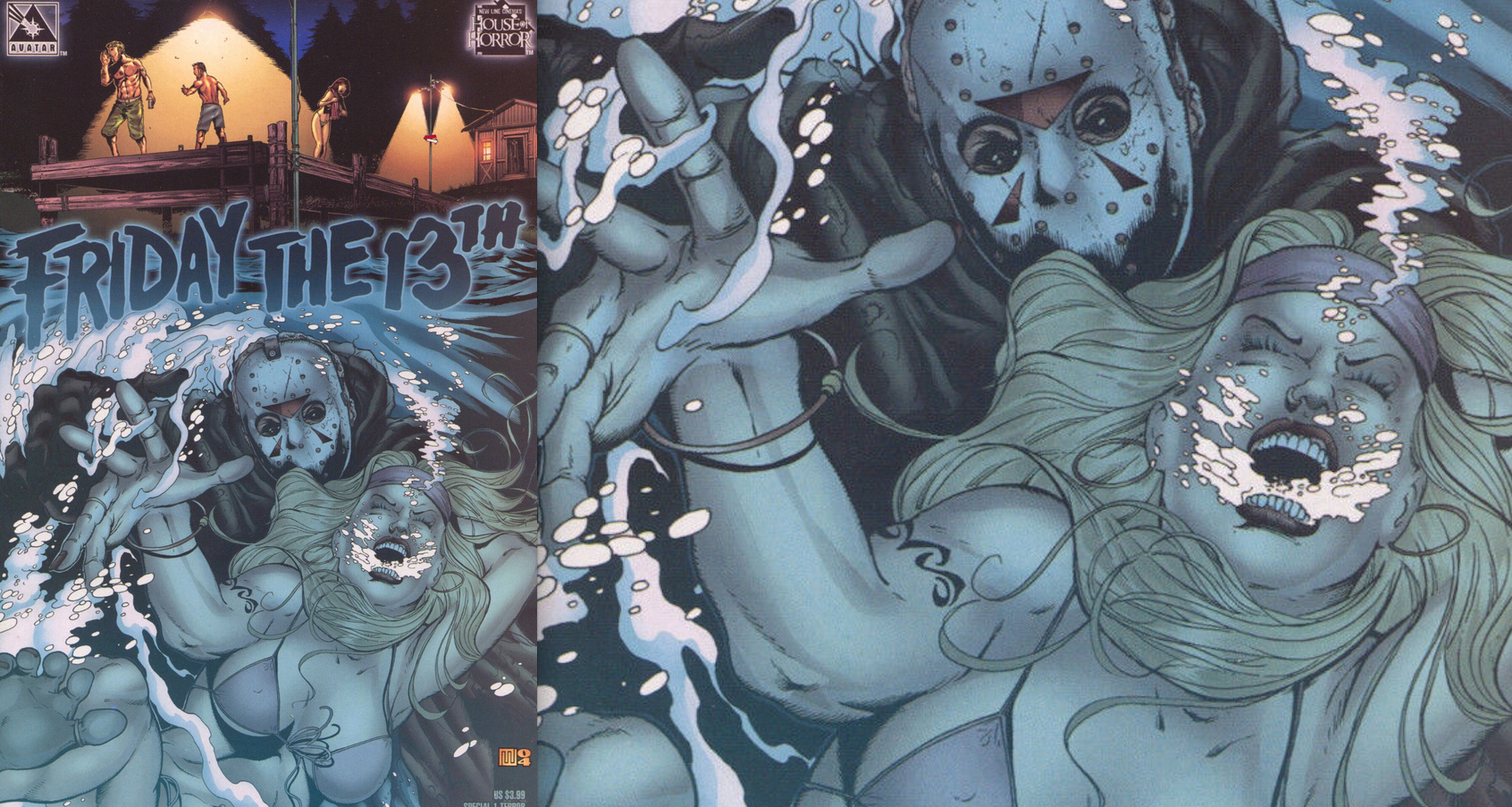 Nearly every single Friday The 13th comic Avatar produced was illustrated inside and out by the tireless Mike Wolfer. Seriously, the guy must never sleep – EVER! My personal favorite from all of the cover images he created was this 'Terror' variant for the original special one-shot. I love the contrast between the kids above calling out to their companion, while beneath the surface of the water a typically pissed off Jason is dealing with the struggling victim. A fantastic concept and a great cover.
Jason Vs. Leatherface 3 (1995)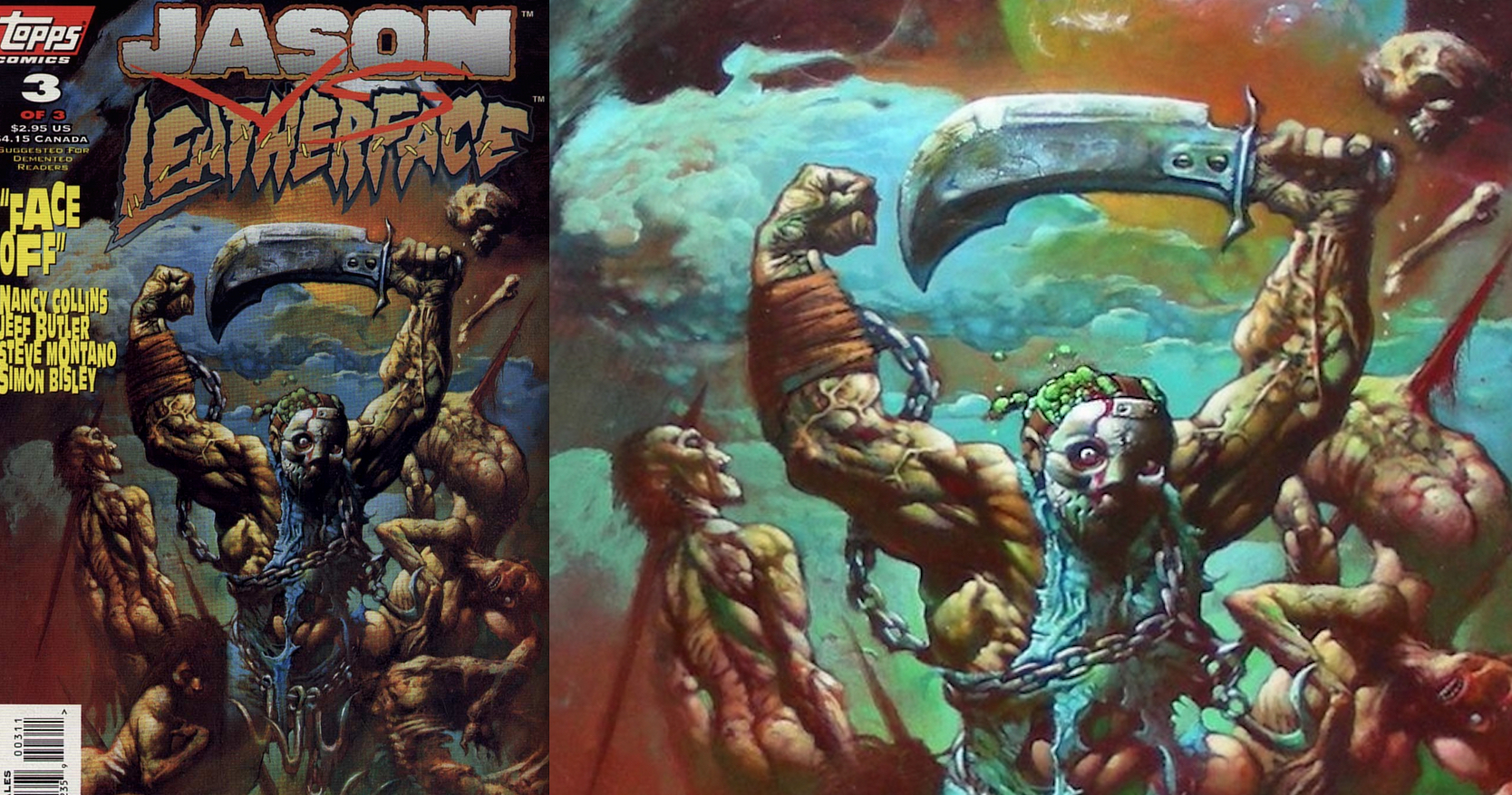 I grew up obsessing over Simon Bisley's art within the pages of 2000ad, but nothing could prepare me for the explosion of awesome that happened when he painted all the covers for this three issue limited series. Each was a work of art, and I salute Topps Comics for thinking outside of the box and allowing him to be creative with the designs. If I could own just ONE piece of original art from all the years I've been around comic books it would be this Jason painting from issue 3. It's just incredible!
Halloween II: The Blackest Eyes – Premium Variant (2001)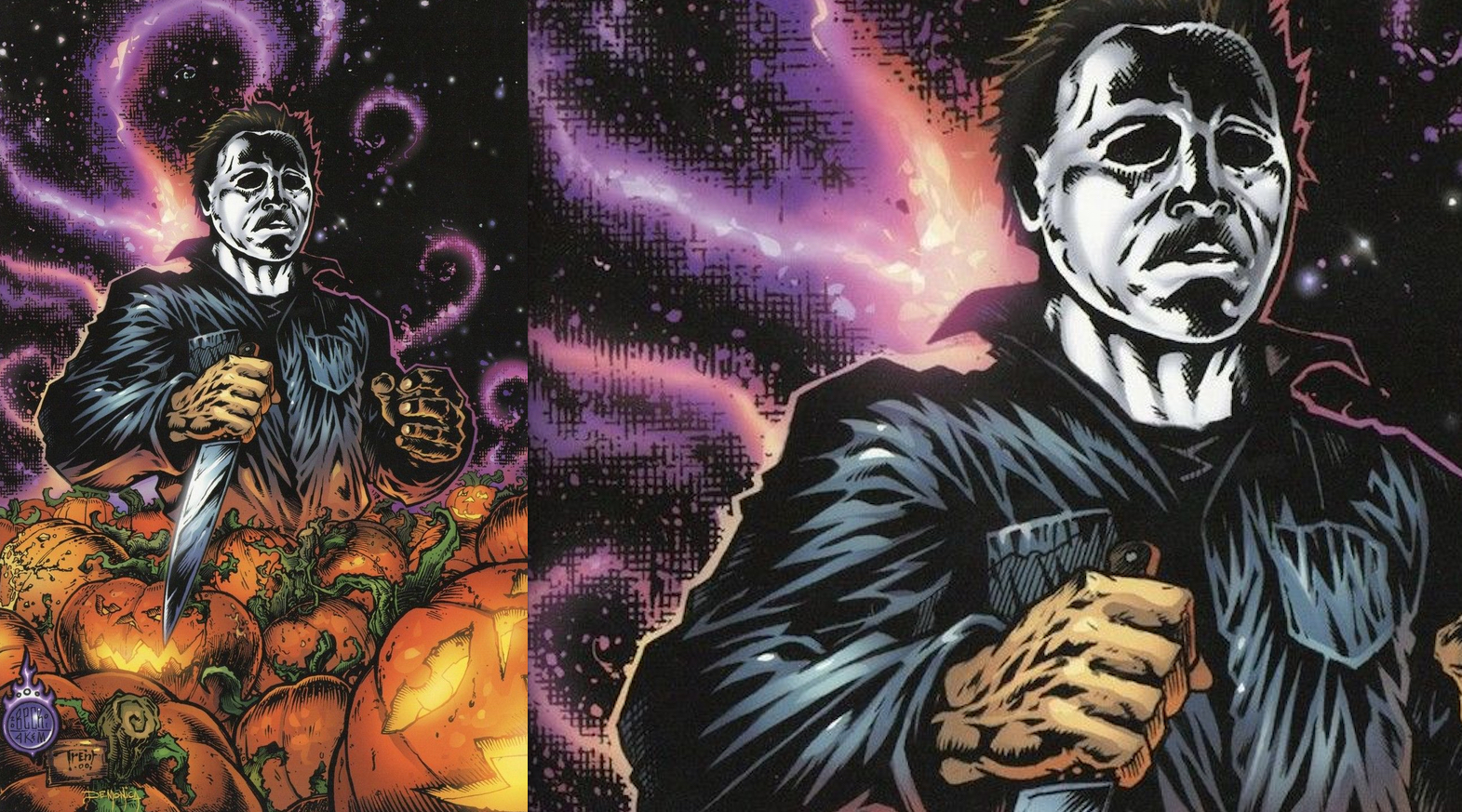 If memory serves, I believe Chaos were the first company to bring Michael Myers into the comic book world. They released three special issues over a two year period, and they were actually pretty damn good. The story not only touched upon the Curse of Thorn, but also incorporated Laurie Strode toward the end, and created its own version of the events that followed Halloween H20. This premium edition had a sweet card-stock cover that featured a stunning piece by Trent Kaniuga. The logo and issue number etc were featured on the BACK cover, meaning you were left with a book that looked amazing on display. Trent's work always reminded me of top quality graffiti/street art, and I love the style he used here!
Pinhead 1 (1993)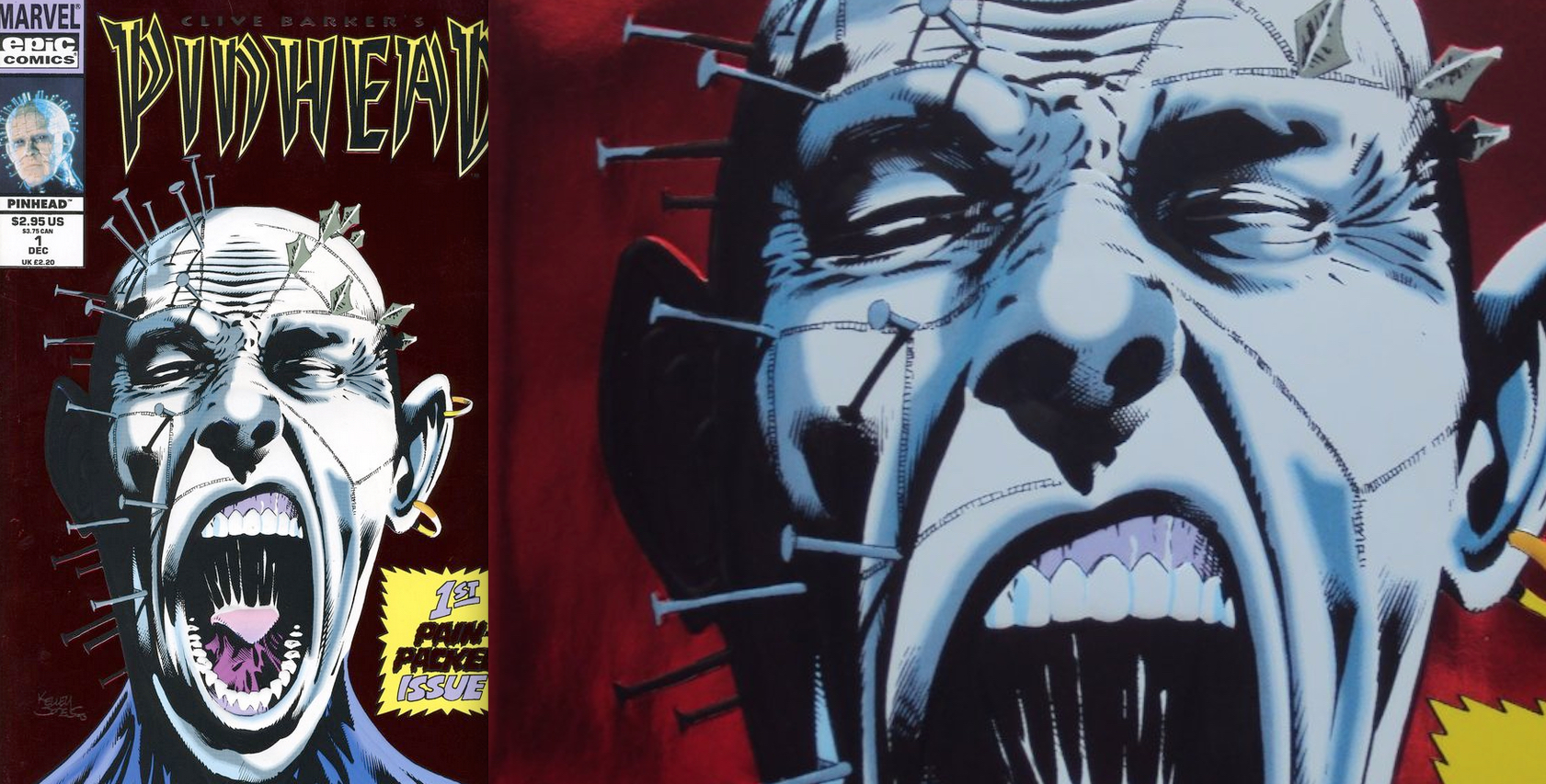 Pinhead on the cover of a comic that features the Marvel logo? What will the parents think?! Actually, this was published under the Marvel/Epic banner which was a creator-owned imprint, meaning they could get away with more 'mature' content and weren't bound by the Comics Code Authority rules. Always useful when you want to tell a story featuring Cenobites! The cover was CLASSIC 1990s: Embossed, red foil stamped, illustrated by Kelley Jones, and just very, very jazzy. I adored it!
Freddy's Dead: The Final Nightmare 3 (1992) 3-D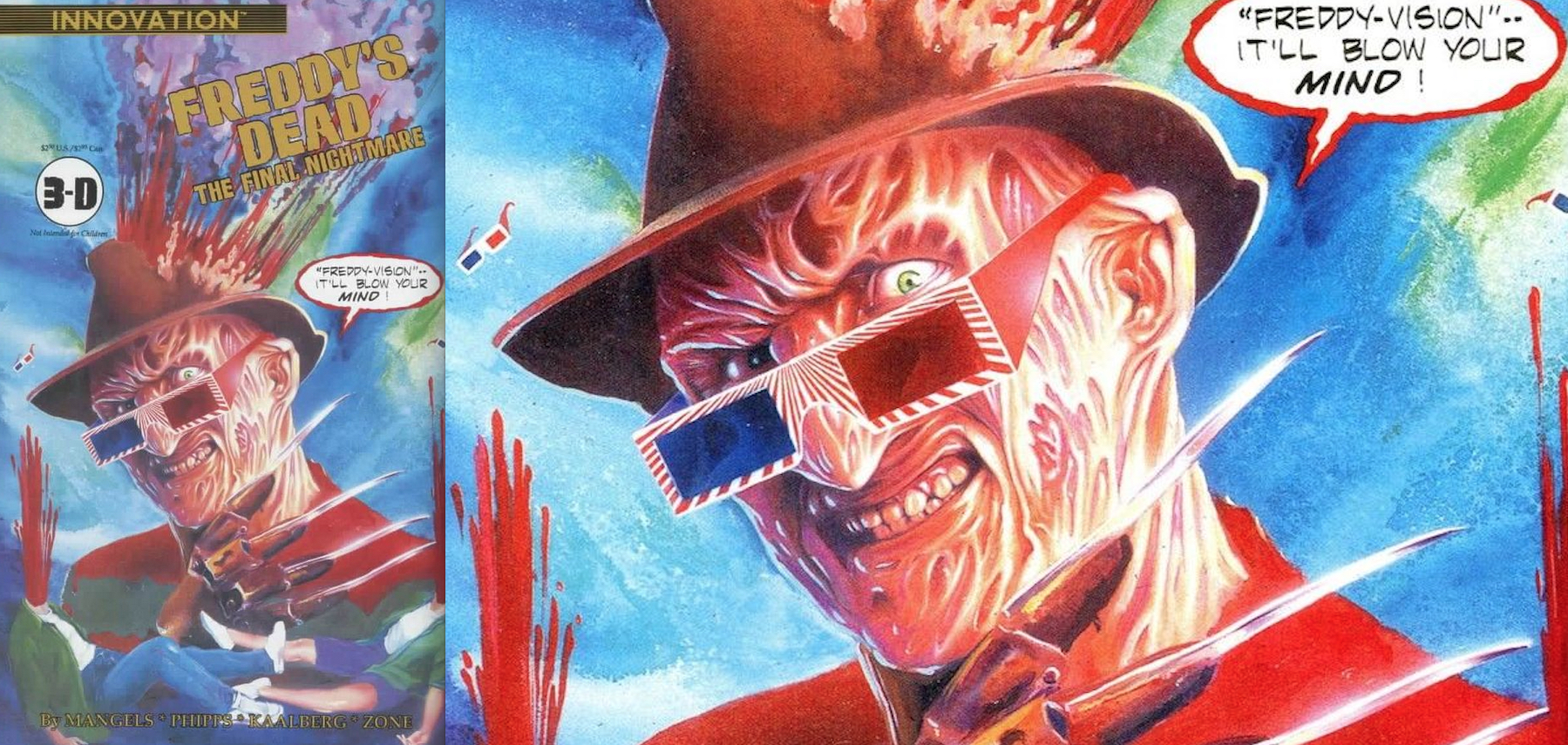 We end this first batch of cool covers with something a little more crazy! Innovation published several comics featuring Freddy in the early 90s, including a three issue limited series that adapted Freddy's Dead. The comic you see above was a 3-D version of the final issue (using the old 3-D printing technique), and came with a pair of 3-D glasses. A headache while reading it was guaranteed, but who cares with a cover like that! You get bodies with blood fountains instead of heads, and the whole thing looks like a drug-fueled dream – which is probably what they were going for! I actually had this issue framed on my wall a few years ago, and seeing it again has reminded me why. It's fucking awesome!
I'll be back with another selection of horribly good comic covers soon. Until then, stay safe and keep it horror!
Support Halloween Love
If an item was discussed in this article that you intend on buying or renting, you can help support Halloween Love and its writers by purchasing through our links:
(Not seeing any relevant products? Start your search on Amazon through us.)